Many thanks to you, readers, who gave me lots of great, useful recommendations that proved very handy while traveling in Crete.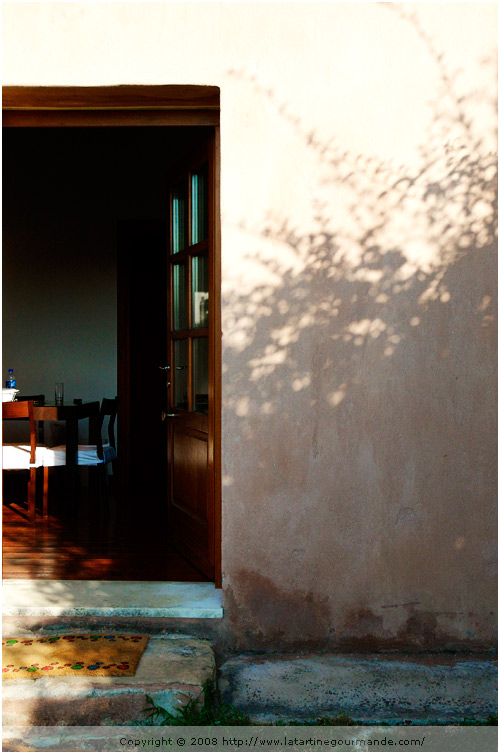 Vacationing in Crete
"You will smell olive trees and oregano when you land," my French friend E. tells me when I tell her about our upcoming trip. Her parents are Greek, but they moved to France when they were still young adults. Talking about Crete with her makes the thought of traveling to the Greek island become real.
By 10 am, it's already quite hot when we arrive at the small airport of Chania in Crete. I am glad it's windy too! The road to Maleme, the village where we are staying, is not particularly attractive, and we are far from imagining the lovely spot we find when we finally reach the house we've rented for a week.
"Are you sure about the directions?" P. asks, starting to feel a little impatient after we've driven for a while as we look for two pink pillars leading to the property. The truth is that breakfast is only now a faint memory: we are getting hungry, beside being eager to refresh with a dip in the pool.
"How would I know? Why don't we call to check?" I answer, feeling a bit deflated. It's getting hot in the car too.
But luck is on our side. Just as we are about to give up, we finally discern two pink pillars indeed on the way out of the village. Behind them stands the house, with its lush flowered gardens, and the pool that sparkles like an inviting gem.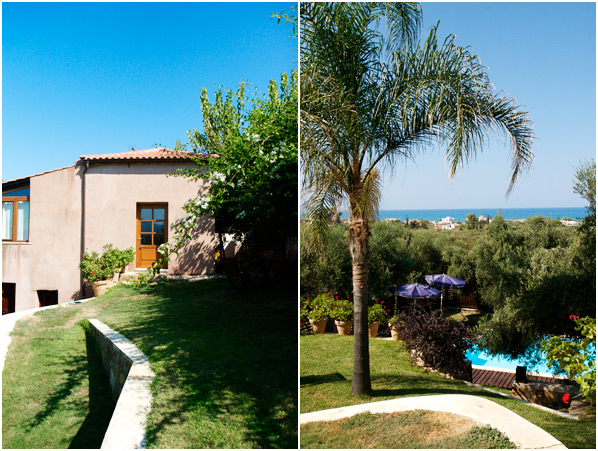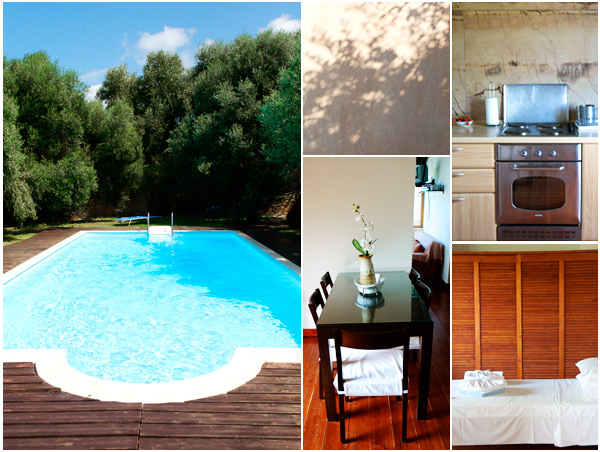 Villa Stefanos
Our rental house is a comfortable and spacious stone villa — once a building where people made wine — with a great pool surrounded by olive trees, a paradise for us who have come to rest. When I first see it, I am beaming with excitement. As I've also come with the desire to cook and discover Greek local produce, I am not disappointed either: the kitchen is decorated with taste, meticulously equipped with everything a cook needs. As is in fact the rest of the house.
Our days follow an agreeable routine which we think me might quickly tire of.
But we don't. Far from it.
When we are not swimming, playing volley-ball in the pool, or taking long naps lying under the olive trees in one of the many long chairs found in the generously sun-filled garden, we read or chat away, looking at the ocean in the distance. Then, when we do not feel lazy, we take off for a drive to visit the nearby villages, traveling on narrow, winding roads surrounded by majestic mountains, before eventually finishing with a swim that cools us off, when we stop at one of the numerous beaches on the west coast. We prefer to travel short distances because for once, we simply feel this way.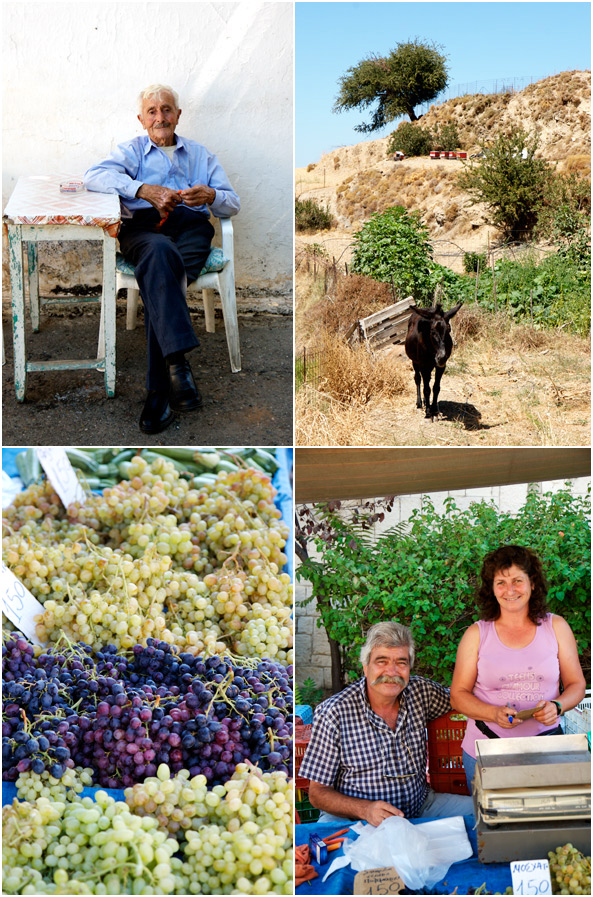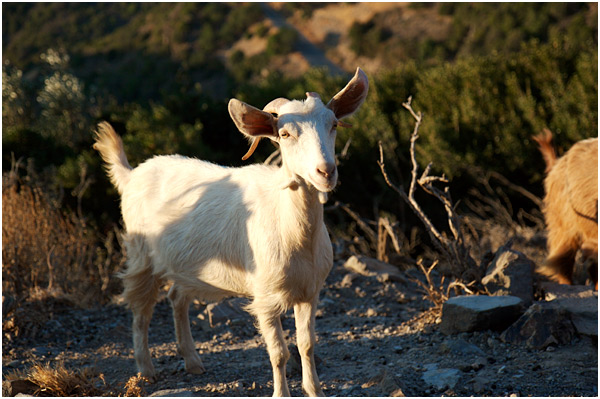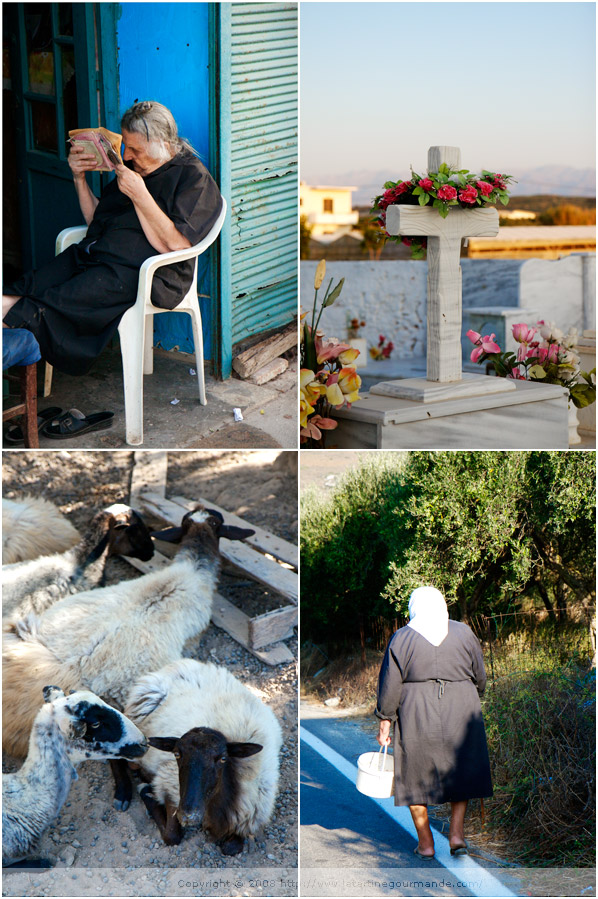 As the biggest of over six thousands Greek islands, Crete stands out as an island full of contrasts. Located at the southern edge of the Aegean Sea, it only takes a thirty-minute flight from Athens before we arrive in this 260 km long island. There, we discover one part largely touched by tourism, with unappealing resorts and hotels, crowds and tourist shops — which we quickly avoid — next to untouched rural areas where life follows a much different pace, slow as one would expect in this part of the world, much closer to what it used to be before tourism left its marks.
The drives we take through the countryside offer splendid views of rugged ranges of mountains where sheep and goats graze and run freely. Before our eyes unfold mountains which appear dry and arid or, by contrast, richly covered with trees.
And everywhere, there are olive, orange and lemon trees arranged in straight lines growing in the valleys and villages.
"Look, these are pomegranates," P. exclaims when we pass one of the villages on our way to Elafonisi island.
I secretly wish I could have a taste of everything. When I go out for walks, I enjoy taking a peak at people's gardens to see what they grow. Of course, on an island like Crete, zucchinis, eggplants, peppers and tomatoes are vegetables commonly grown. They seem so happy in this environment.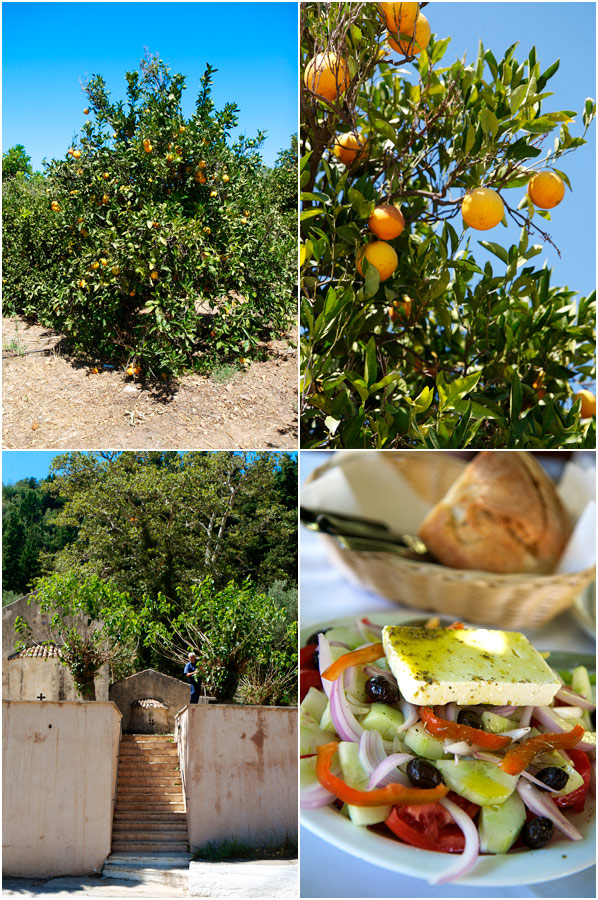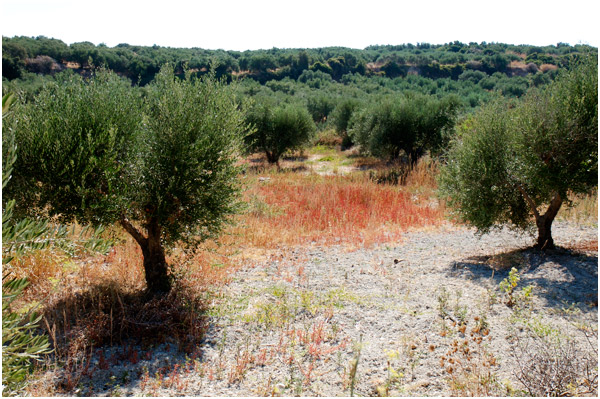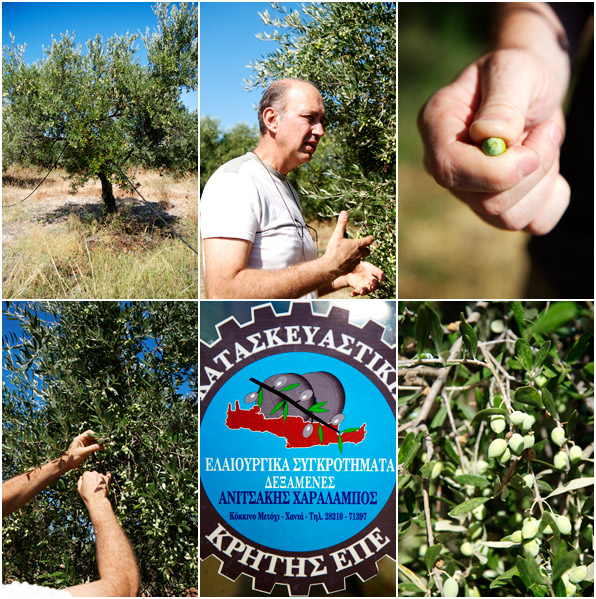 Olive Oil Making
Stefanos, the proprietor of the villa, is a tall friendly man with impeccable English; when we meet him the first time, he welcomes us with a solid hand shake and a genuine smile. To our delight, he likes to tell us stories about the village and his country, and even agrees to take us to the olive oil coop in the village, where he explains the olive oil-making process.
"Everyone in the village has a little bit of land to grow olive trees. Olive oil is a second income for many," he tells me when I ask if the activity remains widely spread in the village.
The harvest of olive oil starts in November and can last until February. After the olive oil coop tour Stefanos gives us, to explain the machinery used and the system they follow to produce the oil, he drives us aboard his 4×4 outside the village to show us the olive trees, and the irrigation system they use.
"Oh, these black hoses are for water!" both P. and I exclaim, laughing. We are embarrassed to acknowledge that we've taken them for electricity cables the first time we notice them.
"How much oil does a household consume a year?" I ask, curious. He tells me that this is the main source of fat they use to cook.
"Probably a hundred liters for a family of four."
We learn about the different grades of olive oil, from the first press to the following ones. His olive oil is made organically, and has a rich green color pleasing to the eyes. It's spicy and peppery, giving a wonderful touch to the many salads and the Tzatziki I prepare daily.
Tzatziki
You need:
2 cups Greek yogurt
1 long English cucumber, peeled and grated
4 garlic cloves, peeled and crushed (or finely grated)
Juice of 1/2 lemon, or more according to taste
1 Tbsp chopped parsley
2 to 3 Tbsp extra virgin olive oil
Salt and pepper, to taste
Steps:
In a bowl, mix together all ingredients. Serve fresh, in accompaniment.
Tzatziki
Ingrédients :
400 g de yaourt grec
1 concombre long, pelé et râpé
4 gousses d'aïl, pelées et râpées finement
Jus d'1 demi citron, ou plus selon goût
1 càs de persil haché
2 à 3 càs d'huile d'olive extra vierge
Sel et poivre
Etapes :
Dans un bol, mélangez tous les ingrédients. Servez frais en accompagnement.
Most of the olive oil produced at the village coop is sold to Italian companies, and we are surprised to hear that the buyers are not required to indicate the origin of the oil once they've purchased it. I cannot help but then wonder whether the olive oil I regularly buy as Italian is in fact Cretan.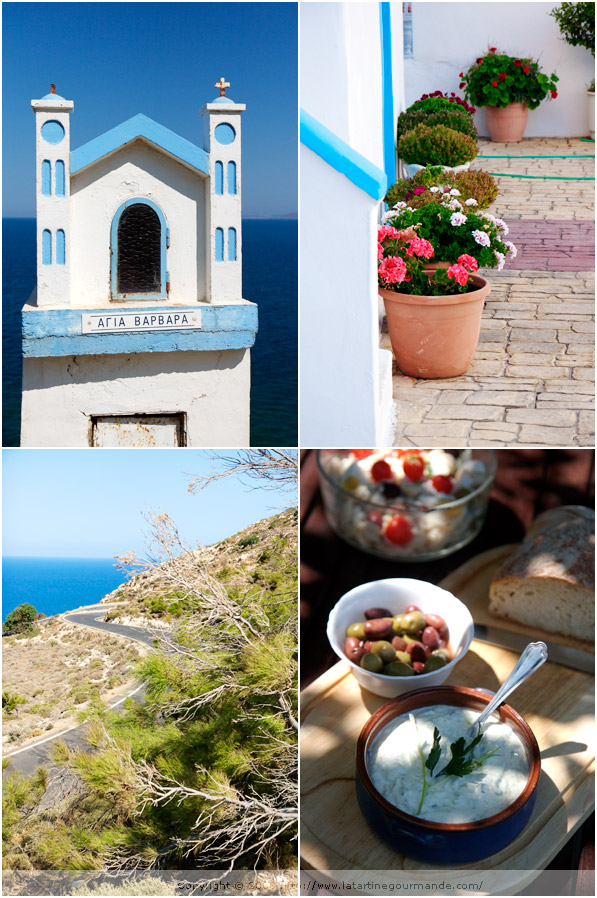 Tzatziki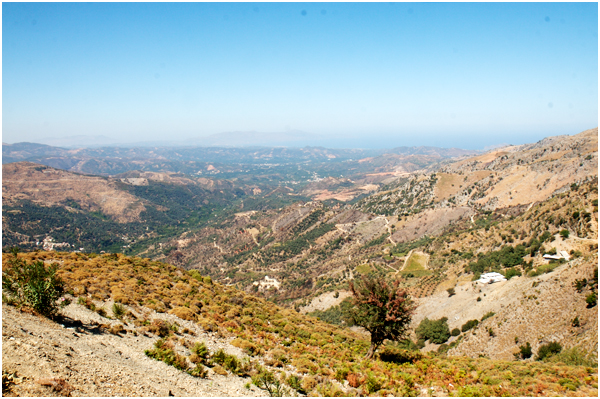 In the mornings, while I set up the breakfast table outside on the patio, P. walks to the nearby bakery to buy a fresh loaf of bread for us.
"This one is called the village bread," the lady with a tanned face sitting behind the counter tells me on our first visit. She looks surprised when I ask if I can take a few pictures.
"Pictures of the bread?" she exclaims with a puzzled expression. "Sure!"
The bread is rustic, both dense and light; at breakfast, we enjoy it with apricot jam and Greek yogurt drizzled with local honey. Then, later in the day, we have it as a satisfying snack, dipped in olive oil, or feta cheese and tapenade.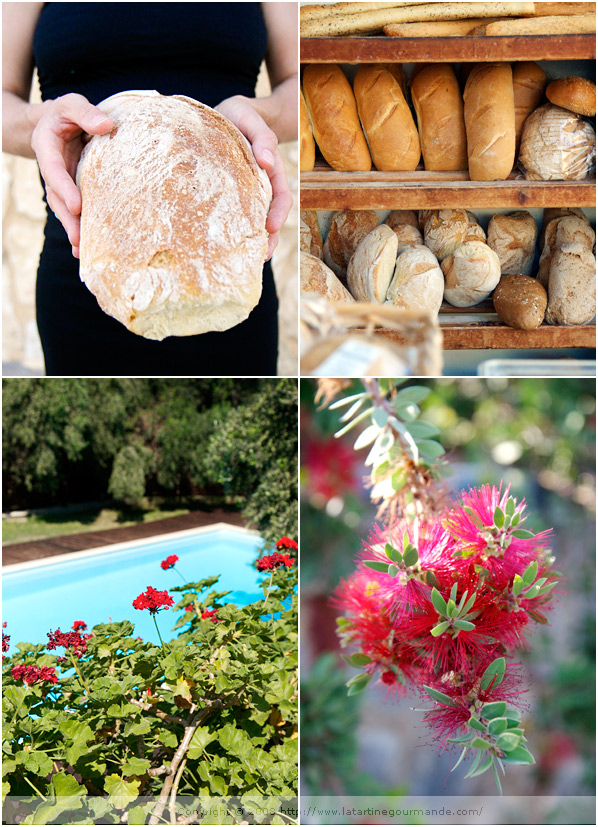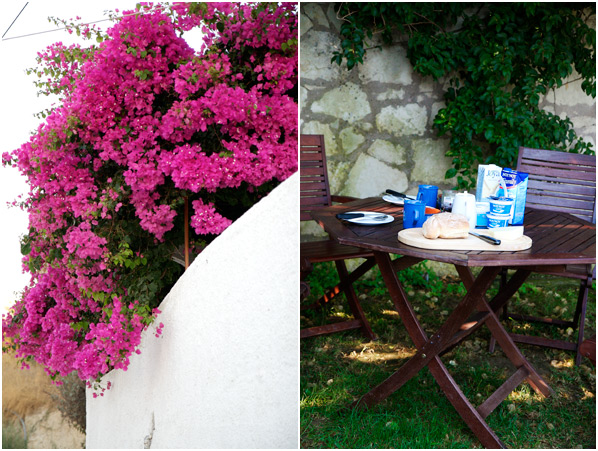 Every day, the weather looks identical: you wake up with the sun, and you go to bed with it!
"Oh, it can be like this until November," Stefanos tells me, laughing, when I joke about the weather pattern.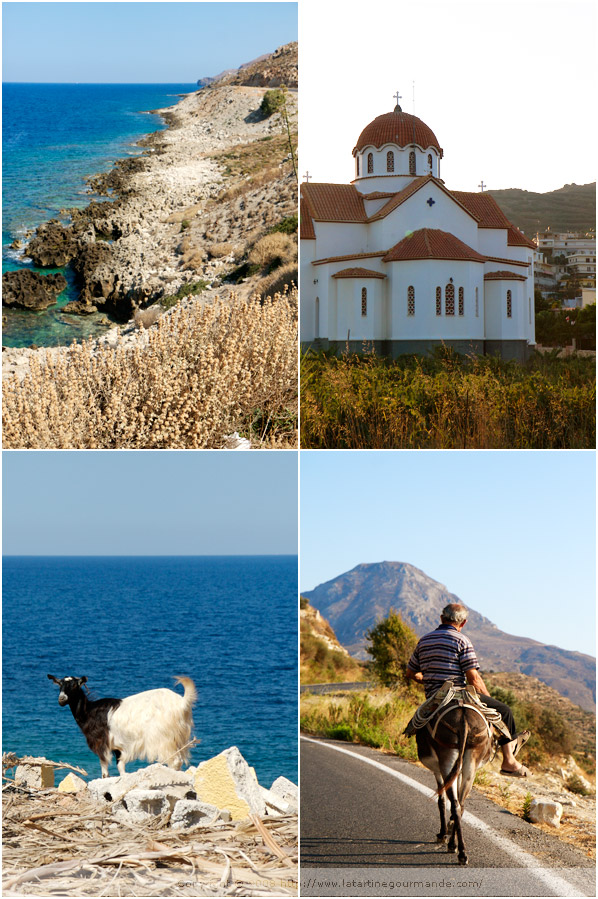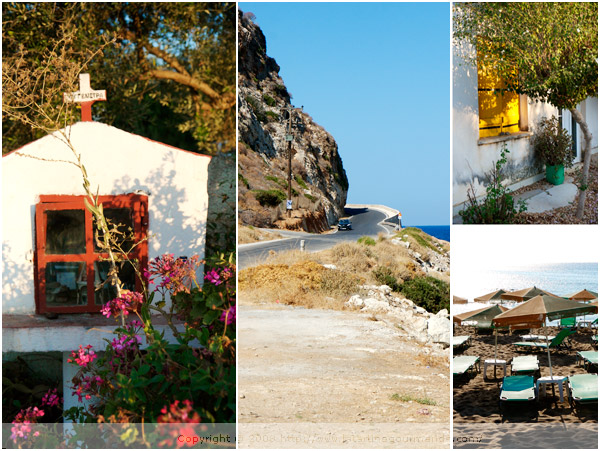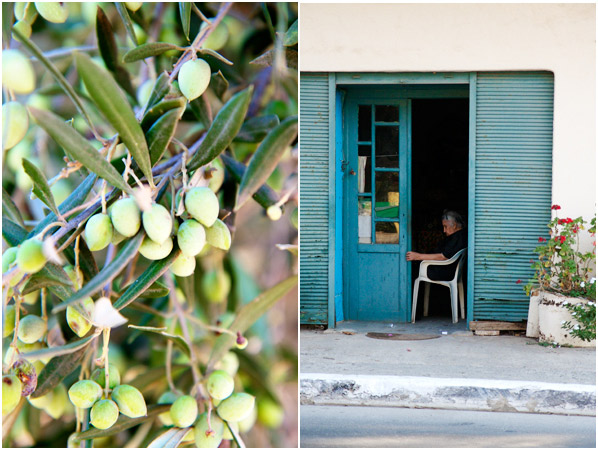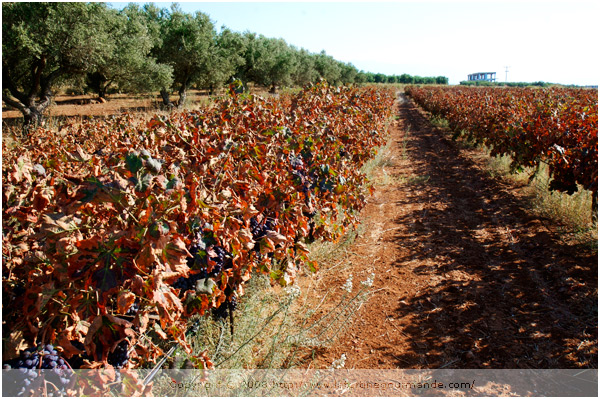 Grapes for local wines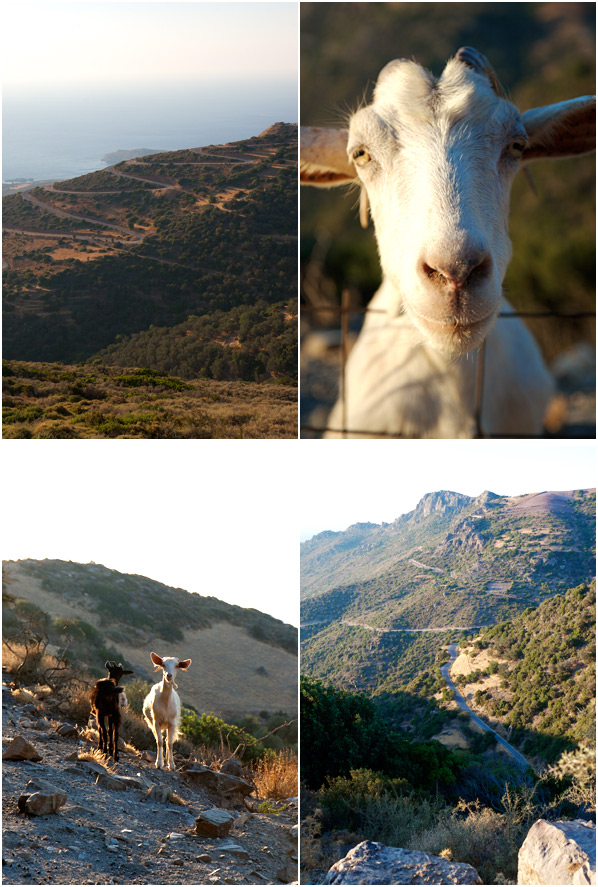 The Saturday open market of Chania (now located by the courthouse) is a favorite time to connect with Cretan local produce. When we arrive at around 11 am, it's already quite hot and busy on the square. Olives, zucchinis, eggplants, onions, tomatoes, cucumbers are by far the vegetables that the farmers sell the most, but we also find various types of cheese, juicy-looking peaches and grapes, stacks of lavender, a man selling fresh rabbit, displays of whole pieces of fish, and eggs. I am also attracted by the interesting greens I see, quite different from what I know, and the fresh pistachios which I am learning about.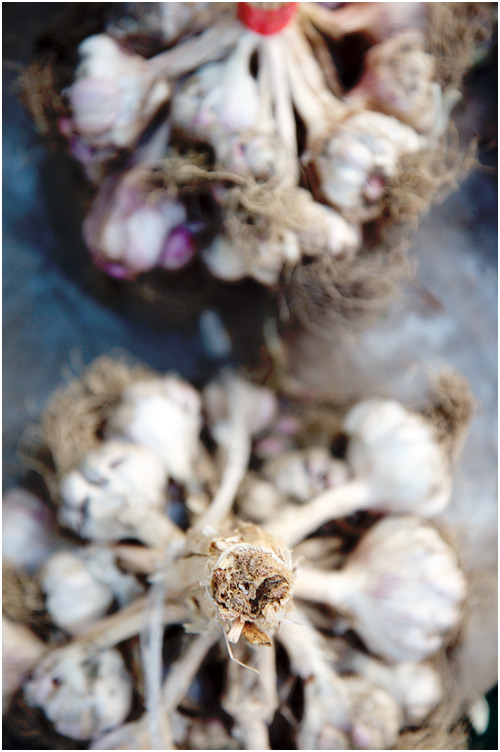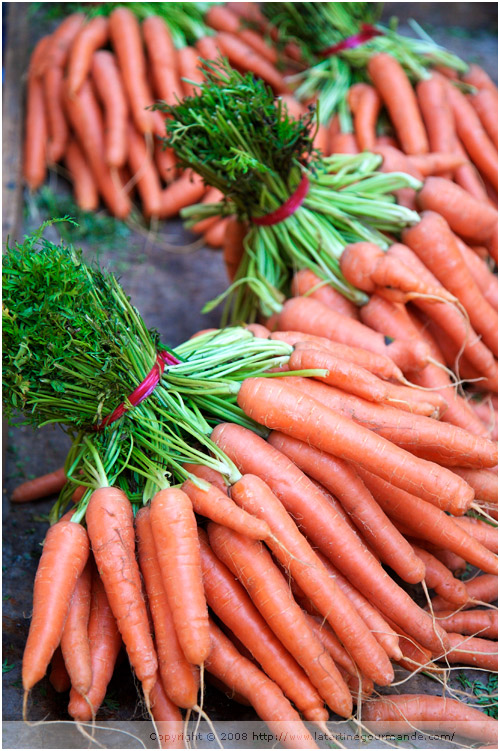 Saturday Open Market in Chania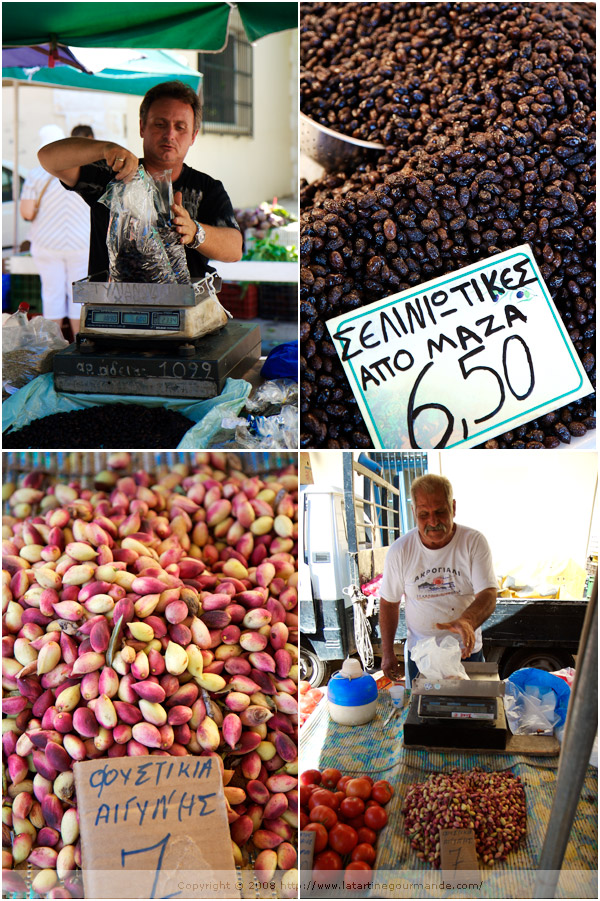 Black Olives — Fresh Pistachios
"What is this?" I ask the stocky man with a gray curly mustache standing behind a counter where a high stack of pink-looking beans are loosely arranged. He looks back at me and smiles. It's obvious that I won't understand his Greek, and him my English. So to explain, he picks a bean between his fingers, removes the outer soft shell skilfully with only one hand, and holds the pistachio in its hard shell back to me.
"Here!" he tells me, convinced that I can now guess what it is.
"It tastes just like a walnut when it is open fresh," I whisper into P.'s ear after I take a small bite.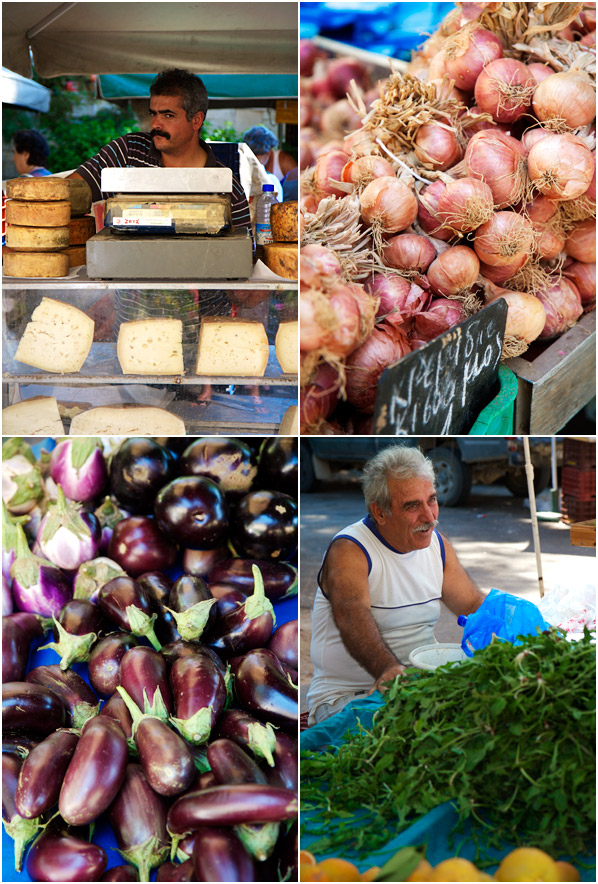 We return home with a large bag full of fresh vegetables and fruit, and two pieces of whole fish that I am planning to grill in the evening. P. chooses the pieces. The young woman at the fish counter cleans them skilfully, without even looking at what her hands are doing.
We are excited to have found fresh fish because on the island, we soon find out that paradoxically, a lot of restaurants and tavernas serve mostly frozen fish. The mystery as to why remains.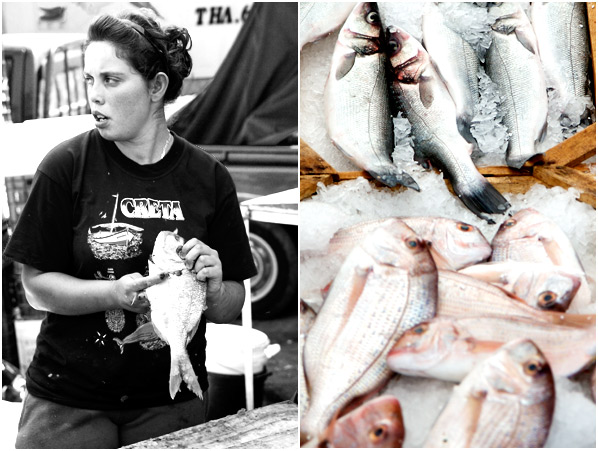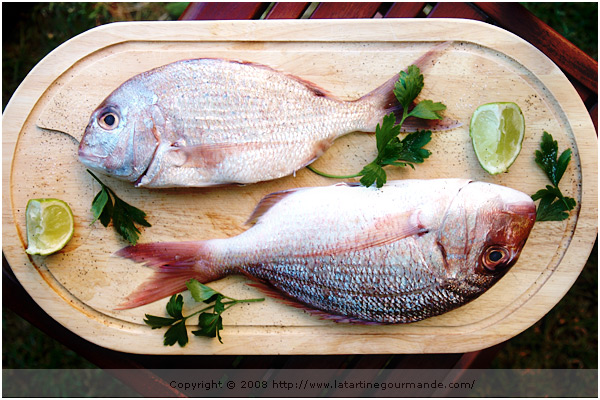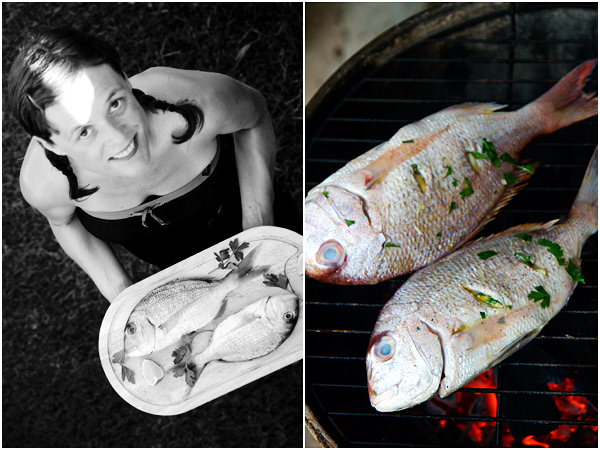 Grilling Fish
The beaches in Crete are all different in style. We decide to visit only a few — the pool is quite convenient, and tranquil, I must say: from Stavros located on a peninsula east of Chania (a beautiful little bay with the Zorba mountain as a backdrop, the setting used in the movie Zorba the Greek), to Falassarna and Elafonisi, on the west coast.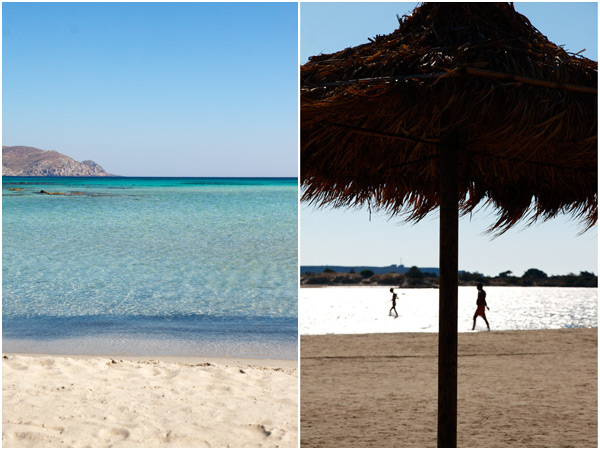 Elafonisi Beach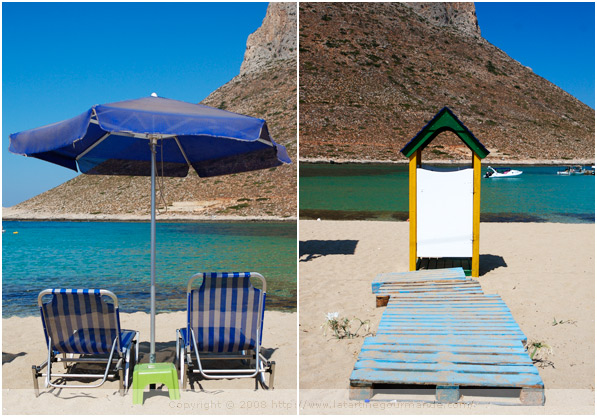 Stavros Beach
During our stay, when we dine or have lunch out, we eat in tavernas where the food is down-to-earth and unpretentious, and always extremely fresh. Amongst the dishes we enjoy, there are tasteful olives of all flavors, the unmissable Greek salad, moussaka, stuffed vegetables, stuffed wine leaves, grilled sardines and octopus, Saganaki (fried Graviera cheese), fried zucchinis, shrimp slouvaki, plain yogurt and honey, and to finish, always a slice of complimentary watermelon or melon coming with the bill. Every vegetable tastes like it's been basked in the sun for hours, giving the best summer has to offer in your plate.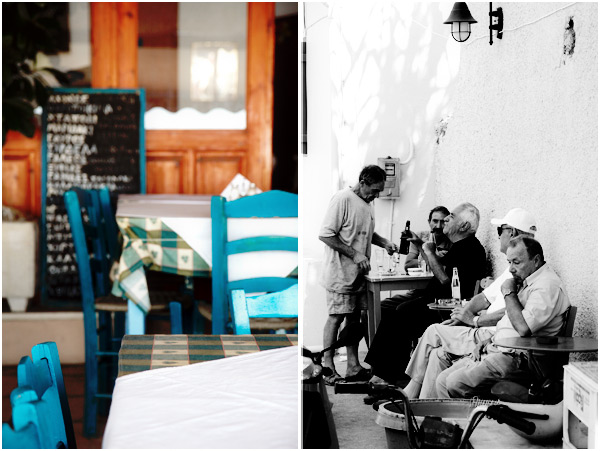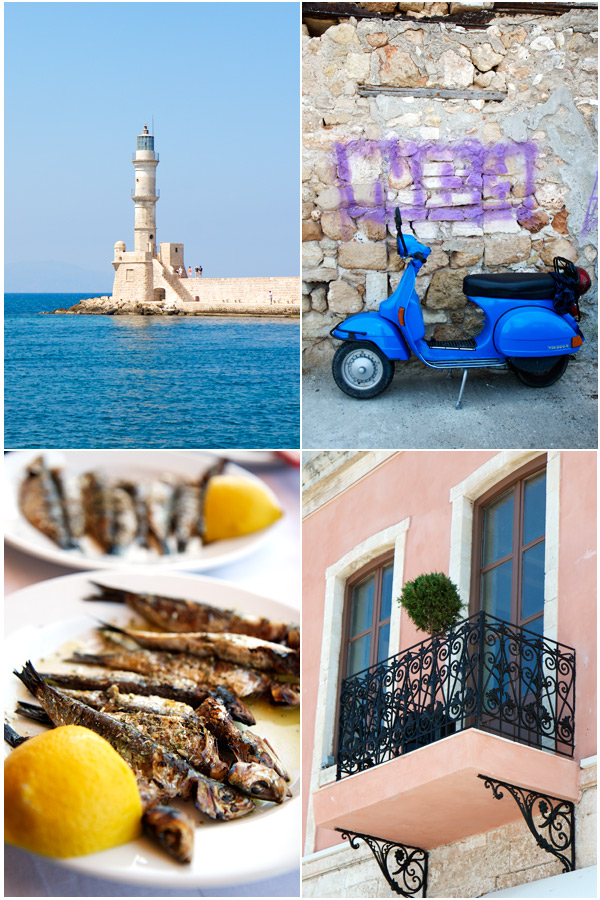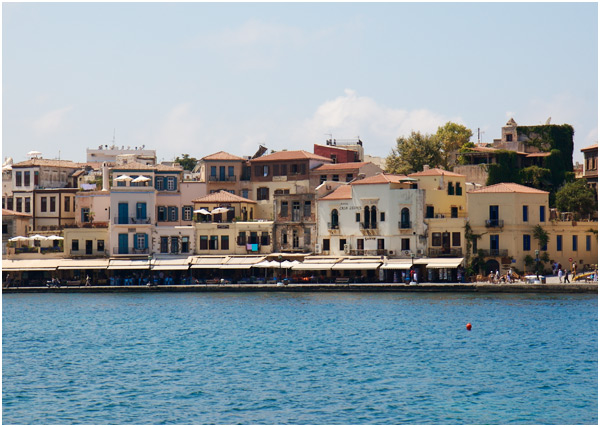 Venetian Harbor in Chania
One morning, we decide to drive to Chania to stroll along its picturesque Venetian Harbor Port. The place is busy with tourists, tavernas and cafés, but it manages to keep an authentic charm with its historic buildings.
"In fact, it's perhaps what the island used to look like years ago, minus the restaurants," Stefanos tells us when we ask him about the port. We soon find out that like in Athens, Cretans do not seem to mind building modern in the middle of more ancient. So keeping a place like this harbor is a must. That day, we enjoy a tasty lunch made of simple, honest food, as we sit at the table of one of the many tavernas by the water.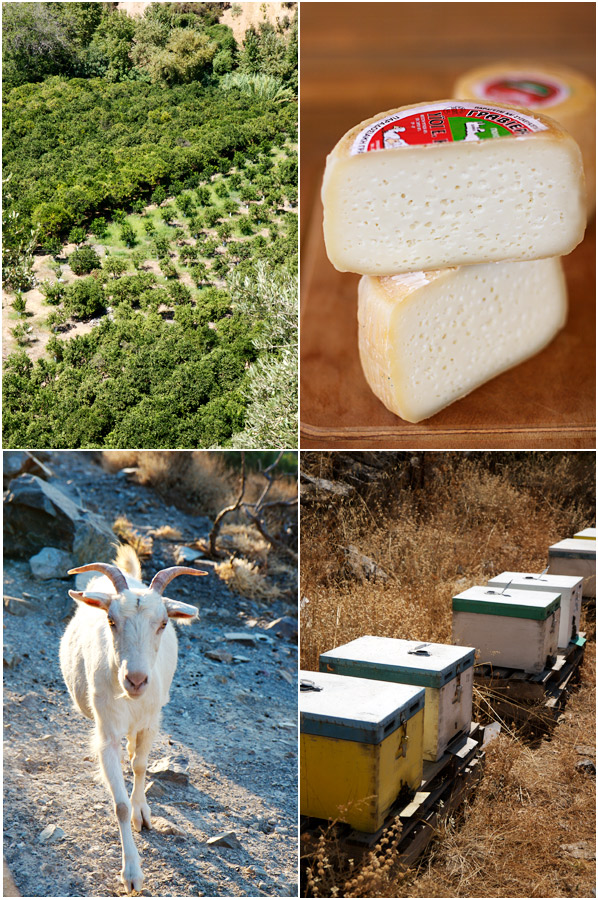 Greek Graviera — Beehives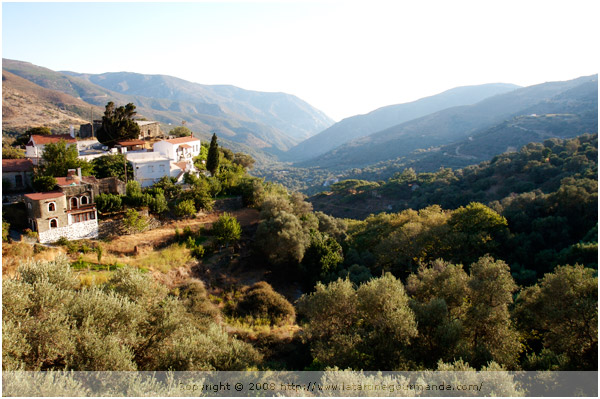 It's unusual of us to plonk ourselves in one place for an entire week. Instead, we typically long to cover distances to see as much as we can. But this time feels different. This time, we need to slow down too.
And we are happy.
We have a relaxing and quiet vacation. Perhaps because the house is so comfortable, perhaps because we enjoy many of the pleasures of life we are fond of, like swimming, observing Nature, reading, strolling and cooking. Simply taking the time to do nothing and follow a slow pace.
So when we eventually leave Crete, we have a load of fantastic memories in our luggage, with the desire to come back to see much more, including hike the gorges of Samaria.
A last visit to a local produce store allows me to buy two kilos of olive oil flavored Graviera cheese (made of a blend of sheep and goat milk, like all cheeses made on the island) that I bring to my parents and my brother B.; a decorative deep blue plate from a local potter; and a few bottles of organic extra virgin olive oil.
And in my head, I have plenty of recipes enjoyed during our vacation, that I am keen to reproduce at home, as soon as I find my kitchen back.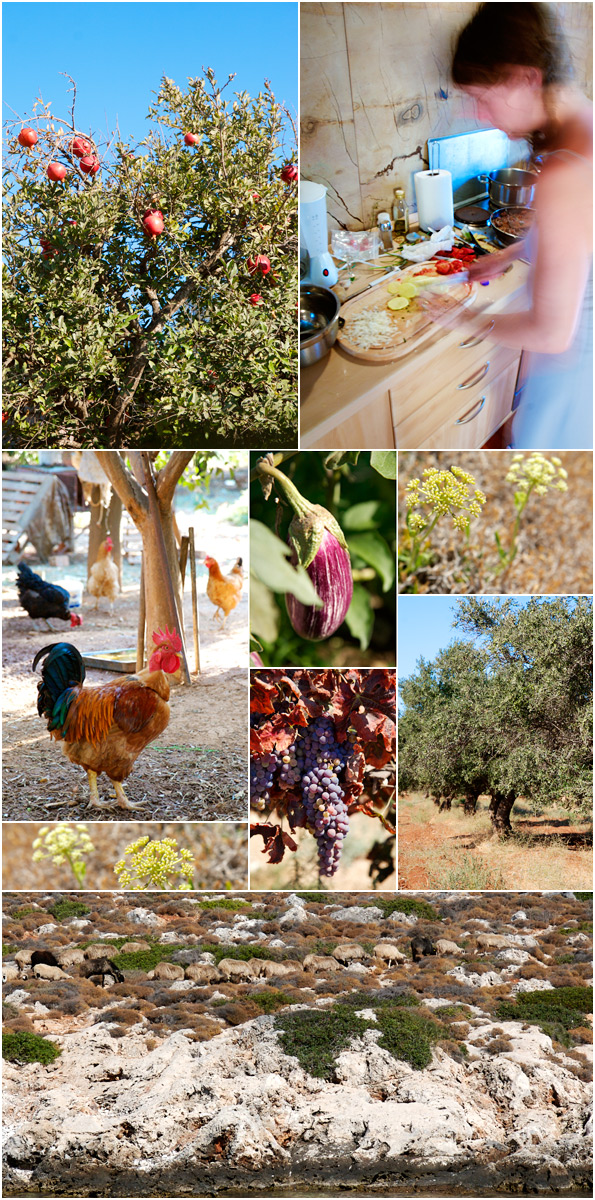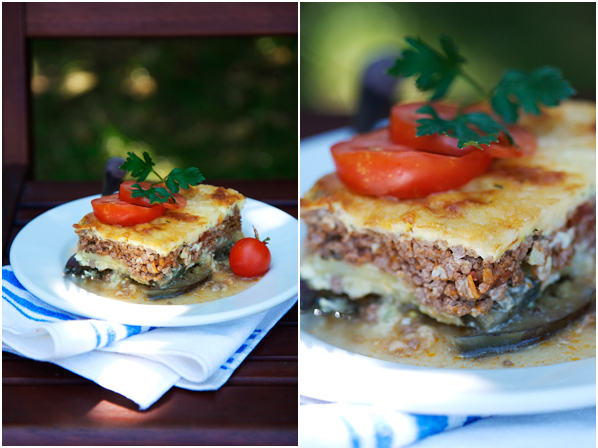 Making Moussaka on vacation
"Qu'est-ce tu fais à manger ce soir ? (What are you cooking tonight?) " I ask my mum when she and I are at the supermarket. I've been in France for almost a week, but still have a strong taste for summer vegetables. I am craving sun-filled tomatoes, zucchinis and eggplants.
"Je n'sais pas encore. T'as des idées ? (Not sure yet. Any suggestions?) "
"Et si je faisais de la moussaka, comme celle que P. et moi on a mangée en Crète ? (Shall I make a moussaka like the one P. and I had in Crete?)"
"Bonne idée !" she exclaims. We will use the tomatoes, onions, oregano and eggplants from her garden, the best.
I am thrilled.
To cook it, and share a taste of our sunny vacation with my family.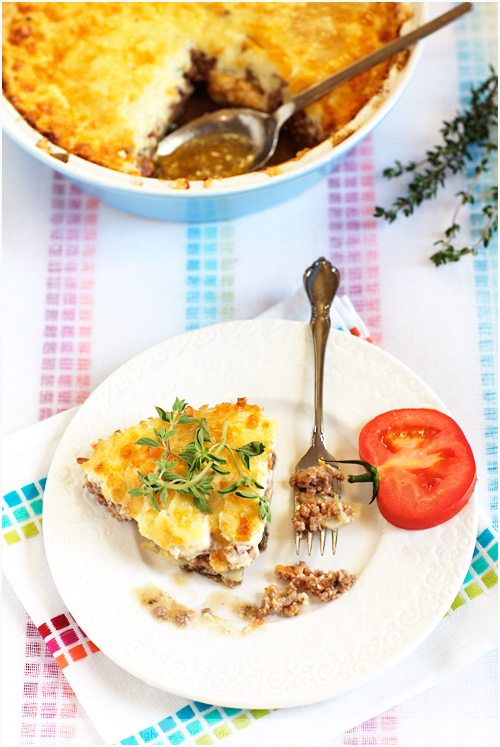 Moussaka
Moussaka, like in Crete
You need:
2 pounds ground lamb
6 to 7 tomatoes (2 pounds)
2 medium-sized eggplants (1 pound)
1 large Yukon potato (10.5 oz)
1/4 cup white wine
3 cups whole milk
5 Tbsp butter
1/3 cup cornstarch
1 egg
3.5 oz Greek graviera cheese, grated (or any sheep milk hard cheese)
1 Tbsp chopped fresh oregano
1 thyme twig
1 bay leaf
1/4 tsp ground cinnamon
1 yellow onion
1 garlic clove
Salt and pepper, to taste
Steps:
Wash and slice the eggplants. Place them in a colander and sprinkle with 1 tsp salt. Toss and let rest for 30 minutes. Pat the eggplant slices dry; set aside.
To prepare the meat and tomatoes, start with blanching the tomatoes in boiling water for 1 minute, then rinse them under cold water. Peel and remove the seeds. Dice the tomatoes and set aside.
In a saute pan, heat 2 tablespoons of olive oil on medium heat, and cook the onion until soft. After five minutes, or when the onion is soft, add the garlic and continue to cook for 1 min to reveal the flavor.
Add the meat and cook until all the meat grains separate (takes about 6 to 7 minutes).
Then add the white wine, and cook until slightly evaporated.
Then add the tomatoes, the bay leaf, oregano, thyme and cinnamon, and stir. Bring to a gentle simmer, then reduce and simmer for about 1 hour uncovered, stirring occasionally and mashing the tomatoes with the back of a wooden spoon. Season with salt and pepper. Once cooked, discard the thyme and bay leaf.
In the meantime prepare the white sauce. In a pot, melt the butter on medium heat. Add the cornstarch and stir well. Away from the heat, pour the milk and stir. Bring the sauce to a boil while stirring. Once it boils, it should thicken; cook for 1 to 2 minutes. Season with salt and pepper, and add 1/3 cup cheese. Let cool before adding the egg.
Preheat your oven at 350 F.
Peel the potato and slice thinly; set aside.
Brush the bottom of a large rectangular gratin dish with olive oil.
Arrange the eggplants at the bottom, then top with the slices of potatoes.
Add 1/3 cup of the white sauce, then top with the meat sauce.
Finish with the rest of the white sauce and cover with grated cheese. Cook in the oven for about 1 hour, or until the top is golden in color. Enjoy with a green salad. It is even better the second day!
Le coin français
Moussaka, comme en Crète
Ingrédients :
900 g d'agneau haché
6 à 7 tomates (environ 1 kg)
2 aubergines de taille moyenne (environ 450 g)
1 grosse pomme de terre à chair ferme (300 g)
60 ml de vin blanc
700 ml de lait entier
75 g de beurre
50 g de maïzena
1 oeuf
100 g de fromage grec graviera, râpé (ou tout autre fromage à pâte dure au lait de brebis, comme le Petit Basque)
1 càs d'origan frais haché
1 brin de thym
1 feuille de laurier
1/4 càc de cannelle en poudre
1 oignon, haché
1 gousse d'aïl, râpée finement
Sel et poivre
Etapes :
Lavez les aubergines, et coupez-les en tranches. Mettez-les dans une passoire et saupoudrez-les avec 1 càc de sel. Mélangez et laissez dégorger pendant 30 minutes. Sèchez-les sur du papier absorbant, puis mettez-les de côté.
Pour préparer la viande et les tomates, commencez par blanchir les tomates dans un grand volume d'eau bouillante salée pendant 1 minute, puis rinsez-les sous de l'eau froide. Pelez-les et retirez les graines. Coupez les tomates en dés; réservez.
Dans une sauteuse, faites chauffer 2 càs d'huile d'olive sur feu moyen, et faites suer l'oignon pendant 5 minutes. Ajoutez ensuite l'aïl et poursuivez la cuisson pendant 1 minute.
Ajoutez la viande, et cuisez en vous assurant de bien séparer les grains de la viande (environ 6 à 7 minutes).
Ajoutez le vin et faites légèrement évaporer.
Ajoutez les tomates, la feuille de laurier, l'origan, le thym et la cannelle et mélangez. Faites mijoter à découvert pendant 1 heure environ, en remuant de temps en temps et en écrasant les tomates avec le dos d'une cuiller en bois. Salez et poivrez. Une fois la sauce cuite, retirez la feuille de laurier , et le brin de thym.
En attendant, préparez la béchamel. Dans une casserole, faites fondre le beurre. Ajoutez la maïzena, puis hors du feu, ajoutez le lait. Mélangez et faites bouillir; la sauce va épaissir. Cuisez pendant 1 à 2 minutes. Ajoutez 30 g de fromage râpé. Une fois refroidie, rectifiez l'assaisonmment, ajoutez l'oeuf.
Préhauffez votre four à 180 C.
Pelez les pommes de terre et coupez-les en tranches fines.
Huilez un plat à gratin rectangulaire.
Arrangez les tranches d'aubergine au fond, puis continuez avec une couche, ou deux, de pommes de terre.
Ajoutez quelques cuillers à soupe de béchamel, puis couvrez avec la viande en sauce.
Finissez par le reste de béchamel et couvrez de fromage râpé. Cuisez au four pendant 1 heure, ou jusqu'à ce que le dessus soit bien doré. Dégustez avec une belle salade verte. Le plat est encore meilleur le lendemain !