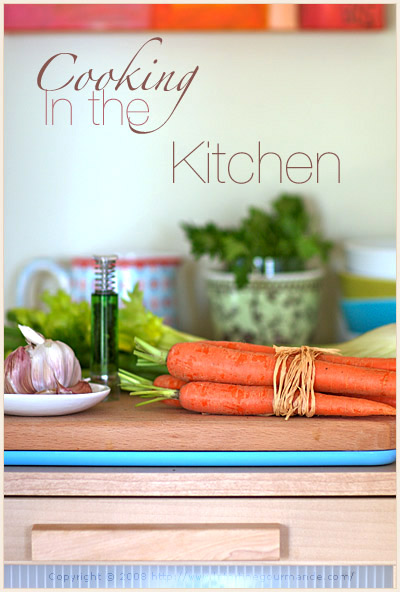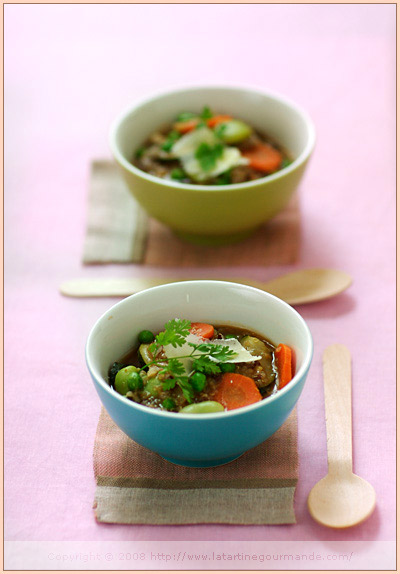 Wintry Minestrone
"What on earth are you doing?" P. asked when he heard the noise of pots and pans clanking.
"Looking for a large stockpot," I replied as I was kneeling on the kitchen floor, busy checking the bottom shelf of the kitchen island clearly overloaded with too much stuff. Where on earth was my large stockpot indeed?
"What for?"
I paused, wondering whether I should tell him then, or later.
"Minestrone soup," I said. "For lunch." I knew well what he was going to say, but let him say it all the same.
"I have to tell you, I don't really like minestrone soup," he said in a quiet tone, an indication that he was trying to be nice about it.
"Ca tombe bien, moi non plus !" I replied with a loud laughter (Good, me neither!)
"But wait until you try this one."
This is how Sunday started: a conversation revolving around minestrone soup, and my determination to have the memory of poor-tasting minestrone soup disappear for both of us. Gone! Pouf, disparu, as if it had never existed.
But tell me one thing first. Are we the only ones to feel this way about minestrone soup? When my friend R. and her boyfriend J. stopped by to see us late on Sunday morning — and eventually stayed over for lunch — R. told us that she did not like minestrone because of the beans.
"There are just too many types of beans in a minestrone. But Béa, I have to say. This one is really nice. Actually, maybe you should not call this a minestrone soup, but something else" she continued.
"Really?" For a second, I did not know what else to answer. It was a minestrone soup in my book, after all.
"Well, I will call it My minestrone soup then. How does this sound?"
Unlike R., it is not necessarily the beans that I used to mind in a minestrone soup, but the flavor of the broth. I suppose that I must have eaten too many bad minestrone soups, in average restaurants where it was the only attractive dish on the menu, or at the canteen where I would have lunch every day when I was in middle and high schools; minestrone was on the menu every Wednesday during the fall.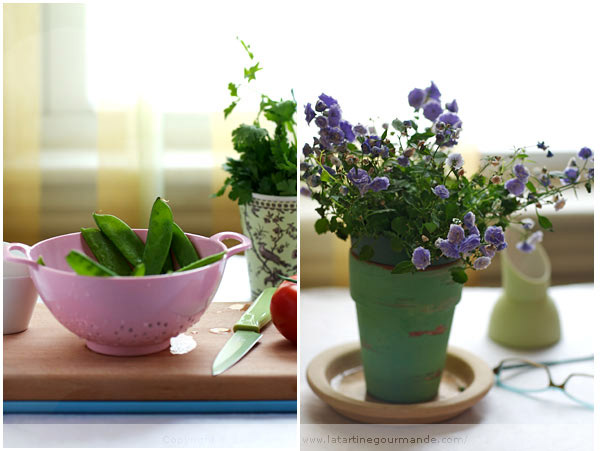 In a minestrone more than with any other soup, I believe that the broth is really the backbone that supports the entire soup. A good broth needs to have a clear fragrant flavor, not overwhelmingly so, but one that will bring the dish a step up. If it is poor in quality, then the soup will too. I realized this simple thing once I started to prepare my own vegetable stock. From that time on, I went from hating minestrone soup to loving it, from finding some risotto recipes average to craving them every day.
Maybe you will think that you clearly do not have the time to make homemade vegetable broth. And, in the case we were talking about chicken, fish, beef or veal stock, perhaps I would join the crowd. The story of a vegetable broth, however, is a complete different one, because a vegetable stock is quick to make. The key? Be a touch organized in your shopping.
I always make sure to add the ingredients necessary to making a vegetable broth to my shopping list, should I have a spontaneous urge to making one. In fact, I no longer need to remind myself because these ingredients systematically end up in my cart. It has become a shopping habit, and for once, a good one.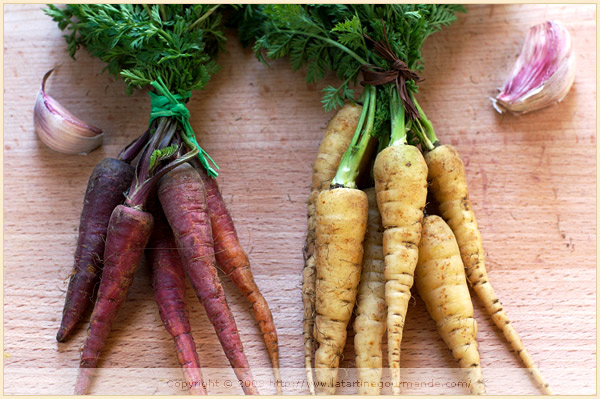 Colors of carrots
On my Shopping List, for a Vegetable Broth:
1 fennel bulb
2 to 3 carrots
1 to 2 celery branches
1 onion or 1 shallot
1 leek
These are the basic vegetables that I like to use to prepare a simple, scrumptious vegetable broth. Ten minutes to prepare, and twenty minutes to cook. It is so easy that it almost happens on its own. And the good news? It can be prepared one or two days before.
The rest, thyme, peppercorns, coriander and fennel seeds should be basic spices in your kitchen pantry. They are in mine.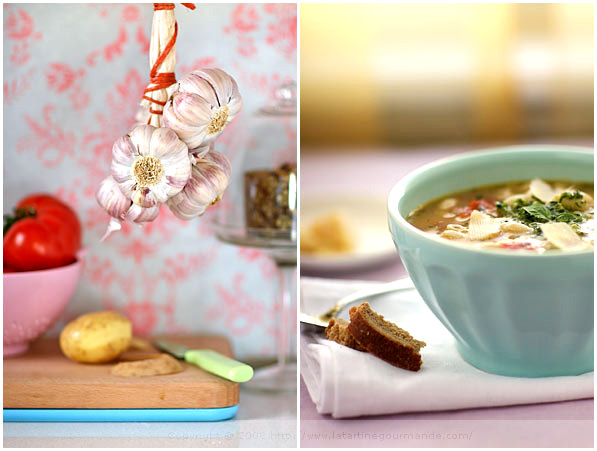 Homemade Vegetable Broth
(For 1.5 quarts broth)
You need:

2 Tbsp olive oil
1 onion
1 garlic clove
5 to 6 coriander seeds
5 to 6 fennel seeds
2 to 3 thyme twigs
A few peppercorns
1 fennel bulb, cut in big pieces
1 leek, cleaned and sliced
2 carrots
2 celery branches
Salt
6 cups water
Steps:
Peel the vegetables and cut them in big pieces.
In a large stockpot, heat the olive oil and add the onion, garlic and spices. Cook for a few min, without browning.
Add the vegetables and cook on medium to low heat for 10 min, until soft.
Add the water and season with salt. Cover and bring to a simmer, and cook for 20 min. Remove from the heat and let rest for a few hours (or even overnight in the fridge) for the flavors to develop even more. Strain the broth and use when needed. It keeps well in the fridge for a few days.
Le coin français
Bouillon de légumes maison
(Pour 1,5 l de bouillon)
Ingrédients :

2 càs d'huile d'olive
1 oignon
1 gousse d'ail
5 à 6 graines de coriandre
5 à 6 graines de fenouil
2 à 3 brins de thym
Quelques baies de poivre noir
1 bulbe de fenouil
1 poireau
2 carottes
2 branches de céleri
Sel
1,5 litre d'eau
Étapes :
Épuchez les légumes et coupez-les en gros dés.
Dans un grand faitout, faites revenir l'oignon, l'ail et les épices dans 2 càs d'huile d'olive (sans brunir).
Ajoutez tous les légumes et faites-les suer pendant 10 min.
Versez l'eau, salez et couvrez. Faites mijoter pendant 20 min. Arrêtez le feu et laissez reposer quelques heures (ou toute la nuit au frigo) pour que les saveurs se développent encore plus. Filtrez le bouillon et utilisez-le de suite ou réservez. Le bouillon se conserve bien pendant quelques jours au frigo.
You probably know that a minestrone is a thick Italian soup made with various seasonal vegetables (such as tomatoes, celery, carrots, onions, beans, fennel, peas), to which pasta or rice is often added, as well as sometimes meat. There are probably as many minestrone soup recipes as Italian cooks. While some like the soup thick and dense in texture, others prefer it thin with more broth. Perhaps a minestrone (from minestra in Italian) is to the Italians what a bouillabaisse is to the French: an unpretentious substantial soup once considered food to feed the poorest families.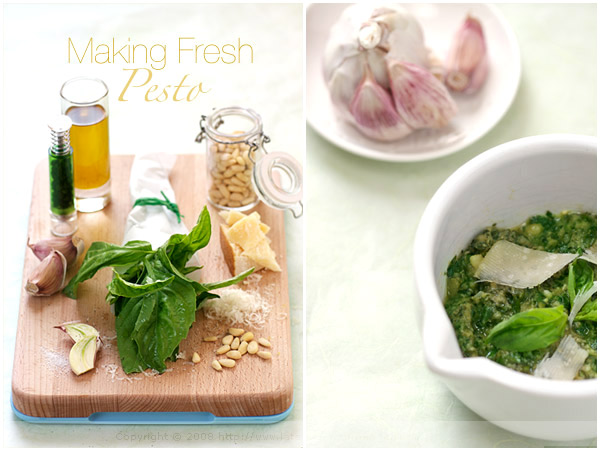 I like to add a touch of pesto in mine, like in a Genoese minestrone, use pecorino instead of parmesan, and then alternate the grains added to the broth. Sometimes I also prefer to sauté the vegetables in olive oil before adding the broth. I play with one variant, then with another one. In fact, over the past two weeks, I was so taken by this cooking project that I made it a few times for lunch. Crazy me or obsessive me? Let's just say that I did so as a way to test and improve the recipe, and to try different variations using the same basis. Needless to say that it made my lunches pretty happy, with the soup tasting even better the next day.
In my first one, I used Red Rice of Camargue and quinoa, and added fava beans and cannellini beans. In the second one, I used rice pasta, and for the third penne. I keep so many grains in my pantry that the possibilities were in fact wide open — and you will probably see that rice is a king ingredient in my pantry. Is it in yours too?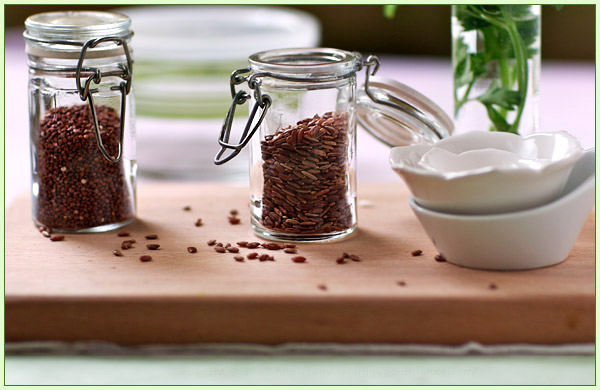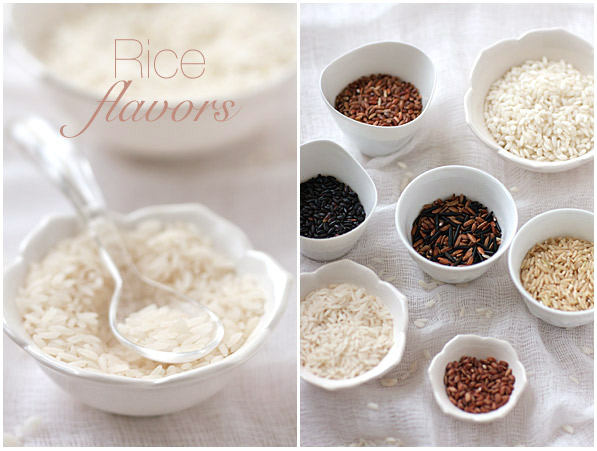 Grains in my Pantry
Forbidden black rice
Wild rice
Brown rice
White Jasmine rice
American long rice
Carnaroli rice
Sushi rice
Wild rice
White quinoa
Red quinoa
Millet
Israeli couscous
Couscous
Polenta
Farfalle
Penne
Ink Spaghetti
Quinoa Spaghetti
Spaghetti
The types of vegetables added to the minestrone depends on your taste, and seasonability. I particularly like minestrone with snap peas, zucchinis and fennel finely sliced, and like to keep these vegetables on the crunchy side. If the vegetables are not in season but I am still craving them, I then simply convince myself that there are worth crimes I could commit. N'est-ce pas ?
And the bottom line is?
J. and R. loved the soup, and P. was asking for more. We enjoyed it with extra shaved pecorino, and fried slices of Spanish chorizo on the side — the next day, I topped the soup with more.
And no matter how I decided to call the soup, it really tasted heavenly. Especially with a nice piece of crusty bread to dip in, and good company to share it with on a lazy Sunday lunch.
So when is a day like this one coming next?

On another note, P. and I are quite lucky to be invited to S.'s wedding, one of our Italian friends, in April. I like when our friends get married, especially if it happens in Italy! We will be off to Milan, driving to Rome. Any tips you might have are welcomed. Our plan is to visit and walk in Cinque Terre, amongst other things.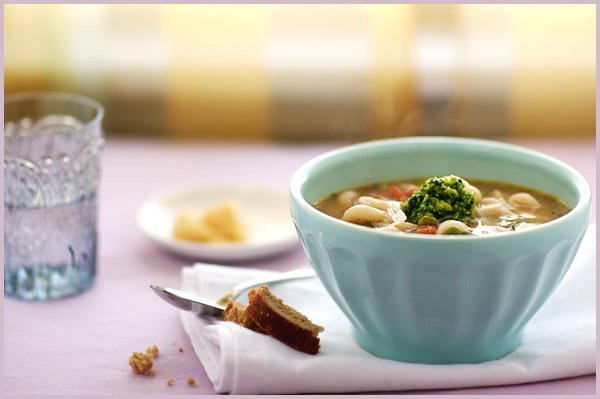 My Minestrone
My Vegetable Minestrone with Quinoa and Red Rice from Camargue
(For 4 people)
You need:
For the soup:
1.5 quarts homemade vegetable broth
4 tomatoes, blanched, peeled, cored, seeds removed, then diced
2 garlic cloves, peeled and halved
2 thyme twigs
3 oz Red Rice of Camargue**
3 oz quinoa, red or white**
1 small fennel bulb, sliced thinly
1 carrot, peeled and sliced thinly
1 small zucchini, sliced thinly
1 cup snap peas
1/2 cup fresh or frozen peas
Homemade pesto*
Salt and pepper
Fresh basil
Extra pecorino, shaved
Dash of olive oil
** or 5 oz pasta to replace quinoa and rice
*Simple Basil Pesto :
1/2 cup fresh basil, chopped
2 garlic cloves, peeled and halved
2 Tbsp pine nuts
1 oz pecorino cheese (or parmesan), grated finely
1/8 cup (or more) olive oil
Dash of salt and pepper
Steps:
To prepare the pesto, if you use a mortar and pestle, add the ingredients in this order: salt, garlic, basil, pine nuts, pepper, cheese and olive oil, and work with the pestle into a coarse paste.
If doing by hand, chop the pine nuts and basil. Chop the garlic thinly and mix the ingredients together. Then add the cheese and pour the olive oil slowly while mixing.
To prepare the soup, pour the broth in a large pot and bring to a simmering point. Add the garlic cloves, thyme, basil leaves, salt and pepper, and add the rice and quinoa (or pasta which you might want to add a little later, depending on how long they need to cook for. Check on the package).
Add the tomatoes and simmer covered for 20 min or so.
Add the carrot and fennel slices and continue to cook for 3 to 5 min before adding the zucchini, snap peas and peas. Cook for an extra 3 to 5 min. Season to taste.
Serve the soup in large bowls with a dash of olive oil, 1 full tsp pesto (or more), extra shaved pecorino and fresh basil.
Le coin francais
Ma minestrone de légumes au quinoa et riz rouge de Camargue
(Pour 4 personnes)
Ingrédients :
Pour la soupe :
1,5 l de bouillon de légumes maison
4 tomates, ébouillantées, pelées, épépinées, et coupées en petits dés
2 gousses d'aïl, pelées, degermées and coupées en deux
2 branches de thym
80 g de riz rouge de camargue**
80 g de quinoa, rouge ou blanc**
1 petite bulbe de fenouil, émincée finement
1 carotte, pelée et coupée en rondelles fines
1 petite courgette, coupée en rondelles fines
100 g de pois mange-tout
60 g de petits pois surgelés ou écossés
Pesto maison*
Sel et poivre
Basilic frais
Copeaux de pecorino pour servir
Filet d'huile d'olive
** ou 150 g de pâtes, selon votre choix
*Pesto au basilic tout simple :
1 gros bouquet de basilic frais
2 càs de pignons de pin
2 gousses d'aïl, pelées et coupées en deux
30 g de fromage pecorino (ou parmesan) râpé finement
30 ml (ou plus) d'huile d'olive
Pincée de sel et de poivre
Étapes :
Pour préparer le pesto, si vous disposez d'un pilon avec mortier, ajoutez les ingrédients dans cet ordre : sel, aïl, basilic, pignons de pin, poivre, fromage et huile d'olive versée en filet tout en pilant, afin d'obtenir une pâte de la consistance souhaitée. Mon pesto est en général assez humide.
Si vous le réalisez sans mortier, hachez les pignons de pin et le basilic avant, et râpez l'aïl finement. Mélangez ensuite les ingrédients ensemble, sauf l'huile que vous versez en dernier en filet.
Pour préparer la soupe, versez le bouillon dans une grosse cocotte (ou un faitout) et ajoutez deux gousses d'aïl, le thym, quelques feuilles de basilic ciselées, les tomates et assaisonnez de sel et de poivre. Amenez à peine à la première ébullition, puis ajoutez le riz et le quinoa (ou les pâtes). Si vous utilisez des pâtes, faites attention au temps de cuisson qu'elles nécessitent, et ne les ajoutez pas trop tôt (voyez le temps de cuisson nécessaire sur le paquet).
Laissez mijoter à couvert pendant 20 min.
Ajoutez ensuite les rondelles de fenouil et de carotte, et poursuivez la cuisson pendant 3 à 5 min avant d'ajouter la courgette, les petits pois et les pois mange-tout. Poursuivez la cuisson pendant 3 à 5 min. Rectifiez l'assaisonnement.
Servez la soupe en assiette creuse. Arrosez d'un filet d'huile d'olive et servez avec 1 grosse càc de pesto (ou plus) des copeaux de pecorino et du basilic frais.