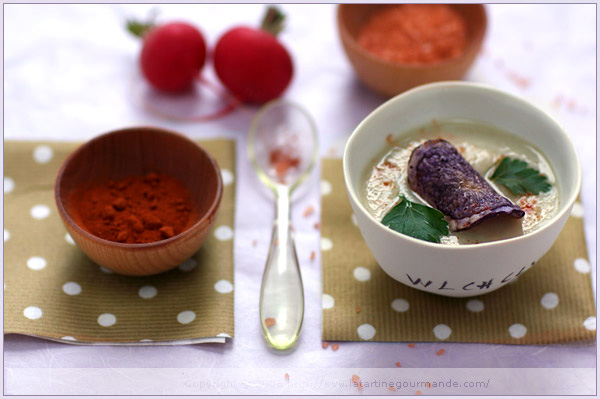 Jerusalem Artichoke Soup
It really started with a casual walk by the river near our house. The walk I take every day when I am not too busy — and even when I am, I go anyway since I am a countryside girl after all — it must run in my genes. I particularly like to walk around there in late morning or early afternoon when there are not many people, but then there are never too many people all things considered. I was in serious need of a breath of fresh air and to feel the wintry golden sun warm up my skin. When I arrived at the park, I spotted three young girls, each wearing a blue sports jacket, sitting at the top of the largest tree domineering the entire field: I had forgotten it was school vacation. Were they sisters to be wearing the same color or victims of a school fashion? They were giggling — boys shout and girls giggle. For a second, I almost felt like asking them "eh, do you mind if I come?" as I imagined it must have felt free to sit higher. I laughed and stayed quiet, behaving like an adult while what I really wanted was to play. In fact, I remembered seeing two boys at the top of that same tree the day before. What was so popular with that particular tree? Was it the fact that it is so fat at the base with branches spreading low, hence pretty easy to climb?
Despite the glowing sun, it felt chilly and windy, but I did not mind. Feeling the crisp air awaken my senses made me feel alive. The last days had been filled with a lot of work, good work, but work all the same. I had prepared, styled and shot so many dishes that my head felt dizzy just thinking about it. There had been scallop and saffron risotto, spaghetti with green crunchy vegetables, savory and sweet tartlets of all sorts, muffins, fresh muesli, fruit syrups, berry crumble, granola, salads, fish and meat: a lot of food; a lot of mess made too. In fact, do you mind if I tell you something? Do you know what I really dislike about this? Perhaps you do too.
Cleaning and tidying.
But I decided to leave before cleaning and tidying. These tasks would wait, even if I knew that I was going to walk back to a messy house. The girl-who-likes-tidy-places-to-be-able-to-work, moi, did not mind for a change. Being outside felt more important and besides, the sun outside was too inviting.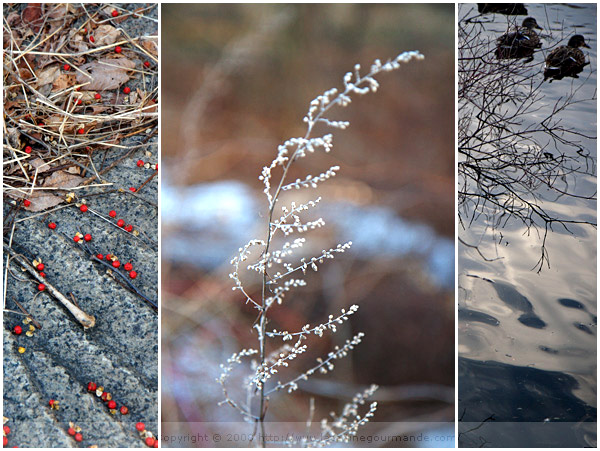 I witnessed scenes that happen every day, but they somehow seemed as fresh as if I was seeing them for the first time: numerous ducks were huddled together in the semi-frozen pond, hoping to be fed by each passer-by; the iced path revealed a few greener patches of grass, the first signs of spring shyly appearing at the corner; a beautiful playful cardinal fluttered around my head, the same one which nests by the left bank of the river; dogs chased each other happily, with their owners busy chatting and catching up with the latest news, something they do at the same time every day; two younger boys played hockey on roller-blades with their worried mother following closely behind.
The park was busy with the details of life that I crave for, and it felt peaceful.
I walked briskly for a long hour without even noticing that I was hungry. When I finally stopped to look at my watch, I realized it was already 1:30 pm.
Time for lunch!
Despite the many more elaborate foods I had prepared, the only food I craved was a bowl of warm soup — another soup, I know!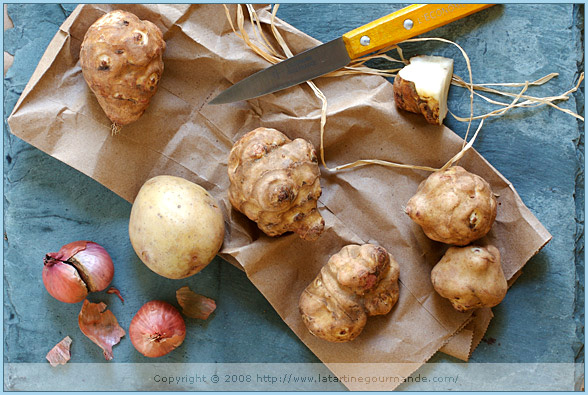 Jerusalem Artichokes in a Soup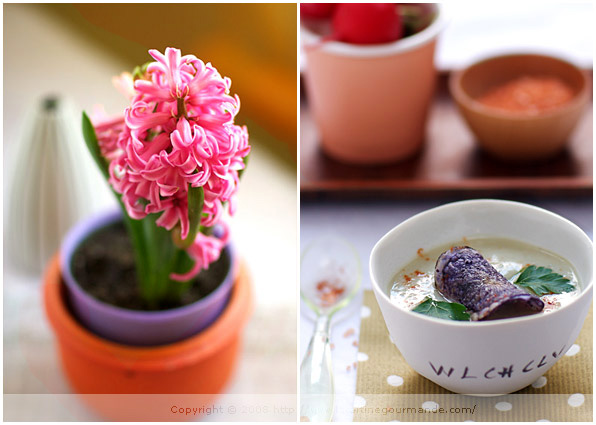 "What is this vegetable called?" my mother-in-law asked when I told her I had made a sunchoke soup.
"They call them Jerusalem Artichokes too," I replied on the phone. "You should try them. They really taste like artichoke, and are delicious. Super easy to prepare."
Sunchokes are vegetables that I really discovered more this winter. I had always known them by their name, but it was really my friend Kit who picked my curiosity when she told me about a friend of hers running a local farm where they grown them. Unfortunately, I arrived too late in the season to witness the harvest. This year, I hope.
I use these roots sautéd or cooked in various types of gratins, mashes and soups — yes I know, I still owe you this hachis parmentier recipe, don't I?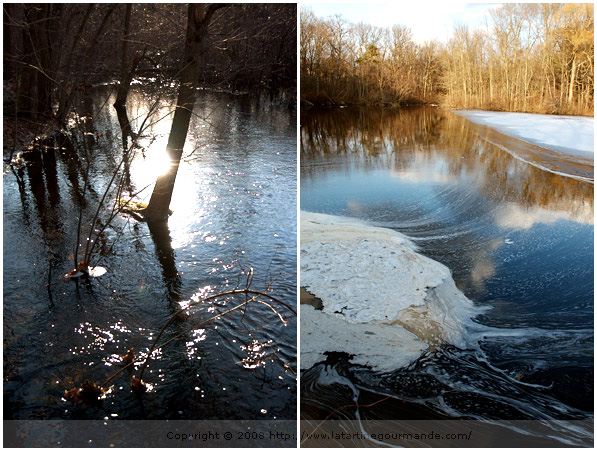 The idea of this soup recipe comes from one P. and I loved when we visited Copenhagen this January. We had found out about it in a small restaurant where we had lunch one day. They served theirs with large scallops in the middle: we were seduced by the idea. After our trip, I had promised that I would try to make a similar soup at home.
In mine, I used bay scallops from Nantucket Island, my favorites found locally. I also added a drizzle of truffle oil on top, giving a taste of earth and ocean mingled to the dish.
But I also enjoyed eating the soup more simply too, accompanied with blue potato chips and a touch of paprika.
And fleur de sel always sprinkled on top.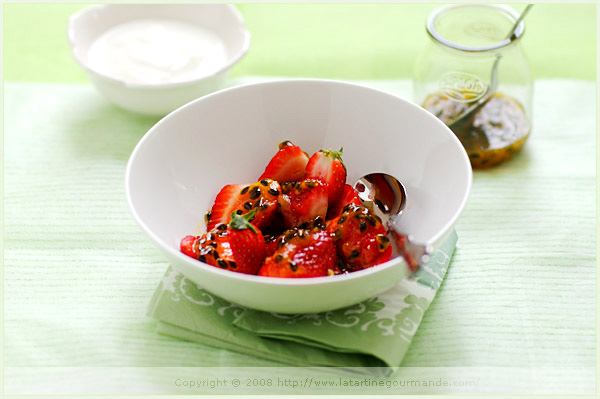 Strawberries with passion fruit syrup and yogurt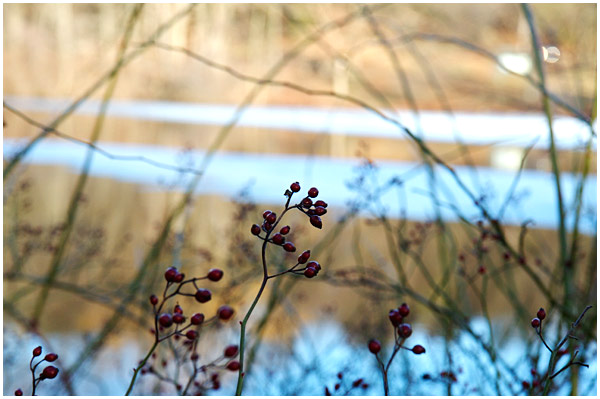 My lunch was then complete with a bowl of fresh organic strawberries, passion fruit syrup and plain yogurt. I decided to keep the chocolate caramel cream made earlier that day to share with P. for dinner — I am one of those crazy ones who strongly believe that chocolate treats always taste better when they are shared!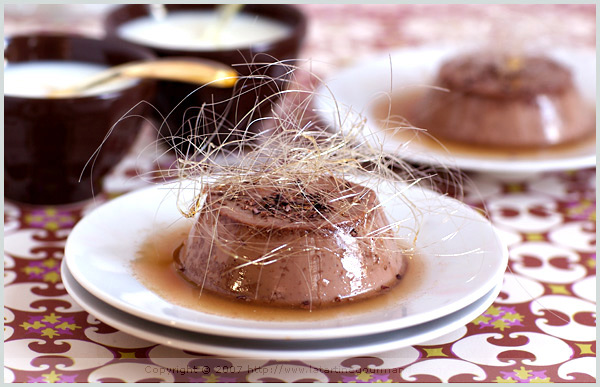 Chocolate Caramel Cream
Sunchokes might be ugly to look at with their wrinkly skin and funny shapes, but there is deliciousness hidden inside. So let's have a bowl of this sunchoke soup, shall we?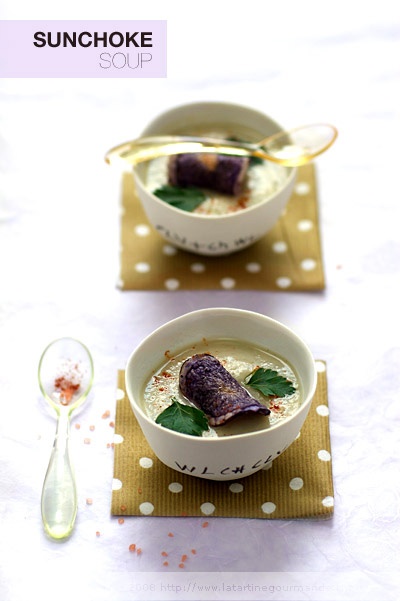 In case you wondered and since I often receive emails from you my dear readers inquiring about my food props, the little bowls are a treasure found from a French artist in Paris. Her name is Claire de Lavallée and she can be found in the 7th district in Paris, 11 rue de Saint Simon.
Jerusalem Artichoke Soup
(For 4 people)
You need:
For the soup :
1 lb + 1 oz chunchokes, peeled and diced
1 large potato (3 oz), peeled and diced
2 celery branches, diced
1 small fennel bulb, diced
2 shallots, chopped
10 coriander seeds
1 rosemary twig
Salt and pepper
3 cups water (or homemade vegetable broth)
2 Tbsp olive oil
2 Tbsp crème fraîche
Parsley, chopped
Fleur de sel
For the garnish:
Bay scallops, Nantucket origin for me (about 6 to 7 per person)
Olive oil flavored with white truffle

OR

Paprika
Vegetable crisps, blue potato
Steps:
Heat the oil in a large heavy bottomed pot. Add the shallot and cook with the coriander seeds and rosemary for a few min without browning.
Add the vegetables and cook on medium heat for about 8 min.
Add the water or broth and bring to a boil. Cover and simmer for about 20 min, until the vegetables are fork tender.
Stop the heat and mix your soup.
Add the cream, the fleur de sel and parsley.
Serve with scallops (sautéd for only 30 seconds in butter or oil) and a dash of truffled-infused olive oil OR blue potato chips and paprika.
Le coin français
Soupe aux topinambours
(Pour 4 personnes)
Ingrédients :
Pour la soupe :
500 g de topinambours épluchés (660 g avec peau), épluchés et coupés en gros morceaux
1 grosse pomme de terre (100 g), épluchée et coupée en dés
2 branches de céleri, coupées en gros morceaux
1 petite bulbe de fenouil, coupee en gros des
2 échalotes, hachées
10 de graines de coriandre
1 branche de romarin
Sel et poivre
750 ml d'eau (ou bouillon de légumes maison)
2 càs d'huile d'olive
2 càs de crème fraîche
Persil frais, haché
Fleur de sel
Pour la garniture :
Petites coquilles st Jacques (environ 6 à 7 par personne)
Huile d'olive aromatisé à la truffe blanche

OU

Paprika
Chips de légumes, type vitelotte
Étapes :
Faites chauffer l'huile dans une cocotte. Ajoutez l'échalote et faites suer pendant 2 à 3 min avec le romarin et les graines de coriandre.
Ajoutez ensuite tous les légumes et faites suer pendant 8 min environ.
Versez l'eau et amenez à première ébullition. Couvrez et faites mijoter pendant 20 min environ, jusqu'à ce que les légumes soient tendres.
Arrêtez le feu et mixez votre soupe.
Ajoutez la crème, la fleur de sel et le persil haché.
Servez avec des coquilles St Jacques (revenues dans du beurre ou de l'huile pendant à peine 30 secondes) et un filet d'huile aromatisé à la truffe blanche OU avec des chips de légumes (vitelottes) et du paprika.