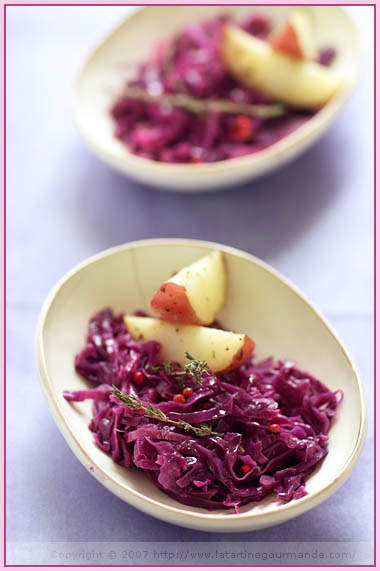 Stewed Red Cabbage with Apples
Unlike many young children, I always had a fascination for red cabbage. During the cold winters found in Lorraine where I grew up, I recall begging my mother to cook with this often forgotten vegetable; I especially craved her chou rouge aux pommes, a rather popular French dish. As as sucker for any acidic food, perhaps it was the vinegar in the dish that I more particularly loved; or maybe the sweet taste of the cooked apples melting like snow in the mouth. Then, I also liked the vibrant color of the vegetable, the reddish blue hue it would leave in the juice, as well as the beautiful curving patterns it revealed once it was cut in half: it was a magical vegetable. My mum would always make a large pot of stewed red cabbage that we ate over the course of a few meals. It did not matter then if the smell stayed in the house for a few hours after she had cooked it. In fact, the dish always tasted better reheated the second day, like many similar rustic dishes she lovingly prepared for our family.
This story is the one that inspired me to write an article for the Boston Globe Food section this past Wednesday.
Because there is much more to red cabbage than only a coleslaw salad, isn't there?
To read the article and view the recipe, simply follow this link.
Oh, and I was about to forget.
Since I have been in a red and white food color theme these past few days, perhaps you might also want to get a glimpse of a new cake recipe I have developed this weekend. I hope to be able to talk about it soon. But you will have to excuse, I have to test it once more before then. Just to make sure it is approved by me.
And P. my sous-chef, taster expert, of course.