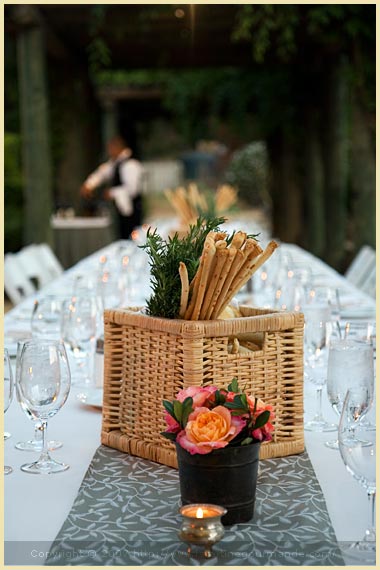 Dinner at Bernardus Lodge, CA
"What does Curiosity killed the cat? mean?" I asked P. when we walked out of the fun boutique we had found on Grant street, holding my new T shirt in one hand. I bought it because I fell in love with its light-grey color, thin fabric and cheerful design. Yet I only noticed the words written on it when I looked again more carefully. We did not even have a full day in San Francisco but could not resist an hour shopping before the stores closed on Sunday afternoon.
He looked back at me and smiled.
"You don't know?"
Well in the end, curiosity is what perhaps also brought me to the Carmel Valley and the Monterey Peninsula this past weekend. I was just too curious to see what I would found out in this part of the Pacific coast where P. and I — and John, Matt, Ed, Sarah, Chris, Robert and Tony, a few other bloggers — had been invited by a really friendly team at Mazda.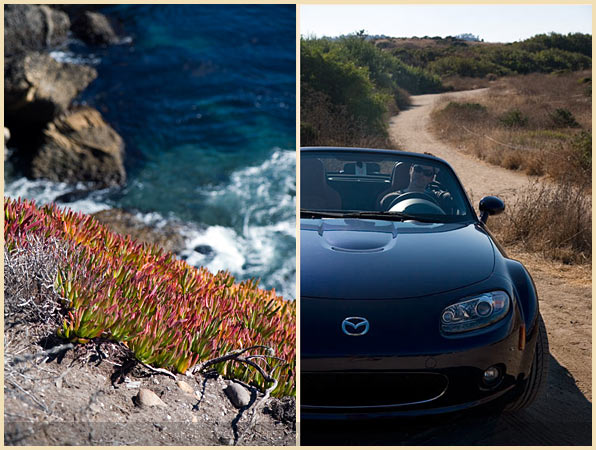 Driving our Mazda MX5 in Carmel Valley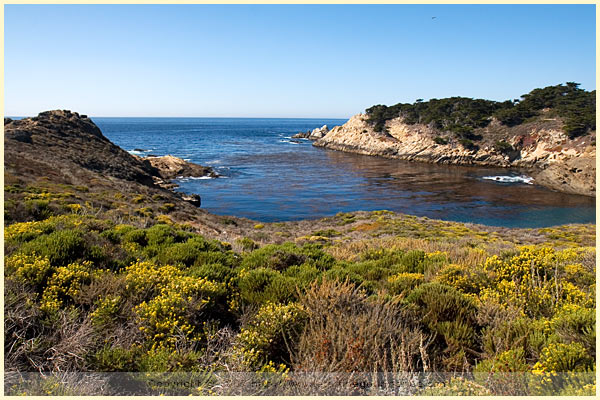 "You will stay at the Bernardus Lodge. It sits on a winery, and has a spa and a nice pool. You will visit an organic farm, follow Chef Cal Stamenov in a cooking class and discover the Monterey peninsula driving one of our cars," Melanie at Mazda told me.
"Really?"
I paused and hesitated. Then I thought about the visit to the farm that I was dying to do, the Marinus restaurant where I was really keen to dine, meeting Cal and follow him in his cooking class, the Mazda MX5 we were going to drive, sunny California with Monterey and San Francisco — one of my favorite American cities — and the buzz word "mini vacation".
"I guess we are going to California in two weeks," I told P. when he came home later that day.
And what a fun weekend that was. Not only did we indeed have an amazing time, but it was even better than what we expected before we left. And that tells something.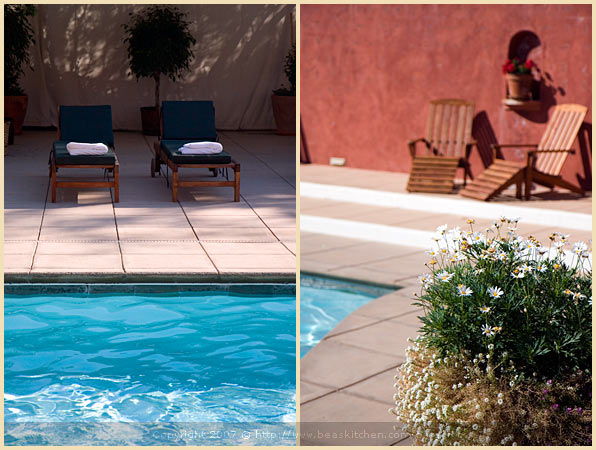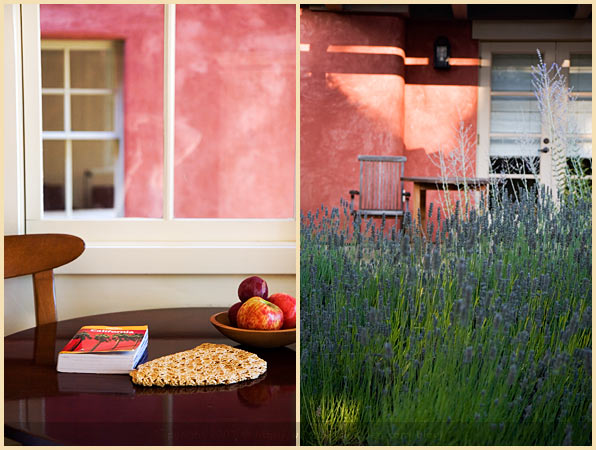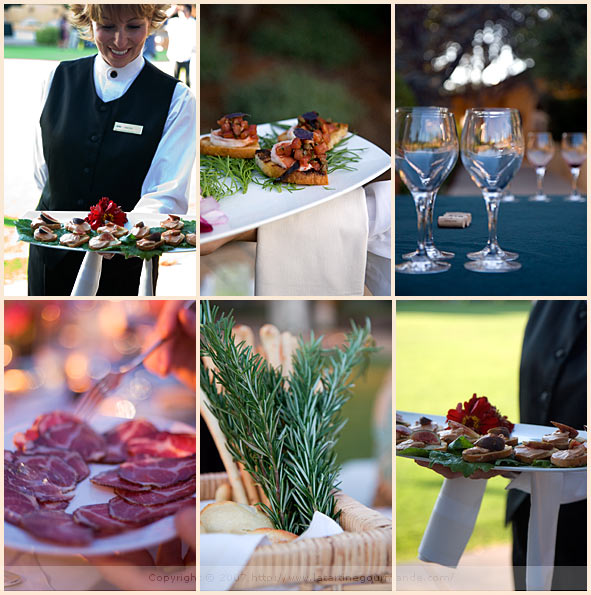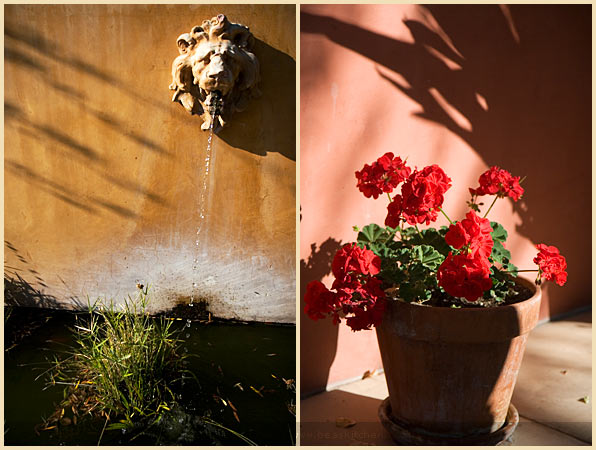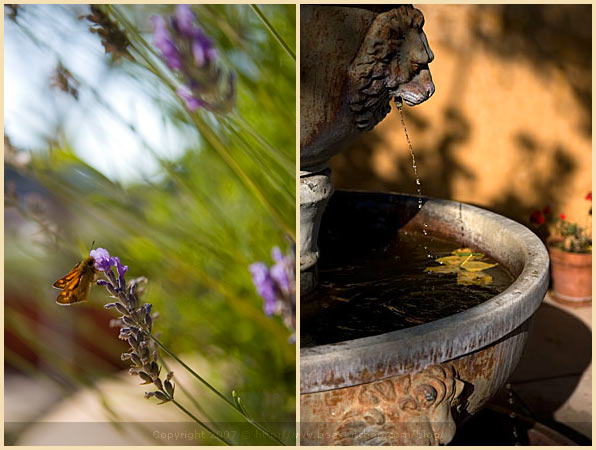 The Bernardus Lodge, Carmel Valley
Surrounded by vineyards and a gorgeously flowered garden full of fragrant lavender, Bernardus Lodge sits in the middle of scenic Carmel Valley, only two hours South of San Francisco. With its warm-painted brick walls, the property made us think about the San Catalina convent in Arequipa we had visited in Peru in November; we liked it right away. The lodge offers plenty to anyone looking for a relaxing, cozy and comfortable retreat: a wonderful pool and spa where to pamper yourself, a friendly staff, and a superb restaurant — voted one of Zagat's top restaurants in the Bay Area. Although we initially felt somewhat shy and overwhelmed by such luxury — quite different from our usual more modest stays — we eventually just did like the Romans: we enjoyed it all. Our generous hosts had indeed meticulously planned every detail of our stay.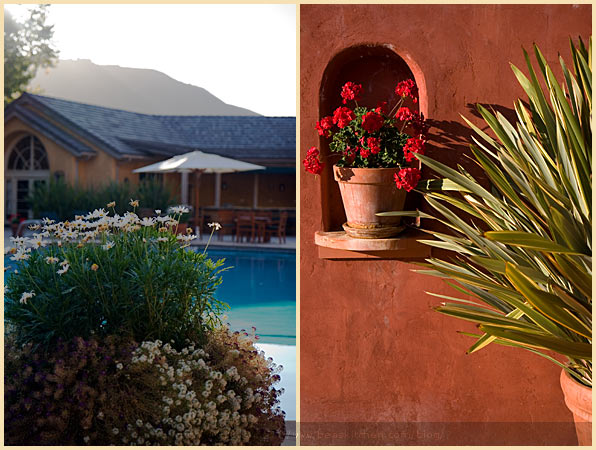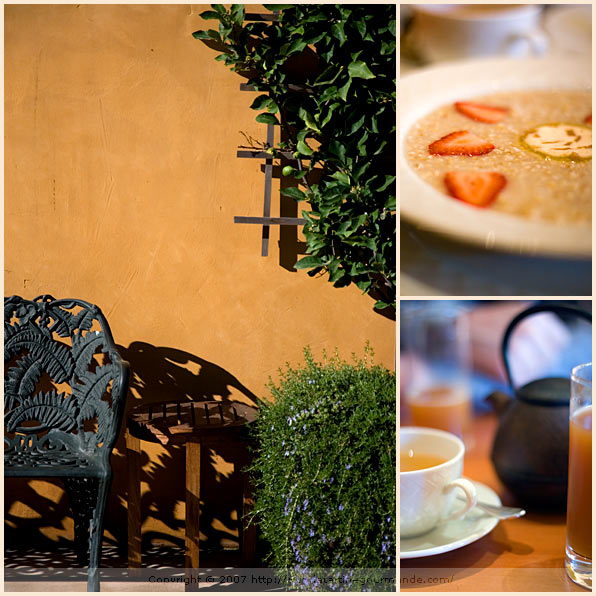 On the night of our arrival, dinner resembled almost a banquet. We were a jolly bunch sitting around a long family-style table set up in one of the gardens of the property. The air was crisp and clear, but we did not mind. There, we were served deliciously fresh, local food: barbecued whole sea bass freshly caught in the morning, beef tartar, a wide selection of grilled summer vegetables, mixed salads, chicken served with couscous, lamb chops cooked to perfection and to finish, fresh berries and chocolate truffles. I do not know how we managed to eat all this food, or how we could possibly leave the table feeling light, but we did. And still the following morning, we managed to wake up early.
"Is it sunny like this every day?" I asked one of our hosts in the lobby.
We had just enough time to start the day with a healthy breakfast — apple juice, Irish oatmeal with fresh fruit, French toast and wholegrain muffins — before heading to Earthbound farm. I could hardly contain my excitement. The drive from the lodge to the farm was short but exhilarating. With the top of our fun all-shiny car down, sun lotion and sunglasses on, it took only ten minutes before we arrived at the farm where Janna Jo welcomed our small group. Despite the fact that she was wearing a wide-brimmed sun hat, the sand-golden tan on her lovely, friendly face proved that she was spending a lot of time in the sun.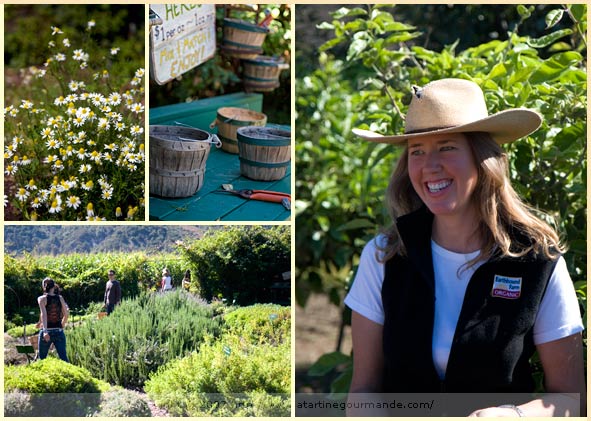 "Did you know that Earthbound Farm was created by two New Yorkers who did not know anything about farming when they arrived?" she said, laughing.
I did not know. And I was amazed to hear more, and discover the wide selection of vegetables, fruit, herbs and flowers on site, so well-attended it seemed. With a basket and seccateur each, we walked between the furrows and collected multi-colored raspberries, young fennel, salad, basil, zucchinis and zucchini flowers, and pea tendrils.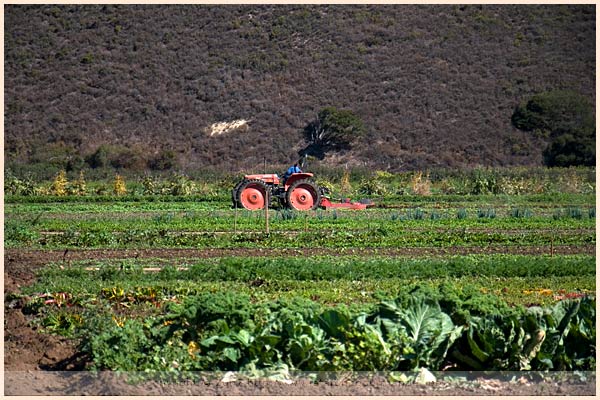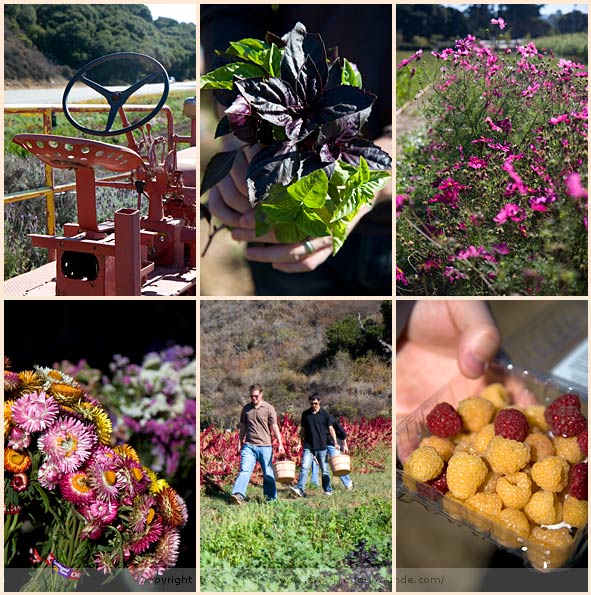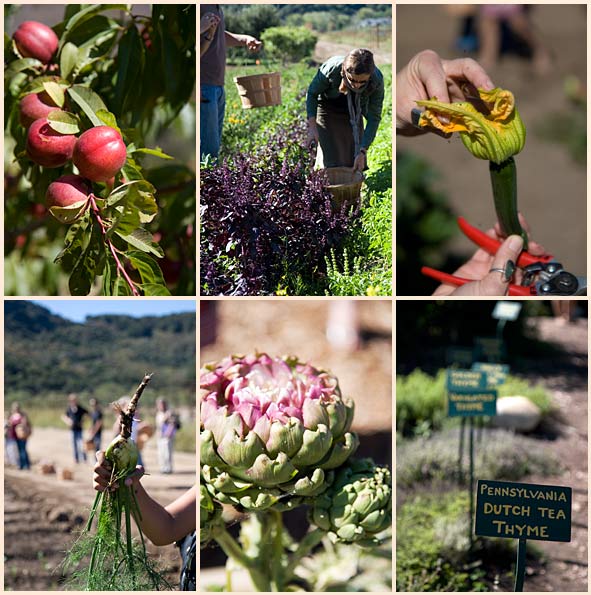 Janna pointed at a new variety of lemons and apples they were experimenting with; she showed us artichokes and also picked cranberry beans for us to see. As I was smelling the fresh air, feeling the early morning sun on my skin and squishing the soil still wet from the morning dew under my feet, I was beaming.
Laughing, I proclaimed to P. "I think we have to move to California!"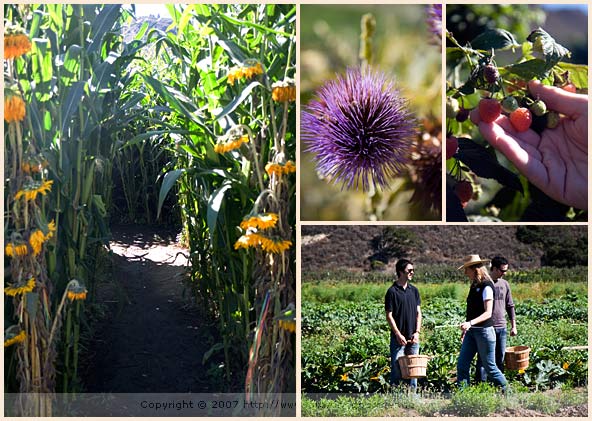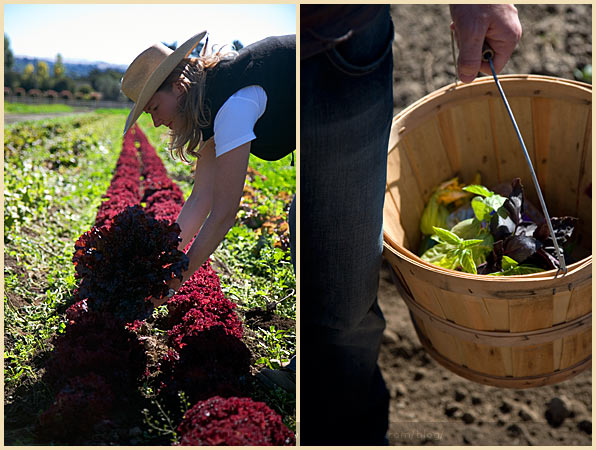 Earthbound Farm
After about two hours spent on the farm, we headed back to the lodge where Cal and his team were waiting for us to start the cooking class. Once more, we were royally treated by extremely friendly and welcoming people. Cal started by demonstrating how to prepare a Tomato Ratatouille Gratin, a twist on a more traditional recipe. Fennel, eggplant, onion, garlic, Heirloom tomatoes, young zucchinis, thyme, savory and lots of olive oil all went in. He chose this recipe more particularly because of the fact that tomato season was still at its peak; a tomato fest was held the following day. Then he continued with the making of basil bread. Ben, his pastry chef, led a chocolate truffle session first introduced by a short talk about the different varieties of chocolate he typically bakes with; I was pleased to hear that like me, he enjoys using Valrhona by far. We joyfully dipped ganache in cocoa powder, cocoa nibs, grated coconut and finely chopped pistachios. I was so amazed by the vibrant green color of the pistachios that I had to ask Ben where he got it from. "Switzerland," he replied.
We were not able to taste the ratatouille right away, but I could not wait as I was curious to compare Cal's recipe to the taste of mine.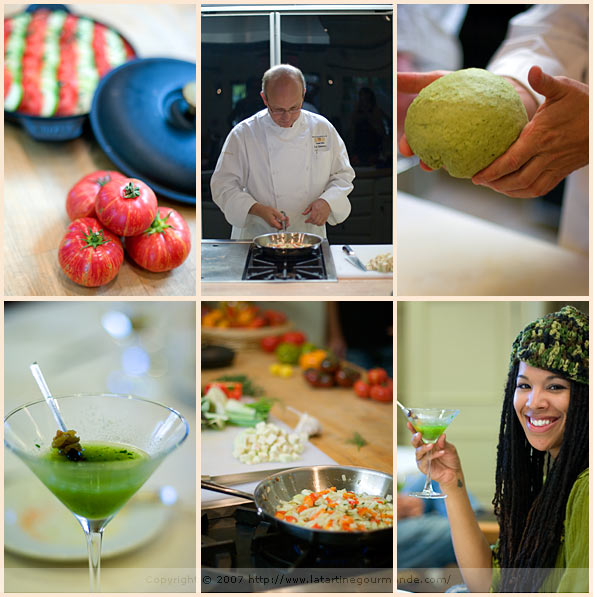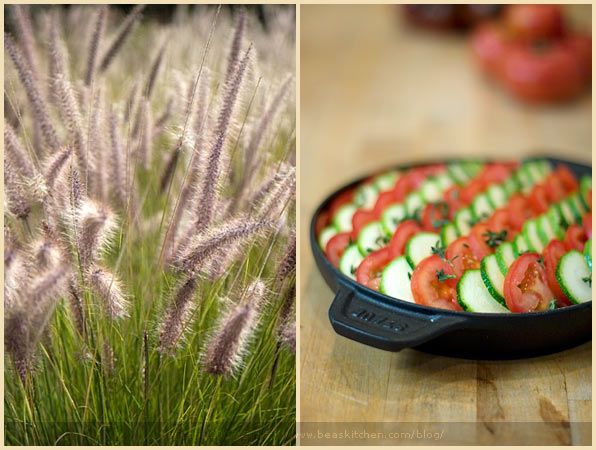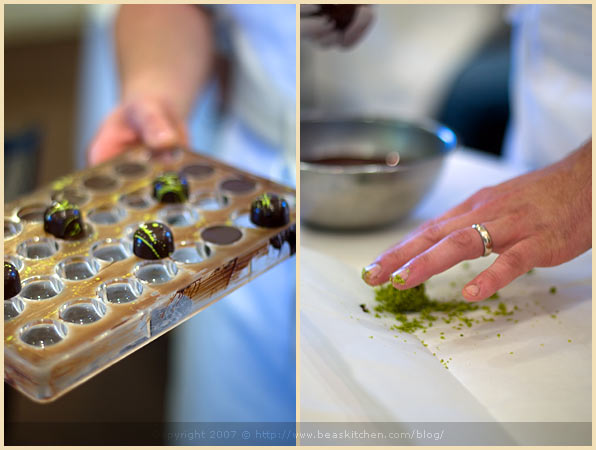 "You know, I always thought your ratatouille was good," P. whispered in my ear when we sat down for lunch, around another impressive and memorable meal. "But this one is amazing!"
And it truly was, sweet and tangy, melting in your mouth.
"I cannot wait to try his recipe when we go home," I told him back.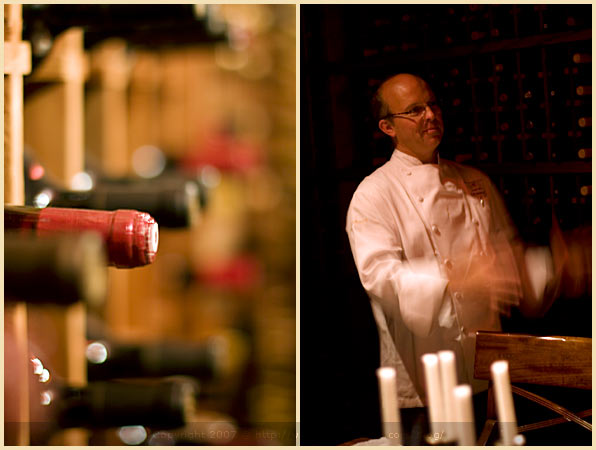 "Smell this," Cal told me as he held a tonka bean in front of my nose. Then, he pointed to a wall in the kitchen where many famous people and chefs had left had-written notes. I recognized some French and exclaimed "Oh, Alain Passard and Michel Richard."
"I worked with Michel Richard for two years," Cal replied, smiling. "He is so creative."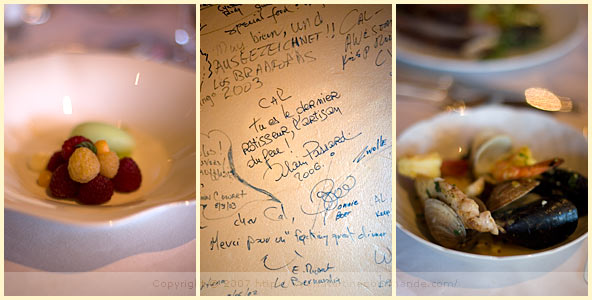 After lunch, we managed to squeeze in a few hours for a drive around. We headed south to Point Lobos State Reserve to discover quite breathtaking scenery.
"Ah ça c'est vraiment le Pacifique," (This is really the Pacific ocean) P. told me.
This ocean is indeed quite different from the Atlantic on our side.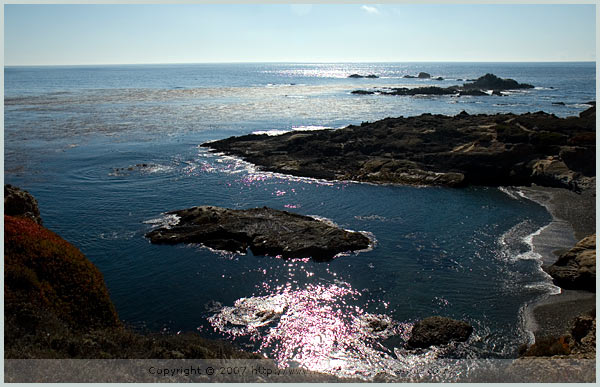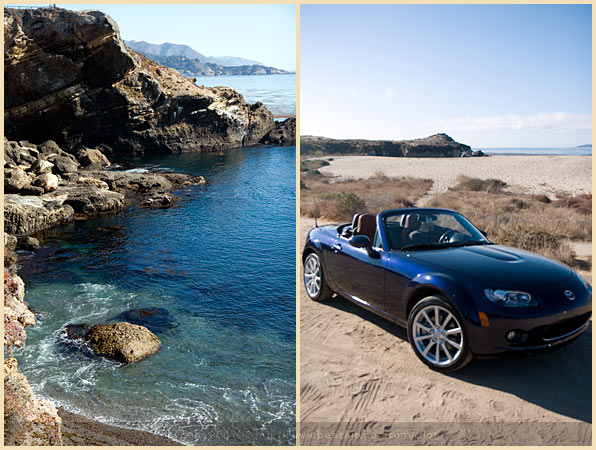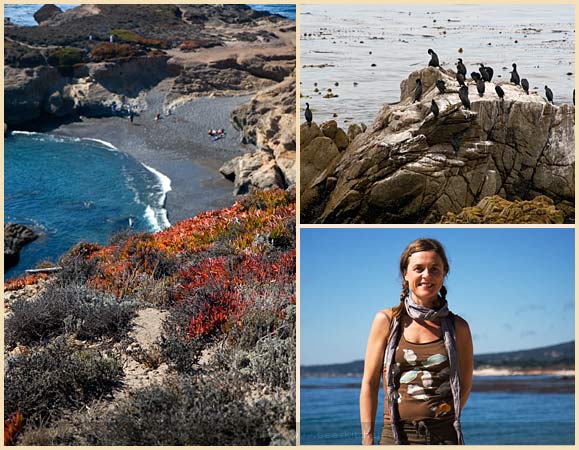 Point Lobos State Reserve, CA
A few hours later, we were hopping in the cars again, this time heading a few miles away, to the Bernardus winery sitting atop a hill. Cal and his team had, once more, prepared gorgeously fresh and tasty food for us: a Dungeness crab salad with avocado, passion fruit and basil olive oil; a portobello mushroom soup and its fresh goat cheese and summer truffle; a slow-baked wild king salmon served with a brown butter vinaigrette; a grilled prime filet of beef accompanied by sweet corn, red wine jus and chanterelle mushrooms; and to finish, a Valrhona Chocolate Mousse topped with toasted meringue and served with a drizzle of yuzu and mint.
"I could easily get used to this," I told P. when we returned to our room, both of us tasting the enjoyable food coma we were in. "I wonder what the race track will be like tomorrow. I have never been to one before."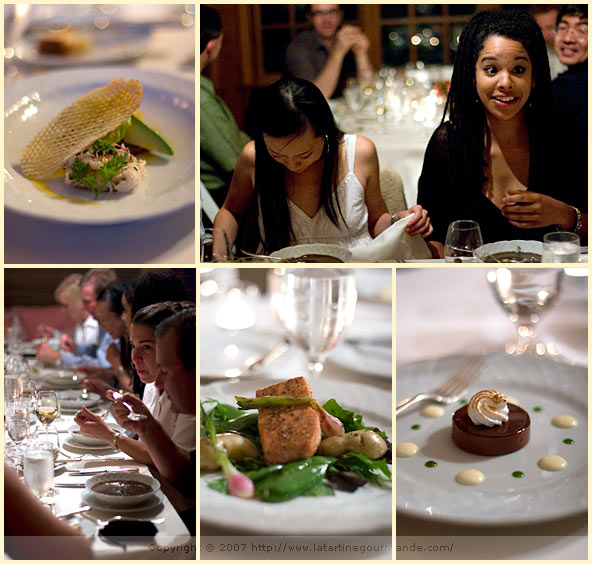 Dinner at Bernardus Winery, CA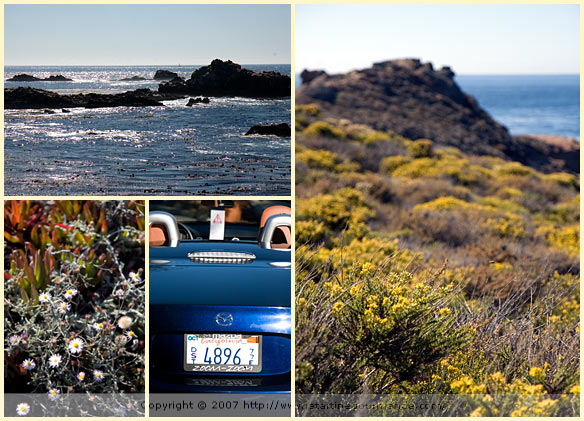 So how was the Laguna Seca Race Track?
Fast.
I kept thinking about my brother who would so much have enjoyed to be there to see all these motorbikes race.
The weekend flew by, and the memories of great times started to pile up.
But we could just not leave California without a stop in San Francisco. We were so close.
With not even a full day in Frisco, the choice of restaurants to visit was hard. There was, however, one place I did not want to miss: Tartine bakery. We only had a few hours before heading to the airport, but I was determined to have breakfast at Tartine. It was my curiosity, once more, that took us there. And we were lucky; when we arrived, there was hardly any people waiting inside. We chose two cups of plum brioche pudding, two bowls of muesli with two cups of green tea and found a table outside to sit at, ready to soak in the last moment of sunny California. Two young guys were sitting next to us, chatting away. As friendly Californians, when they saw me sit down, they engaged in a conversation.
"Did you take nice pictures?" the tall blond one asked when he caught a glimpse of my camera around my neck.
"I hope so," I replied.
"Oh, fun T shirt that you are wearing. I like it!" he added when he looked at my grey T shirt. "Are you French?"
"Yes."
"How do you say Curiosity killed the cat in French?" he added in broken French.
I paused. I actually had to think. How do we say "Curiosity killed the cat" in French?
"I think we say la curiosité est un vilain défaut," I responded.
"Do you want a picture of the two of you? I am a photographer."
"Sure, why not?"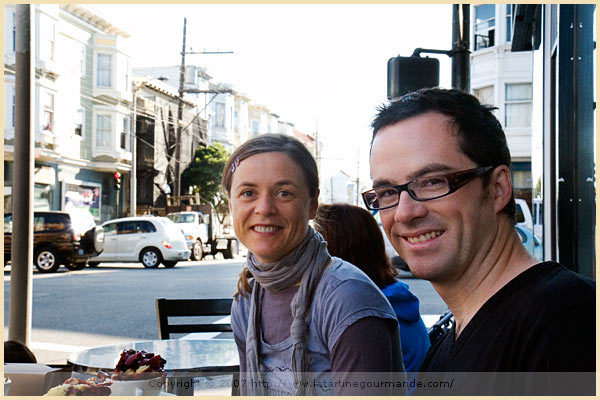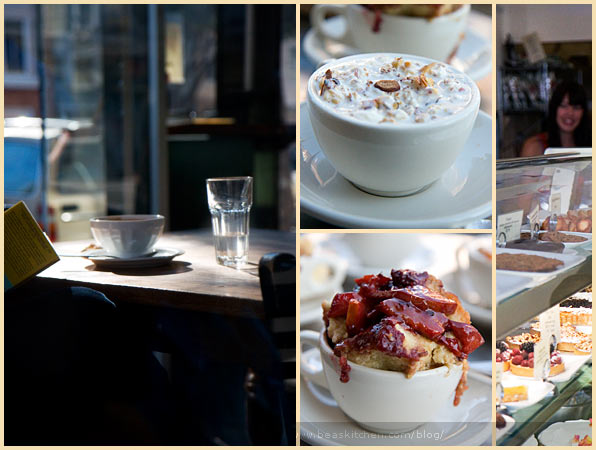 Breakfast at Tartine Bakery in San Francisco
Unlike the cat, I am glad to have seen where my curiosity led us to.
Surely, we will be back! There is so much more to see and do in beautiful sunny California.

PS 1: A big thank you to the Mazda team for their wonderful hospitality and warm welcome, and Cal and his team for such great food! We had a blast!
PS 2: I really wished we had had more time in San Francisco as I would have loved to meet many of you who live there. Next time, I hope. Thanks Amy for suggesting to organize a meet-up! Very kind of you.
A few addresses
Bernardus Lodge & Marinus Restaurant
415 Carmel Valley Road
Carmel Valley, CA


Earthbound Farm Stand
7250 Carmel Valley Road
Carmel, CA


Tartine Bakery
600 Guerrero St.
San Francisco, CA

Technorati Tags: La Tartine Gourmande, Food Photography, Bernardus Lodge, Carmel Valley, Monterey Peninsula, Mazda, California, Cal Stamenov, Tartine Bakery, San Francisco