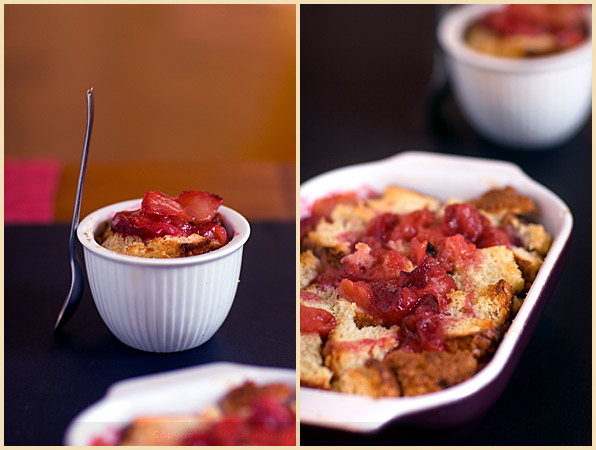 Cinnamon-Plum Brioche Pudding
It was meant to happen. Since we have returned from California, we have kept thinking about the delicious plum brioche pudding that we greedily devoured at Tartine Bakery's. I knew that the pressure to make one at home would be rather high, as shown by P.'s persistence. "Did you make bread pudding?" he asked me every single day of the week.
"No, I need to make a brioche first!"
And so Tuesday and Wednesday went by, and nothing happened in the kitchen. I felt lazy, unable to drag myself to start the brioche-making process. Then came Thursday morning, and things veered in another direction. All of a sudden, although I only had thirty minutes before heading out to a meeting, I felt an irresistible urge to dip my hands in flour, and thought about the brioche I had kept postponing. "I still have time," I told myself when I looked at the clock in the kitchen. I quickly took everything I needed out, flour, sugar and baker's yeast — I was lucky to have soft butter and eggs ready. Working the dough was quick — thank God for my Kitchen Aid. "The dough will rise while I am gone," I kept repeating to myself. Not thinking further, I dashed out, leaving the kitchen in a mess.
But this turned out to be perfectly wise planning.
Perhaps I still had flour on me or my hands when I finally arrived to my meeting, but I did not care. Two hours later, when I was back home, I found a beautifully risen dough. And then, I knew that soon, we would be able to enjoy a slice of plum brioche-bread pudding. Only a few extra steps were needed.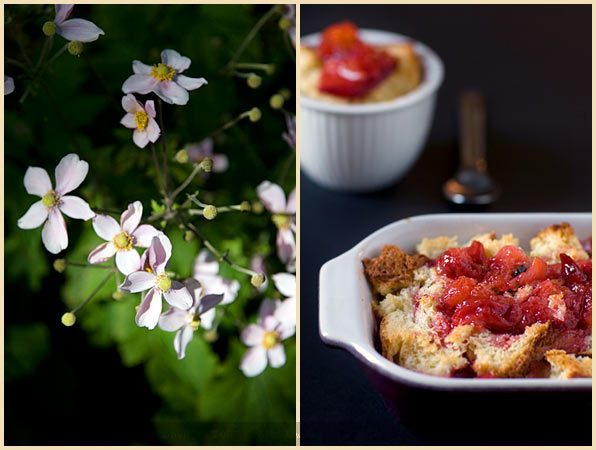 Remember that it is the quality of the ingredients used that will make a difference in the outcome of your dish.
Perhaps you might prefer to buy brioche. If so, make sure to choose a quality one. I personally preferred to make one and used the recipe of my simplest brioche: easy to make, tasty and not too rich. To prepare the plums, I sprinkled them with organic cane sugar and Grade A cinnamon so that they softened. The next step required a short cooking time, just long enough in order for the plums to cook but still keep their shape. As I wanted to prepare a rustic, messy-looking brioche pudding, I preferred to arrange the diced brioche slices loosely in my dish. I made a two-people pudding and two individual ones, for variety.
"It is not dripping juice as it was at Tartine's," P. told me when I brought him a cup of warm plum brioche pudding after dinner on Saturday night.
"Quoi ?" (What?)
Gutsy, non?
"Je plaisante," he added, with a big smile on his face (I am joking). "Delicious! Is there more?"
And so, if we used a bit of our imagination, we could almost feel as if we were sitting at a table outside Tartine's once more. Except that this time, if we wanted to, we would be able to quickly get a second serving. For a second, this almost felt even better.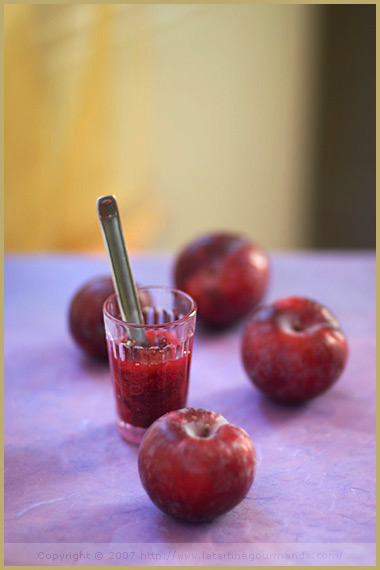 Black Plums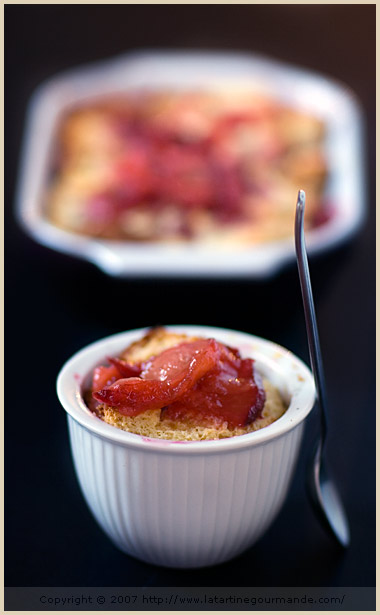 Cinnamon-Plum Brioche Pudding
Cinnamon-Flavored Plum Brioche Pudding
You need:
6 slices of brioche, one or two days stale
5 medium-sized black plums
2.5 Tbsp blond organic cane sugar
Pinch of cinnamon
3 eggs
1/2 cup (minus 1 Tbsp) blond organic cane sugar
1 vanilla bean, seeds removed
1.5 cups whole milk
Butter
Steps:
To prepare the plums, start by washing them. Remove the pits and slice them. Place them in a bowl.
Sprinkle with 2.5 Tbsp sugar and a pinch of cinnamon. Place them on the side for 1 hour.
After this time, place them in a pot and cook them for 10 min on medium heat.
To prepare the custard, beat the eggs with the sugar.
Add the vanilla seeds and add the milk. Mix well.
Dice the brioche slices.
Butter four one-cup individual molds or one large dish, and arrange loosely half of the diced brioche.
Layer with the cooked plums and pour half of the custard.
Add the rest of the brioche and pour the rest of the custard.
Let rest for 30 min.
Preheat the oven at 350 C.
Add a few pieces of butter on top of the pudding.
Cook the puddings for 25 min or so.
Le coin français
Pudding de brioche aux prunes et à la cannelle
Ingrédients :
6 tranches de brioche, rassies de un à deux jours
5 belles prunes de taille moyenne
2,5 càs de sucre de canne blond
1 pincée de cannelle
3 oeufs
90 g de sucre de canne blond
1 gousse de vanille, fendue et grattée
375 ml de lait entier
Quelques noisettes de beurre
Étapes :
Pour préparer les prunes, commencez par les laver. Coupez-les en tranches et placez-les dans une jatte.
Saupoudrez-les avec 2,5 càs de sucre et une pincée de cannelle et laissez de côté pendant 1 heure.
Après ce temps, faites-les cuire à feu moyen pendant 10 min.
Pour préparer la crème, battez les oeufs avec le sucre.
Ajoutez les graines de vanille et le lait. Mélangez bien.
Coupez la brioche en gros dés.
Beurrez quatre moules individuels ou un grand, et recouvrez le fond avec la moitié des dés de brioche.
Ajoutez les prunes cuites et versez la moitié de la crème.
Ajoutez le reste de brioche et le reste de crème.
Laissez reposer pendant 30 min.
Préchauffez votre four à 180 C.
Mettez quelques noisettes de beurre sur le pudding.
Cuisez au four pendant 25 environ.
Technorati Tags: La Tartine Gourmande, Food Photography, Food Styling, Plum, Brioche Pudding, Cinnamon, Bread Pudding, Custard, Comfort Food, Tartine Bakery