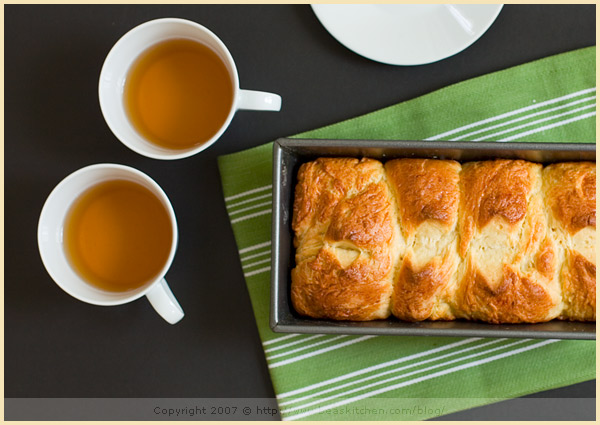 La brioche
Wouldn't it be nice, to have a Brioche Day every week, so that you never run out of it? A full day dedicated to baking and eating brioche. I would be so happy to mark this day on my calendar. Growing up, we used to have a Weekly Fish Day, every Friday, so why not a Brioche Day?
Brioche has to be my favorite viennoiserie, whether to bake or eat. There is so much pleasure associated to a homemade brioche. Think about the immense happiness that arises from biting into the sweet airy, moelleux bread which, after one slice, invites you to a second one. With me, however, it starts with the smell, that very one of yeast which ferments and diffuses its wonderful aroma in the whole house. As a kid, whenever my mum used to bake a brioche, I loved to hang out in the house, never going too far, but preferring to stick around only to be able to watch the steps involved in her making of the brioche. I would sneak in to smell it, every now and then, lifting the towel covering the dough discreetly so as to check the puffiness of the dough. I found this pretty fascinating actually. If I could have trapped the brioche fragrance in a jar which I could have opened at will only to inhale, I would have been a very happy girl.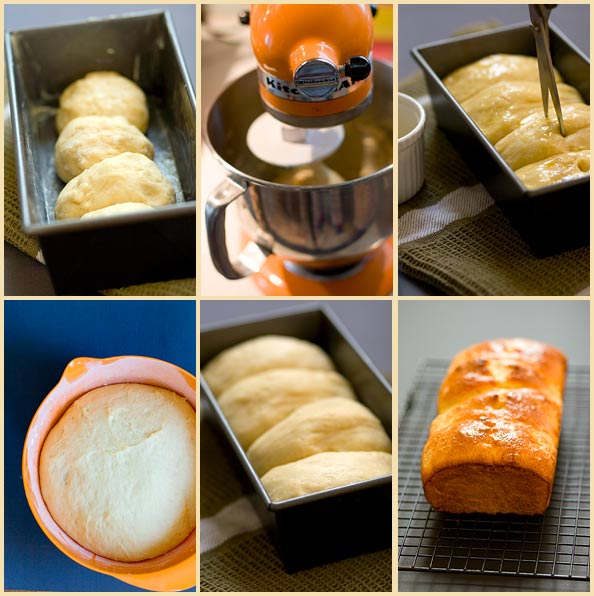 Making Brioche
But although I love brioche, I do not make it as often as I wished. Because between you and me, for all of us who have already baked brioche, we know that it takes time. And, wouldn't we all love to have more time at hand, to cook the subject of of our deepest fancies? Just like with any type of bread, a brioche requires attention.
And so instead of making only one brioche, I baked two. Let me explain, because there is a reason. I needed to have stale brioche for another baking project, and really, can brioche really ever get stale? Certainly not in our household! You will soon see what I am talking about, but in the meantime, I hope that you enjoy a piece of the simplest pleasure with the simplest brioche. Ce n'est vraiment pas compliqué ! (Not difficult at all!)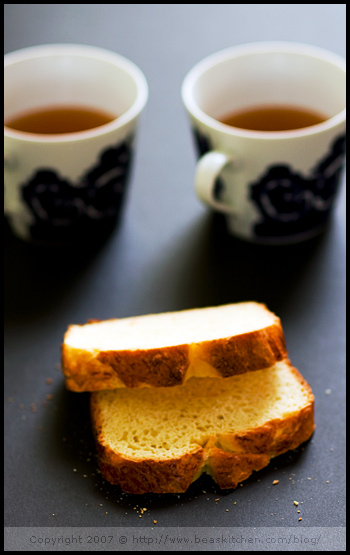 The Simplest Brioche (1 loaf, mold 10 " long)
You need:
8 3/4 oz (1 2/3 cups) all-purpose flour
2 3/4 oz butter, at room temperature
2 eggs, at room temperature
1 dose dry baker's yeast (1 Tbsp)
2 Tbsp fine sugar
1/3 cup warm milk
1 pinch salt
1 egg yolk for glaze
Steps:
In a bowl, mix the flour with the yeast, make a hole in the middle.
Add the warm milk mixing with the tip of your fingers (if using a stand mixer, pour the milk slowly and steadily while mixing, with the hook attachment.)
Add the sugar and a pinch of salt, then add the soft butter, piece after piece, waiting each time that each piece is asborbed.
Then one by one, add the eggs, mixing well between each. Work the dough until it is elastic and detaches from your fingers more easily (or from the bowl of the stand mixer).
Cover and let rest in a warm place, away from drafts, for two hours, until it doubles in size.
Work the dough again for 10 min and divide it in four balls. Place them in a greased rectangular mold and cover. Let rise for an hour again.
Preheat the oven at 400 F.
Brush the brioche with the egg yolk mixed with a dash of sugar. With a pair of scissors, make small cuts at the top of each ball.
Place in the oven to bake for 10 min then reduce the heat to 350 F and bake for about 20 to 30 min.
Remove, unmold and let cool on a rack.
Le coin français
Brioche des plus simples (1 rectangulaire de 26 cm)
Ingrédients :
250 g de farine
80 g de beurre mou
2 gros oeufs
1 sachet de levure du boulanger sèche (Briochin 5,5 g)
2 càs de sucre fin
80 ml de lait tiède
1 pincée de sel
1 jaune d'oeuf pour dorer la brioche
Étapes :
Dans un bol, mélangez la farine avec la levure de boulanger sèche et faites un puits au milieu.
Ajoutez doucement le lait tiède et mélangez du bout des doigts (si vous utilisez un mixeur à pied, versez le lait doucement et utilisez le crochet pour mixer.)
Ajoutez le sucre et une pincée de sel, puis le beurre mou coupé en morceaux. Attendez à chaque fois que le morceau précédent est bien mélangé avant d'ajouter le suivant.
Puis, un à un, ajoutez les oeufs. Mélangez jusqu'à ce que la pâte soit élastique et se détache facilement de vos doigts ou du bol du mixeur (environ 8 mns).
Couvrez avec un linge propre et laissez reposer dans un endroit chaud, à l'abri des courants d'air, pendant environ 2 heures, ou jusqu'à ce la pâte ait doublé de volume.
Travaillez à nouveau la pâte et divisez-la en quatre boules que vous façonnez avec la paume de vos mains. Placez-les dans un moule de 26 cm beurré, et couvrez pour laisser à nouveau lever (1 heure).
Préchauffez votre four à 200 C.
Badigeonnez la brioche avec un jaune d'oeuf battu avec un peu de sucre. Avec une paire de ciseaux, faites de petites entailles dans chaque boule.
Mettez au four pendant 10 min à 200 C, puis réduisez la temperature à 180 C pour poursuivre la cuisson pendant 20 à 30 min.
Retirez du four, et démoulez sur grille pour laisser refroidir.