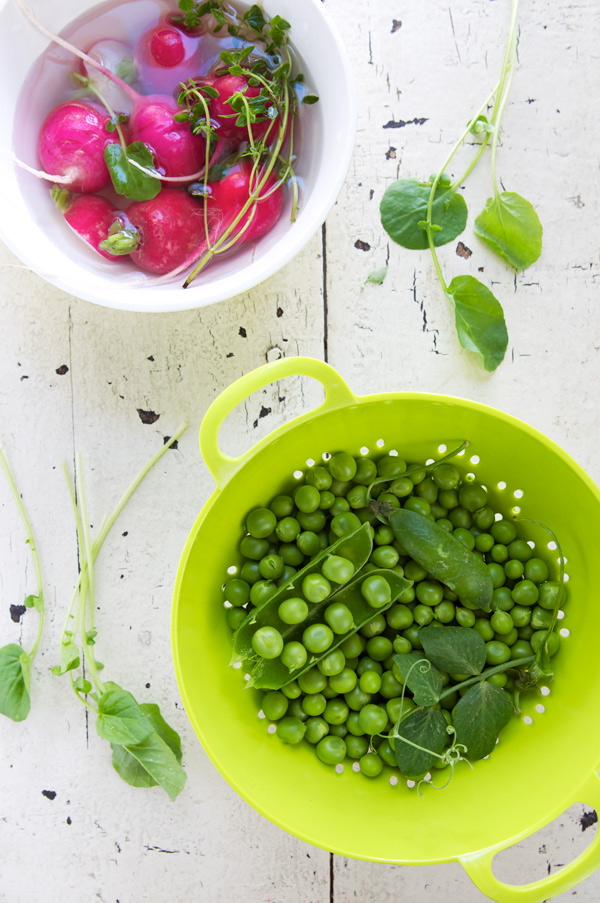 "Un pour Lulu, un pour maman, one for Lulu, one for mummy, " I was humming with one hand fumbling through a colander filled with fresh peas while the other was cracking the pods open to toss one pea in a bowl, one inside my mouth and Lulu's. Rhythmically. Lulu was making faint giggling noises, obviously enjoying our silly eating game–especially when she was trying to eat the pods too.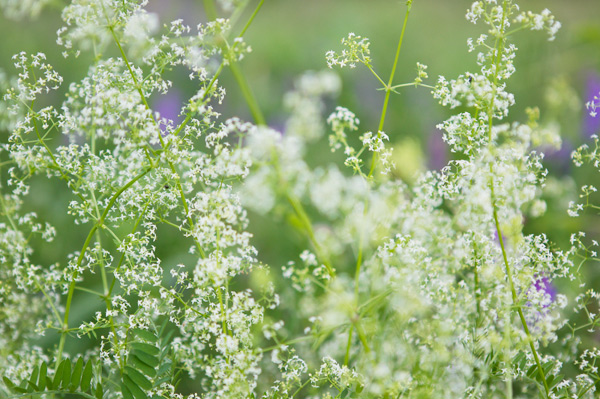 Peas. When comes the season, I am fretting with excitement. Peas are loaded with summery memories. Our vegetable garden. Les grandes vacances. Afternoons in late June, early July, when it was so hot that we'd have the shutters close to keep the house cool and I'd sit on the back terrace with my mother and a friend, for fun–and we'd be cleaning peas.
My friend and I loved to clean peas because it meant that we'd eat them. Raw.
Peas sing on my plate like nightingales early in the morning.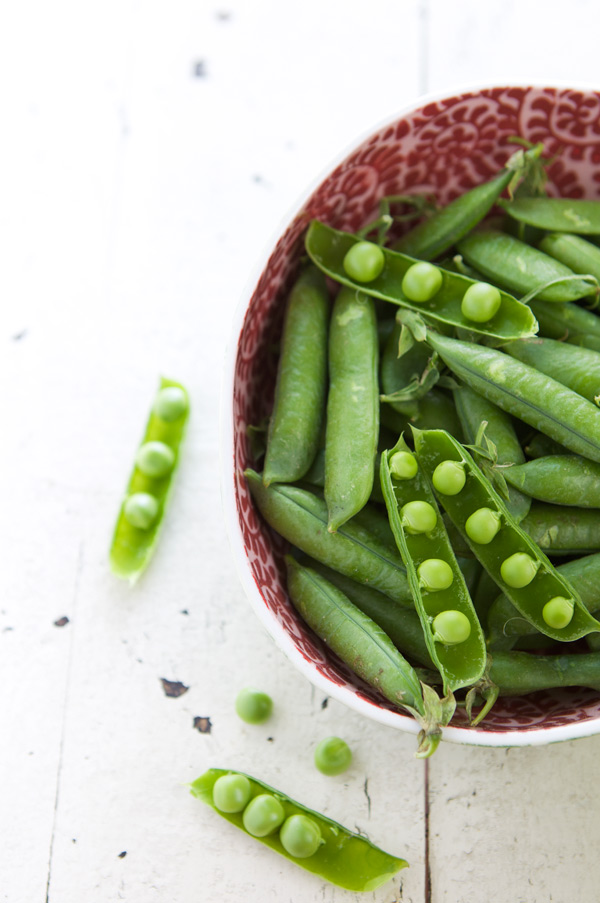 Yesterday was my first time at the market since we've been back. And oh the joy of finding so many fruit and vegetables and pleasing colors! Feeling the buzz of summer–-the very things that make me rejoice in the season.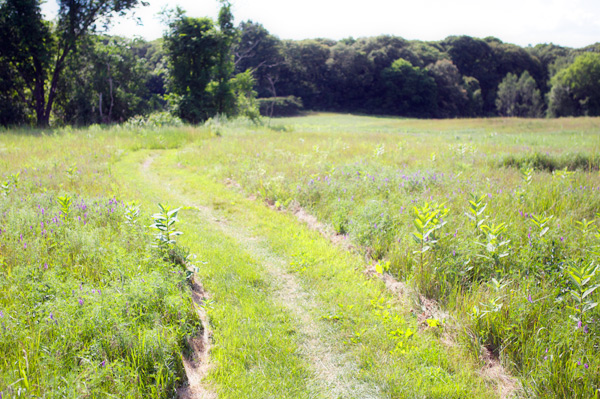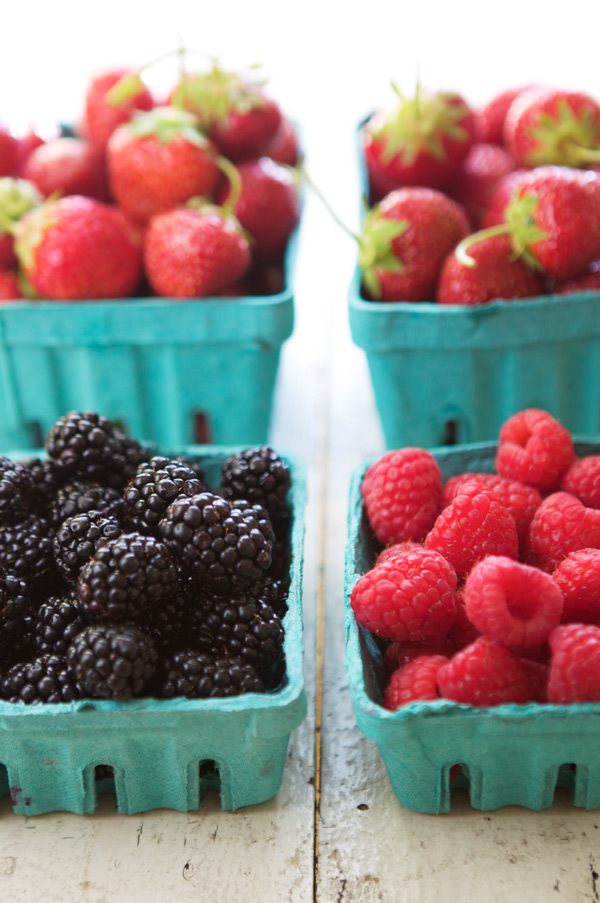 I couldn't help but fill my market basket with more than I needed: strawberries, raspberries, currants, peas, radish, watercress, arugula, tomatoes, sprouts and fresh herbs. So that after we were back home, I could prepare foods that speak S.U.M.M.E.R. In capital letters.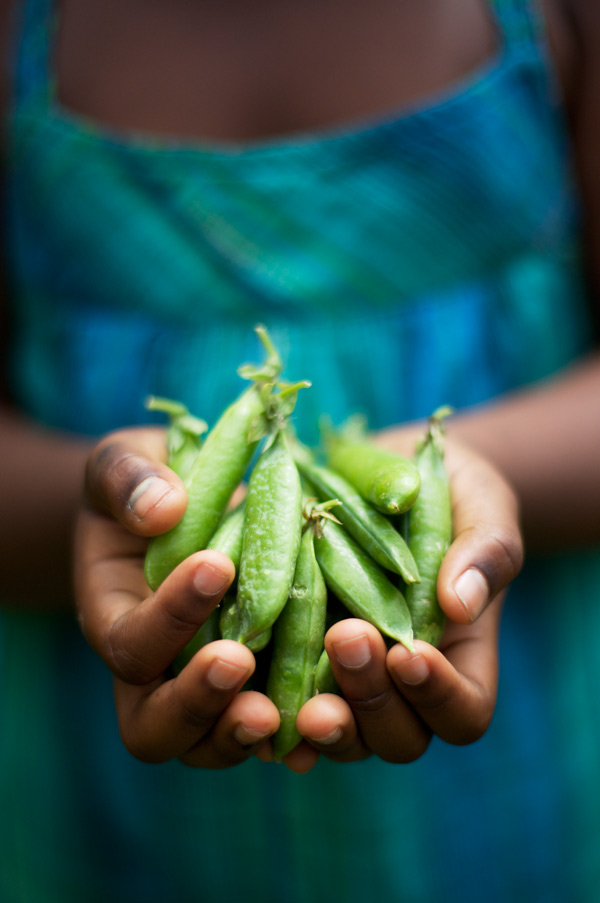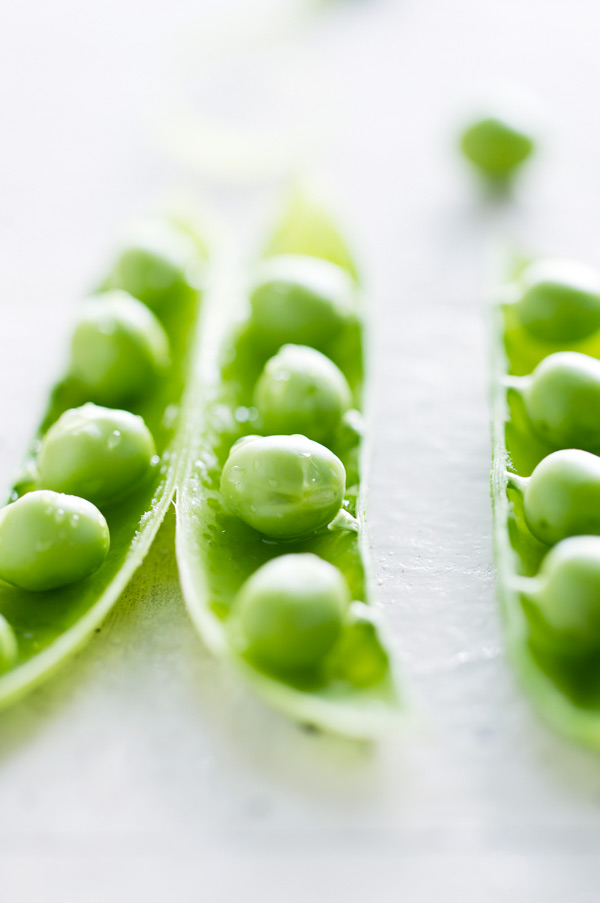 I started with dessert and made a simple strawberry salad that revealed the best aromas of the fruit.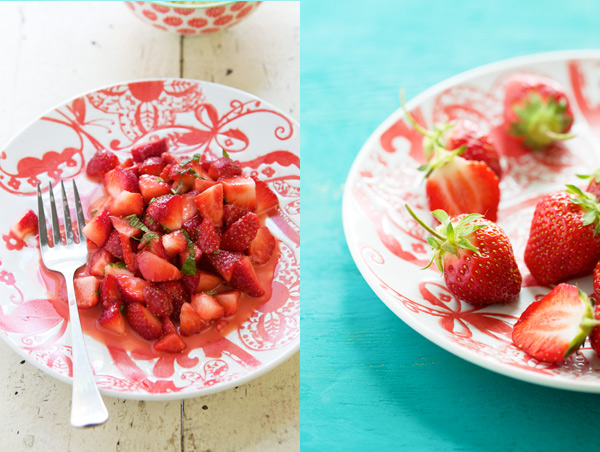 I continued with a lemon and mint flavored pea spread–which I decided would be lunch– eaten on slices of toasted brioche (mine was gluten free) with a watercress and radish salad.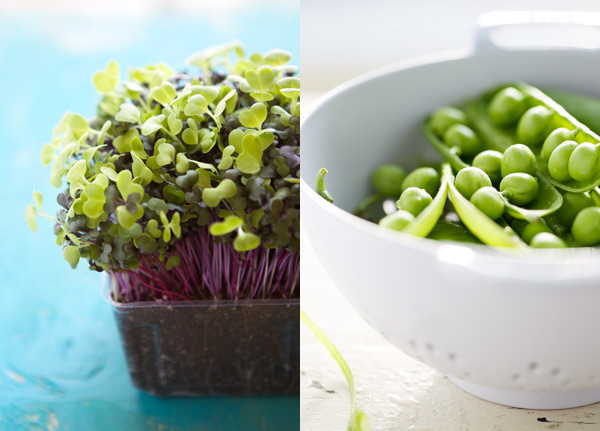 It's funny, you know, these foods. They worked like magic. They lifted my spirit. And so after eating our tartines, salad and strawberries, and Lulu had had her nap, we left for an afternoon walk, maman avec sa fille, ….with banana and chocolate muffins awaiting upon our return.
Summer. It's all about these pleasures. And it needs to last.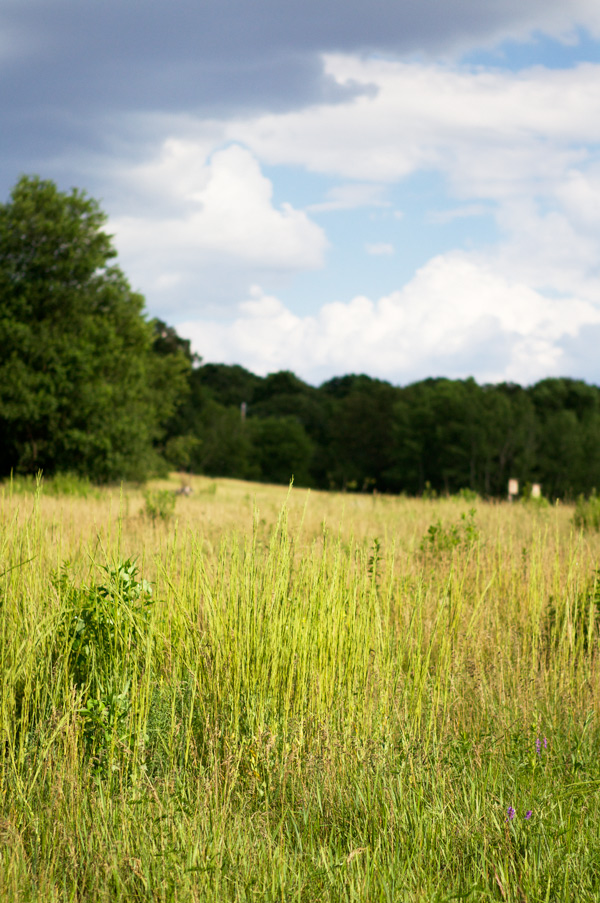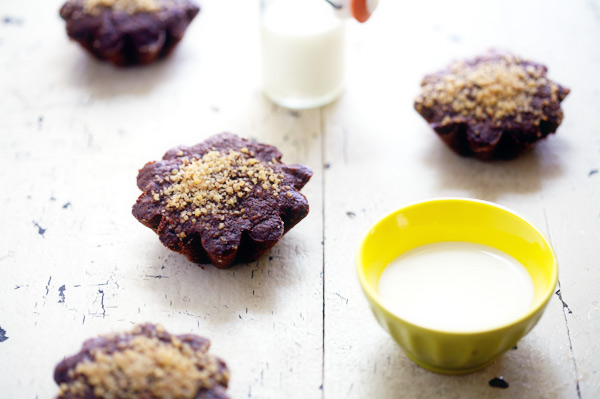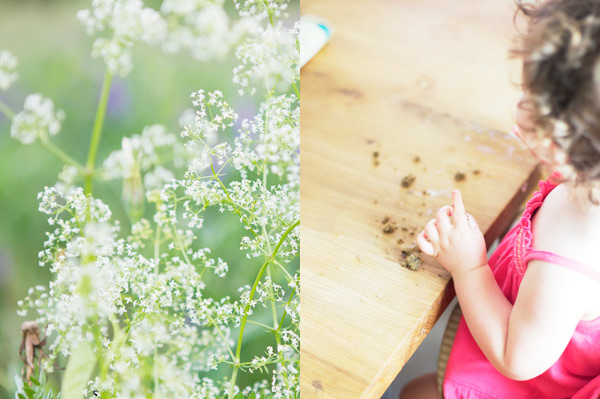 As to the pea recipe…
Most of the time, I prefer to cook peas lightly–although a slow simmering veal tajine with peas is quite something…
I blanched the peas in salted boiling water for two minutes and rinsed them under cold water. When they are prepared in this manner, peas keep a beautiful bright green color that cheers your plate. I added goat cheese, lemon juice, tahini nut butter, a chopped scallion, mint and finished with a drizzle of hazelnut oil. Make your own variant (like me today when I ate more of it with slices of coppa and fresh tomatoes).
The sweetness of fresh peas is simply exquisite.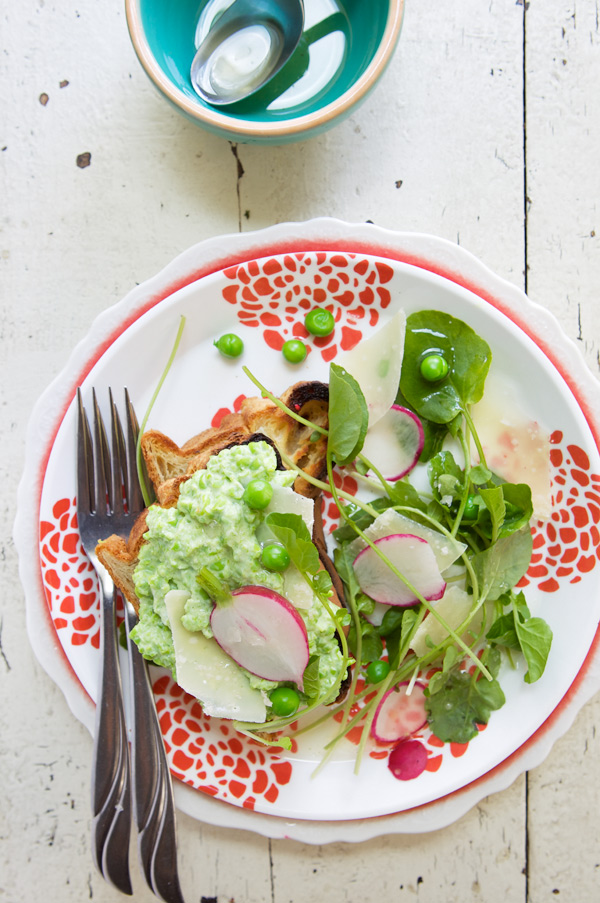 Toasted tartines with brioche and crushed pea spread

(For about 4 tartines)
You need:
1.5 cups (225 g) cleaned fresh peas (from 11.5 oz with pods)
1 tablespoon tahini nut butter
1 tablespoon lemon juice
1 scallion, finely chopped
1 tablespoon hazelnut oil
4 tablespoons fresh soft goat cheese ( I used Chavroux, one of Lulu's favorite)
Sea salt and pepper
Freshly shaved Parmesan cheese
1 tablespoon chopped mint
4 slices of brioche (or your favorite country bread), toasted
2 cups watercress, washed
6 pink radish, finely sliced
Lemon juice and hazelnut oil, to taste, for the watercress salad dressing
Fleur de sel

Steps:
Blanch the peas for 2 minutes in salted boiling water and rinse them under cold water.
In the bowl of a food processor, combine 1 cup of peas, the tahini butter, 1 tablespoon lemon juice, 1 tablespoon hazelnut oil, 4 tablespoons goat cheese and season with salt and pepper. Transfer to a bowl and mix in the scallion and mint.
Toast the slices of brioche and spread the pea mixture on top. Add a few slices of radish and Parmesan cheese on top. Toss the watercress and radish salad with its dressing and transfer the salad and tartine onto a plate. Add fresh peas and more Parmesan cheese and sprinkle with Fleur de sel.
Le coin français
Tartines de brioche et de crème aux petits pois

(Pour environ 4 tartines)
Ingrédients :
225 g de petits pois frais nettoyés (provenant de 325 g avec les cosses)
1 càs de pâte de sésame tahini
1 càs de jus de citron
1 oignon tige, haché finement
1 càs d'huile de noisettes
4 càs de fromage de chèvre frais, type Chavroux, un des préférés de Lulu)
Sel de mer et poivre du moulin
Copeaux de Parmesan
1 càs de menthe hachée
4 tranches de brioche (ou un bon pain de campagne), toastées
2 tasses de cresson, nettoyé
6 radis roses, coupés en fines rondelles
Jus de citron et huile de noisettes pour la vinaigrette de la salade de cresson/radis
Fleur de sel

Etapes :
Faites blanchir les petits pois pendant 2 minutes dans un grand volume d'eau bouillante salée et rinsez-les sous de l'eau froide.
Dans le bol d'un mixeur, combinez les petits pois, pâte de sésame, 1 càs de jus de citron, 1 càs d'huile de noisettes, le fromage de chèvre et assaisonnez de sel et de poivre. Mettez dans un bol et ajoutez la menthe et l'oignon.
Toastez les tranches de brioche et tartinez de crème aux petits pois. Ajoutez quelques tranches de radis et de Parmesan. Servez avec la salade de cresson assaisonnée et le reste de petits pois et de Parmesan, puis de la Fleur de sel.