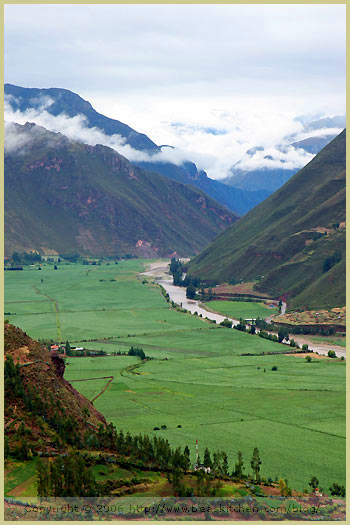 Sacred Valley around Cuzco
At midnight, there was not much that we could discern from high above, on board of the AA Boeing that we boarded in Miami. We landed in Lima safely, late as planned, after about thirteen hours shared between two connecting flights. We knew that we would not have much time for a visit of the place as we were to spend only one night in the Peruvian capital before heading to Cuzco the following morning. We could not wait. Our welcome to Peru started on a good foot as we stayed in a charming colonial inn in Miraflores, a suburb of Lima. Various friends had mentioned that Lima was simply not a big highlight of any trip made to Peru, but I was initially unsure whether I should follow this advice when planning our trip. Yet, as we set off for the airport the following morning, the polluted air in that home to four million Peruvians cleared my doubt. It was good to move on for that reason and I no longer minded skipping a deeper visit of the Peruvian capital. Maybe another time.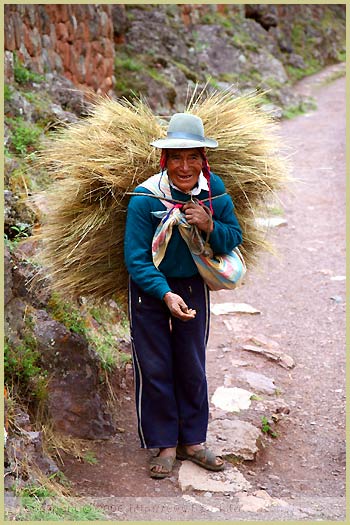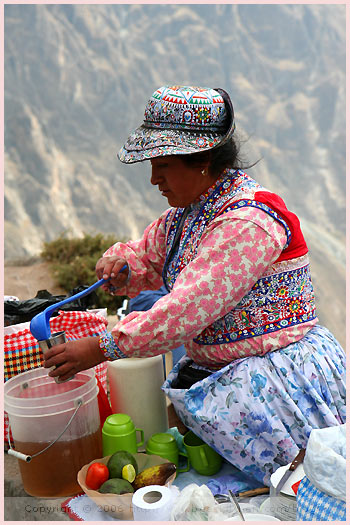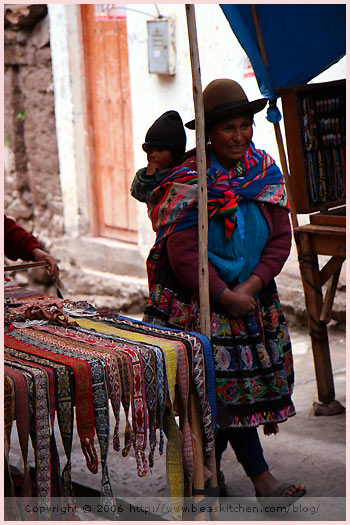 As long as I can remember, I have always wanted to visit Peru. I have had dreams about the place and a list of thousands of reasons why I have always been so attracted to this South American country. I could start with the gorgeously dramatic landscapes with mountains, deserts and the enchanting jungle that surprise you all the time, and I would need to add my love for the colorful clothes that Peruvians wear so elegantly. I was not surprised to witness how high a sense of taste this people have, knowing so well how to match textile textures and colors. Not only do they know how to knit, embroider and crochet, but they are also masters at carving wood, playing music and dancing. Craft runs through their veins. I was told that when Peruvians get married, the tradition is for the woman to knit a belt for her promised, and for the husband to knit a hat for his future wife. The knitting should be so tight that if pouring water into the hat, not a single drop should come through. I had imagined the best display of colors and I was not disappointed. Knowing exactly what things I preferred during this short visit became hard for me to say. We visited Machu Picchu, Pisaq in the Sacred Valley, the Inca trail, Arequipa and its deep canyon and desert-looking land, among a few places. We saw alpacas, lamas and vicuñas — who make the finest wool — and majestic condors. And, in every one of these places, my eyes could never detach from people's faces and the way they wear their traditional costumes and hats. Have you noticed how many different kinds of hats you can discover when visiting Peru? Each one was nicer than the previous one, some very simple, others with a lot of embroideries and colors, in different shapes and material. They were just marvelous to look at and I had to refrain myself from buying every single one I saw.
Part of Peru is known for its high altitude land, with majestic volcanoes reaching over 6,000 m height. As we flew directly from Lima, the transition from a sea-level city to Cuzco was harsh. In no time, you find yourself at 3,600 m (11,800 feet) and you cannot help but feel it right away. Of course I had been on high altitude grounds before, whenever I went skiing or ice-walking on glaciers in the French Alps, but this did not compare to anything I had experienced before. As soon as we arrived in the Cuzco airport the second day, we knew what altitude meant. We had read it in our travel guides, and it clearly made sense then. Maybe it took a few days before it hit us, but it surely did not miss us. Heavy headaches, nausea, indigestion. What the hell was this all about?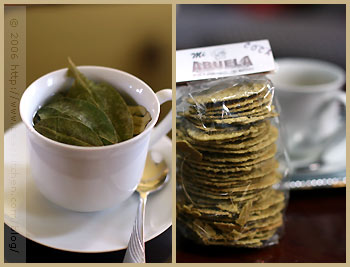 We were told to drink coca tea and later learned that coca is used in many other preparations beside tea — and drugs of course. I tried these very thin waffle-looking biscuits and loved the taste. They somewhat reminded me of matcha tea. Anywhere we went, I would know to ask for coca tea. It particularly came handy while traveling to Colca Canyon when we reached an altitude of 4,900 m (16,000 feet). I tried to convince P. we should bring some coca leaves home, but he looked back at me with a grin on his face. "Better not play with fire, don't you think?", he added. You never know.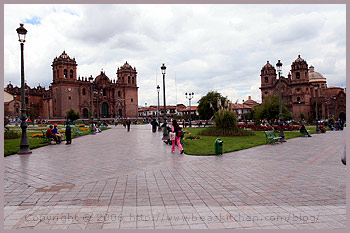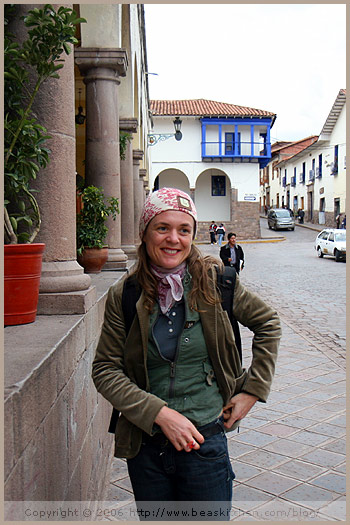 Here I am!
Cuzco is definitely a highlight of any visit to Peru. This well-known place is a small town that keeps you busy for days, if you want to. Like many tourists usually do while there, we spent a few days in the Sacred Valley and its lovely neighboring villages and Inca ruins, the Inca trail and beautiful, mystical and famous Machu Picchu. I had dreams about this place.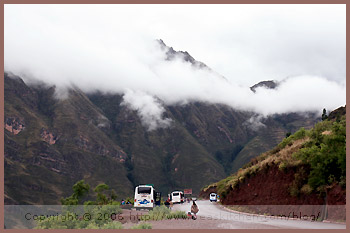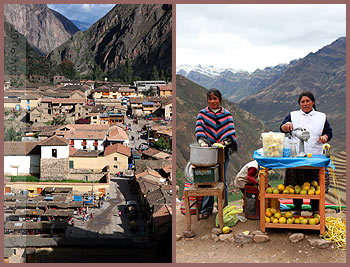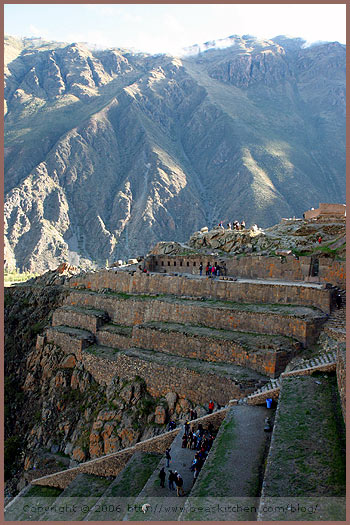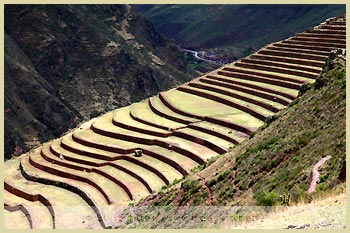 I learned that the Incas initially designed these terraces to grow all sorts of vegetables. They studied the sources of light provided by the sun to determine where it was best to plant one crop rather than another. I fell in love with this display of ingeniosity. The inclination of the terrain calling for this type of farming, today all around Peru, people still farm on terraces.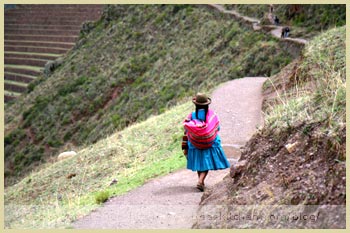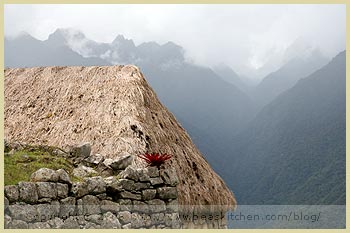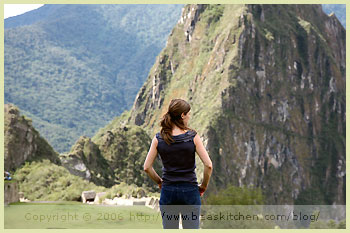 Me facing Machu Picchu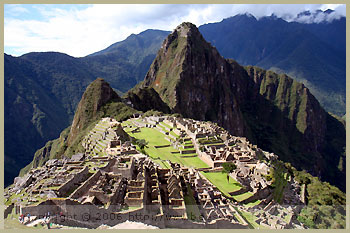 Machu Picchu
Wherever we stopped, there were always scenes to catch and faces I could not help but want to photograph.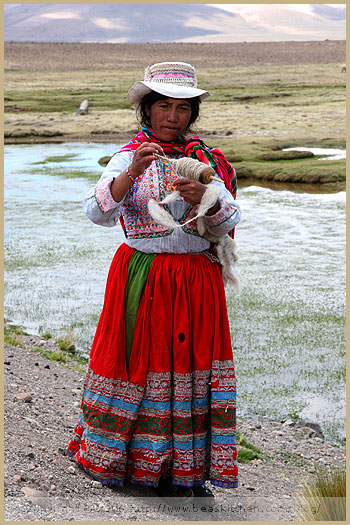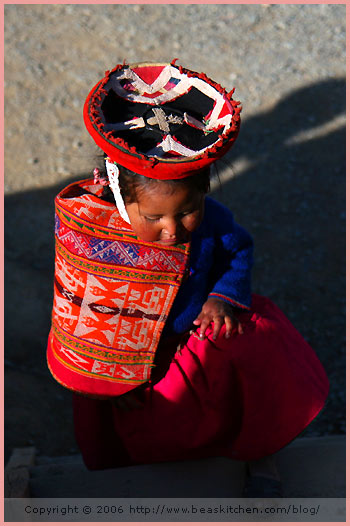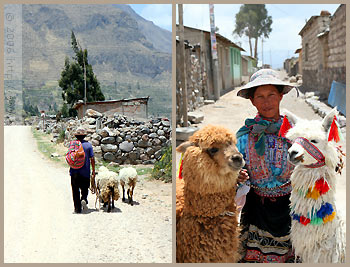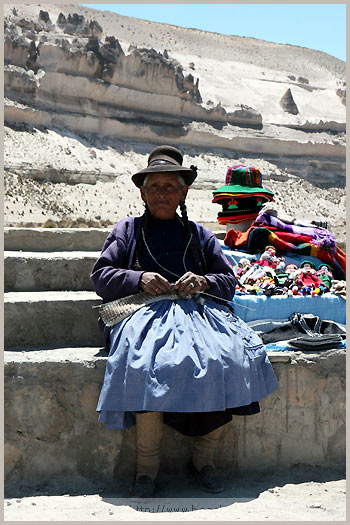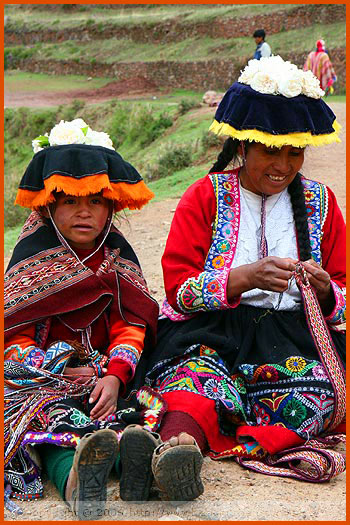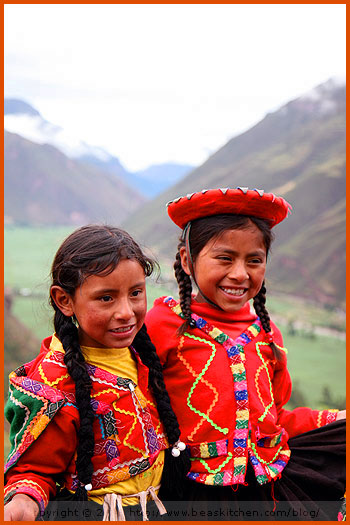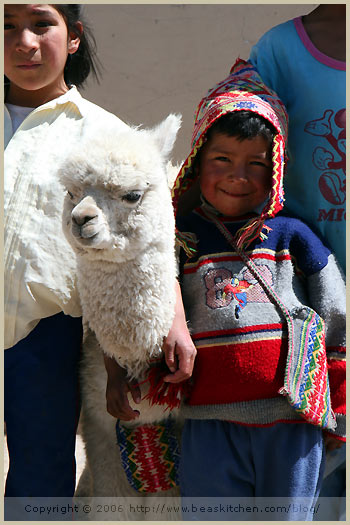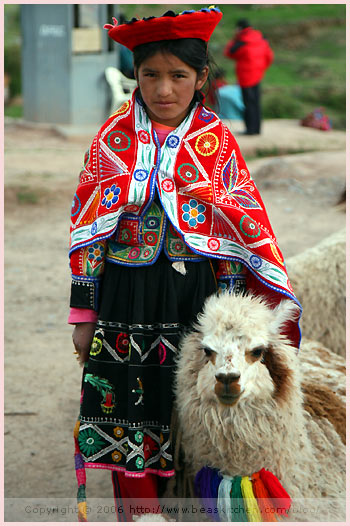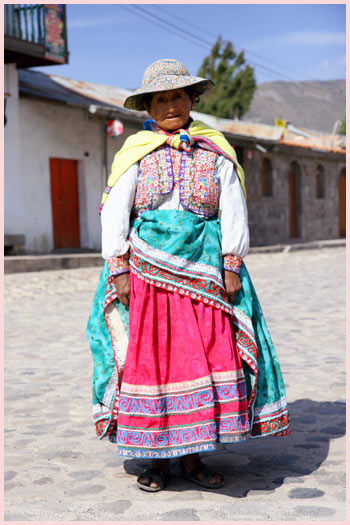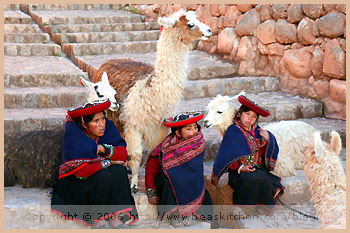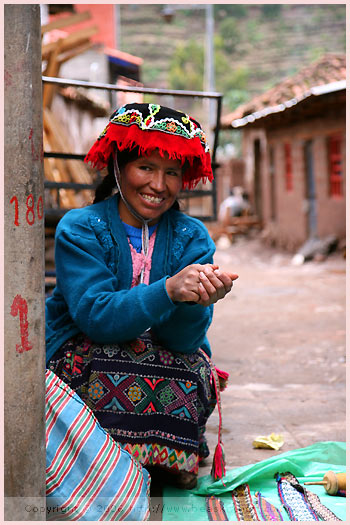 Sometimes, P. managed to get a snapshot with me on it. I always complained that the framing was not what I wanted. In the end I took the shots and he used his video camera. In fact, it was nice to record what we saw in two different ways.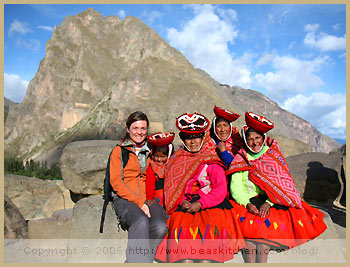 While traveling through the Sacred valley that surrounds Cuzco, we eventually reached Pisaq and visited its fantastic ruins and market. A real heaven for me where I only wished we could have spent more time. The streets were full of locals and tourists, and you only had to walk around to be guided to fabulous spots. Walking along the narrow streets, we caught sight of a few large boards on which the Spanish word Empanadas was written in large black letters. The indication of a Bakery! Hanging baskets by this sign meant that the bread was ready. As soon as we knew this, we quickly hurried to follow the first hanging basket we saw to enter a small courtyard and meet the baker busy selling his first and still warm bread. At 11 am in the morning, our choice went for a few slices of a simple apple cake. By the oven, I also noticed a large dish on which, it took me a few seconds to realize, there was a whole cooked pig. At that point, I just felt too shy to try it. Wouldn't you have as well?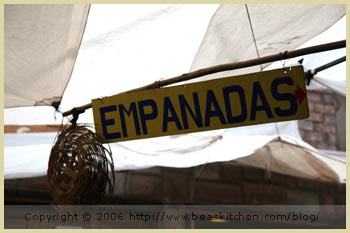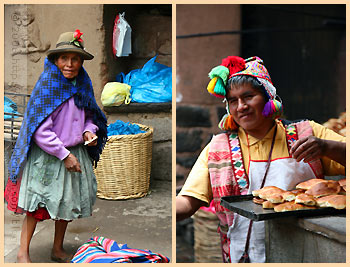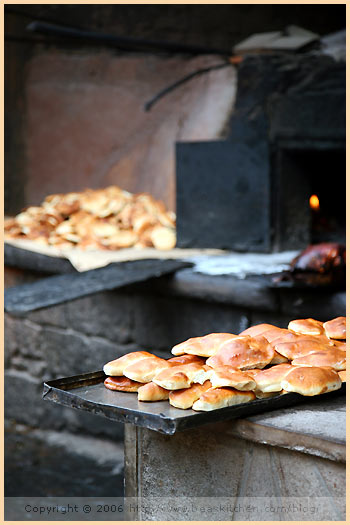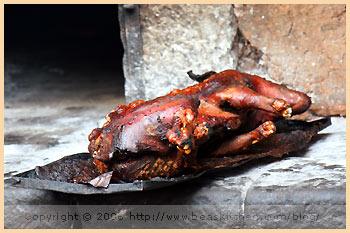 The vegetable displays were just as colorful as its people. Making your way through the crowded streets was somewhat a challenge, except that for someone tall like P. or me. In Peru, I surely had an advantage at being able to see a lot more with my height. I felt dizzy and excited at the view of so many goodies. Various stands offered heaps of potatoes — Peru produces no less than 400 different varieties of potatoes, which are more commonly grown in the Sacred Valley — carrots, red onions, corn — produced around Machu Picchu — exotic Peruvian fruits and dyes, to only name a few things. At one corner, I was surprised to see that a man was selling ice-cream. I just could not resist at the view of his archaic-looking setup. So inventive! Next to him, a woman wearing a bowler hat was trying to quickly gulp down her lunch. Rice , potatoes or quinoa are always on the menu.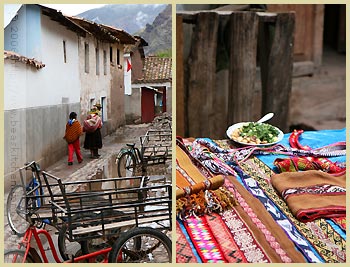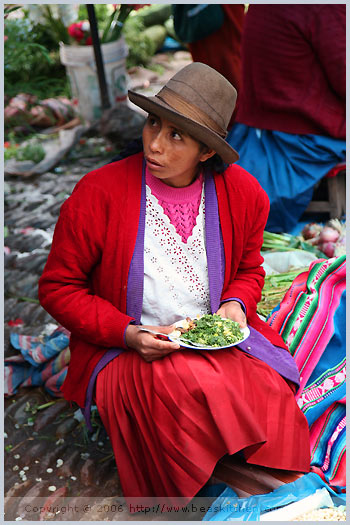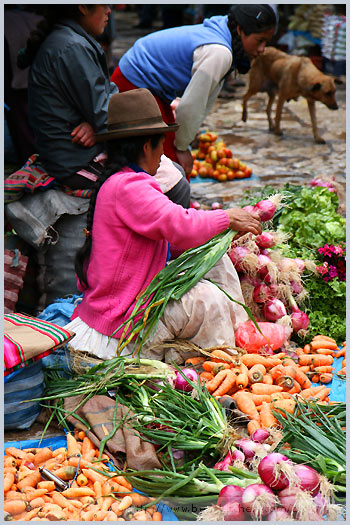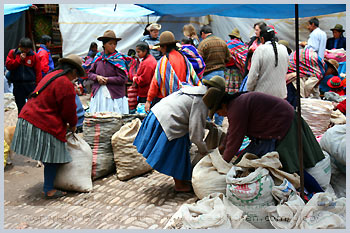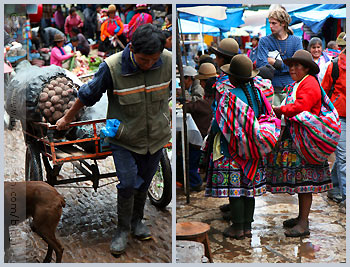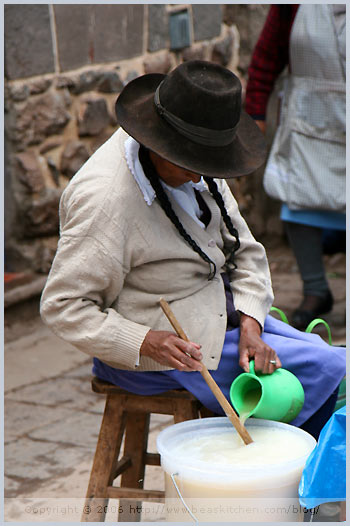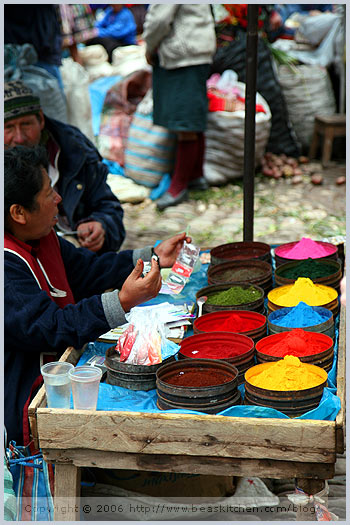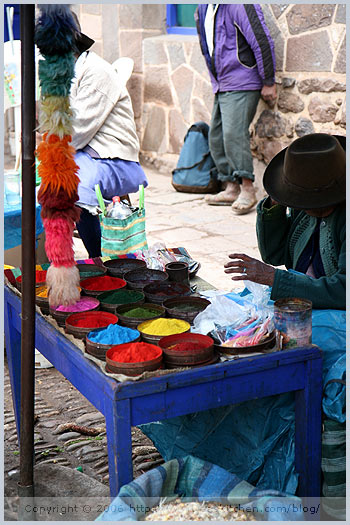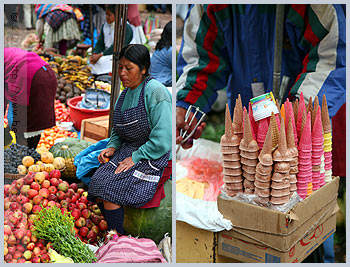 Market in Pisaq
From Cuzco, we flew to Arequipa located further South, Peru's second largest city. The whole scenery became very different from the green Andes found in and around Cuzco. We were welcomed into a city that is like an oasis in the desert. Arequipa is in fact called the White City (ciudad blanca) and you understand why as soon as you land there. The buildings all have this similar sand-white color. Unlike Cuzco, Arequipa is a city that is only opening to tourism more and more. Founded by the Spaniards in 1540, this city displays a lot of taste and style with a magnificent backdrop of snowy volcanoes rising at 6,000 m. There, you can walk around and avoid the constant influx of street sellers following you around to sell something. We noticed everywhere the hundreds of tiny yellow cabs which turned the winding streets into a noisy, happy bustle, with every driver constantly using their horn. I wondered about that and was told that there is a local law preventing people to overuse the horn while driving, but no one cares and follows the law. It is their way of driving. Air pollution is a city issue as well, as mentioned to us by a local guide. But we loved Arequipa. A short trip to the countryside took us to agricultural parts where we were delighted to find people working in fields, collecting red onions and garlic. Our guide mentioned that these were the two main crops produced in the area.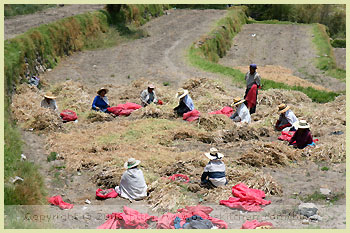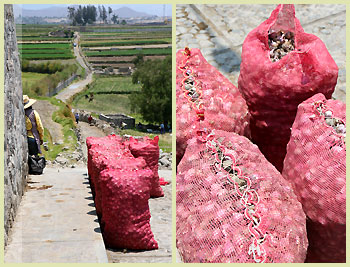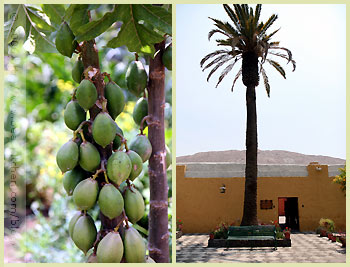 Arequipa has tons of lovely places to visit, such as the Santa Catalina Convent which is a pure delight for the photographer eyes. Founded in 1580 and home once to four hundred nuns living in complete isolation, today only a few remain and live there. The place felt so serene, simple and colorful that we ended up spending a few hours there.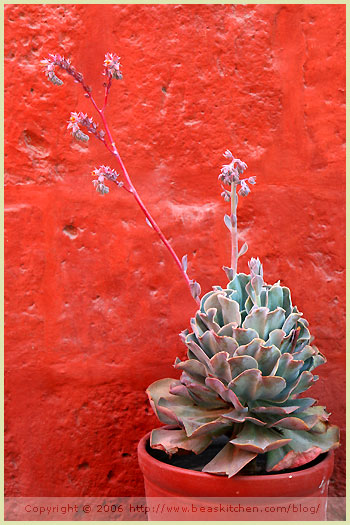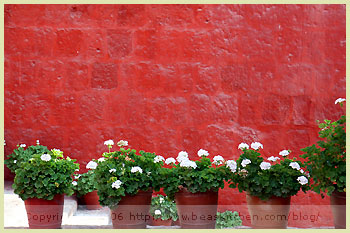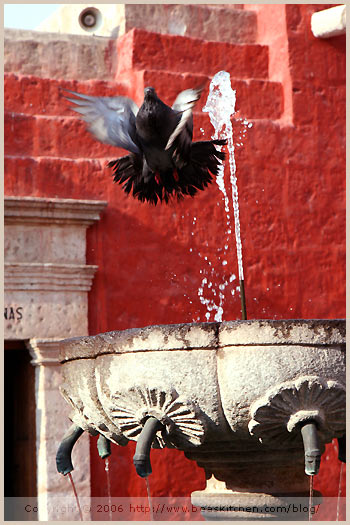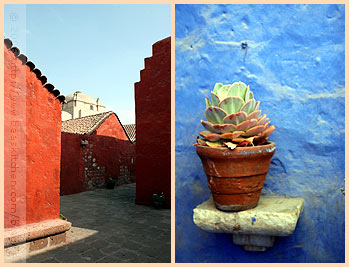 In Santa Catalina Convent
We decided to spend a few nights in the white city, making it a base en route to visit Colca Canyon — which is known as one of the deepest canyons in the world, at 3,269 m (10,725 ft), which is more than twice as deep as the Grand Canyon in the US. We wandered the streets many times, having lunch one day in a vegetarian restaurant we found by accident: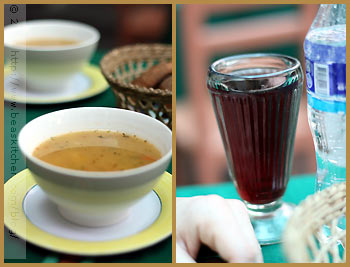 A Peruvian Vegetarian Lunch in Arequipa
Or at one of the two Zig Zag restaurants, for a not-so-much Peruvian lunch as you can see. Yes, I can confess that we ate crêpes while in Peru, but do not feel any ounce of guilt about it. They were delicious!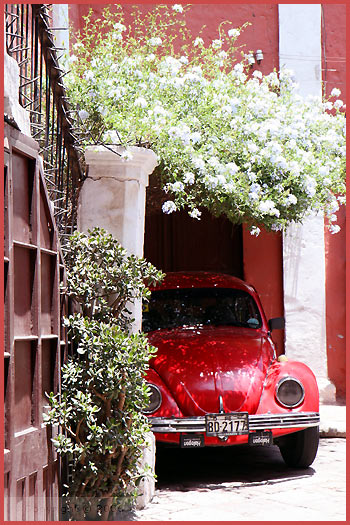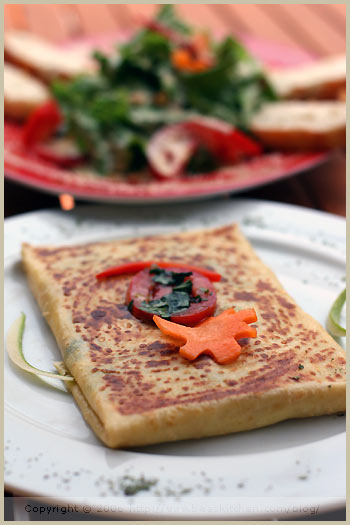 Basil and Tomato Crêpe at Zig Zag in Arequipa, located by the Alliance française
On the other hand, dinner at the other Zig Zag restaurant offered excellent typical Peruvian food where we tried Alpaca and Ostrich meats, and had some grilled Camarones (shrimps), cooked plancha style. The food was served with a quinoa purée and ratatouille. Simple and delicious. We also tried quinoa gnocchi and potato rostis. I particularly loved the delicate taste of Alpaca, which I ended up eating a few times during the course of our trip. It was also fun to note that the iron stairway inside the restaurant was designed by no other but our very French architect Gustave Eiffel.
One night, because we had an early start the following morning — which seemed to be the every day's rule — we had dinner in the Boutique B&B where we stayed and loved (Casa Arequipa). Davies, the manager, was proud to tell us that his mum had cooked the typical dishes from Arequipa that we enjoyed. I do not think I had stayed in a better B&B before. The house was amazing, beautifully decorated, and the staff just attentive as I had never experienced before.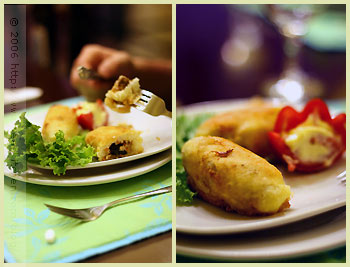 Papa Rellenas, potato croquettes filled with seasoned mixture of eggs, meat and olives, served with a criollo onion salad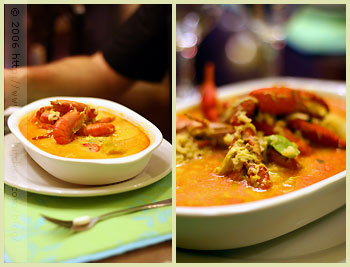 Supa de macarones, a chowder typical of Arequipa made with freshwater crayfish fried in a special red pepper sauce, then boiled with fresh corn, potatoes, rice and milk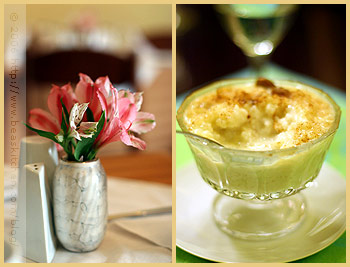 Arroz con leche, rice pudding, riz au lait, made with rice, fresh grapes, milk and cinnamon
The land stretching outside and beyond Arequipa is desert-looking at first, surrounded by high volcanoes such as Picchu Picchu and El Misti. Without a four-wheel vehicle or a bus, I cannot imagine the drive. While driving to the canyon located at 100 miles northwest of Arequipa, you reach altitudes as high as 4,900 m, by which you know that every single movement is felt.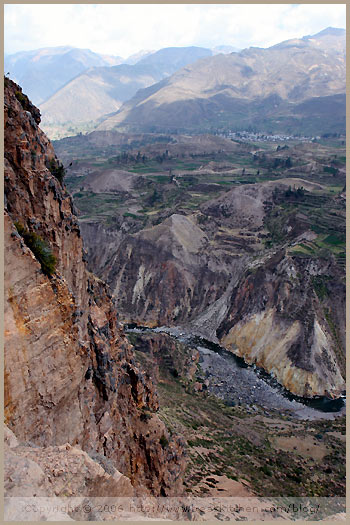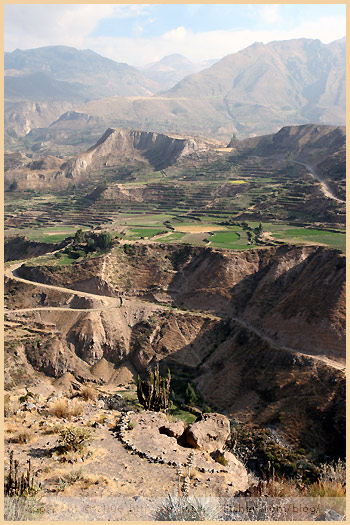 Colca Canyon
Then suddenly, as you drive down into the Colca valley again from a higher point, you find streams and patches of green, signs that there are fresh water streams. The transition from one place to the other seems so rapid that it feels surreal. We were told that during the short rainy season that runs between January until March, there is a fair amount of precipitation.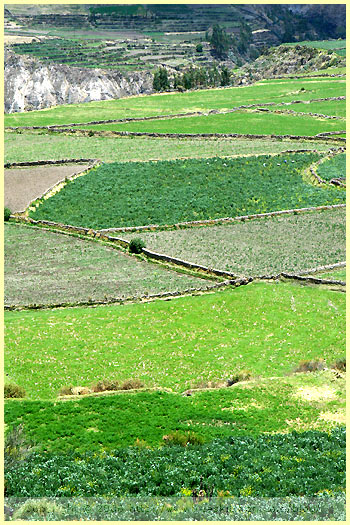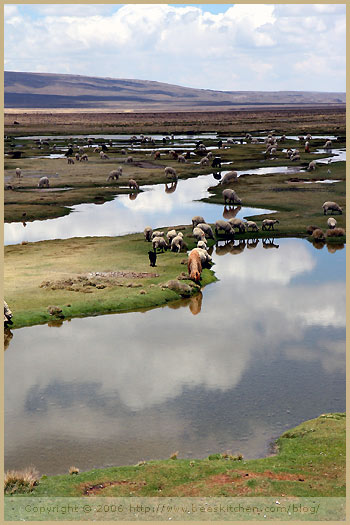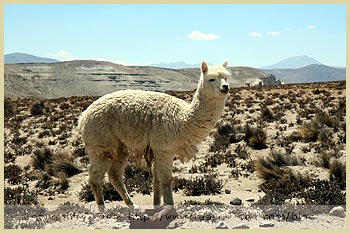 Alpacas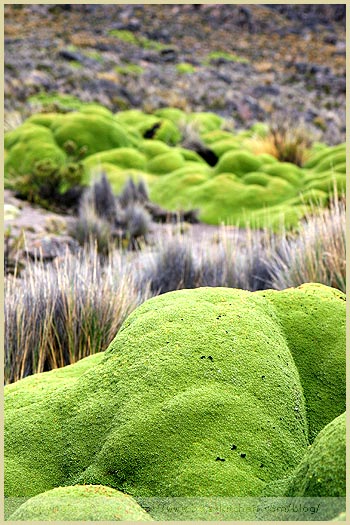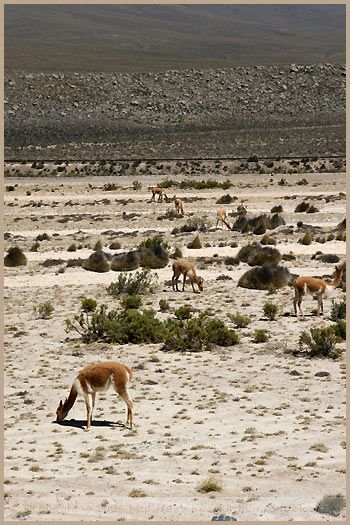 Vicuñas
Whereas alpacas and llamas are pretty much domesticated, vicuñas are not. These territorial animals produce the finest wool. I learned to differentiate them all: llamas are in fact the larger white or brown woolly animals, with a longer nose, no wool on the face or lower legs while alpacas are smaller, with wool on the face and legs.
Because the drive to get to Colca Canyon was rough and long, we decided to spend one night at Colca Lodge, which is at about 45 mns away from the small town of Chivay in the Colca Valley. Whether in Chivay or at Colca Lodge itself, one of the highlights was to be able to relax in hot springs (baños termales). After a long day driving up and down in dust, no matter how rough you like it to be, having a dip in these baths felt pretty good.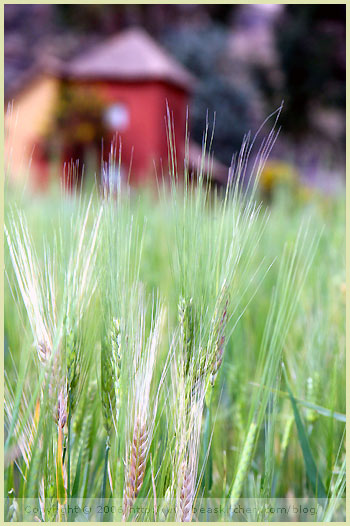 Colca Lodge in the Colca Valley where we stayed
While visiting Colca Canyon and its valley, we stopped in a small village restaurant where we had a delicious buffet lunch. The well prepared food, Alpaca meat, beet salads, soups of all sorts, potatoes, lentils, was arranged on long tables placed in the center of the room. Many dishes were made with quinoa, le riz des Andes (The Andes rice), a grain which I have always been fond of. I was happy to get new ideas on how to cook it, especially in sweet preparations such as the delectable coconut cake that I kept helping myself to.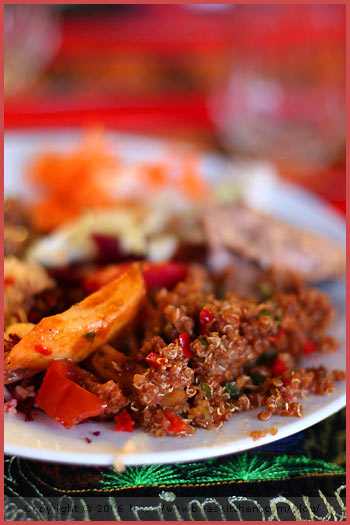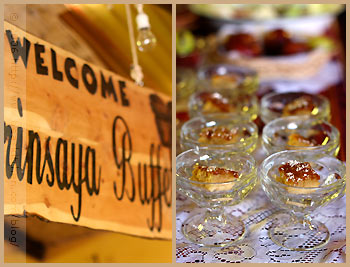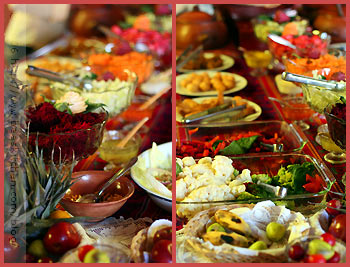 We discovered many delicious Peruvian fruits most of which I forgot the names of. Yet I remembered Pepino Melon as it was served daily at the B&B. Of course, we had read to avoid eating fruit and salads unless we were sure on how they had been cleaned and prepared. It was hard not to indulge in them though, and so we got sick once. Really sick, just as you want to forget.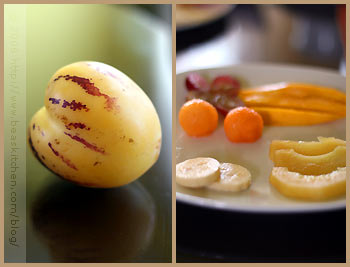 Pepino Melon
So the time to fly home came sooner than we had expected. We embraced the country and its friendly people and know already that we will go back. There is so much more that we want to see. But Peru was just as I had imagined it to be: colorful, friendly and impressive.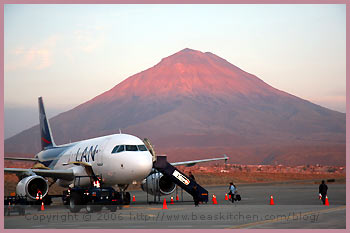 Leaving Arequipa airport, volcano in the distance