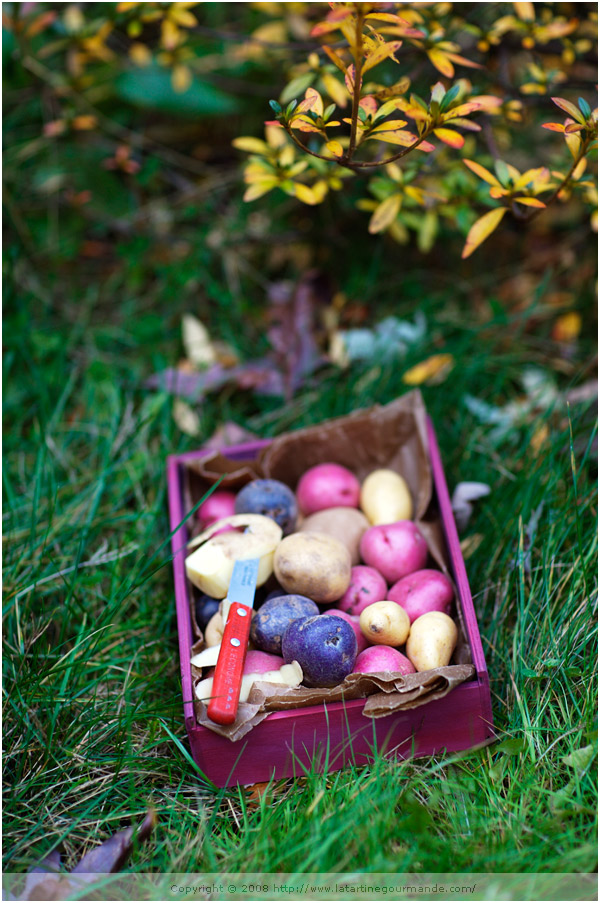 My mother taught me that homemade food is the norm — I don't even question it. At home, we never ate take-outs, simply because they did not exist — and how could they, in a small village in rural France, nearly thirty years ago? For us, the rule was simple: our meals were always prepared by mum, and it still continues to this day in my parents household. She feeds her love to us through her homemade food.
With the years going by though, like many of you, I've developed a true love and interest in dining out. To be inspired, surprised, to learn about new ingredients and cooking methods, to share special times with the people I love, and of course, to get a break from the kitchen.
But I must say, it will never replace the taste of a homemade meal.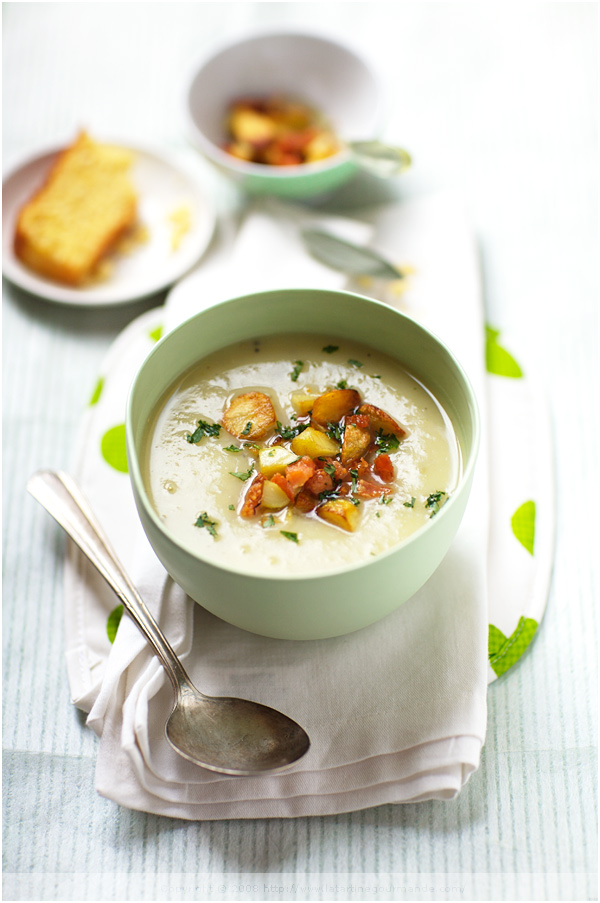 Potato Soup
My mum also taught me that modest dishes can make the best meals, as long as care is given to choose the right ingredients, those that are the most seasonal and local, and homegrown if possible.
I find such differences really noticeable in the quality of vegetables, potatoes (les pommes de terre) in particular.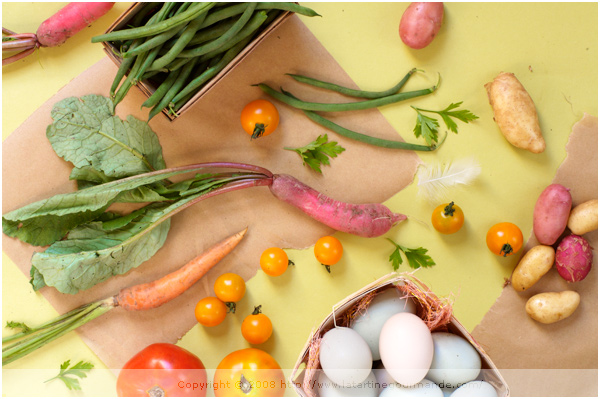 I still remember the joy I had the first time I went out to dig for potatoes with my grand-mother. An entire side of her large garden was in fact dedicated to potatoes only.
"C'est de la bonne terre à patates," she used to tell me as we worked along (the soil is good for spuds).
The whole process fascinated me. I thought it magical to find so many potatoes under only one plant. Each time, actually, was a surprise, as we never knew how many potatoes there would be once we started to dig. I liked to pick them up, rub off the dirt carefully, and pile them into my small woven basket; it gave me a sense I had found a precious treasure.

Le trésor de la Nature.
Later in the day, mémé L. and I would arrange the freshly picked potatoes in cagettes that we stored in the cellar, the darkest and coolest place in the house, to ensure they would keep longer during the winter.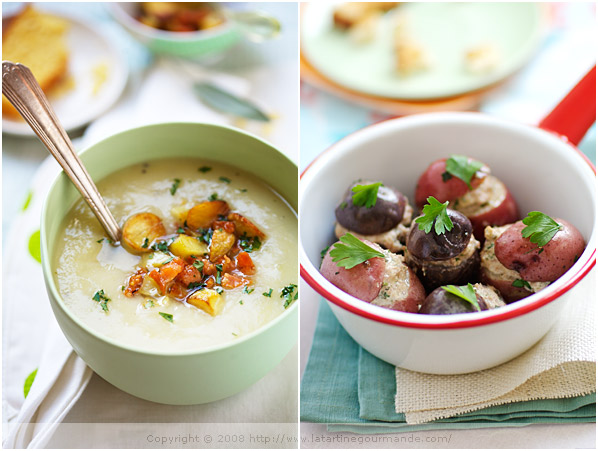 And I clearly remember their amazing taste, especially the rattes variety that we made sure to plant every year. These potatoes revealed a unique nutty flavor, remaining firm in the mouth, yet smooth at the same time.
So between P. the Irish, and me the French, it is no surprise if I tell you that we both love potatoes. All of them; they inspire my cooking tremendously. Like in the recipes for this potato soup and stuffed potatoes. I remember how excited I was to visit Peru because I knew I would discover an amazingly large range of potato varieties.
So when I purchase these pearls of the soil, I am fussy about their quality. Like everything else, you can buy amazingly good potatoes, and terrible ones — think a piece of fruit rushed to grow without sun, not a good sight, is it?
During the summer when I can cycle to the farmer's market, I buy them from local producers. I like the fact that most of them have an irregular shape. And when the markets close for the season, I always buy organic potatoes as they've always proven better in texture — and taste.
And of all, the best thing for me is actually to observe P.'s face when I tell him that I've prepared potatoes for dinner. His face lights up like a flower opening at the crack of dawn. Simple things like a homemade dish of potatoes make him truly happy.
"Did I ever tell you what I used to tell Agathe when she would bring potatoes on the table?" I asked P. as we were sitting at the dining table, eating les pommes de terre farcies (the stuffed potatoes) I had prepared.
Agathe is my grand-mother's oldest sister, a strong woman in love with gardening, cats, and good life.
"Non. Quoi ?"
"Well, Agathe used to baby sit me when I was just two and my mother went back to work. Apparently, every time she brought potatoes on the table, I would exclaim "Oh les bonnes poterres**!" She still mentions it today!"
P. would well be capable of such a thing today too. I wish you could just see his face when I bring a dish of potatoes on the dining table.
It's magical too.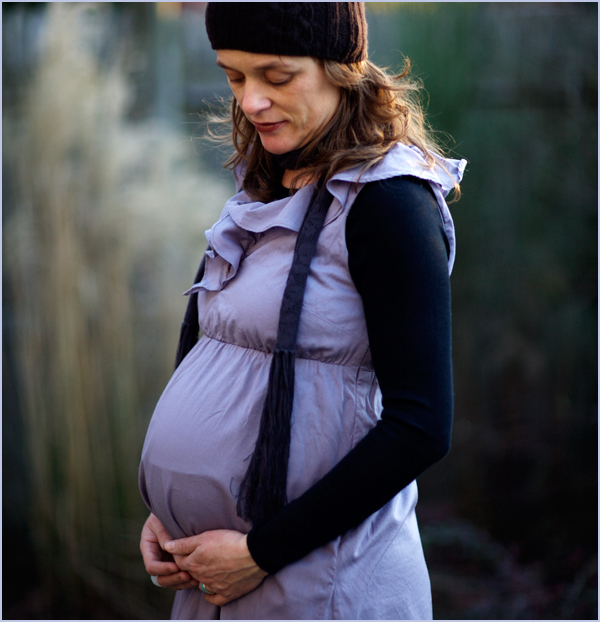 And while we wait (the last month, already!), we've already decided that bébé will like pommes de terre.
Just like papa et maman.
PS: It surely looks like I have my own big potato in the oven, doesn't it?

** For those of you interested, poterres is actually not the correct way to refer to potatoes in French. I do not want to teach you incorrect French, or have you walk around referring to potatoes as poterre. At the age of two, I was simply incapable of pronouncing pommes de terre correctly.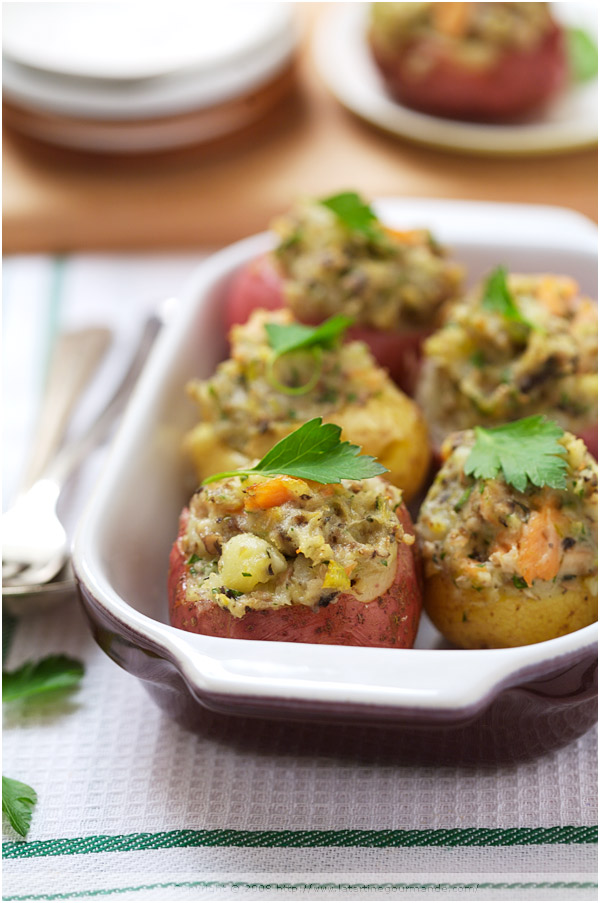 Stuffed Potatoes with Mushrooms
Stuffed Potatoes with Mushrooms
You need:
6 medium-sized organic potatoes
1 tablespoon butter
Olive oil
1 leek, white part only, chopped
1 shallot, chopped
1 garlic clove, grated finely
5.5 oz cremini mushrooms, cleaned and sliced
1 tablespoon dry Vermouth (Noilly Prat) or dry white wine
Salt and pepper
1.5 tablespoons mixed chopped parsley and oregano
Dash of nutmeg
4 tablespoons mascarpone cheese
2 slices of smoked salmon, diced
Steps:
Wash the potatoes and steam them, unpeeled, until still firm but cooked; let cool.
In the meantime, heat 1 tablespoon of olive oil and one of butter in a frying pan. Sweat the leek, garlic and shallot for 5 minutes, without browning.
Add the mushrooms, season with salt, and continue to cook for about 4 minutes.
Add the Vermouth and continue to cook until all the juice is evaporated.
Place this preparation in the bowl of your mixer and mix.
Transfer to a bowl to cool slightly before adding the mascarpone cheese and herbs; set aside.
Preheat your oven at 350 F.
Once the potatoes are cooled, remove 1 inch slice from the top of each. Scoop out the flesh, making sure to leave the shell intact.
Add the potato flesh, pieces of salmon and a dash of nutmeg to the mushroom mixture, and mix well.
Spoon each potato with this preparation. Place the potatoes in a dish, add a splash of olive oil on each and bake for 15 minutes or so.
Potato Soup
(For 4 people)
You need:
1 tablespoon butter
1 tablespoon olive oil
2 leeks, white part only, diced
1 shallot, chopped
1 garlic clove, chopped
1 lb 3.5 oz peeled Yukon Gold potatoes, diced
5.5 oz parsnips
8 sage leaves, coarsely chopped
1 bay leaf
Salt and pepper
4 cups cold water
Fresh parsley, chopped
A few fingerling potatoes, steamed
4 large smoked salmon slices, diced finely
Crème fraiche
Fleur de sel (optional), to serve
Steps:
In a cocotte, heat the butter and oil. Add the leek, shallot and garlic and sweat for 5 minutes, without browning.
Then add the potatoes, parsnip, sage leaves and bay leaf. Cover with water, season with salt and pepper.
Cook on medium to low heat, covered, for 20 minutes, or until all the vegetables are fork tender. Discard the bay leaf and mix the soup; keep warm.
Peel the fingerling potatoes and dice them. Heat 1 tablespon oil in a frying pan and add them with the salmon. Brown for a few minutes.
Add 1 tablespoon crème fraiche at the bottom of each plate. Add the soup and garnish with the sauteed potatoes and salmon. Sprinkle with fleur de sel and add chopped parsley.
Le coin français
Pommes de terre farcies aux champignons
Ingrédients :
6 pommes de terre bio à chair ferme de taille moyenne
15 g de beurre
Huile d'olive
1 poireau, partie blanche, émincé
1 échalote, hachée
1 gousse d'aïl, râpée finement
150 g de champignons des bois, nettoyés et émincés
1 càs de Vermouth sec (Noilly Prat) ou de vin blanc sec
Sel et poivre
1,5 càs de mélange de persil et d'origan hachés
Pincée de muscade
4 càs de mascarpone
2 tranches de saumon fumee, coupées en dés
Etapes :
Lavez les pommes de terre et faites-les cuire à la vapeur avec leur peau jusqu'à ce qu'elles soient cuites, mais restent fermes. Laisse-les refroidir.
Pendant ce temps, faites chauffer 1 càs d'huile d'olive avec le beurre dans une poêle. Faites surer le poireau, l'aïl et l'échalote pendant 5 minutes, sans brunir.
Ajoutez les champignons, assaisonnez de sel et poursuivez la cuisson pendant 4 minutes environ.
Ajoutez le Vermouth et poursuivez la cuisson jusqu'à ce que le liquide se soit évaporé.
Mettez cette préparation dans le bol de votre mixeur et mixez.
Transférez dans un bol et laissez refroidir avant d'ajouter la mascarpone et les herbes; mettez de côté.
Préchauffez le four à 180 C.
Une fois les pommes de terre refroidies, coupez un chapeau pour chacune d'entre-elles. Evidez les pommes de terre en prêtant attention à garder les bords et le fond intacts.
Ajoutez la chair de pommes de terre, les dés de saumon et une pincée de muscade au mélange de champignons. Assaisonnez de sel et de poivre, et mélangez bien.
Farcissez chacune pomme de terre avec cette farce. Mettez les pommes de terre dans un plat allant au four. Arrosez-les d'huile d'olive et faites cuire pendant 15 minutes environ.
Soupe de pommes de terre
(Pour 4 personnes)
Ingrédients :
15 g de beurre
1 càs d'huile d'olive
2 poireaux, partie blanche, hachés
1 échalote, hachée
1 gousse d'aïl, hachée
550 g de pommes de terre Yukon Gold pelées, coupées en dés
150 g de panais
8 feuilles de sauge, hachées grossièrement
1 feuille de laurier
Sel et poivre
1 l d'eau froide
Persil frais, haché
Quelques rattes, cuites à la vapeur
4 grandes tranches de saumon fumé, coupées en petits dés
Crème fraiche
Fleur de sel (facultatif), pour servir
Steps:
Dans une cocotte, faites chauffer le beurre avec l'huile. Ajoutez le blanc de poireau, l'échalote et l'aïl et faites suer pendant 5 minutes, sans brunir.
Ajoutez les pommes de terre, le panais, les feuilles de sauge et la feuille de laurier. Couvrez avec l'eau froide, et assaisonnez de sel et de poivre.
Faites mijoter à couvert pendant environ 20 minutes, jusqu'à ce que les légumes soient tendres. Retirez la feuille de laurier et mixez la soupe; gardez-la au chaud.
Pelez les rattes et coupez-les en dés. Faites chauffer 1 càs d'huile dans une poêle et ajoutez les dés de pommes de terre et de saumon. Faites brunir pendant quelques minutes.
Ajoutez 1 càs de crème fraiche au fond de chaque assiette creuse. Versez la soupe chaude dessus et garnissez avec les dés de pommes de terre et de saumon. Saupoudrez de fleur de sel et de persil frais haché.