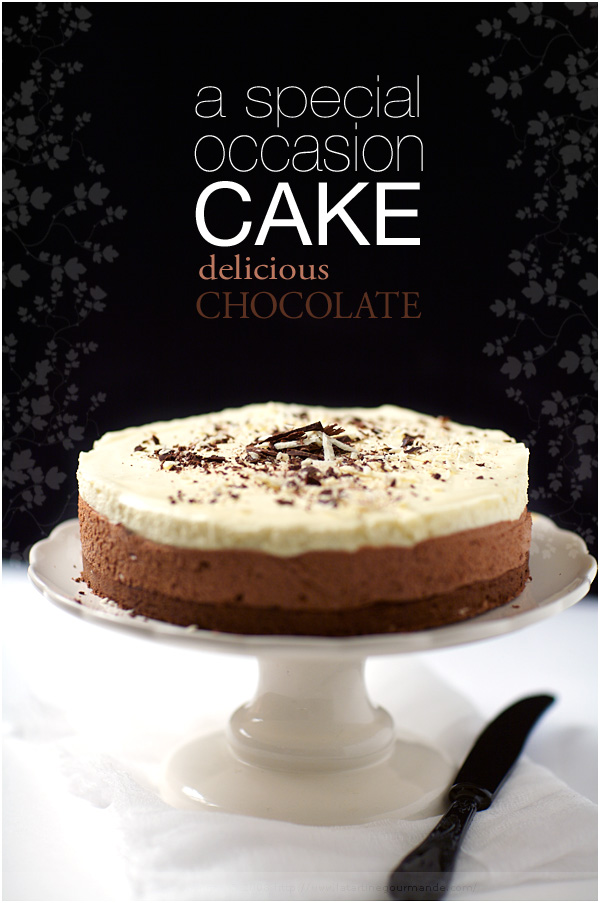 Two Chocolate Mousse Cake
Three years already? I am still amazed when I think about it.
Three years ago, on Nov 28th 2005, I started to blog. And in three years, needless to say that much has happened. I am aware that I am quite lucky: I met great people, virtually or in real life; I learned a ton; I started a new carrier; I am able to do, every day, something I continue to love just the same way, even more; and I am able to share pieces of it with you.
I want to dedicate this post to all of you without whom this blog would simply not be what it is today. Your constant encouragements and notes always bring me warmth. And make me smile and happy.
And yes, I am thankful!
Merci !
I designed this chocolate cake a few weeks ago, and made it already twice — it is light and deliciously chocolaty. The first one I made was for my friend L.'s baby shower, and the second one was for our Thanksgiving dinner, only yesterday. Irene, my friend Ron's mum who is an amazing 97-year old woman, once also a modern dancer who lived and danced in Argentina and Europe, kept asking who baked the cake — her memory is leaving her, but she remembers tiny details of her life like no one else. "Did you bake the cake?" she asked P.
"Not me, Bea did," he said pointing at me. She looked back, stared at me and said assertidly: "It's really delicious. Can I have another slice?"
That was the best compliment.
You will get to know about it more soon — I will have to tell you something else then too!