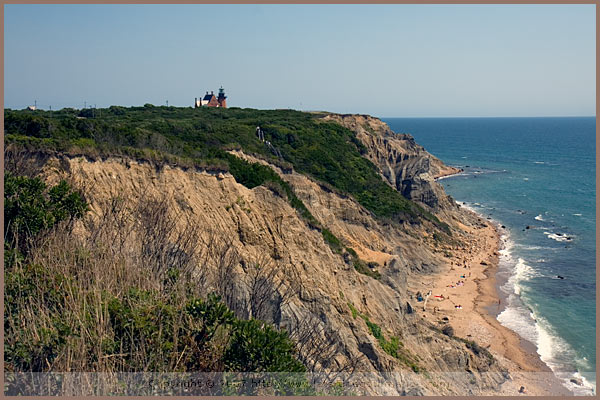 The Bluffs, Block Island in RI
It only takes one hour on the regular ferry to arrive to Block Island. Many people prefer to board the more recent high speed ferry too — shortening the trip to only thirty minutes — but P. and I were not feeling in a rush, even if we were keen to discover this small island off the coast of Rhode Island.
When I asked P. what he wanted to do for Labor Day weekend, he was feeling like me: we could not think about anything original beside that we wanted to find a destination away from people. "Ca va être plutôt dur à trouver ce week end !" P. told me when I insisted that we should go somewhere quiet and countryside-like (It will be hard to find this weekend!) Then I remembered Block Island. Why not? It had been years since we both wanted to visit this small island, which we had heard was still rural and casual compared to neighboring islands like Nantucket or Martha's Vineyard. I was pretty sure that most places would be full since I was calling so late in the season — at least the type of accommodations where we usually prefer to stay. Big hotels were out of the question; we wanted a quiet friendly spot with character like a small B&B.
"We have had a cancellation so yes, we have a room if you want it," Gabby at Sea Breeze Inn told me when I called.
"Do we need a car, or are we OK with our bikes only?" I carried on.
"You will be just fine. You can cycle pretty much everywhere."
"We are coming!" I exclaimed joyfully before hanging up.
We had a weekend getaway plan.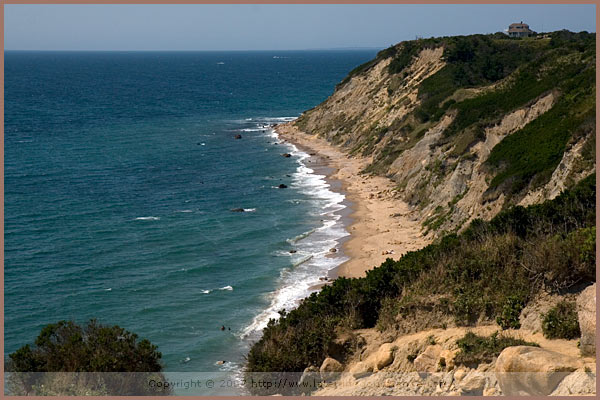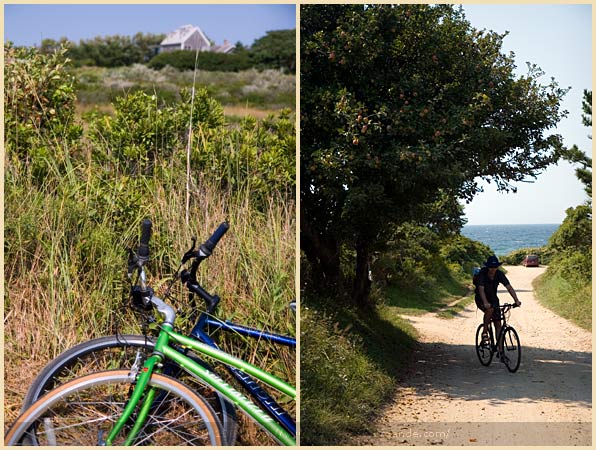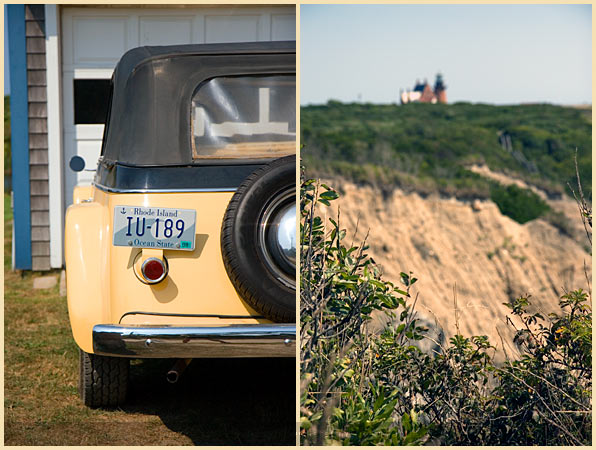 Booking the ferry was easy. We only needed a spot for two seats and two bikes since our plan was to leave the car in Point Judith, one hour and a quarter away from Boston. As Mother Luck was on our side — ah merci bien — not only did the weather turn out gorgeously sunny despite a refreshing ocean breeze, but the Sea Breeze Inn exceeded what we had expected to find upon our arrival.
When we arrived in the village of Old Harbor early on Saturday morning, we had one bag, our bikes, a few books to read and an eagerness to cycle and relax by the water. After a five-minute walk up the hill overlooking the whole coast, we were welcomed by Gabby, the woman running the inn. When she saw us push our bikes in the downhill cobble-stoned driveway, her tanned face lit up with a friendly smile.
"You're Béatrice, aren't you?", she said in a confident tone, as if she had already met me before. By looking at her strong, energetic body — just as tanned as her face — I guessed that she was a woman spending a lot of time working outside in the sun. I loved that she walked bare foot everywhere: I felt at home right away.
A quick tour of the property made us discover numerous small details that always make me love a house and place: deck chairs cleverly placed where I knew we would sit to read and watch the ocean; rooms with simple, unpretentious and rustic furniture; a well-kept, yet wild garden full of abounding, colorful flowers where butterflies seemed to have found a mini paradise. Then, I also noticed wild peas growing in the middle of tall pink field flowers, and ripe cherry yellow tomatoes that I disciplined myself not to steal and gulp down.
"You can also borrow the canoes to paddle on the ponds," Gabby added when she pointed in the direction of the two ponds located between the house and the ocean. "And, if you look to your right while walking down, you will also see a hammock. That is if you feel like taking a quiet nap during the day."
Tucked away from the busier streets of the village near the harbor, we had really found a haven of peace for our weekend.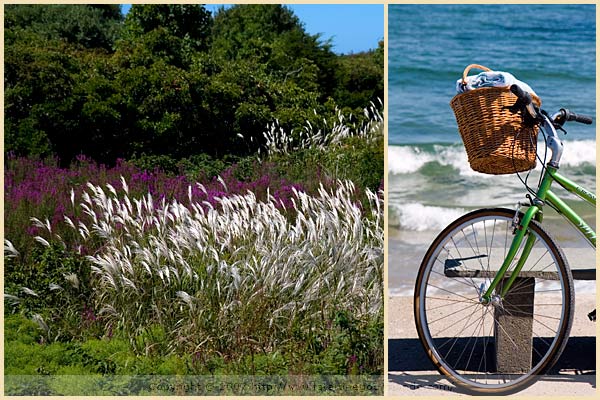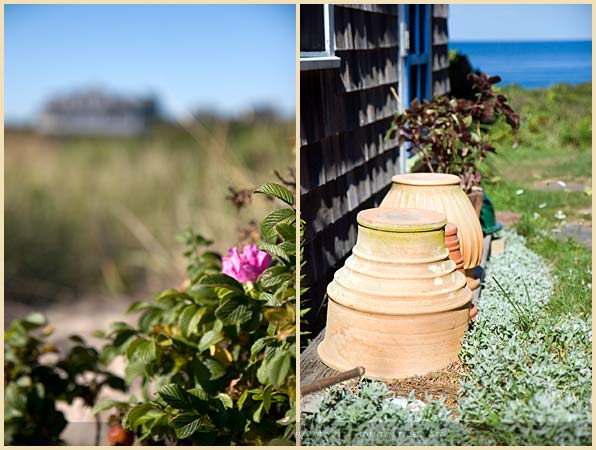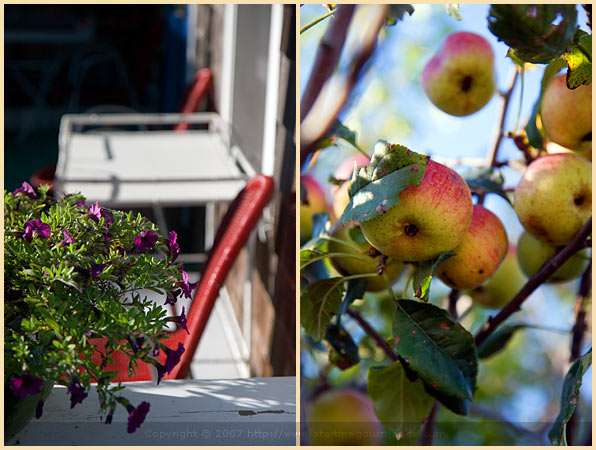 Block Island is a 7,000 acre island about seven miles long and three miles across at its widest point, with a population of about 1,000 permanent residents. Of course, during summer, this number grows considerably. Located twelve miles from Long Island and about the same distance from Charlestown, it is a perfect spot for anyone loving the outdoors, with gorgeous white-sanded beaches, a welcoming web of hiking trails, and plenty of water activities for all tastes. With more than forty percent of its land conserved, it really still offers untouched natural beauty. Of course, we noticed that not everyone wants to spend his or her time the same way: some would prefer to visit the place only for the day to party, while others would tend to stay away to enjoy the quietness of the place. And while some bike, others prefer to use mopeds — our choice was quickly made.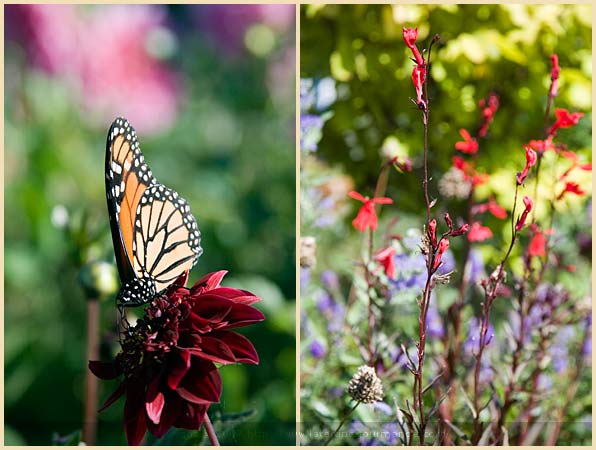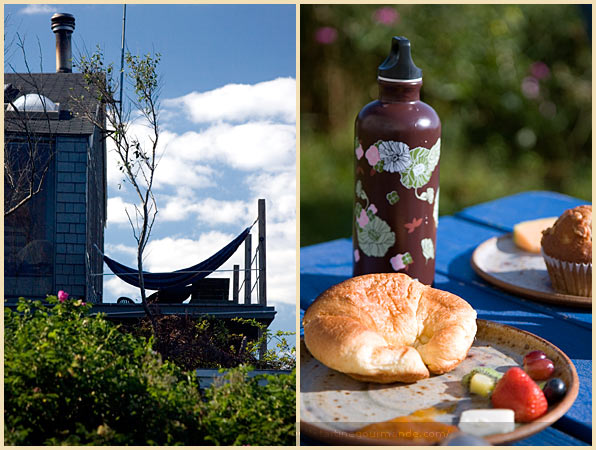 Breakfast with croissants, muffins and fresh fruit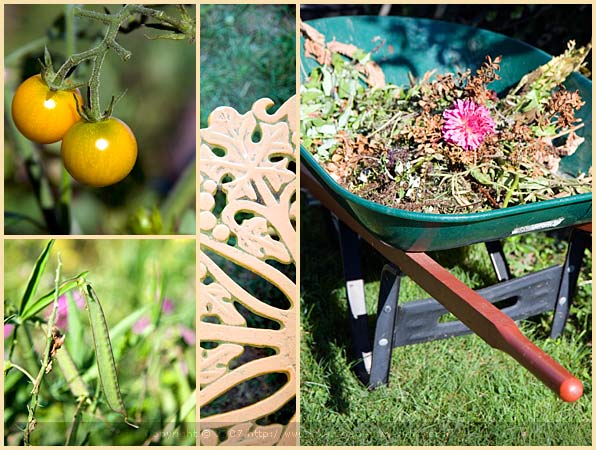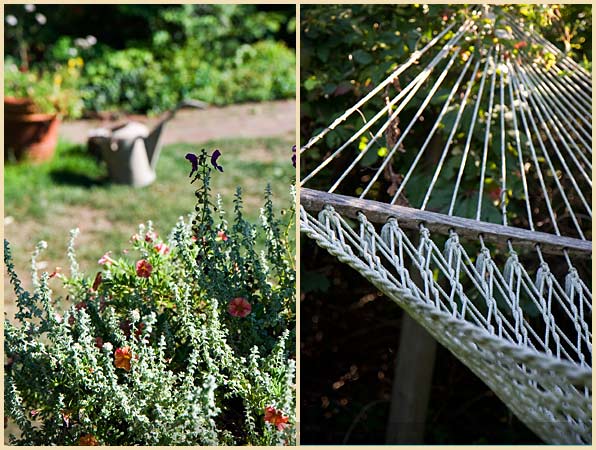 So we cycled, picnicked and cycled again. One day, we visited the Bluffs, dramatic cliffs on top of which sits a majestic, once relocated lighthouse, then we continued on and cycled and walked to the northern tip of Mansion Beach for an early afternoon picnic and swim. Later that afternoon, we reached North Light where we stopped to nap and watch the sun go down on West Beach. On our second day on the island, our program looked about the same, and just as good. This time, we headed south and made it to Dorry's Cove Beach and Charlestown Beach.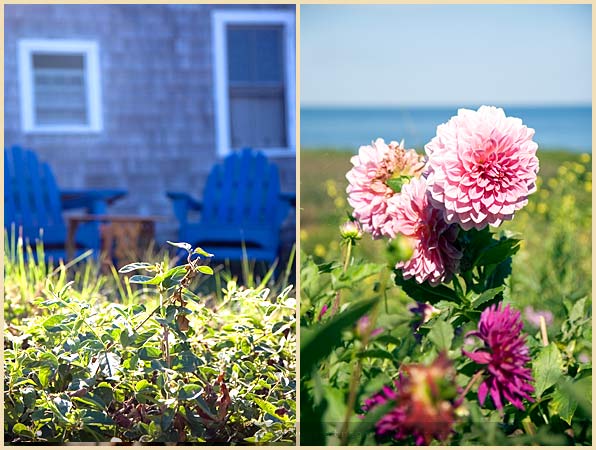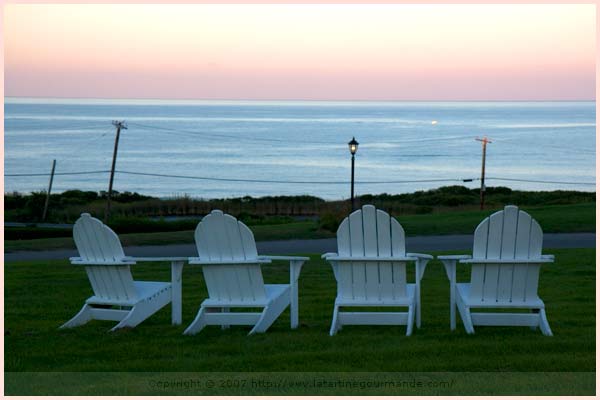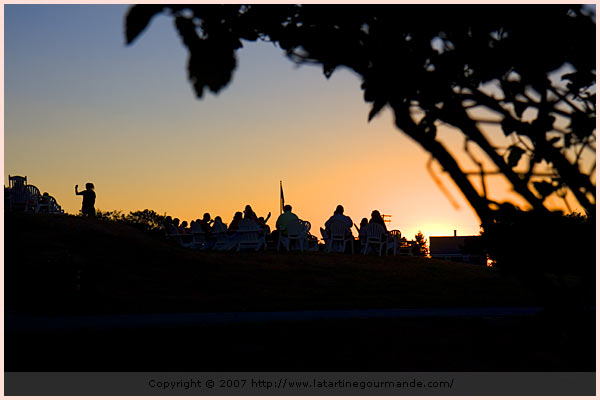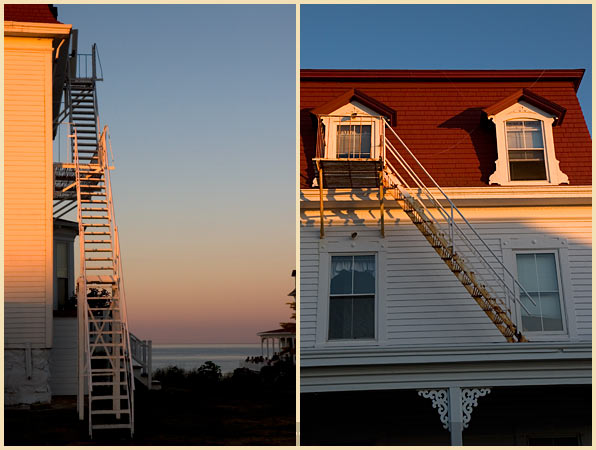 We dined formally on the first night and simply on the second. Since Gabby had recommended dinner at the Atlantic Inn, we followed her advice. She had lived most of her life on the island, so we trusted that she knew well the places around the island.
And right on. The food was surprisingly good. The Atlantic Inn is a large Victorian building sitting atop a hill overlooking the village of Old Harbor and the ocean below. Beside offering tapas and coktails that customers enjoy on the veranda at sunset, the restaurant also suggests a four-course menu for $49, without wines.
Our dinner started with a complementary tasty curried scallop as an mise-en-bouche. Then, while P. chose the shrimp and tuna carpaccio, I had the potato blinis with caviar and crème fraîche. The appetizers were by far the parts of the meal that we preferred — even if we enjoyed the rest of the meal, all the same. To cleanse palate between courses, we were served a refreshing small lime granité that reminded me of the trou lorrain served in my area in France, but without the alcohol. Then, while P. chose beet gnocchi, I opted for the butterfish with an orange-flavored sauce presented on a bed of julienned crunchy vegetables. Our dessert? A poached pear tartlet for P. and a plum cobbler with five-spice ice cream for me.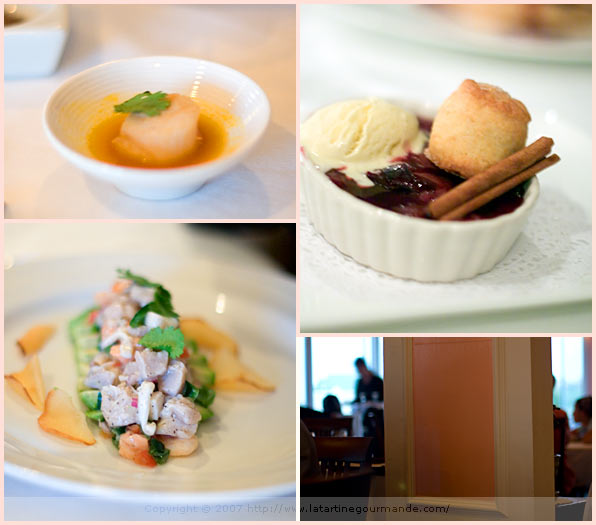 Dinner at the Atlantic Inn
Atlantic Inn
High Street
Block Island, RI
(800) 224 7422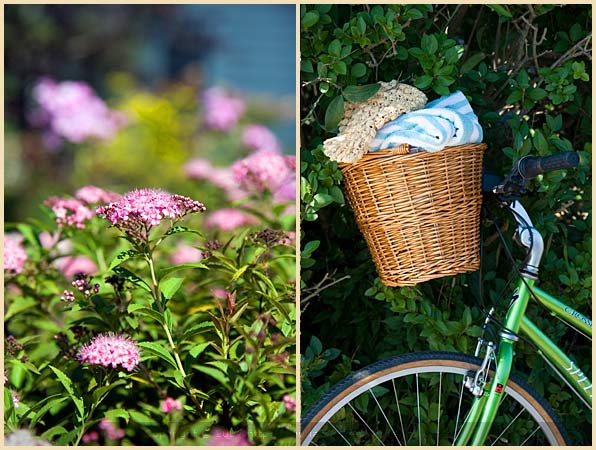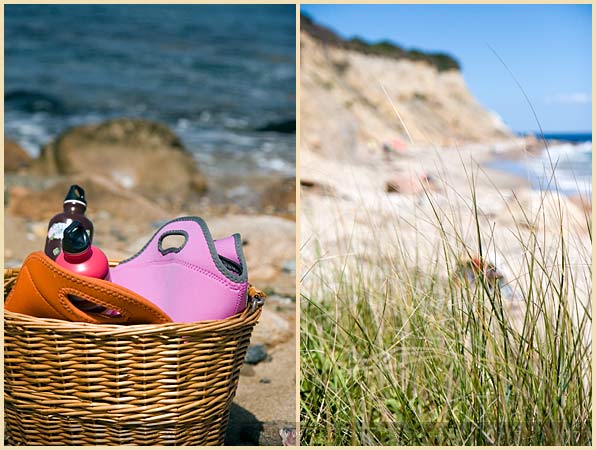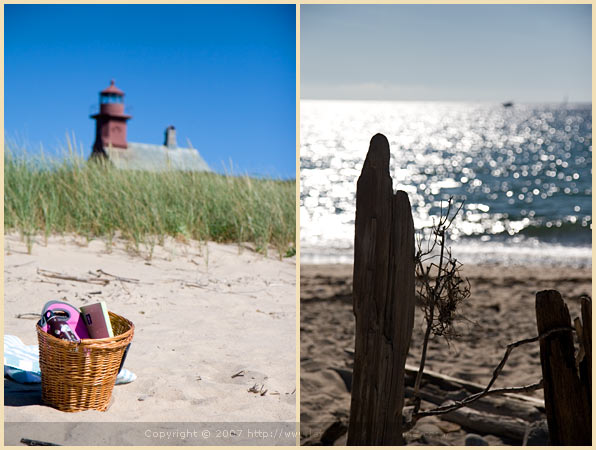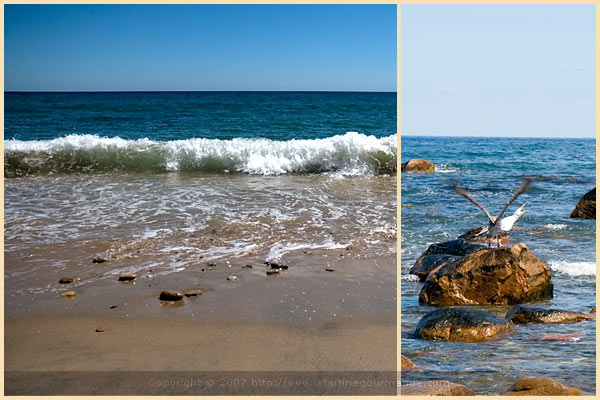 "It is too nice to be so close to home," P. told me when I mentioned how much I liked the place.
"Yes, I just do not know why we waited for so long before coming."
But then, we had an excuse. We never thought that Block Island would be such a nice place to visit. In fact, deep inside, we had been scared that it could perhaps look like Cape Cod on a busy summer day. You know the feeling, don't you? Sometimes you really get disappointed when your expectations are simply set too high.
But Block Island surely did not disappoint.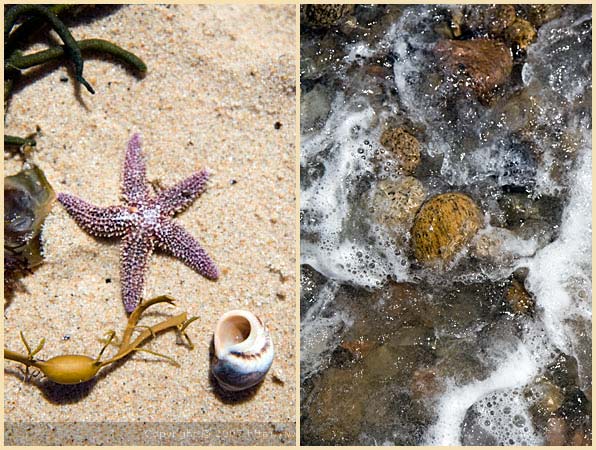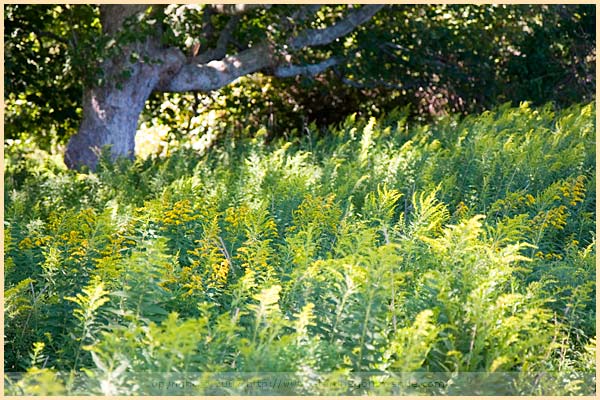 "Oh, we will be back," I told Gabby on Monday afternoon, when we were about to leave to get on the ferry.
"With or without the sun, I am sure the place offers beauty all the same, no matter the color of the sky."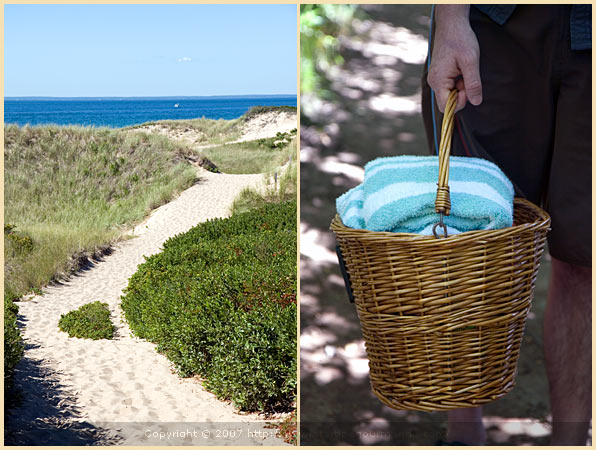 The Sea Breeze Inn
Spring Street
Block Island, RI
(401) 466 2275
Technorati Tags: Food Styling, La Tartine Gourmande, Food Photography, Block Island, Cycling, Labor Day Weekend