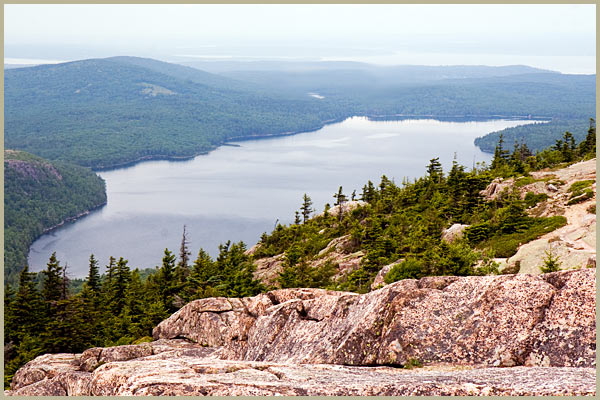 Pemetic Mountain Peak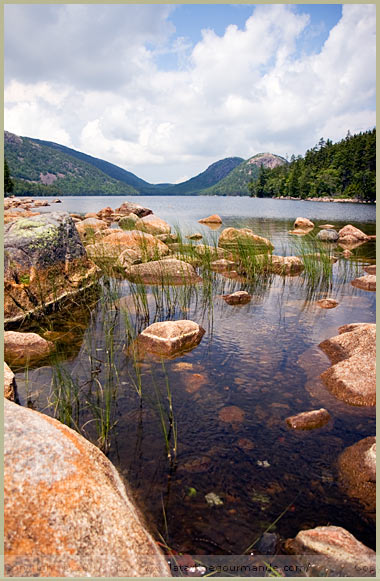 Jordan Pond, Acadia National Park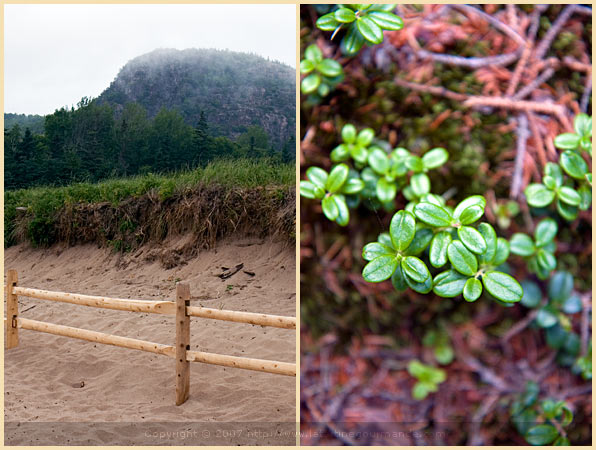 Only a five and half hour drive separates Boston from Acadia National Park located in the northern part of Maine. We love it up there. We have reached a point where the Atlantic ocean meets gorgeous mountains. The pleasure of enjoying both at the same time.
I know well that you are perhaps all waiting for the DMBLGIT results. But if you permit, I am asking for just a little more patience! And my excuses are good, trust me. Beside, it was planned.
As I am currently still enjoying the beauties of a short vacation week in Acadia National Park in Maine, I have less time to spend on line or in the kitchen, and oh yes, that feels good too! Our days are spent hiking long hours in this magnificent park, eating simply, from packed picnics to homemade cooked meals at night, while pretty much enjoying an almost entire disconnection (well, I am on line, so this means that I still need progress to get to a hundred percent, don't I?). And this time, we were able to enjoy a vacation destination that we drove to instead of the long flights we usually take. Benefit? Pack the car to the roof!
Well, almost.
Let me take you on a tour of one of our usual hiking trips, if you will.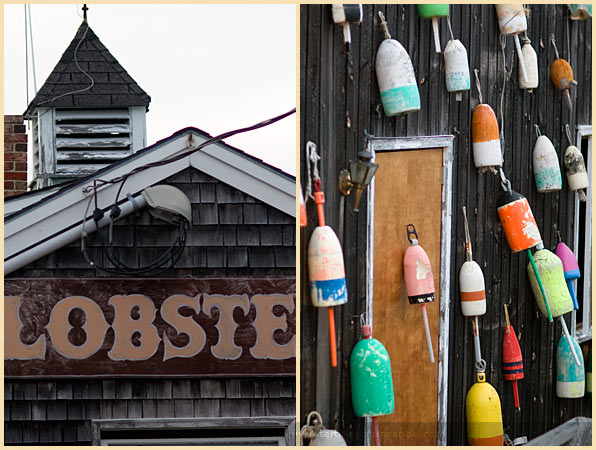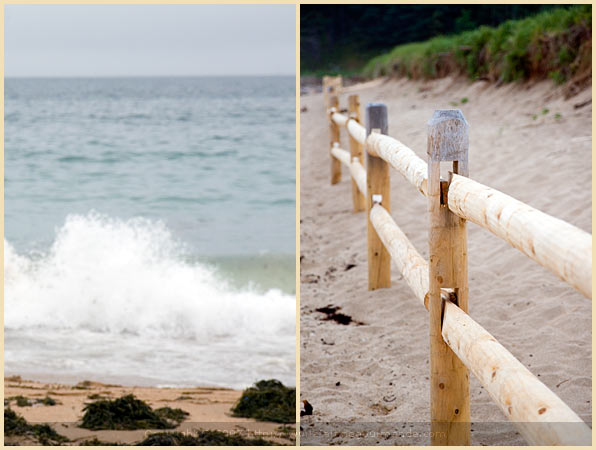 Hiking Food: Tips to make You Happier on Trails
(that is, if you can — and want — to cook)
Prepare a short list of possible meals to have, and plan your shopping around them — which is what I did
Pack homemade cookies or a cake. I made langues de chat (cat's tongues) and a Dark Chocolate Cake made with Amaranth flour, great to pack on the trails, or eaten at night with a cup of tea

Dark Chocolate and Amaranth Cake (Gluten Free)

Do not forget your Thermos for a cup of tea at the top of the mountain. Oh we love ours! And why not, bring a teapot to prepare your favorite teas (packed as well). I have so many Japanese iron teapots that one is now devoted to travel!
Bring your favorite Chef's knife with you, you never know what cooking utensils you will find in your rental place. As it turned out and was to be expected, our cottage was quite basic with cooking utensils
Take your favorite ground spices with you. I brought cumin and coriander that served well for the marinated lamb skewers I made on our first night
Take fresh herbs well stored in zip-loc bags. I used mine for the Asparagus Pesto I made the second night
Pack a vegetable grater and your favorite vegetable peeler. It really served me when I grated carrots to pack on trails, or when I wanted to slice zucchinis to be sautéed. I have too many bad memories of poor quality vegetable peelers I literally fought with to get decent results.
All right, I can confess that this time, I even pushed it even further. Since I really wanted us to prepare my Asparagus Pesto, I brought a small travel-size food processor. I usually only use it to chop large quantities of herbs, if I need to. It worked great to grind the garlic, pine nuts, coriander and blanched asparagus
And yes, you can laugh now and open your eyes wide, but I also decided to bring a juicer with us — it is not a typo and I know, not your usual travel size at all — because I am currently loving carrot/apple juices in the morning. And let me tell you, there is no regret here that I did this extravagance !
And last, I also wanted to make sure that I would have a good non-stick frying pan for the Spanish Potato Tortilla I wanted to prepare for the trails — I have seen so bad ones before in the cottages we rented! I hope you will enjoy it too. Scroll down below for the recipe. We enjoyed it at breakfast too!
Just the necessary — and more — to be comfortable cooking great food on hikes, you know!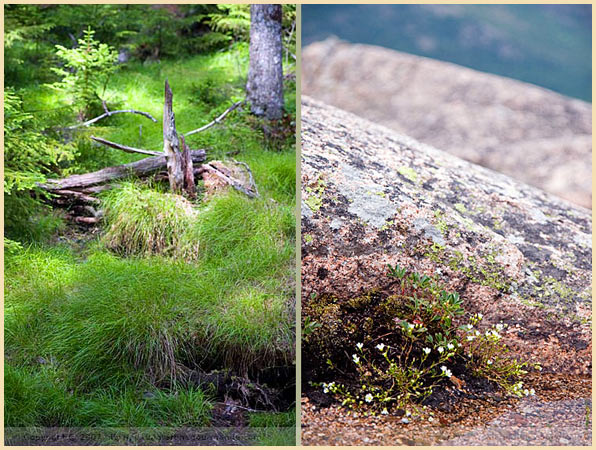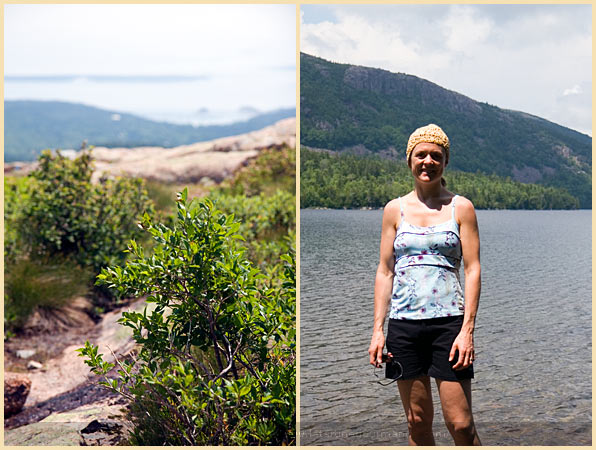 My newest cooking/eating hiking purchase: foldable cups and plates ($6 each). It only takes 30 seconds to put them up together (well P. made a point of timing me because remember, I am not known as being so good at assembling things!)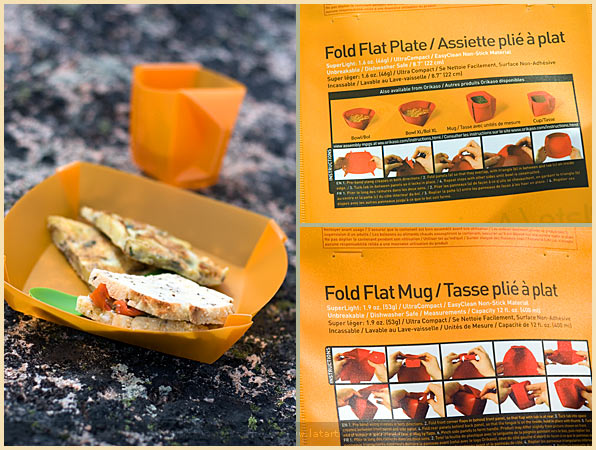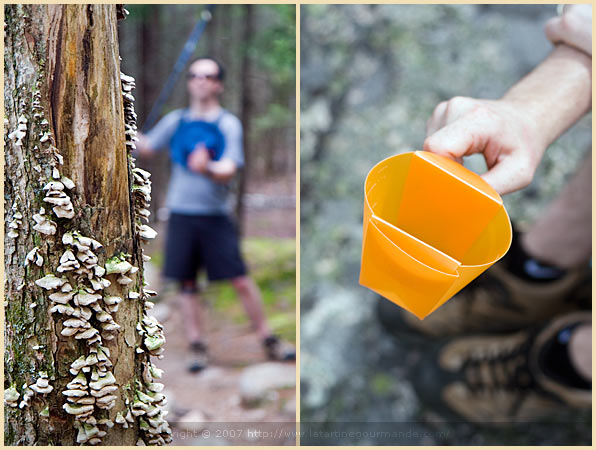 His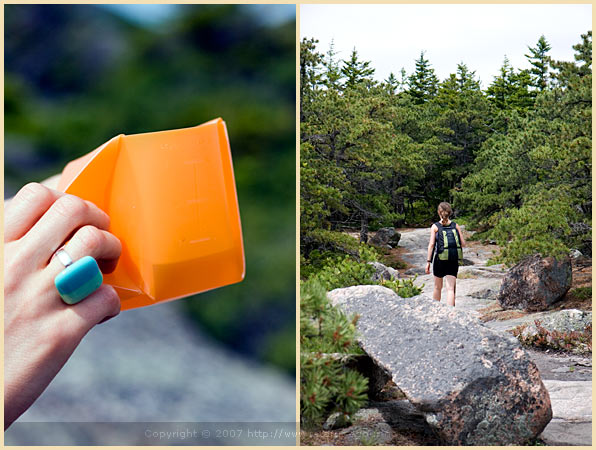 And Mine
Incidentally, the people working at this UK-based company would be in need of some help with the French translation. Argggghhh, grammar mistakes drive me nuts!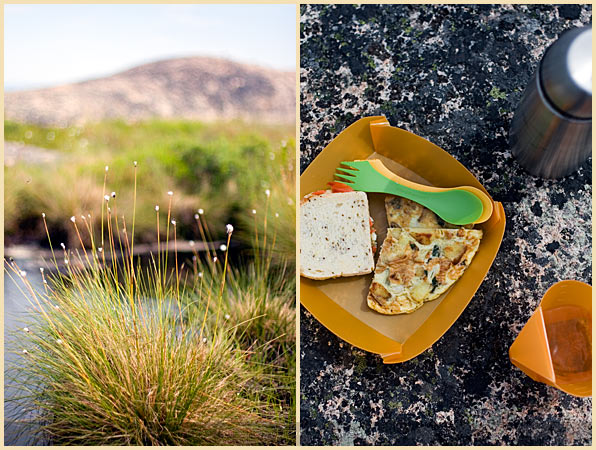 Spanish Potato Tortilla
Of course, on ne perd pas le Nord non plus ! Always enough time to spend relaxing by the pool in the last place we stayed in, to be pampered.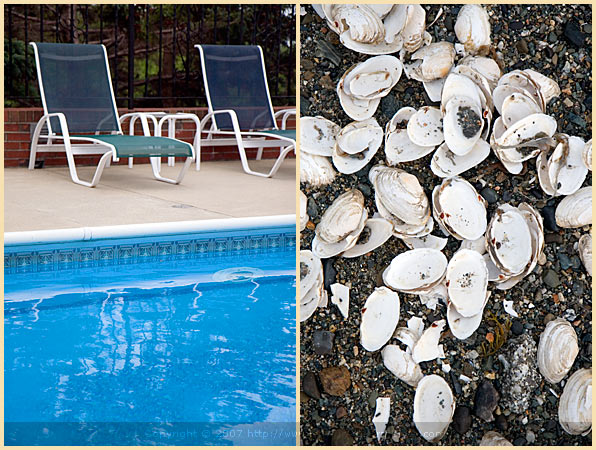 And, as odd as it seems, I don't seem to have taken many food shots at all. I thought about it, many times, but for some odd reason, it did not happen. Did we eat out? Once, but nothing to remember or write about, really. At least I had some Lobster. And Blueberries.
It proved that we went to Maine indeed.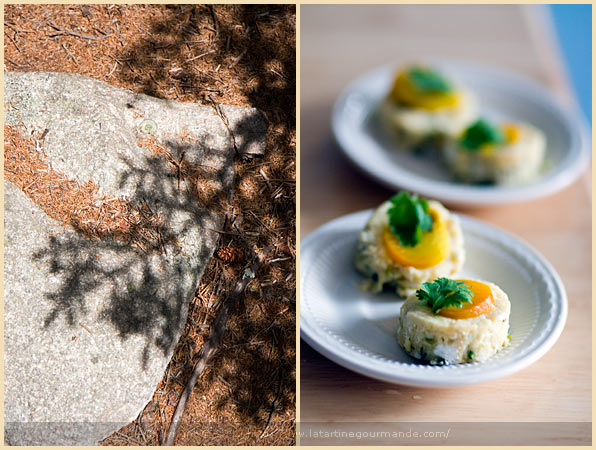 Polenta Basil Appetizers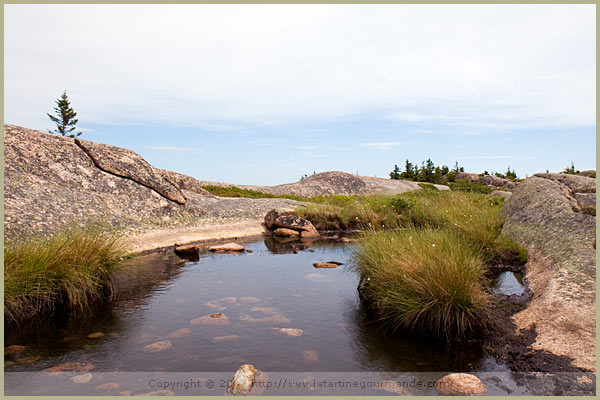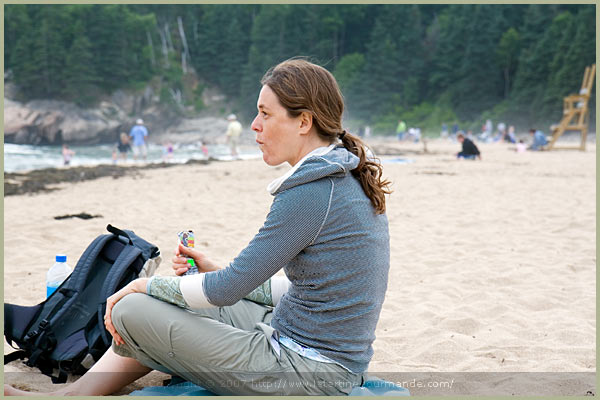 Late Afternoon Snack at Sand beach, Acadia National Park
A bientôt !
A Spanish Potato Tortilla on Hiking Trails
You need:
1 large Yukon Potato
4 large eggs
3 to 4 scallions
Dash of ground cumin
Chopped fresh coriander
Salt and pepper
Olive Oil
Steps:
Peel the potato and dice it. Rinse under water and pat dry.
Heat 2 to 3 Tbsp olive oil in your non-stick frying pan. When hot, add the potato and cook on medium heat until tender (about 8 to 10 min, according to size). Remove.
Beat 4 eggs in a large bowl. Season with salt and pepper. Add a dash of ground cumin, the chopped scallions and coriander, and the cooked potato.
Heat 1 to 2 Tbsp in your frying pan again and add the egg/potato batter. Cook on medium heat for a few min, before covering.
Cook until the top is almost set, then gently flip on the other side (use a plate to flip the tortilla on it first before putting back in the pan). Cook on the other side until set. Eat warm or pack in plastic wrap to be eaten cold while traveling, or on the trails.
Le coin français
Tortilla espagnole pour la randonnée pédestre
Ingrédients :
1 grosse pomme de terre à chair ferme, type Yukon
4 gros oeufs
3 à 4 oignons tiges
Une pincée de cumin en poudre
Coriandre fraîche, hachée
Sel et poivre
Huile d'olive
Étapes :
Pelez la pomme de terre et coupez-la en dés. Rinsez-les sous de l'eau froide et séchez-les.
Faites chauffer 2 à 3 càs d'huile d'olive dans une poêle anti-adhésive. Faites cuire les dés de pomme de terre sur feu moyen jusqu'à ce qu'ils soient tendres (environ 8 à 10 min, selon la taille). Retirez.
Battez 4 oeufs dans un saladier. Assaisonnez de sel et de poivre. Ajoutez une pincée de cumin, les oignons tiges hachés et la coriandre, ainsi que les dés de pomme de terre cuits.
Faites chauffer 1 à 2 càs d'huile d'olive dans la poêle anti-adhésive et ajoutez le mélange oeuf/pomme de terre. Cuisez pendant quelque minutes avant de couvrir.
Cuisez jusqu'à ce que le dessus soit presque entièrement pris, puis retournez (utilisez une assiette pour vous faciliter la tâche en faisant d'abord glisser la tortilla sur l'assiette avant de la remettre dans la poêle pour cuire le deuxième côté). Poursuivez la cuisson jusqu'à ce que le dessous soit bien pris. Retirez. Mangez chaud ou froid, à emmener sur les chemins de randonnée.
Technorati Tags: Food Styling, La Tartine Gourmande, Food Photography, Spanish Tortilla, Acadia National Park, Maine, Hiking Food