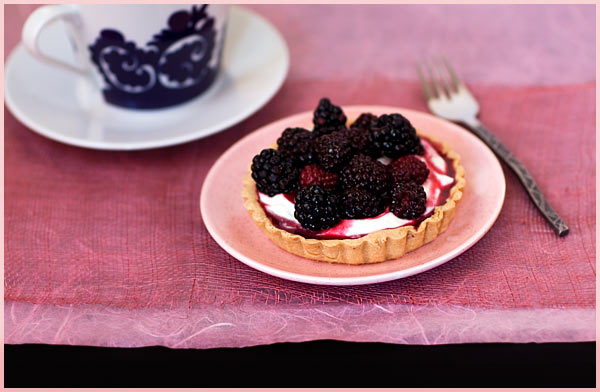 Blackberry Tarts with Vanilla-Flavored Mascarpone
My dad likes to read — and watch — thrillers. He and I rarely talk about what each of us reads, but after we spoke last and I told him that P. and I were about to leave for our short hiking vacation to Maine, he replied with great enthusiasm:
"Ah ben, vous irez peut-être là où se passe la scène de mon roman policier !" (you might go where my thriller is taking place)
"Pardon ?"
"Ah oui, et cela n'a pas l'air très gai !", he went on (it does not look a rosy place).
I had no idea what he was talking about, or rather what place he was referring to. And since he could not remember the exact name, our conversation ended there, leaving me to wonder what place on earth he had been reading about.
So we drove to Maine and had a wonderful time. I was then sure that his novel must have taken place elsewhere, and certainly not in that beautiful part of Maine that I know so well by now.
One evening, while P. and I were lying in bed, we decided to watch TV. Yes indeed, our small rustic cottage had a television — it is America, after all — making me very happy, especially as I do not often watch le petit écran. Despite how small the screen was, we were able to view TV5, the French cable channel! I imagined that it was not coincidental, but rather the result of the large influx of francophones regularly visiting from Québec. While hiking, overhearing conversations in French, here and there, was rather pleasant. We zapped through the channels until P. stopped and chose for us to watch a thriller (he keeps arguing that it was not a thriller but nevertheless, I labeled this movie this way because all I could hear was boom and smash, or sounds alike). Perhaps action something would have been a better term to use to describe the movie. One thing I was sure of though, I was not keen to watch it. I am not a thriller type of girl. "Mais cela se passe dans le Maine", P. insisted (It is taking place in Maine). Could it be the setting that my dad had described to me when speaking about the novel he was then reading, I wondered.
I was sold on it.
I did not know much about the storyline, but as the plot started to unfold, I realized that one, I had not the slightest interest in this movie that I knew well capable of keeping me wide awake all night , and two, I would need to find something to occupy my mind instead. In such a small room, there was no other escape. So I sat there, left searching for ideas to divert my mind.
"Mon carnet !" I murmured, feeling relieved and excited at the thought of the new plan I had just imagined. I grabbed my blue shoulder bag and pulled my Moleskine Notebook out. I was going to jot down notes for new recipes I would try.
I am still unsure how the idea of blackberries popped into my head, but as I lay in bed next to P. who was fully engrossed with the movie, I suddenly felt a strong craving for a blackberry tart. Amaranth flour, mascarpone cheese, vanilla, a tiny touch of chantilly (whipped cream), blackberries and cane sugar. These were the list of ingredients for the tart I started to imagine, which I wished somewhat rustic while showcasing a touch of elegance at the same time.
Of course, I was not able to try my recipe right away. But on the Tuesday that followed our return, when I had some time in front of me, I set myself to work. By 9 pm, when we were sitting in front of TV watching TV5 this time, I asked P.:
"On mange le dessert ?" (Shall we have dessert?)
We sat on the few cushions we had scattered on the floor, as we usually do when nibbling in the living room. There was no thriller on TV, but I could not help thinking about one while having the first bite of our blackberry tarts. The taste was just as I had imagined. And then, I thought about my dad. And Maine.
And then I knew that my blackberry tarts would always have this special flavor attached to them: the story of a thriller, Maine, my dad and his novel set in Maine, July 2007.
My Moleskine notebook speaks of it.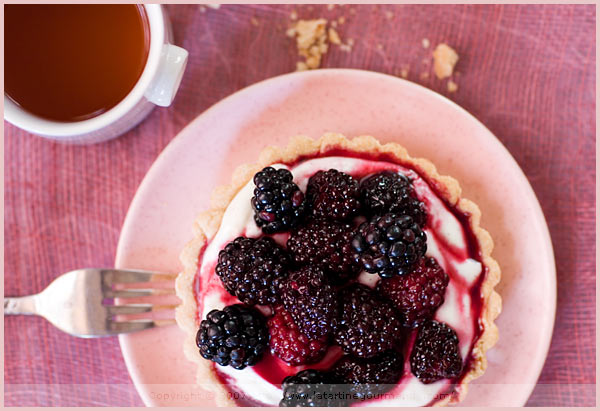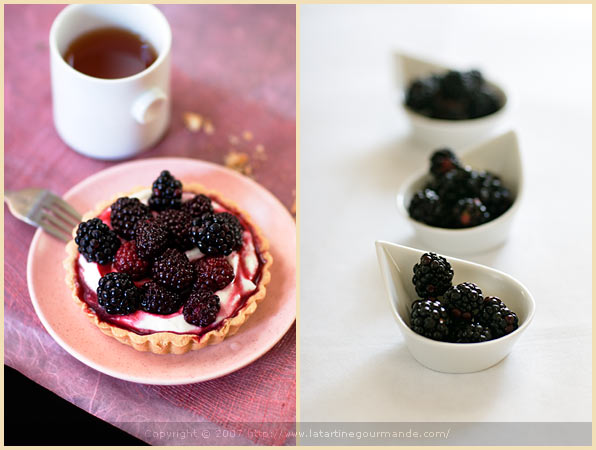 Blackberry and Vanilla-Flavored Mascarpone Tarts
(For 4 tartlets)
You need:
For the Amaranth Crust*:
1 cup + 2 Tbsp all-purpose flour
1/3 cup amaranth flour
7 Tbsp butter
2 Tbsp fine cane sugar
Pinch of salt
1 egg yolk
3 Tbsp water, cold
*You will have enough dough for 6 tartlets
For the Toppings:
9 oz mascarpone
1/2 cup (minus 1 Tbsp) heavy cream, cold
1.5 oz confectioner's sugar
1 vanilla bean, seeds removed
14 oz black berries
For the Light Syrup:
2 Tbsp water
1.5 oz cane sugar
Steps:
To make the crust, place the flours, sugar, salt in the bowl of a food processor.
Add the diced butter and egg yolk. Mix into coarse crumbles using the pulse mode.
Add the cold water and mix until the dough detaches from the bowl. Wrap in plastic and place in the fridge for a hour before using.
After this time, roll your dough and place in small buttered molds (or a large one).
Make small holes at the bottom and place covered in the fridge again, for 30 min.
In the meantime, prepare your blackberries. In a pot, dissolve 1.5 oz sugar with 2 Tbsp water, then add 7 oz g blackberries. Simmer for 3 min then stop the heat and let the blackberries cool down in the syrup.
Preheat your oven at 350 F.
Take the tarts out of the fridge and precook for 15 to 20 min (with paper and weight).
Remove the weight and paper and continue to cook for 10 to 15 min (depending on mold size and dough thickness).
Unmold and let cool on rack.
For the tart toppings, prepare the mascarpone cream. Beat the mascarpone with the confectioner's sugar until you have a smooth cream.
Add the vanilla seeds.
Whip the cold cream and fold it in gently.
Pipe the cream on top of the dough.
Top with blackberries in syrup and some fresh ones — add some syrup. Serve immediately.
Le coin français
Tartelettes mûres et crème mascarpone vanillée
(Pour 4 tartelettes)
Ingrédients :
Pour la pâte brisée à l'amaranth* :
150 g de farine T 45
50 g de farine d'Amaranth
100 g de beurre
2 càs de sucre de canne fin
Pincée de sel
1 jaune d'oeuf
3 càs d'eau, froide

* Vous aurez assez de pâte pour 6 fonds de tarte
Pour la garniture :
250 g de mascarpone
10 cl de crème liquide froide
50 g de sucre glace
1 gousse de vanille, fendue et grattée
400 g de mûres
Pour le sirop léger :
2 càs d'eau
40 g de sucre de canne blond
Étapes :
Pour faire la pâte brisée, mettez les farines, le sucre et le sel dans le bol de votre robot.
Ajoutez les dés de beurre et le jaune d'oeuf. Mixez par pulsions pour obtenir un sablage grossier.
Ajoutez ensuite l'eau froide et continuez à mixer jusqu'à l'obtention d'une boule qui se détache du bol. Enveloppez-la dans du film étirable et mettez-la au frais pendant 1 heure avant de la travailler.
Après ce temps, étalez-la et garnissez-en des moules individuels ou un grand moule.
Piquez le fond avec une fourchette et remettez au frigo pendant 30 min.
Pendant ce temps, préparez vos mûres. Mettez 40 g de sucre et 2 càs d'eau dans une casserole. Faites fondre le sucre, puis ajoutez 200 g de mûres lavées. Faites frémir pendant 3 min et arrêtez le feu. Laissez les mûres infuser et refroidir dans le sirop.
Préchauffez votre four à 180 C.
Garnissez les fonds de tarte de papier sulfurisé recouvert d'un poids et faites précuire les fonds de tarte pendant 15 à 20 min.
Enlevez le poids et le papier et poursuivez la cuisson pendant 10 à 15 min (selon la taille des moules).
Démoulez et laissez refroidir sur grille.
Pour la garniture de la tarte, préparez la crème à la mascarpone. Battez la mascarpone avec le sucre glace jusqu'à l'obtention d'une crème onctueuse.
Ajoutez les graines de vanille.
Battez la crème liquide froide en chantilly et incorporez-la délicatement.
Étalez cette crème sur les fonds de tarte (utilisez une poche à douille si vous le souhaitez).
Recouvrez de mûres fraîches et de mûres au sirop léger, en ajoutant un peu de sirop sur le dessus. Dégustez sans attendre.
Technorati Tags: Food Styling, La Tartine Gourmande, Food Photography, Blackberry Tart, mascarpone, Sweet Food, Berries