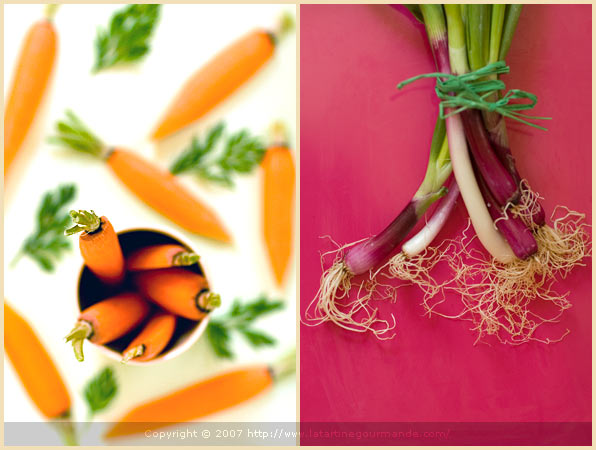 Carrots and Red Scallions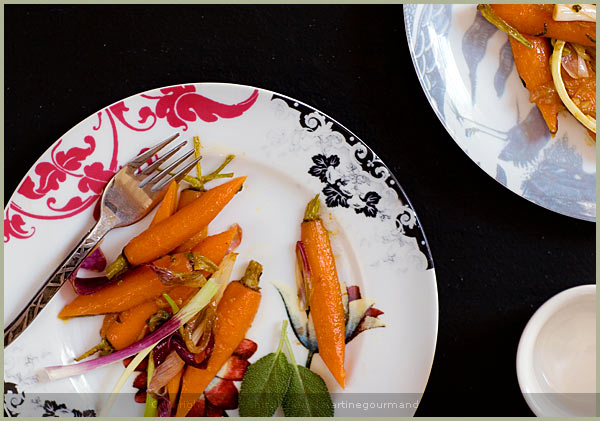 Glazed Sage Carrots and Red Scallions
I know! Coming back to my blog these days and you might well run the risk of transforming yourself into a long carrot, perhaps. Excuse the successive vegetable posts — although they are amongst the food that I prefer to cook — but I had to share a short story that I experienced this weekend. It has to do with les carottes. And you know how much I like them!
I always thought that my friend JF did not like vegetables generally speaking. But last weekend, I found out that it was not necessarily vegetables that he did not like, as he pointed out to me.
"Je déteste les carottes," he told me when we started talking about vegetables (I hate carrots).
"En fait non, je déteste les carottes quand elles sont cuites,"(I hate cooked carrots) he went on.
Everything in this recipe would be something that he would hate to eat then!
Is it that les carottes sont cuites ? (which is a slang French expression meaning "everything is over")
I tried to convince him that this could not be, adding even that it was probably linked to only a bad memory.
"Même quand elles sont glacées, avec un peu de sucre et de bonnes herbes fraîches ? " I insisted (even when they are glazed, with a touch of sugar and fresh herbs?)
"Ah non ! Encore pire !" (even worse).
He is known to be stubborn.
Well, so am I!
Perhaps next time that he comes for dinner at our house, I will cook him a large dish of these glazed sage carrots and red scallions, as a suprise! Oh, how much I enjoyed eating them! How could he not, I ask myself? I guess that this really shows that we people all have different taste buds.
Yet, I bet that I could make him like cooked carrots, even if, most likely, les carottes seront cuites.
But I am still going to try….he might even ask me for the recipe, who knows, if I am lucky!
Technorati Tags: Food Styling, La Tartine Gourmande, Food Photography, Glazed Carrots