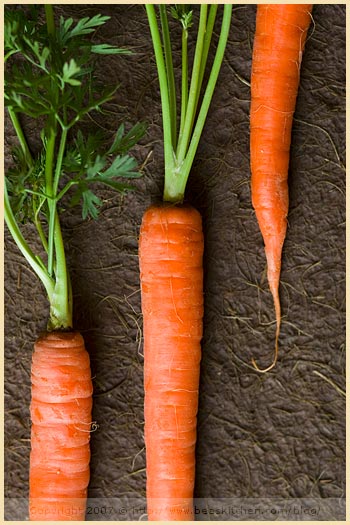 It is not every day that I make confessions like this one. I guess I must be feeling comfortable.
A l'aise !
Like many of you, when I was a kid, I had a nickname. We all did, didn't we? In fact, I even had more than one. The first one came from the first name under which people in the village I come from knew me. Béatrice as my first name was pretty foreign to them, and instead, they called me Betty. If you think a little further along these lines, you might have then guessed that Betty Boop was my first nickname, or la Boop, as people in Lorraine say. Terrible! I do not need to add how much I hated this nickname. And I kept hearing it over and over! Luckily, I was much happier with my second nickname.
I can almost acknowledge that I actually liked it. Friendlier, funny, if I said Bugs Bunny, it surely should ring a bell. Like many kids of my age, I was known to have long front teeth that now that I think about it, were so big that they are all I can see on old pictures with me as a kid. But in fact, like Bunny, I adored to eat carrots, and could well have been seen with one in my mouth, like him. This would not have been a surprise! Raw, cooked, grated especially, I talked about this already, didn't I? So why not share another of my carrot recipe? I hope that you do not mind, do you?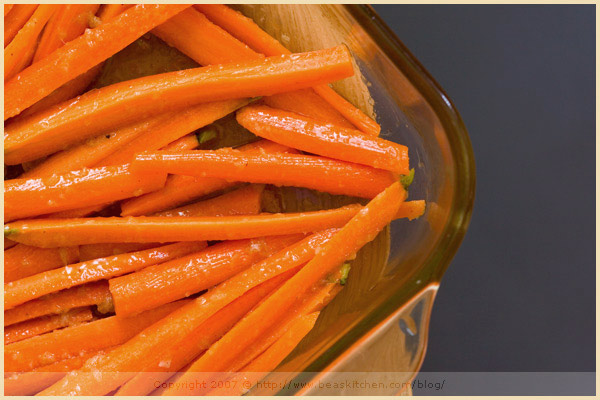 And by the way, Bugs Bunny was one of my heroes, all the same. The little girl that I was admired him a lot. I am thankful! He surely made me love carrots.
Enjoy your carrots! And come on, what was your nickname, now that I shared mine!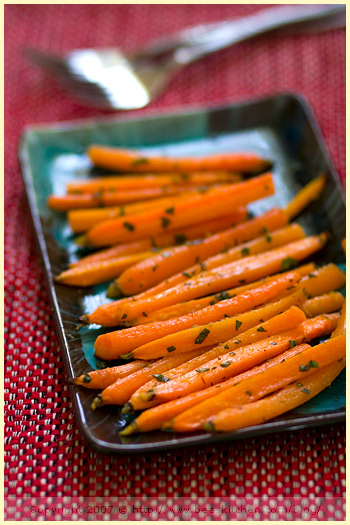 Gingered Carrots with Cumin and Basil
(For 4 small side servings)
You need:
1 lb 1.5 oz small-sized young organic carrots
5 Tsp olive oil
1 Tsp Wildflower honey
2 inches ginger root, peeled and thinly grated
1.5 tsp ground cumin
1 Tsp basil, chopped
3 garlic cloves, thinly grated
Maldon sea salt

Steps:
Preheat your oven at 375 F.
Peel your carrots and cut them in long think sticks.
In a bowl, mix 5 Tsp olive oil, the garlic cloves and ginger root thinly grated, cumin, honey and Maldon sea salt, and coat the carrots with this sauce.
Spread the carrots in an oven dish or baking sheet, and place them in the oven for 30 mn to 40 mns, depending on their size. I like when they stay a little firm, but it is a matter of taste.
Add the basil and coat gently. Serve as a side dish.
Le coin français
Carottes au gingembre, cumin et basilic
(Pour 4 petites portions d'accompagnement)
Ingrédients :
500 g de jeunes carottes bio
5 càs d'huile d'olive
1 càs de miel liquide aux fleurs
5 cm de racine de gingembre frais, pelé et râpé finement
1,5 càs de cumin moulu
1 càs de basilic, haché
3 gousses d'ail, râpées finement
Sel de mer Maldon

Étapes :
Préchauffez votre four à 190 C.
Pelez les carottes et coupez-les en longs bâtonnets fins.
Dans un saladier, mélangez 5 càs d'huile d'olive, le gingembre et l'ail râpés, le cumin, le miel et du sel de mer Maldon. Arrosez les carottes de cette sauce et mélangez bien.
Étalez les carottes dans un plat ou sur une plaque de cuisson et cuisez pendant 30 à 40 mns, selon la taille de vos carottes. J'aime quand elles restent encore un peu fermes mais c'est question de goût.
Ajoutez le basilic haché et mélangez délicatement. Servez en accompagnement.