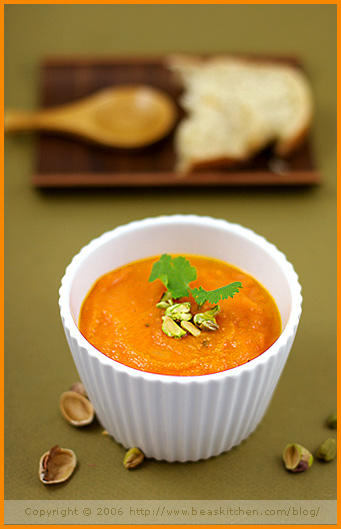 Cardamom, Coriander Carrot Soup and Pistachios
Tel père, telle fille !
Like father, like daughter.
My dad and I share a love for a vegetable.
Les carottes
And it is not because we say in French that "Les carottes ça rend aimable" (Eating carrots makes people agreeable).
He and I love them when they are simply grated in a salad, seasoned with a plain or mustard vinaigrette. At home, when short of ideas, it occurred often that my mum would ask my dad, my brother B. and I what we wanted to eat, to which both my dad and I would frequently answer "Des carottes râpées, sil te plaît!" "Again! Aren't you tired of grated carrots?" she would respond.
Never. We could eat this type of salad every day. When in season, I remember going to our vegetable garden to "steal" a few carrots that I would eat unpeeled, only brushed to remove the dirt. They had a taste that I cannot even describe, turning me into a real carrot snob. I have not lost this old habit, hoping actually to pass it to my children, one day. Not a bad thing, is it?
But there is more to carrots than des carottes râpées. In fact, perhaps even before eating carrots in salad, I should say that I have always loved carrot soup. With ginger for example or mixed with other vegetables such as leek or celery.
Last night, I felt like improvising on my more traditional carrot soup. I took the following approach. As I walked to the spice rack placed next to the stove, I held a few spices jars in my hands, opened the lid of each and smelled. "Mmmmmmm…" Which one would be a good friend to mes bonnes carottes? I would have to admit that I had already an idea in mind, and was happy to find out that it turned out to be an excellent one: cardamom and coriander. I used cardamom seeds and ground coriander as a spices basis. Then I added carrots and let the magic of the soup happens on its own. Don't you love to be making vegetable soups? Soups of this type are so easy to prepare that it is too nice to be true. Nutritious, the perfect comfort food, they are always welcomed as an emergency type of food. I knew that snow was not the only reason that made me love the wintry season. Soups have to be the best food to refill in well-needed vitamins. Especially after a holiday season, or now that it is really cold, at last.
Cardamom, Coriander Carrot Soup and Pistachios
You need:
1 lb + 9 oz organic carrots
1 large shallot
3 + 1/3 cups water
1 Tbsp ground coriander
5 green cardamom pods, seeds removed and grinded
2 Tbsp unsalted pistachios, coarsely chopped
3 Tbsp olive oil
A few leaves of fresh coriander
Salt and pepper
Steps:
Heat the olive oil and cook the chopped shallot on low to medium heat, without coloring.
After a few mns, add the ground coriander and cardamom seeds. Let cook for 2 to 3 mns on low to medium heat so that the spices develop.
Then, add the slices of carrots. Cook for 3 to 4 mns before adding the water (hot preferably). Season with salt and pepper, cover and simmer until the carrots are tender (about 30 mns).
Mix your soup finely.
If necessary, add more hot water in case too much water evaporated — I like my soups thick. Check the seasoning.
Add chopped unsalted pistachios and fresh coriander on top. Choose a good loaf of bread to eat with it.

Note: I made the same soup with a blend of butternut squash, carrot and potato, with the butternut squash as the main vegetable (1 butternut squash 1 large carrot and 2 potatoes), and it was equally delicious)
Le coin français
Soupe de carottes à la cardamome, coriandre et pistaches
Ingrédients :
700 g de carottes bio
1 grosse échalote
800 ml d'eau
1 càs de coriandre en poudre
5 capsules de cardamome vertes, graines pilées grossièrement
2 càs de pistaches non salées
3 càs d'huile d'olive
Quelques feuilles de coriandre fraîches
Sel et poivre
Étapes :
Faites revenir l'échalote hachée dans l'huile d'olive, sans colorer.
Après quelques minutes ajoutez la coriandre en poudre et les graines de cardamome pilées. Laissez cuire sur feu doux pendant 2 à 3 mns pour que les épices se développent.
Ajoutez ensuite les carottes pelées et coupées en rondelles. Faites revenir pendant 3 à 4 mns, puis ajoutez l'eau (chaude de préférence). Salez, poivrez et couvrez, en faisant mijoter jusqu'a ce que les carottes soient cuites (environ 30 mns).
Mixez votre soupe finement.
Au besoin, si trop d'eau s'est évaporée, allongez la soupe avec un peu d'eau chaude — j'aime les soupes épaisses. Rectifiez l'assaisonnement.
Ajoutez des pistaches concassées et de la coriandre fraîche. Choisissez aussi un bon pain pour déguster.
Remarque : j'ai fait la même soupe avec une mélange de légumes, courge musquée, carotte et pommes de terre (1 courge musquée, 1 grosse carotte et 2 pommes de terre) et c'était délicieux)