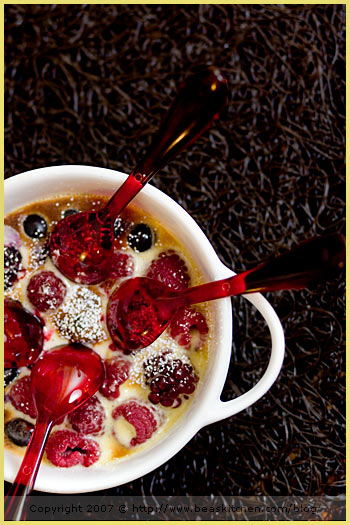 Gratin aux fruits rouges
La gourmandise est un vilain défaut.
What a joke! Who really believes this? Gourmandise? A bad habit? Why would we be punished if we fall for sweet delicacies, delicious desserts that make you travel back to your mum's table, when she would treat you with tasty simple fruit gratins, the very ones that I now miss so much. Besides, it always tastes much better when she was making them for me! In truth, food always tastes much nicer when someone else cooks it for me.
I acknowledge, however, that maybe it is bad to be gourmand to the point that you might contemplate stealing your neighbor's plate — and I have seen and experienced this with old boyfriends that made me want to forget about them. La gourmandise should have its boundaries to remain acceptable, but desserts such as fruit gratins leave no room for us to feel any ounce of guilty. After all, fruit cannot harm anyone.
I love the simplicity of this dessert as much as its composition. Whenever short of ideas for dessert, beside the simple piece of fruit or yogurt that we would often have, my mother used to frequently prepare fruit gratins like this one. Because literally, it takes two minutes to put together, four to be completed before you can eat it. It does not get simpler than that. I realized that since I spend most of my reading time looking for cooking material with original and creative ideas, I am ignoring amazingly satisfying dishes that I know I should not forget about. Simple is good! Last night, P. and I had a taste for a light dinner. This dessert was exactly what we needed. The satisfaction of having un dessert, no fuss, light and easy.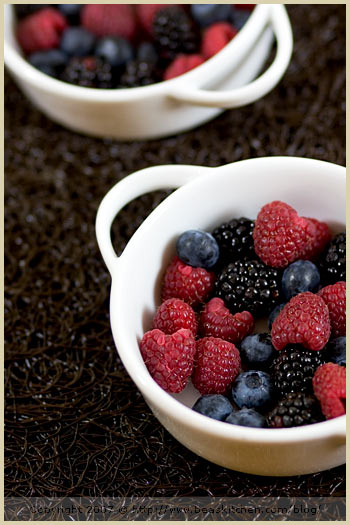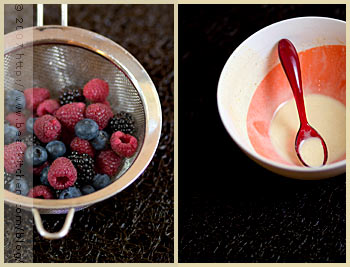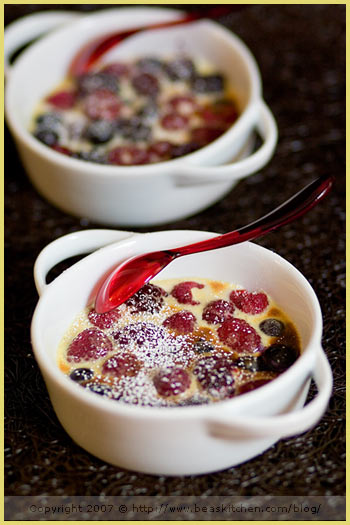 Simple Mixed Berries Gratin
(For 4 people)
You need:
14 oz mixed berries such as blueberries, raspberries, blackberries
2 oz de fine cane sugar
2 egg yolks
4 Tbsp heavy cream
1 tsp ground cardamom
Steps:
Wash the fruit and divide it between four greased ramekins.
Beat the egg yolks with the sugar until pale in color.
Add the cardamom and cream. Mix well and pour the cream over the fruit.
Place under the broil for 4 to 5 mns. Keep an eye on it as it can get darker quickly.
Sprinkle with confectioner's sugar and serve.
Le coin français
Gratin aux fruits rouges facile
(Pour 4 personnes)
Ingrédients :
400 g de fruits rouges assortis, tels que des framboises, mûres et myrtilles
50 g de sucre fin
2 jaunes d'oeuf
4 càs de crème liquide
1 càc de cardamome en poudre
Étapes :
Lavez les fruits et répartissez-les dans des ramequins beurrés.
Fouettez les jaunes d'oeuf avec le sucre jusqu'à ce que le mélange blanchisse.
Ajoutez la cardamome en poudre et la crème. Mélangez bien et répartissez cette crème sur les fruits.
Passez sous le gril pendant 4 à 5 mns. Surveillez car cela brunit vite.
Saupoudrez de sucre glace et dégustez.