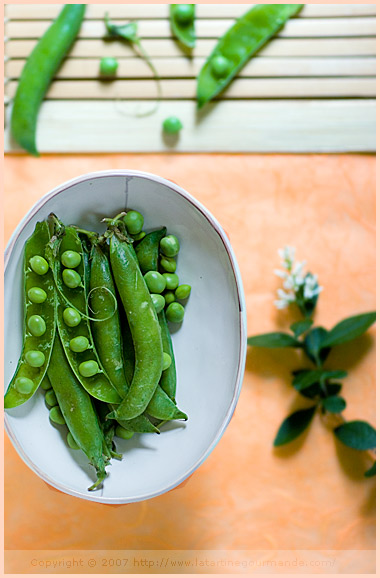 Fresh Peas
Even if I do not eat green peas often during the year, during the summery season, it must be one of the vegetables that I prefer to prepare. Because when they are fresh, it is a totally different story, n'est ce pas ? When cracked open, their green pods reveal beautiful juicy balls of sweetness, delicious cooked but even better gulped down raw. Perhaps I should add that I have had some fair amount of training and education with peas, which explains my attachment to them. The story takes me back when I was a young girl. Like many children raised in the deep French countryside — dans la campagne profonde — summer activities involved busy hours spent with our respective mums and grand-mothers looking after the abundant summer garden vegetables. Like many of my friends, I used to spend long afternoons cleaning peas with my mum, eating half of them while she had her back turned. I was not allowed to do so, you see, and now that I am older and wiser — as I like to believe — I am not blaming her for that. We would sit on the terrace outside and my technique was always the same. I would secure a large metallic colander between my long legs to collect the fresh peas, whenever they made it there before I ate them. The smaller they were, the juicier and sweeter too. And so, while I sadly do not currently own a vegetable garden, I still manage to get a glimpse of what it is like when I visit our local farmer's markets. I never thought that seeing a vegetable garden would make me so excited as it does now. Weird things happen, I tell you!
Whenever I prepare vegetables, most of the time, I like to cook them on the crunchier side. The bad memory of canteen meals with vegetables overcooked or drenched in sauce is far gone, merci bien! My rule is safe and works like a charm: sauté vegetables quickly with deliciously fragrant herbs, add a quality olive oil, and you know that you are eating vitamins and nutrients! Cheesy to say, but this feels good! Always!
With a bag of fresh peas and pretty red scallions bought from a farmer, I had to fulfill my sudden craving for a bowl of légumes croquants du jardin. I had green asparagus, zucchinis, carrots and fresh herbs like lemon balm* and tarragon from my garden. And don't ask me why but I was also dying to reconnect to the feeling of my many afternoons spent picking vegetables — oh, did I forget to add that back then, I used to always find excuses not to do this? My lunch would not be adorned or fancy, and the vegetables would not need to be prepared following a special technique or trick. It would be simple. Because food does not necessarily need to be wearing too many accessories and special dresses. As a friend of mine used to say, when a woman is beautiful, whether she wears a t shirt and a pair of jeans or the most fancy dress won't make a difference. Beauty comes from within.
Avec les légumes, c'est pareil. L'habit ne fait pas le moine ! (It is the same for vegetables. Don't be deceived by the piece of garment)
Who ever thought that I would one day compare a woman to vegetables!
Note: I enjoyed eating this vegetable plate with two oeufs sur le plat and a mâche salad.
*If you do not know lemon balm, give it a try, it is a lovely lemony herb, a mix between mint and lemon.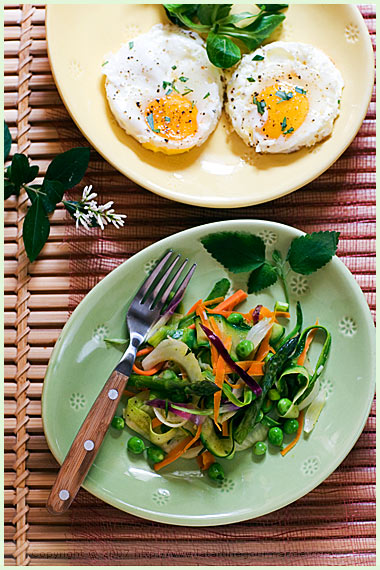 Crunchy Garden Vegetables
Crunchy Garden Vegetables
(for 4 people)
1 medium-sized zucchini, cut in long thin strips
2 cups fresh green peas
1 small fennel bulb, sliced paper thin
3 to 4 young carrots, peeled and sliced in long thin strips
16 green asparagus, cut in small 0.5 " sticks, tips kept
6 red spring onions, cut in 4
1/2 tsp fennel seeds
2 garlic cloves, chopped thinly
Fresh lemon balm, chopped
Tarragon, chopped
Salt and pepper
Olive oil
Steps:
Prepare all of your vegetables. Use a vegetable peeler to make the zucchini and carrots long strips.
Heat 2 Tbsp olive oil in a large non-stick frying pan.
Add the fennel seeds and garlic and cook for a few min until fragrant, without browning.
Add the carrot and zucchini strips, the red scallions and cook for 2 min.
Add the peas and asparagus sticks with the tarragon. Continue to cook for 3 min.
Add the asparagus tips and continue to cook for 2 to 3 min, until the vegetables reach the texture that you prefer. I like them on the crunchy side, full of vitamins then.
Serve with a splash of quality olive oil and chopped lemon balm.
Le coin français
Légumes du jardin juste croquants
(pour 4 personnes)
1 courgette de taille moyenne, coupée en pelures
250 g de petits pois frais écossés
1 petite bulbe de fenouil, émincée finement
3 à 4 carottes nouvelles, pelées et coupées en pelures
16 asperges vertes, pointes mises de côté et tiges coupées en petits tronçons de 1 cm
6 oignons tiges rouges, coupés en 4
1/2 càc de graines de fenouil
2 gousse d'ail, hachées finement
Mélisse fraiche, hachée
Estragon, haché
Sel et poivre
Huile d'olive
Étapes :
Préparez tous vos légumes.
Faites chauffer 2 càs d'huile d'olive dans une grande poêle anti-adhésive.
Faites revenir les graines de fenouil avec l'ail, sur feu moyen.
Ajoutez ensuite le fenouil et cuisez pendant 4 à 5 min (le fenouil étant le légume le plus long à cuire, on l'ajoute en premier).
Ajoutez ensuite les pelures de carottes et de courgettes, les oignons tiges, et cuisez pendant 2 min.
Ajoutez les petits pois et les tronçons d'asperges et l'estragon haché. Poursuivez la cuisson pendant 3 min.
Ajoutez les pointes d'asperges. Cuisez encore pendant 2 ou 3 min, jusqu'à atteindre la texture des légumes souhaitée, selon goût. Je les aime croquants, plein de vitamines.
Servez avec un filet d'huile d'olive et mélangez avec de la mélisse hachée.
Technorati Tags: Food Styling, La Tartine Gourmande, Food Photography, Green Peas