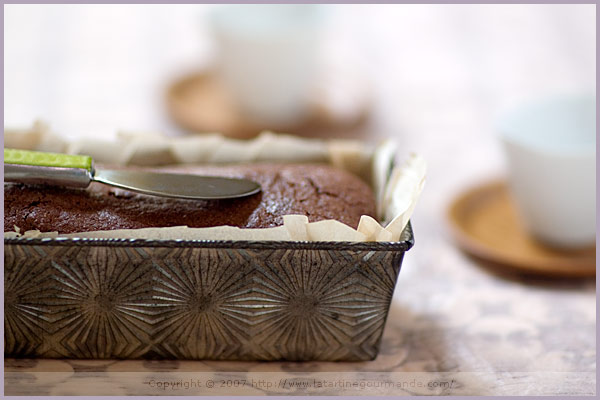 Amaranth, Quinoa and Dark Chocolate Cake
Chocolate is season-less food. It does not matter whether it is cold, hot, humid or dry outside, chocolate does not follow a calendar. With P. and I, it is on the menu at any time, any day of the month, as long as it is dark: eaten raw, this is how we like it.
Yet, some of my friends still look surprised to hear that I crave one two pieces of chocolate a day in the middle of summer, taken preferably after lunch or as an afternoon snack, au goûter.
"Ah non pas moi, il fait trop chaud pour manger du chocolat," (Not for me, it is too hot to eat chocolate) I can hear them add when I offer some of the bar that I always secretly keep in my purse, in case of an emergency. For once, it does not matter if it is too hot, I just like it as much.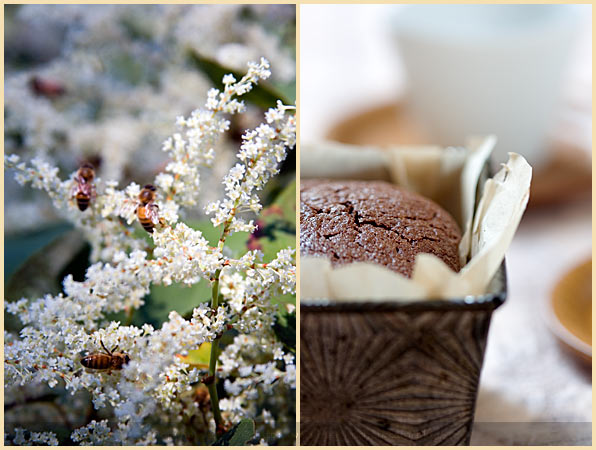 And I should not be surprised. Chocolate has all of the beneficial nutrients that I, the runner and the girl-who-likes-to-always-walk-fast, crave. My body knows that it needs a good intake of potassium, magnesium and make-me-happy fuel. I am not teaching you anything. There have been many studies made on chocolate, some more assertive than others about all of its positive sides. The dark one with a high cocoa contents, of course, is the good chocolate, as is often noted. And I would tend to agree, but this is more a question of taste. Over the years, I have also learned to cook with and eat other types of chocolate, milk or white. And, even if I have tried 99% cocoa contents chocolate before (Michel Cluizel for example), I actually like mine best between 70 and 85%, depending on how much of a sweet tooth I have.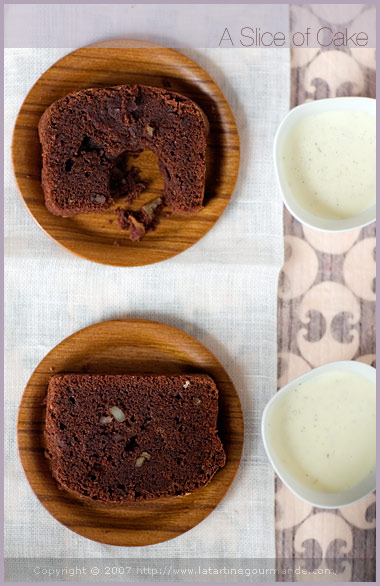 Aside from eating chocolate by the piece, I am also very fond of making chocolate cakes. You probably know this by now.
Since you were quite a few to have asked for the recipe of my Amaranth Chocolate Cake, of which I posted pictures when we traveled to Acadia National Park in Maine, I thought that I would bake it again, and give you its not-so-hidden secret.
For this recipe, I was quite curious to experiment with two flours I have grown quite fond of for taste and nutritional values: quinoa and amaranth. Adding them both to chocolate worked perfectly: they left the cake light, adding a grainier texture too. While amaranth flour adds protein and fiber — amaranth has three times more fiber than wheat, five times more iron, it contains calcium, iron, potassium, phosphorus, and vitamins A and C — quinoa flour gives a moist nutty texture to the cake, perfect combined with chopped pecans tossed in the batter.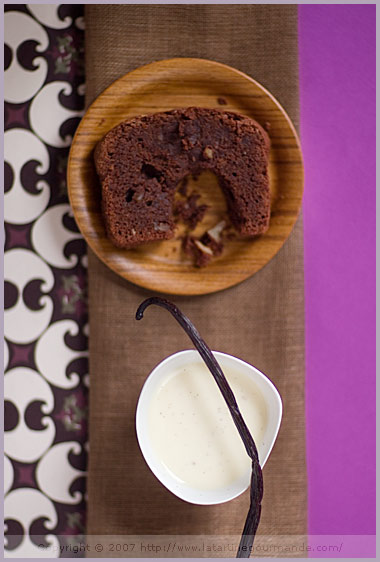 So perhaps you will have guessed that this cake has become a favorite. And then, why not stock up on those good nutrients while enjoying a nice piece of chocolate cake? Note also that because amaranth and quinoa flours are both gluten-free, this gives you a great gluten-free chocolate cake recipe, in case this matters in your diet. Me? For the curious ones, I am not gluten intolerant but currently somewhat gluten sensitive. And I must say, adapting and experimenting with different gluten-free baking products has been a pretty enriching experience, pushing me outside my comfort zone.
I always thrive on that.
As long as there is chocolate, or a piece of chocolate cake in my handbag.
PS: The cake can be enjoyed as such. I also love to eat it with plain yogurt or a vanilla-flavored crème anglaise, as shown on the picture.
More Dark Chocolate Cake Recipes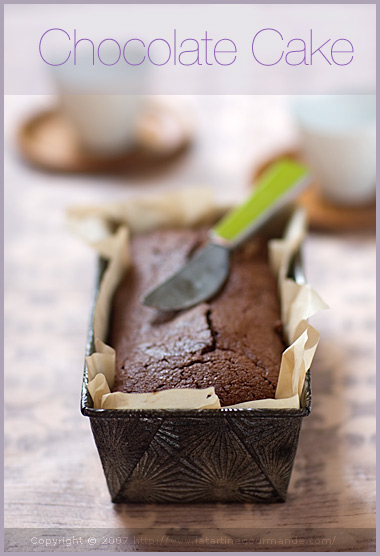 Amaranth, Quinoa and Dark Chocolate Cake
(Gluten free cake)
You need:
4.5 oz dark chocolate, 70 % cocoa (Valhrona for me)
7 Tbsp butter, unsalted
1/2 cup blond cane sugar
3 Tbsp amaranth flour (1 oz)
3 Tbsp quinoa flour (1 oz)
1 tsp pure vanilla extract
1/3 cup pecans, chopped coarsely (1 oz)
3 eggs
Pinch of salt
Steps:
Preheat your oven at 350 F.
Butter a 2 x 7 3/4 "rectangular mold and line it with parchment paper.
Melt the chocolate with the butter in a double-boiler (or a bowl placed on top of a pot full of simmering water).
Separate the egg yolks from the whites.
Beat the yolks with the sugar and vanilla until light and white in color.
Add the chocolate preparation and mix until well incorporated.
Add the nuts and the flours, and mix well until smooth in texture.
Add a pinch of salt to the whites and beat them until light and firm. Fold in the previous preparation, making sure that it stays light.
Pour the batter in the mold and cook for 45 min or so. Check if the cake is cooked by inserting the blade of a knife. It should come out almost dry, but not totally (the cake is moist).
Remove the cake and let cool slightly before unmolding. Let cool on a rack.
Le coin français
Gâteau au chocolat noir, farines d'amaranth et de quinoa
(Gâteau sans gluten)
Ingrédients :
125 g de chocolat à 70 % de cacao, (Valhrona pour moi)
100 g de beurre non salé
100 g de sucre de canne blond
30 g de farine d'amaranth (3 càs)
30 g de farine de quinoa (3 càs)
1 càc d'extrait pur de vanille liquide
30 g de noix de pécan, hachées grossièrement (1/3 cup)
3 oeufs
Pincée de sel
Étapes :
Préchauffez votre four à 180 C.
Graissez un moule rectangulaire de 5 x 19,5 cm et placez une feuille de papier sulfurisé.
Faites fondre le chocolat avec le beurre au bain marie, sans que le bol ne touche l'eau frémissante.
Cassez les oeufs en séparant les jaunes des blancs.
Battez les jaunes avec le sucre et la vanille, jusqu'à blanchiment.
Ajoutez alors la préparation au chocolat et incorporez bien en lissant.
Ajoutez les noix et la farine versée en pluie, et mélangez.
Battez les blancs d'oeuf en neige ferme avec une pincée de sel. Incorporez-les délicatement, sans faire tomber la masse.
Versez la préparation dans le moule et mettez au four pendant 45 min environ. Vérifiez la cuisson en enfonçant la lame d'un couteau qui doit ressortir presque sèche mais pas complètement. Le gâteau reste un peu humide car il est moelleux.
Sortez le gâteau et laissez-le refroidir avant de le démouler. Laissez refroidir sur grille.
Technorati Tags: Food Styling, La Tartine Gourmande, Food Photography, Chocolate cake, Amaranth Flour, Quinoa Flour, Gluten Free Chocolate Cake, Baked goods