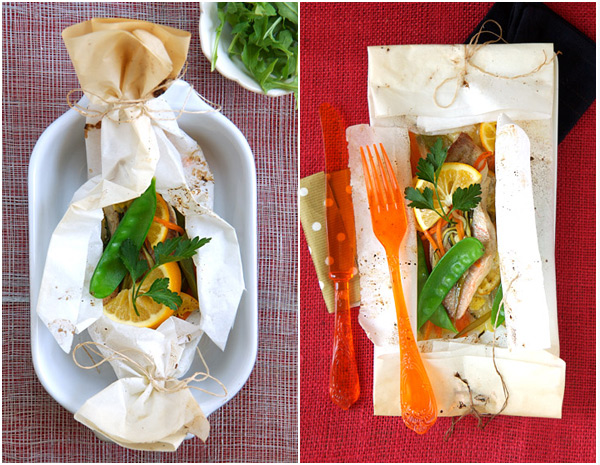 Ocean Perch Papillote with ginger, lemon and julienned vegetables
Another week when I am bringing to you more news, and articles.
The first thing?
I was really nicely surprised, and honored, that Kim O' Donnel tried one of my recipes and wrote about it in the Washington Post's Food Blog, a Mighty Appetite. She reminded me that I should make my quinoa and amaranth chocolate cake soon, probably to pack on our soon-to-come trip to Italy. Mind you, I am in love with a new chocolate cake recipe I created this weekend, this time using teff flour and almond butter! I cannot wait to have the time to tell you about this one. I bet you are going to love it as much as P. and I did. I did not have time to take pictures, we ate the whole thing quickly!

Merci Kim!

Then, here is another contribution to the Boston Globe's Seasons Column. This time, I am talking about the wondrous of papillotes, you know, this cooking technique that consists of wrapping food in parchment paper later baked in the oven. When used with fish for example, prepare the food with herbs, lemon or orange juice and spices, and then wrap! Healthful and quick to make. I chose to share a fish papillote recipe, using tasteful ocean perch filets, lemons, ginger, julienned vegetables and plentiful of herbs. Olive oil finished the dish.

Scrumptious!

I wonder why I waited for so long before sharing with you papillotes since I am a huge fan — almost as much as of tajines. So there will be more papillote recipes on my blog soon.

Check the full article here with recipe, if you like.

And on these words, well my dear readers, many thanks again for your visits and generous comments at each time.