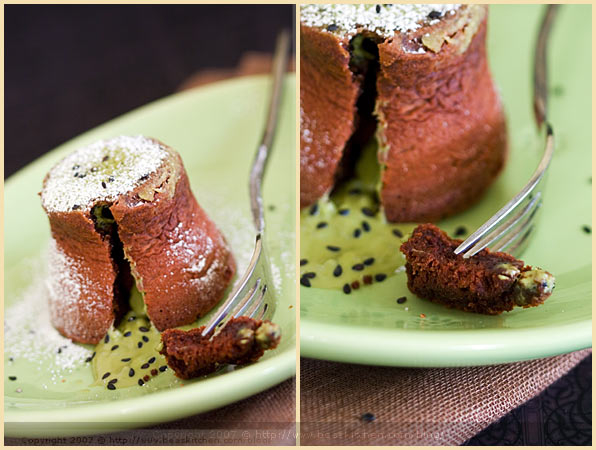 Molten Chocolate Cakes with Matcha Tea and Black Sesame Seeds Filling
My dessert emergency kit was simple: good chocolate, eggs, sugar, flour and butter were all I needed. Classic baking supplies, vous me direz (you will tell me) in a pantry. In my kitchen, they are. As for the cakes? Ten minutes to prepare, less than ten to cook. And to eat? It would depend on the type of chocolate cake eater that you are.
Moi ? Of the greedy and fast type!
I had no plan. At first, only. Yet, it did not last for long before the crazy idea grew on me. I knew well that it was going to be unreasonable when I decided to bake a first batch of six Molten chocolate cakes, then bake a second one only twelve hours later when they were all gone. But I could not help it, stuck with the idea that I wanted to perfect my recipe quickly. So when a few friends stopped by for tea and dinner later in the week, and I realized that I had nothing sweet to serve, I almost played it in auto mode, as if reciting a poem learned by heart. Already well rehearsed at that point in time, I decided to bake two more batches, bringing my Molten Chocolate Cakes count to twenty four in a week. Crazy? This was how much we liked them, and how easy and quick they were to bake.
Will you believe me if I tell you that Molten Chocolate Cakes are like cars? I will confess that I am not much of a mechanics, and I do not even care for cars — although I would not mind the mini I saw pass me the other day, or the light blue convertible Beetle I found parked next to us later in the week — but with chocolate Molten cakes, perhaps I could well become one. These cakes require perfect tuning, with an adequate cooking time as a key factor. One minute too much or one too little, and your cake story can take a fully different flair. My first batch cooked for one minute too long, the second one maybe thirty seconds. When I was done with the third and fourth batches, I had found the ideal cooking time. As fillings, I tried white chocolate with Matcha tea and black sesame seeds, then plain white chocolate only and hazelnut for the last six cakes. Melting oozing chocolate to die for! Is it really not the right season for chocolate? Who actually says that chocolate needs to have a season. Molten Chocolate Cakes have to be my favorite type of chocolate cakes, especially when they can be executed in less than twenty minutes total. And, at every single time I eat them, the excitement is there. I cannot wait to discover what is inside the cake.
Take my word for it, they are addictive.
Molten Chocolate Cakes with Matcha Tea and Black Sesame Seeds Filling
(For 6 individual cakes)
You need:
For the Matcha Tea and Black Sesame Seeds Filling:
4.5 oz white chocolate, melted in a double boiler
1 Tbsp black sesame seeds
1 tsp Matcha Green Tea, sifted
For the cakes:
4.5 oz dark chocolate 70% cocoa, I used Valhrona
2 oz butter
2 large eggs + 1 egg yolk
4 Tbsp blond cane sugar
2 Tbsp all-purpose flour, sifted
1 pinch of salt
1 tsp vanilla extract
Steps:
To prepare the filling — should be done the day before or a few hours before to allow the chocolate to gets hard — melt the white chocolate using a double boiler. Add the sifted matcha tea and sesame seeds. Place in small silicone molds and let cool so that it gets hard again. You can also use pieces of plain white chocolate or Valrhona Gianduja Noisette (Hazelnut) chocolate
To prepare the cakes, preheat your oven at 400 F (200 C).
Melt the dark chocolate and butter together using a double boiler (or place a bowl over a pot with simmering water, without the bottom of the bowl touching the water).
Grease 6 individual molds and sprinkle with flour (silicone or large muffin pan). Remove the excess of flour.
Use an electric mixer to mix together the eggs, egg yolk with the sugar, a pinch of salt and the vanilla extract, until your preparation is very light and white in color, and has tripled in volume.
Slowly fold the melted chocolate in.
Sprinkle the flour on top and fold in, making sure to keep the batter light.
Fill the molds 1/3 full with the chocolate batter and add a piece of matcha tea white chocolate in the middle. Cover with the rest of the batter.
Place in the oven for 9 min and take out. Let cool down for a few min before unmolding.
Sprinkle with confectioner's sugar if desired.
Le coin français
Gâteaux au chocolat mi-cuits, coeur au chocolat blanc, thé Matcha et sésame noir
(Pour 6 gâteaux individuels)
Ingrédients :
Pour le coeur au chocolat blanc, thé Matcha et sésame noir :
125 g de chocolat blanc fondu au bain-marie
1 càs de graines de sésame noir
1 càc de thé vert Matcha tamisé
Pour les gâteaux :
125 g de chocolat noir à 70 %
60 g de beurre
2 gros oeufs + 1 jaune
60 g de sucre de canne blond (4 càs)
2 càs de farine tamisée (20 g)
1 pincée de sel
1 càc d'extrait de vanille
Étapes :
Pour préparer le coeur au chocolat blanc/vert — à préparer un jour à l'avance ou quelques heures avant, de manière à ce que le chocolat puisse à nouveau durcir — faites fondre le chocolat blanc au bain-marie. Ajoutez le thé Matcha et les graines de sésame noir. Mélangez bien et placez dans de petits moules en silicone en formes de billes (Vous pouvez aussi décider de remplacer le coeur par un carreau de chocolat blanc ou de Valrhona Gianduja Noisette). Laissez refroidir pour que le chocolat durcisse.
Pour préparer les gâteaux, préchauffez votre four à 200 C.
Faites fondre le chocolate noir avec le beurre au bain-marie.
Graissez 6 petits moules et saupoudrez-les de farine. Enlevez l'excès de farine.
En utillisant un batteur électrique, mélangez les oeufs, le jaune, une pincée de sel, le sucre et l'extrait de vanille. Battez cette préparation jusqu'à blanchiment et jusqu'à ce qu'elle ait triplée de volume.
Ajoutez le chocolat fondu en soulevant délicatement la masse.
Saupoudrez la farine et mélangez délicatement, en souvelant la préparation pour éviter qu'elle ne retombe.
Remplissez les moules à 1/3, puis placez le coeur au chocolat blanc. Recouvrez de pâte pour remplir les 2/3 restants.
Mettez au four pendant 9 min et retirez. Laissez refroidir quelques minutes avant de démouler.
Saupoudrez de sucre glace et servez.