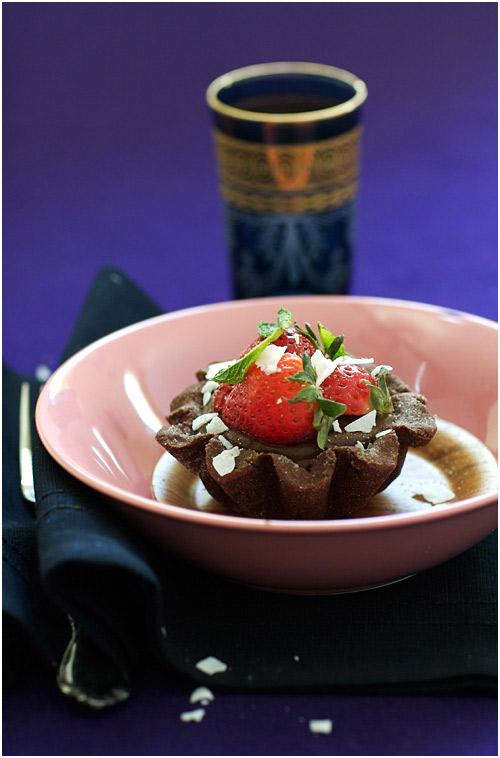 Dark Chocolate and Strawberry Tartlet
The car pulled in front of the house five minutes earlier.
Mince, déjà ? (Already?)
In my rush to leave the house to get to my chiropractic appointment on time, I forgot one of the strawberry chocolate tartlets I had made earlier in the day, that I meant to bring to my friend H., my chiropractor. P. being stuck at work, I had to call a taxi at the last minute.
My taxi driver was Armenian and chatty. And extremely polite too.
"I don't know," he said after a few minutes. "I keep telling my boss that America is nothing without immigrants," I forget why, but we engaged in a conversation about living in the US while not being from here. He seemed to have a lot to say. "Immigrants are what makes America. Every American's heritage is from elsewhere, not America."
The United States a land of immigrants? Of course, we all know that.
I listened and asked "When did you move here?"
"In 2000. But I still feel a stranger here, you know?" he responded. His accent was stronger than mine.
It takes many years before this feeling, being a stranger, disappears ; sometimes even a lifetime. And sometimes it simply never disappears. There is not one single experience. When I stepped out of the car, I wondered whether he would continue the conversation with the next customer.
I was really glad to see H. : my foot needed it, and I also needed him to encourage me, to tell me that I would be fine next week when walking the streets of Florence, Siena, Cinque Terre and Rome. I'd never sprained anything before, so I had no idea about how long it would take to heal.
As expected, H. helped a lot. H. is incredible that way. He has magical hands, as I like to joke.
"I forgot a dessert for you at home," I told him while he was massaging and moving my foot around. I grimaced in pain.
He paused and looked at me. "You didn't! You couldn't."
"Yes I did. Sorry!" I said with a smile. I was feeling sorry too, but I laughed at the same time. It was quite amusing to tease H. and see him somewhat upset. H. is quite a gourmand and I know that he loves chocolate.
"I guess I will have to eat it and think about you!"
"Right, rub it in!" he answered, with a smile.
He was the one who once came over for dinner and ate three chocolate pots de crème made for dessert. I think that if there had been more, he would gladly have eaten it.
"Are you able to come and pick me up?" I asked P. when I called once outside H's office. These are the days when we regret not having an automatic car. Driving a stick shift with a left sprained ankle is not working too well!
"Sorry, I can't."
My second taxi driver was Haitian this time, and just as chatty as the first one. He spoke about the weather, and how happy he was that spring was finally here.
"I don't know, I think winter was real long this year," he said. "Dunno why." At that point, I think I must have already switched off. I was thinking about dinner, even if I knew that there was a big chance that I would dine alone.
"I bought really nice mackerels," I told P. when he called five minutes after I arrived home. "It's a real bummer, I will have to save the second one for tomorrow."
He was disappointed. We both love fresh mackerels.
I set the table to eat dinner: a fingerling potato salad and oven roasted carrots, beets and leeks with thyme and ginger accompanied my fish, and in view of the situation, I would have plenty left for the next day.
I put the food away and walked into the living-room.
Le dessert!
How could I possibly forget about the tartelette au chocolat et aux fraises I had teased H. about!
Even if dining alone, I would surely not skip this important part of dinner.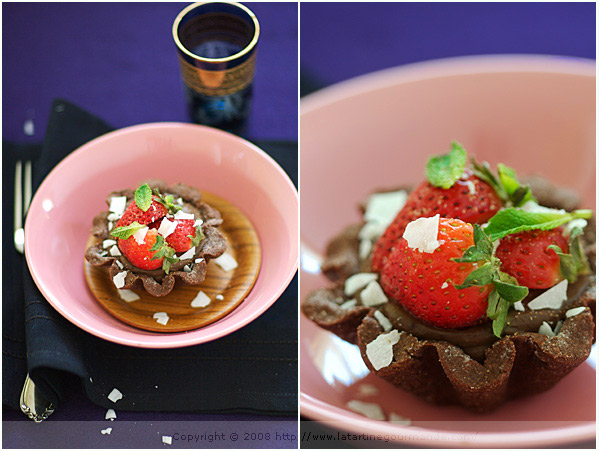 There is nothing complicated in the making of this dessert. You need a sweet chocolate crust (plan ahead and make it the day before), chocolate custard and fruit. My sweet chocolate crust used white rice flour, cornstarch, confectioner's sugar and cocoa; I made the chocolate custard using unsweetened soy milk — I use the brand Silk — because I was curious to see whether I would get a custard as nice as if using cow's milk. Well for anyone skeptical, you should really give it a try as it is really just as lovely. I did not miss anything in the taste. Actually I preferred it even, finding it somewhat lighter.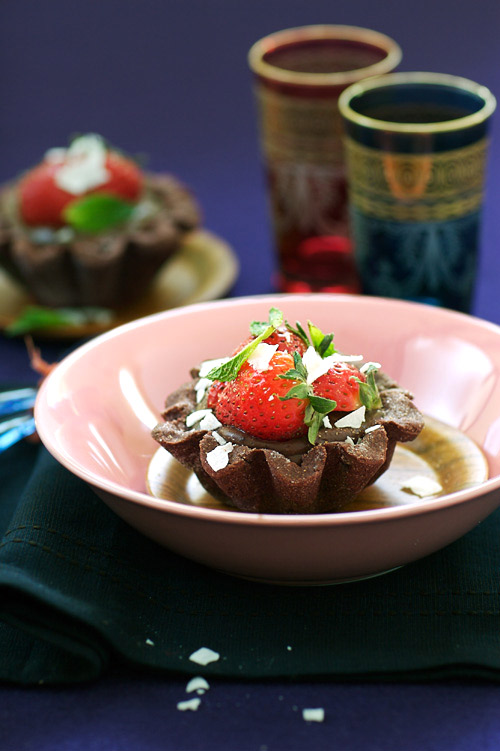 I sat down in front of TV5 and savored my treat with a cup of white tea.
Tant pis pour eux ! (Too bad for them!)
I actually enjoyed eating my tartlet solo.
For a change.
Dark Chocolate Tartlets with Strawberries and Coconut Shaves
For 4 tartlets
Dark chocolate sweet crust, recipe here*
Strawberries
Mint leaves
Coconut shaves
*This crust uses white rice flour, which you can substitute for all-purpose flour. You should then have the same flour weight.

For the dark chocolate custard:
2 cups of milk, or unsweetened soy milk (I use Silk)
1/3 cup blond cane sugar
2 egg yolks
1/3 cup cornstarch
2.5 oz dark chocolate, 70% cocoa, melted
1 tablespoon unsweetened cocoa powder, sifted
1 vanilla bean, split open
1 tablespoon butter
Steps:
Follow the instructions to make the chocolate crust and once in the molds, prebake for 15 min at 350 F. After a few minutes, unmold carefully and let cool.
Heat the milk with the vanilla bean and seeds. When it reaches boiling, stop and cover to infuse for 15 min. Strain and reheat; keep warm.
In a pot, beat the sugar with the eggs yolks until white and fluffy. Add the cornstarch and mix.
Add the milk slowly and return the pot to the heat.
While stirring constantly, bring the cream to a boil and cook for 1 to 2 min. It will thicken.
Add the chocolate and cocoa powder, and mix well.
Pour the chocolate custard in a bowl placed in a recipient full of iced water, and let cool. When it is slightly cooled down, add 1 tablespoon butter and stir well. Use the custard right away, or place it in the fridge, covered until ready to use.
To assemble your tartlets, garnish the chocolate crust with the chocolate custard.
Add the diced strawberries, coconut shaves and mint leaves. Enjoy!
Le coin français
Tartelettes tout chocolat, fraises et noix de coco
Pour 4 tartelettes
Pâte sablée au chocolat, recette ici*
Fraises
Feuilles de menthe
Noix de coco mondée
*Cette pâte utilise de la farine de riz blanc, que vous pouvez remplacer par de l farine type T45, si vous préférez, à condition d'avoir le même poids.

Pour la crème pâtissière au chocolat :
500 ml de lait, ou de lait de soja non sucré (J'utilise la marque Silk) que j'aime beaucoup
70 g de sucre de canne blond
2 jaunes d'oeuf
40 g de maizena
60 g de chocolat noir à 70% de cacao, fondu
1 càs de cacao en poudre non sucré, tamisé
1 gousse de vanille, fendue et grattée
1 càs de beurre
Étapes :
Préparez la pâte sablée en suivant les instructions et une fois vos moules foncés, faites précuire les fonds de tartelettes pendant 15 min au four préchauffé à 180 C. Laissez un peu refroidir et démoulez-les sur grille.
Dans une casserole, faites chauffer le lait avec les graines et la gousse de vanille. Faites infuser à couvert hors du feu pendant 15 min. Filtrez puis faites chauffer à nouveau. Gardez au chaud.
Dans une autre casserole, battez le sucre avec les jaunes d'oeuf jusqu'à blanchiment. Ajoutez la maizena et mélangez.
Versez le lait chaud en petit filet sans cesser de remuer et remettez la casserole sur le feu.
Tout en remuant constamment, amenez à ébullition et poursuivez la cuisson pendant 1 à 2 min. La crème épaissit.
Hors du feu, ajoutez le chocolat fondu et la poudre de cacao et mélangez bien.
Versez la crème au chocolat dans un bol placé dans un récipient rempli d'eau glacée, et laissez un peu refroidir. Puis ajoutez le beurre et lissez. Utilisez la crème de suite ou mettez au frigo (couvert d'un film alimentaire) jusqu'à son utilisation.
Pour assembler vos tartelettes, garnissez les fonds de tartelettes de crème au chocolat.
Ajoutez les fraises coupées en morceaux, la menthe ciselée et la noix de coco, si vous aimez. Régalez-vous !