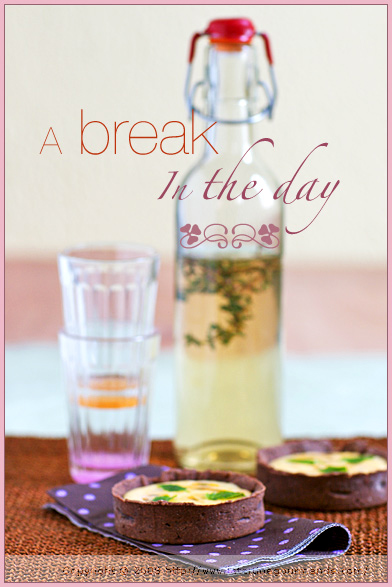 Taking it Easy
Perhaps you are amongst those who celebrate Valentine's day. If so, have a wonderful day.
P. and I?
We typically prefer to keep it low key at home, entre-nous sans la foule, with a homemade meal and nice music to listen to — and I am still not sure what we will eat. In fact, it is as simple as this: our celebration is to do as we please, without making a big fuss. No plan is good, giving us a break from planning too much, too often. So you know, we might even end up only nibbling on a variety of goodies. Who knows? Beside, we celebrated today two sweet life moments: P.'s move to Boston ten years ago and my fête (mon fête as he says, making me smile when he does): la Saint Béatrice.
But this does not mean that there will be no sparkle and fun. Dessert, I hear you say? Mais bien sûr, a dessert. Something simple, but special all the same. Chocolate and passion fruit. I thought of an inviting dessert to combine both flavors, with a chocolate sweet crust and a passion fruit filling. The crust is incidentally gluten-free — made of white rice flour, cornstarch and quinoa flours — because this is the way I prefer to bake these days. It can well be made using all-purpose flour, up to you to choose what you like best. And what more, should you have problems finding passion fruits for the filling (they sell for near $3 the piece here, so this is a real treat), use lime juice instead. It just works as well, giving a refreshing zesty taste to the tartlets. Perhaps you prefer not to have chocolate? Just omit the cocoa powder then. You see, the options are wide open for you to do as you please, and preferably in good company and relaxed, as I wish everyone will have the chance to be.
With plenty of love, whether it is Valentine's day or not. We surely do not need a special day for that, do we?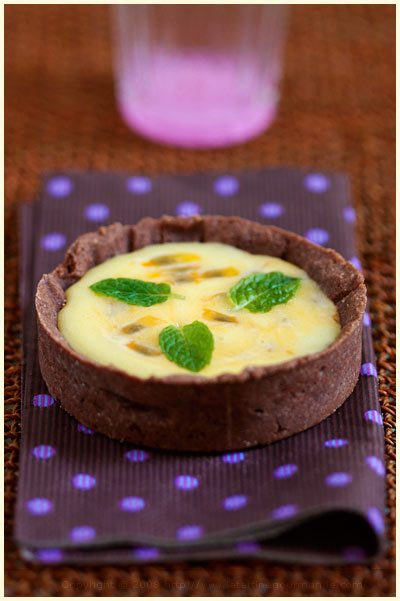 Chocolate and Passion Fruit Tartlets
Chocolate and Passion Fruit Tartlets
(For 4 tartlets)
For the chocolate sweet crust (3 hours before or the day before) :
1/3 cup white rice flour
1/3 cup + 1 Tbsp quinoa flour
1/3 cup cornstarch
1/3 cup confectioner's sugar
2 Tbsp unsweetened cocoa powder
6 Tbsp butter, cold and diced
1 egg
Steps:
Add all the dry ingredients in the bowl of a stand mixer, and pulse.
Add the butter and work the pastry until crumbly.
Add the egg and mix to form a ball. Do not overwork the dough. Wrap in plastic and place in the fridge for 3 hours minimum or the night.
Roll your dough and place in small molds. Make little holes at the bottom and place in the fridge for 30 min.
Preheat your oven at 350 F. Cover the tartlets with a piece of parchment paper and rice and cook for 10 min. Remove the paper and cook for 4 to 5 more minutes. Let cool on a rack.

For the passion fruit cream (or lime):
2 eggs + 1 egg yolk
1/2 cup + 1 Tbsp blond cane sugar
7 Tbsp unsalted butter, cold and diced
120 ml passion fruit juice*, or lime juice
3 passion fruits, wrinkled (a sign that they are ripe)
Mint leaves (for the decoration)
*To get fresh passion fruit juice, you have to press the pulp through a meshed sieve to squeeze out the juice into a bowl. Discard the seeds.
Steps:
Beat the sugar with the eggs and egg yolk until white and fluffy.
Add the fruit juice and mix. Pour into a bowl and place over a pot of simmering water.
Stir constantly; the cream will thicken. Once it starts thickening, add the butter gradually and keep stirring.
Pour the cream in a bowl placed in a container full of iced water. Let cool and place a plastic film on top. Place in the fridge until ready to serve.
Once the cream is cooled, add 3/4 of the passion fruit pulp and mix.
To make your tartlets, garnish the chocolate pastry crust with the cream.
Add the rest of the passion fruit pulp and decorate with a few mint leaves.
Note: this cream is not as thick as buttercream. I like this texture as it is less rich than this one for example, you can choose whichever you prefer.
Le coin français
Tartelettes au chocolat et aux fruits de la passion
(Pour 4 tartelettes)
Pour la pâte sucrée au chocolat (3 heures avant ou la veille) :
60 g de farine de riz blanc
60 g de farine de quinoa
40 g de maïzena
40 g de sucre glace
2 càs de cacao en poudre non sucré
80 g de beurre, froid coupé en morceaux
1 oeuf
Étapes :
Dans le bol d'un mixeur, placez tous les ingrédients secs et mixez.
Ajoutez le beurre coupé en dés et travaillez la pâte jusqu'à l'obtention de grosses miettes.
Ajoutez l'oeuf et mixez pour former une boule qui se déetache du bol. Arrêtez de suite et enveloppez la pâte dans du film alimentaire. Placez au frigidaire pendant 3 heures minimum, ou toute une nuit.
Étalez votre pâte et foncez de petits moules. Piquez le fond avec une fourchette et mettez en attente au frais pendant 30 min.
Préchauffez votre four à 180 C. Faites précuire les fonds de tarte à blanc pendant 10 min (recouvert de papier et de riz), et 4 à 5 min (après avoir enlevé le papier). Laissez refroidir sur grille.

Pour la crème aux fruits de la passion (ou citron vert) :
2 oeufs + 1 jaune d'oeuf
125 g de sucre de canne blond
100 g de beurre, froid
120 ml de jus de fruits de la passion*, ou du citron vert
3 fruits de la passion, bien fripés (signe qu'ils sont mûrs)
Feuilles de menthe (pour la décoration)

*Pour obtenir du jus de fruits de la passion frais, placez la pulpe dans un chinois et pressez de manière à en extraire le jus. Jettez les pépins.
Étapes :
Mélangez le sucre avec les oeufs jusqu'àa blanchiment.
Ajoutez le jus de fruits de la passion (ou citron vert). Versez dans un bol et faites épaissir au bain-marie.
Une fois que la crème commence à prendre, ajoutez les dés de beurre froid, sans cesser de mélanger. La crème épaissit.
Versez-la dans une jatte placée dans un récipient rempli d'eau glacée. Filmez et mettez au frigo jusqu'au moment de servir.
Une fois la crème refroidie, ajoutez les 3/4 de la pulpe des fruits de la passion.
Pour assembler vos tartelettes, garnissez les fonds de tartelette de crème.
Ajoutez le reste de fruits de la passion, décorez de feuilles de menthe et servez.
Remarque : cette crème n'est pas aussi épaisse qu'une crème au beurre. Je l'aime comme cela, moins riche que celle-là par exemple, à vous de voir la texture que vous préfèrez.