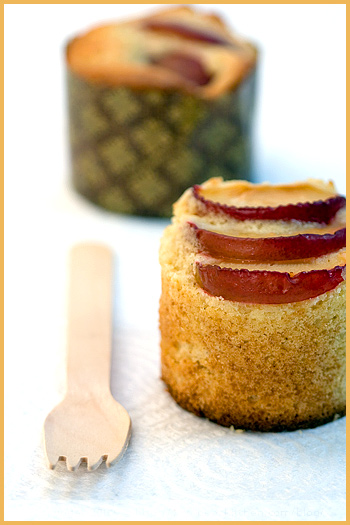 Plum Cake
The month of February, février, is an odd month. Short, always confusing as I never can remember how many days there will be each year, cold when we are in the Northern hemisphere — on the North-Eastern coast of the US especially — but also a month with a lot of memories of winter seasons spent in the French Alps skiing. I grew up with it. February is also a special month because of reference days, at least for me.
For most people, February 13th is a day like any other day. Except if your first name is Béatrice, like mine, and you live in a country where Saints are celebrated, and by extension people's first names. In France, we celebrate people's first names, and so it turns out that everyone has une fête (a feast) to celebrate: the fête of your first name. On Feb 13 th, we celebrate Saint Béatrice. Moi! Not that I am exactly a saint, but this is a detail that no one cares about any longer. What does usually happen on your fête then, you may ask? Maybe you receive a bunch of flowers and a few nice cards, a friend or your husband or wife takes you out for a drink, lunch or dinner, and typically family, friends and co-workers wish you une bonne fête. A good way to feel special. Every day, one of the last pieces of information given on the French TV News Report is to announce whose fête it will be the following day. There is no excuse to forget. In my family, we rarely forget, expect for my brother B. who has never been into these types of celebrations anyway. When I met P. over ten years ago, he was completely new to the idea. He, however, loved it right away, all excited at the prospect that from then on, he would have a new special day to celebrate during the year. "C'est mon fête aujourd'hui (It is my fête today), I heard him say all day on the day of his fête. "On ne dit pas mon fête, mais ma fête !, (We do not say mon fête but ma fête) I replied . I should never have corrected him. I loved to hear him say this incorrectly so much. Oddly enough, P's fête is the day just before my birthday. Speak about a coincidence. I certainly have no excuse to forget either.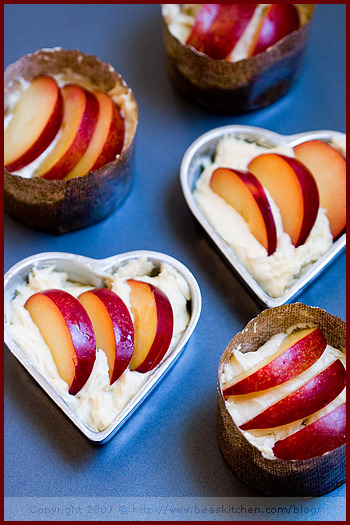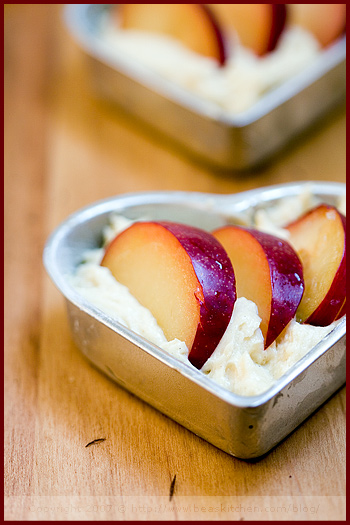 Hence February has these connotations for me. On February 4th, we celebrate Véronique, my mum's fête, on the 13th mine and just right after of course, there is Valentine's day. Typically, P. and I like to celebrate February 13th and 14th together. We do not make it over the top, preferring to keep it simple. If we could, we would even choose to go out for a picnic. Not so convenient in February though, we reckon. As I was brainstorming to find what would make the two of us happy, I had an idea. I could have thought of making a decadent dessert, creamy, rich and chocolaty but instead, because I have been obsessed with finding the perfect recipe for a spongy-like cake with fresh fruit, reminiscent of the delicious pineapple upside-down cake recently eaten at Upstairs on the Square with a friend of mine, I choose to make a plum cake. You are hearing well, and I can sense that you are already loudly thinking "Totally wrong season!" Agreed. I can confess that I went to buy a fruit that is surely not in season, but I did not even feel bad about it. I love plums — les prunes. After all, since it will soon be my fête, I thought I could very well please my taste buds. The plums I purchased came from Chile and were not even too bad for this time of year. The idea of using smaller individual molds made these little cakes look fun (thank you Ninnie for the lovely paper molds!), the hearts of course peppier. Quite appropriate after all, don't you then agree?
Happy Valentine's Day. Say it with a plum cake!
It might be worth checking when your fête is as you might also like the idea to feel special one extra day of the year.

Enough to be seduced by it? I would! So I will make it my entry for the Sugar High Friday Event of this month, called Sweet Temptation, hosted by Jasmine.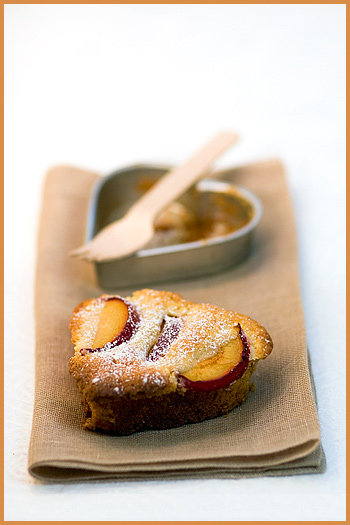 Plum Cakes
(For a large one or 6 small)
You need:
1 1/2 cups all-purpose flour
Plums (about 4 large)
3/4 cup granulated sugar
7 Tbsp butter, room temperature
2 large eggs
1.5 tsp baking powder
1/3 cup whole milk
1/4 tsp salt
1/2 tsp ground cardamom
1 tsp vanilla extract
Steps:
In a bowl, mix the flour, salt, baking powder and ground cardamom. Keep
Put the butter and sugar in the bowl of a stand mixer and work until lighter, about 3 to 4 mns.
Add the eggs, one after the other, making sure to mix well between each.
Add 1/3 of th dry ingredients. Mix well and add half of the milk and the vanilla extract. Mix until all the liquid is absorbed. Add 1/3 of the dry ingredients again, mix and then add the rest of the milk. Finish with the last third of the dry ingredients.
Grease a mold and sprinkle it with flour (or use individual molds). Fill 3/4 full.
Wash your plums and slice them. Place them on top of the batter, pushing down on them gently.
Preheat your oven at 350 F and cook for about 40 to 50 mns for a large cake, less for small ones. Check regularly. Remove from the oven and wait for a few mns before unmolding.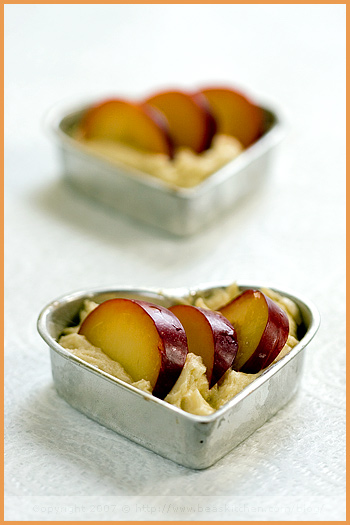 Le coin français
Gâteau aux prunes
(Pour un grand gâteau ou 6 petits)
Ingrédients :
180 g de farine
Prunes (Environ 4 grosses)
150 g de sucre
100 g de beurre à température ambiante
2 gros oeufs
1,5 càc de levure chimique
80 ml de lait entier
1/4 càc de sel
1/2 càc de cardamome en poudre
1 càc d'extrait de vanille liquide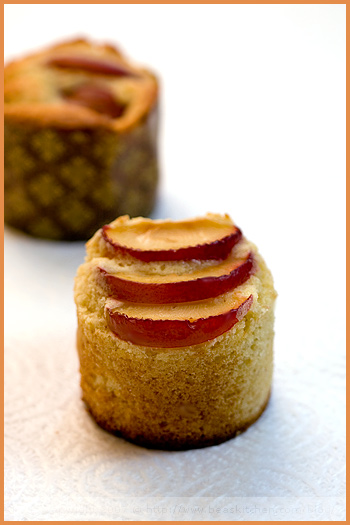 Étapes :
Dans une jatte, mélangez la farine, le sel, la levure et la cardamome en poudre. Réservez.
Dans le bol d'un robot à pied, mettez le beurre et le sucre et travaillez-les deux en pommade (environ 3 à 4 mns).
Ajoutez ensuite les oeufs, 1 à 1, en mélangeant bien à chaque fois.
Ajoutez ensuite 1/3 de la préparation sèche. Mélangez et ajoutez ensuite la moitié du lait et l'extrait de vanille. Recommencez avec la farine, puis le lait avant de finir avec le reste de préparation sèche.
Beurrez et farinez un grand moule ou des petits moules individuels. Remplissez-les aux 3/4.
Lavez vos prunes et coupez-les en tranches. Disposez-les sur la pâte, en les enfonçant légèrement.
Cuisez au four préchauffé à 180 C pendant environ 40 à 50 mns pour un grand gâteau, moins pour les petits. Vérifiez en cours de cuisson. Sortez du four et attendez quelques minutes avant de démouler.