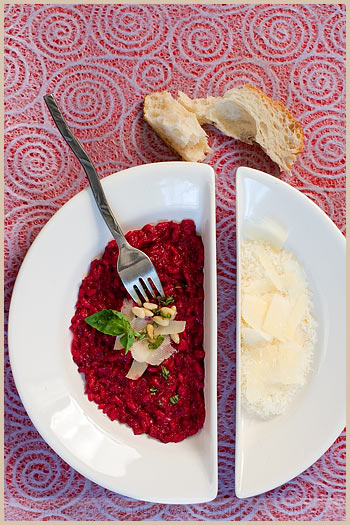 Red Beet Risotto
"It really makes you pee red, you know", I told P.
"What is this joke?", he said.
"Trust me, it really does! Beets do that to you!"
And I can tell! I eat beets often.
I know that it could well be that I am an exception. I do not think that I know another vegetable that creates as much controversy as a simple innocent betterave. Many people whom I know, have met, or talked to speak about beetroot in negative terms, mentioning a real aversion to them, as a vegetable that they hate more than any other one. I have to really wonder why. Too red? Too earthy? Too what? I am the total opposite. It may well be that we are born with or without the beet gene in us. In fact, I was pretty much raised on them since my mum used to grow — and still does — her own. I love red beets, and the yellow ones just as much. When I was a kid, my mum and I used to spend many hours during the season preserving beets in a light vinegar. They were then stored in tall sterilized bocaux (glass jars), making a treat we looked forward to having during the winter. Beets were common. We loved to grate them uncooked in salads, in the same way we prepare carrot or celery root salads, and we also cooked them. Pickled beets were a favorite as well. In some countries like Russia or many other Eastern European countries, beets are actually as common as maybe, say potatoes in Ireland. If you have already visited Pille's blog, you will see what I mean. She and I share the same love for beets.
When I went shopping last week, I stocked up on beets, as is often the case. Yellow, red. I was not sure what I was going to do with them then, but I never need to know. Instinctively, I always find a good fun way to use them and so the idea of making a beet risotto grew on me naturally. There is nothing complicated in making it. This risotto is rather on the sweeter side, flavored with tarragon and basil, complemented with ground hazelnut and contrasted with flavorful parmesan. And red, of course! A pretty deep shade of red surely noticed on your plate. I just love this color! Something quite different I have to say, enough to really make you pee red.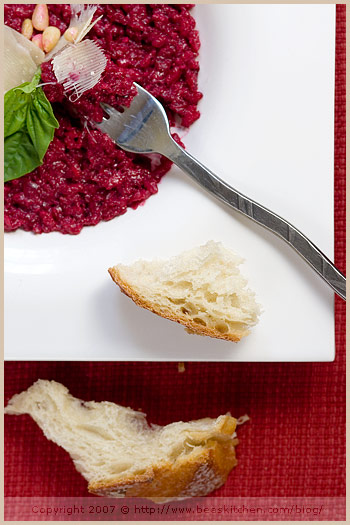 Red Beet Risotto
(For 4 people)
You need:
1.5 cups Carnaroli or Arborio rice
4 cups chicken stock
8 3/4 oz red cooked beets, peeled and diced
1 large shallot (150 g) + 1 extra shallot
Zest of 1 organic orange
1 oz hazelnut powder
1.5 oz parmesan grated and shaved
9 Tbsp dry white wine
1 Tbsp tarragon, chopped
1 Tbsp basil, chopped
2 Tbsp olive oil
3 Tbsp butter
About 3 Tbsp pine nuts, dry-roasted
Salt and pepper
Steps:
Cook the beets, peel and dice them.
Chop the first shallot.
Heat 1 Tbsp olive oil with 1 Tbsp butter in a sauté pan. Add the shallot and cook for a few min before adding the diced beets. Cook for 5 mns or so on medium to low heat, add the orange zest and season with salt and pepper. Remove from the heat and reduce into a purée, using a food processor if you have one. Keep on the side.
Heat the chicken stock and keep warm.
Chop the tarragon and basil.
Grate 2/3 of the parmesan. Shave the rest and keep on the side.
Heat 1 Tbsp olive oil with 1 Tbsp butter in a pot and add the second chopped shallot. Cook for 2 to 3 min before adding the rice to coat for 1 min.
Then add the white wine and cook until it is absorbed.
Add 1 ladleful of warm broth and wait until it is absorbed to add another one. Repeat until you have 1 ladleful left.
Add the beet purée with the hazelnut flour, and mix gently. Check your rice and add more broth accordingly.
Stop the heat, add the grated parmesan, the herbs and the rest of the butter. Cover and let rest for 2 min.
Serve with shaved parmesan, fresh basil leaves and dry-roasted pine nuts.
Le coin français
Risotto aux betteraves rouges
(Pour 4 personnes)
Ingrédients :
300 g de riz rond à risotto Carnaroli ou Arborio
950 ml de bouillon de volaille
250 g de betteraves rouges, cuites, pelées et coupées en morceaux
1 grosse échalote (150 g) + 1 deuxième moyenne
Zeste d'1 orange bio
30 g de poudre de noisettes
40 g de parmesan, râpé finement et en copeaux
9 càs de vin blanc sec
1 càs d'estragon, haché
1 càs de basilic, haché
2 càs d'huile d'olive
45 g de beurre
Environ 3 càs de pignons de pin, grillés à sec
Sel et poivre
Étapes :
Cuisez les betteraves, puis pelez-les et coupez-les en gros morceaux.
Émincez la grosse échalote.
Faites chaufffer 1 càs d'huile d'olive et 15 g de beurre dans une sauteuse et ajoutez-y l'échalote. Faites suer pendant quelques min avant d'ajouter les morceaux de betterave. Poursuivez la cuisson pendant 5 mns, sur feu moyen à doux, puis ajoutez le zeste d'orange finement râpé. Assaisonnez de sel et de poivre. Retirez du feu et réduisez en purée dans un robot. Mettez de côté.
Faites chauffer le bouillon de volaille et gardez au chaud.
Hachez l'estragon et le basilic.
Rapez 2/3 du parmesan. Faites des copeaux avec le reste (utilisez un couteau économe par exemple). Mettez de côté.
Faites chauffer 1 càs d'huile d'olive avec 15 g de beurre dans une cocotte à fond épais et ajoutez la deuxieme échalote hachée. Faites suer pendant environ 2 à 3 mns avant d'ajouter le riz. Enrobez-le pendant 1 mn.
Ajoutez le vin blanc et cuisez jusqu'à absorption, en mélangeant constamment avec une cuiller en bois.
Ajoutez une louche de bouillon chaud et faites cuire sur feu moyen jusqu'à absorption. Attendez que tout le liquide soit absorbé avant d'ajouter une autre louche. Répètez jusqu'à ce qu'il ne vous reste qu'1 louche de bouillon.
Ajoutez alors la purée de betteraves, la poudre de noisette et mélangez delicatement. Vérifiez la cuisson du riz et ajoutez du bouillon en fonction.
Juste avant de servir, arrêtez le feu. Ajoutez le parmesan, les herbes et le reste de beurre. Mélangez délicatement et couvrez pendant 2 mns.
Servez avec des copeaux de parmesan, du basilic frais et des pignons de pin grillés à sec.