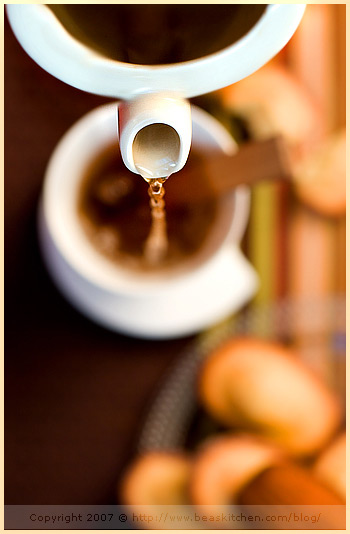 Tea Time
There is always a need of something sweet with a nice cup of tea.
Am I reliving a Proust's moment?
I look up to check the time on our orange cuckoo clock. This time the canary moves. No wonder that I keep yawning. It is 11 pm. Despite my heavy eyelids, I suddenly feel seized by a strong desire to bake. Right then, at 11 pm.
"Qu'est-ce que tu fais ?" (what are you doing?) I hear P. shout from across the room when he hears bangs and clicks sounds in the kitchen as I fumble through the cabinet to get out what I need to make madeleines.
"Rien"(nothing), I reply.

"What do you mean nothing, I can hear something."
"I am making madeleines."
"A cette heure ?" (At this time?), he replies.
He should know better by now. Since I have started to blog, it has got worse. The addiction to cooking, the addiction to trying new recipes and test ideas as they arrive, without waiting. And they keep arriving and coming, non-stop. Sometimes I love it, looking forward to slipping into it and feeling the buzz, but sometimes I also hate it. I can be overwhelmed by the flux of information. I go for a run, drive downtown, walk in the park, talk to people, and all I can think of is "two eggs maybe with 4 oz of sugar. Oh what if I tried to add a bit of ginger? Oh no, I think this would not work." Ok, maybe I stretch it too far, but I am pretty close though.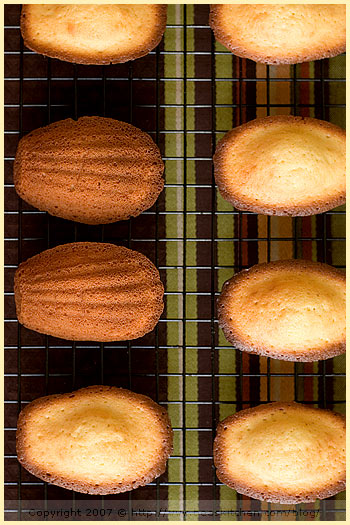 Madeleines
But when such an addictive behavior gives you the strength to prepare a batch of madeleines at 11 pm although there is still some cakes made from the day before, when you are too impatient to wait until the day after to see whether your idea works, I do not know but it cannot be a bad thing. I already know that P's co-workers will be pleased. Will they? Maybe they hate me by now from the constant amount of food I send their way. Maybe they are simply too polite to say so.
Honey and Orange Madeleines
The recipe worked and it made me happy. I knew that the reason that pushed me to stay up that night was good. I was having a lucky day.
I love madeleines, as you probably know. Even better. What I actually enjoy tremendously is to observe how, while cooking in the oven, madeleines develop a pointy belly looking up, just like a camel's hump. I stay there, kneeling down in front of the oven during the first six required min, my face almost glued to the oven door, staring at them through the hot glass until it happens. And, unlike an ephemeral soufflé, once the bump develops, it is there to stay.
After a walk taken by the river, what else is there?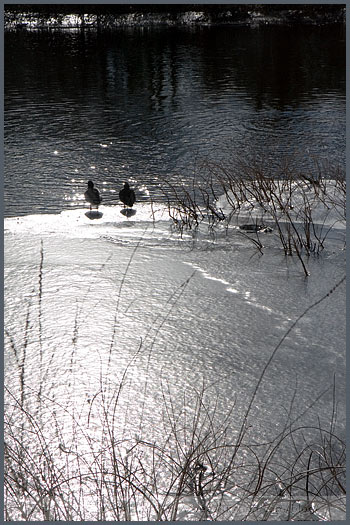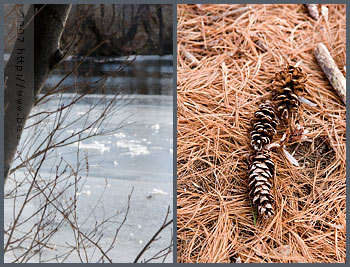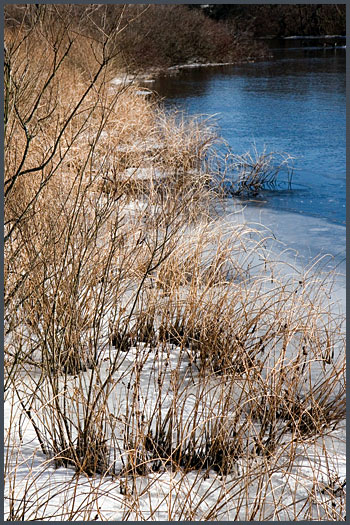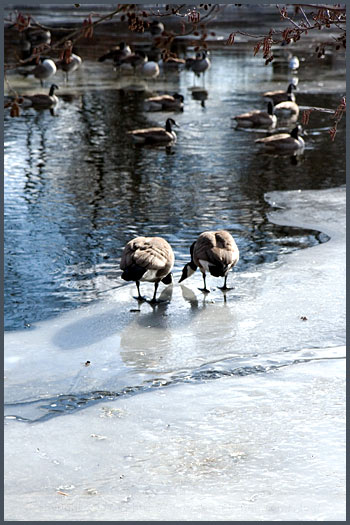 A cup of tea, maybe?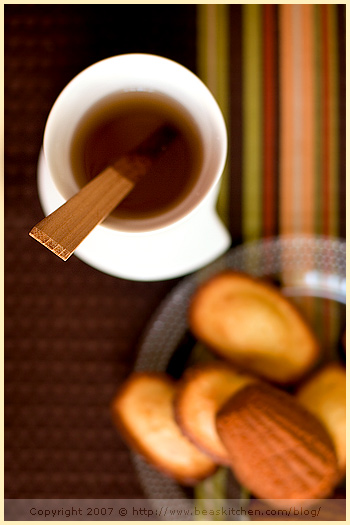 With freshly baked madeleines.
Un bonheur pur et simple
A Slice of Simple Pure Happiness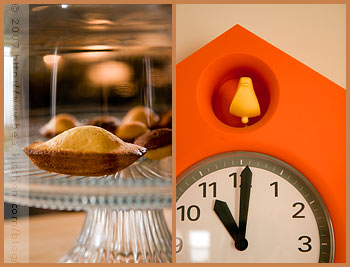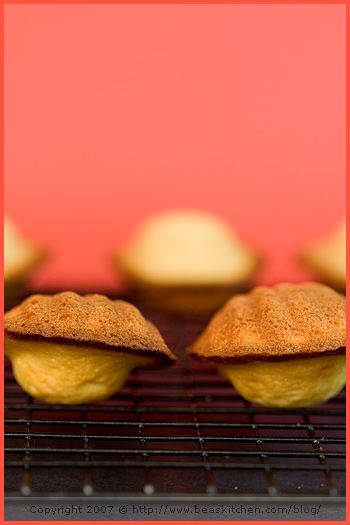 Honey and Orange Madeleines
Honey and Orange Madeleines
(For 20 madeleines, regular size)
You need:
3 large eggs
5 1/4 oz all-purpose flour
1 stick salted butter (4 oz)
4.5 oz fine sugar
Zest of an organic orange, finely grated
1 tsp baking powder
1 Tbsp flower honey (liquid, or the flavor you prefer)
Steps:
Melt the butter and let cool down.
Sift the flour with the baking powder. Keep.
Place the eggs in the bowl of a stand mixer and beat them.
Add the sugar, honey and orange zest and beat until white in color and light.
Remove the bowl and add the sifted flour and baking powder. Mix with a wooden spoon. Then add the butter. Mix well until homogeneous.
Cover this batter and place in the fridge for 2 hours.
Preheat your oven at 420 F.
Grease madeleine molds and fill them 3/4 full.
Cook for 6 mns — to get the expected bump — then reduce the oven temperature to 350 F. Continue to cook for about 4 to 5 mns. Remove from the molds and let them cool on a rack.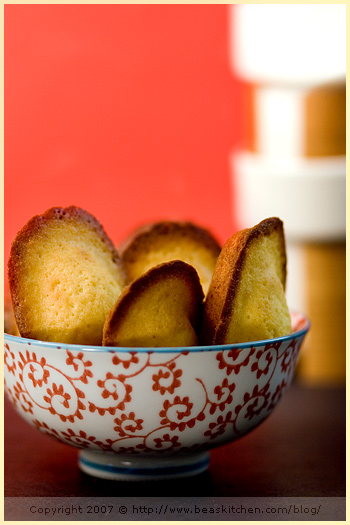 Le coin français
Madeleines au miel et à l'orange
(Pour 20 madeleines de taille régulière)
Ingrédients :
3 gros oeufs
150 g de farine
115 g de beurre salé fondu, refroidi ensuite
125 g de sucre de canne fin
Zeste d'une orange bio, finement râpé
1 càc de levure chimique
1 càs de miel aux fleurs liquide (ou parfumé selon votre goût)
Étapes :
Faites fondre le beurre à feu doux dans une casserole. Retirez et laissez refroidir.
Tamisez la farine avec la levure. Réservez.
Mettez les oeufs dans le bol d'un robot et battez-les.
Ajoutez le sucre, le miel et le zeste d'orange et mélangez jusqu'a ce que le mélange blanchisse.
Retirez le bol et ajoutez la farine et la levure tamisées en utilisant une cuiller en bois. Mélangez bien puis incorporez le beurre refroidi. Mélangez bien.
Couvrez la pâte et mettez-la au frigo pendant 2 heures.
Préchauffez votre four à 220 C.
Beurrez des moules à madeleine et remplissez-les aux 3/4.
Faites cuire pendant 6 mns — de manière à obtenir la bosse tant attendue des madeleines — puis réduisez la température à 180 C. Poursuivez la cuisson pendant 4 à 5 mns. Démoulez sur une grille et laissez refroidir.