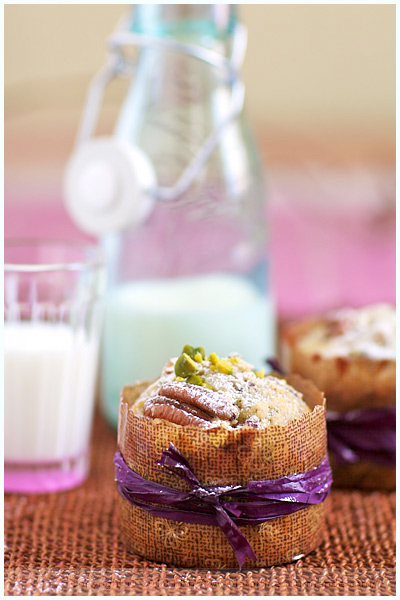 Chocolate, pistachio and pecan muffins
I know what you are going to say. You really do not need yet another muffin recipe. You most likely have already marked many pages of your cookbooks featuring muffin recipes on them. My view on it? Another muffin recipe is never going to hurt. "Vous ne la sentirez pas passer." Instead, it will give you many more options.
So what would you say of a muffin recipe with a French flair, a treat for your Sunday Easter brunch if this is what you decide to do? I was perhaps not born with muffin gene running through my veins, but I have learned to understand and love them all the same.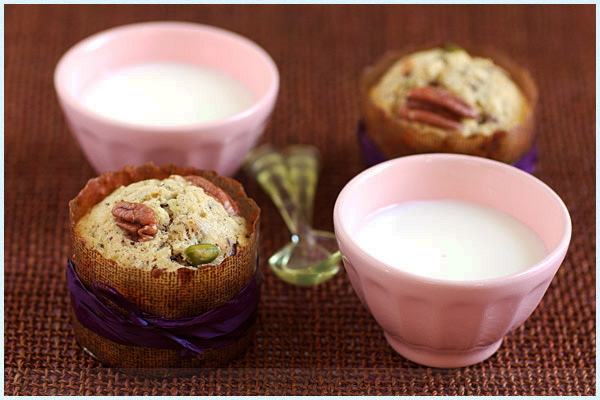 The first special twist to this muffin recipe is that the cakes are baked in cute-looking paper cases, the ones seen around on many food blogs, including mine too.
The second thing is that beside green pistachios, pecans and dark chocolate, the recipe uses two types of flours — all-purpose and almond — for a more pronounced taste and a firmer texture. I wrote this muffin recipe for the Boston Globe's Food Section this past Wednesday. Check it out here.
Trust me when I say that these never last long if you are close by, especially when they come right out from the oven. They are a keeper.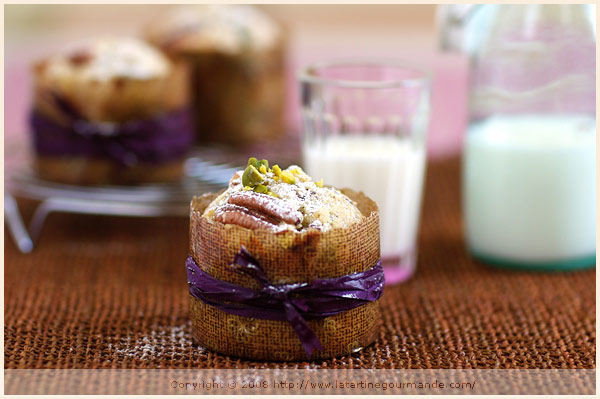 Chocolate, pistachio and pecan muffins
A Food & Travel article
On another note, I was honored and excited to hear yesterday that La Tartine Gourmande was mentioned with thirteen other talented food bloggers — Keiko, David, Karen, Melissa, Heidi or Clotilde, to only name a few — in an article entitled "14 Foodie Travel Blogs To Savor" on IgoUgo, a travel site part of Travelocity. Since you know how much I love to write Food & Travel stories, I was really thrilled. A big thank you to the editor for mentioning my blog. That truly inspires me to travel, snapshot and write even more!