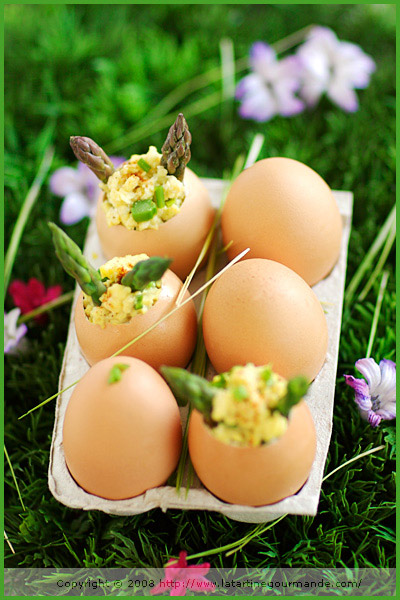 You can trust many of the food magazines everywhere to remind you of the foods popular at Easter. Amongst them, you will invariably find recipes using lamb, eggs and of course, chocolate. I am lucky: I am fond of the three.
So my dilemma is that I really had many egg and chocolate recipes ready for you but you see, I really don't know where time went this week. It clearly vanished in my hands and here we are, Easter is in two days and puis rien. Nada !
But I trust that you will have already planned scrumptious meals, whether elaborate or simple, with people you love, your friends or family. Really, whoever is special to you.
Us?
Well, we cannot always plan everything, can we ? My second half P. is sick, so we will really have to play it by ear. In fact, I might simply make springlike green asparagus scrambled eggs like these ones. Filled with fresh herbs and a touch of spice on top. They would make anyone feel better, wouldn't they?
In any case, I wish you all a Happy Easter, if you celebrate that holiday. Joyeuses fêtes de Pâques à tout le monde.