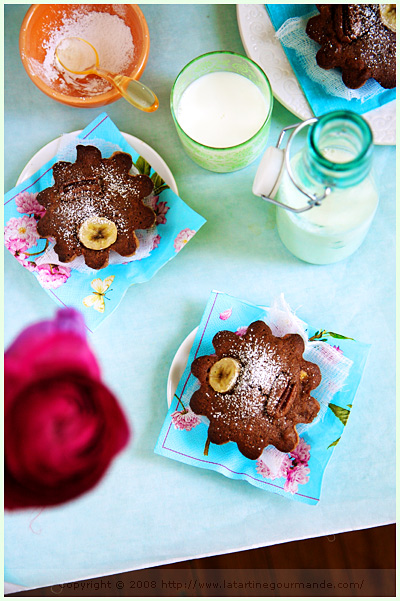 Chocolate, Banana, Pecan and Olive Oil Teacakes
When I go out for a run earlier in the morning, I notice that the air is crisp despite a generous sun outside that fools me into believing that it is perhaps fifteen degrees warmer. Yet, it does not stop the birds from joyfully chirping, quite on the contrary. Their happy singing tunes are a clear sign that we are entering the new awaited season no matter what, even if slower than I really wish. At least it is sunny. I know that it could frankly be much worse all things considered, so I tell myself to be content with that much. Thank God that P. is feeling better than the previous days: we will be able to get some fresh air out.
"Make sure to bring a hat with you," I cry out loud for him to hear; he is listening to NPR in the bathroom upstairs with the water running too, an indication that he is far from being ready. What does take him so long I wonder, now fidgety and impatient to leave.
"On part après ou avant le déjeuner finalement ?" (Shall we leave before or after lunch after all?) I continue on.
"After, don't you think? We have a lot of leftovers to finish, non ?"
Actually we do, and I realize that I am hungry. Going to the beach on an empty stomach is not a good idea with me. I get grumpy and cannot focus on anything else but food.
We want to drive to Marblehead, a small seaside village only an hour north of Boston, have a stroll on the village's pebbled beach and check out a few spots by the water we like. I used to work in Marblehead; we even got married there, in a park by the seafront during a stormy and hot summer day — ah yes, I never told you this funny unusual story, did I? It is a pretty good one actually. I have to make a note for another time.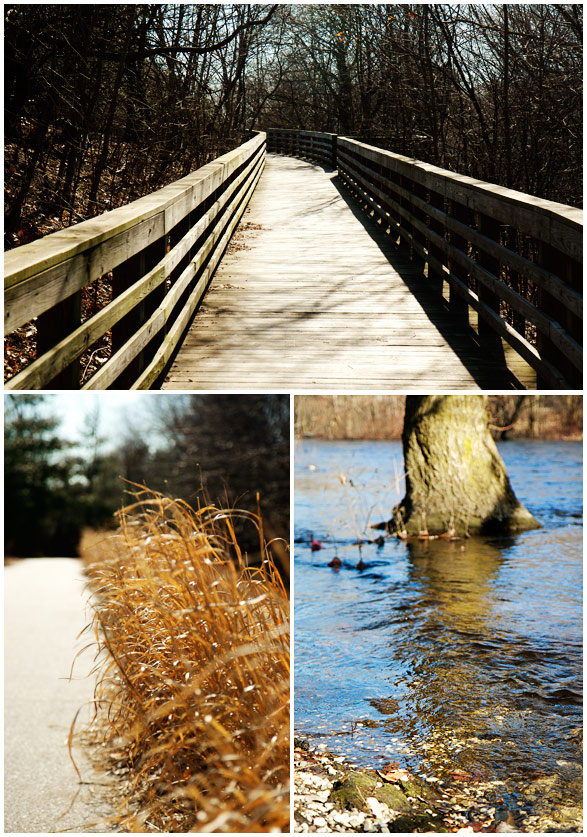 So we start with lunch. Since most of the food is already prepared, it takes only a few minutes to set up a nice table and sit down to eat. We have a sunchoke soup that I have cooked in the morning, leftovers of râpés de légumes prepared the night before, a piece of peppercorn smoked salmon and infallibly, I toss quickly a green salad to go with our meal. We sit back and relax, quite pleased to have our skin warmed up by the bright sunlight filling the house through the sheer curtains. If we hang out there for too long, I bet that we will soon prefer a nap and go nowhere.
"Let's go," I rush to say, scared that I am actually going to fall asleep.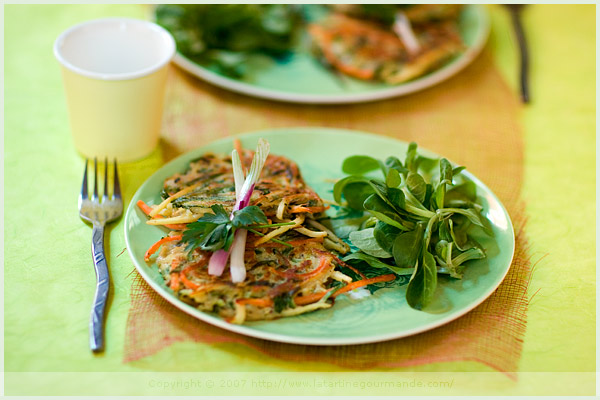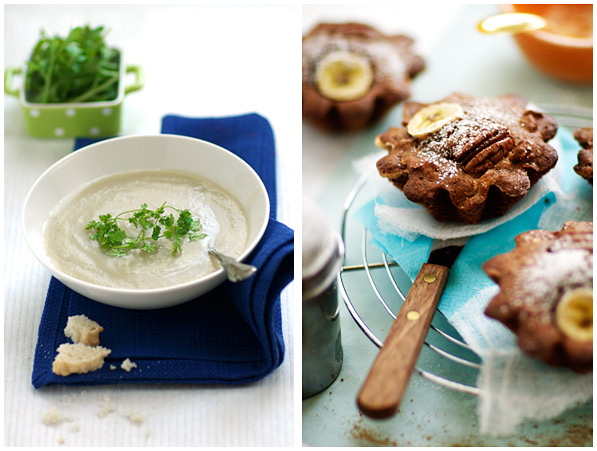 Râpés de légumes
Sunchoke Soup — Chocolate Olive Oil Teacakes
"What are those things?" P. asks looking towards the kitchen island behind me.
"Ca ?" I reply as I turn and point in the direction of the chocolate teacakes I've arranged on one of the cake stands. "I've baked them earlier this morning while I was also making our soup."
I know that they are going to come handy later in the day.
"That's our afternoon snack."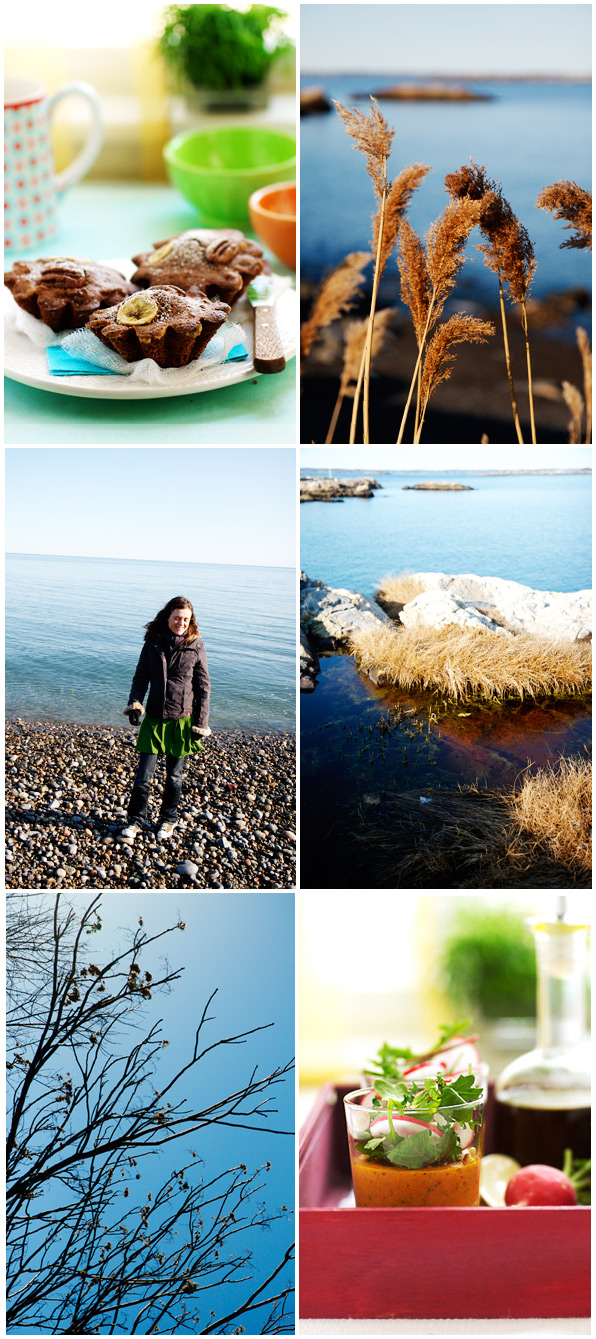 Chocolate, Banana and Pecan teacakes — Views from the beach
Carrot Hazelnut Flan with Radish
We set off and reach the beach that we find mostly empty. Most people are probably still inside spending time with their families. I cannot help but think about my family in France and P.'s in Ireland. I even joke that they are all probably having lamb, no matter the country.
After a walk on the rocks domineering the bay, we find a nice spot on a bench protected from the sea breeze. The sun feels warmer on our skin than earlier, even if we are now outside with our jackets on. We close our eyes for a minute and enjoy this peaceful moment. It feels quite a welcoming change from the busy pace we've had during the week. Three older ladies walk the path towards us; their loud conversation and their feet on the gravel disturb the serenity of the place. We sigh and decide to move away a little further.
"J'ai faim," I tell P. He laughs. I know he is too.
"Let's have our muffins."
The taste of the dark chocolate against the banana and pecans is unusual and nice with the olive oil. A bit peppery , probably because of the touch of amaranth flour I decide to add too. I have tried many versions of the same recipe: some baked with oil, others with butter, and I keep changing the flours to compare the flavors too.
"A bit more chocolate maybe? And less sweet?" I ask P.
"No, I like them like this. Perhaps a few cocoa nibs?"
They taste even better eaten in the open air as we enjoy the bounty of a generous day of whimsical March.
"I look forward to dinner," I add, laughing, with my mouth still full.
"Me too! P. exclaims. "What are we having for dinner? Lamb?"
"I should have bought some, shouldn't I? Well, no, not lamb. Veal. I am making veal roulades stuffed with pesto and apple with carrot hazelnut flans."
We drive home quietly. We've spent a simple but very good day.
"Oh, and we can watch one of our Planet Earth documentaries." They are our new favorite DVDs to watch.
I sense there will be room for dessert too. With a cup of tea.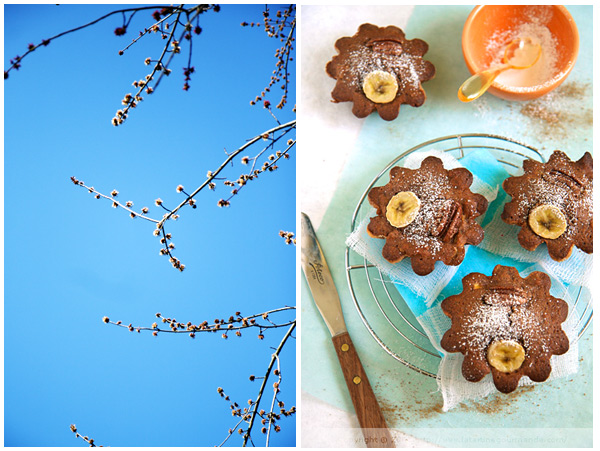 Chocolate, Hazelnut, Banana and Olive Oil Teacakes
(For 6 cakes)
You need:
1/2 cup (minus 2 Tbsp) blond cane sugar
1/2 cup olive oil
3 eggs
80 g dark chocolate, 70 % cocoa
3 Tbsp hazelnut flour
3 Tbsp quinoa flour
3 Tbsp amaranth flour
1/2 cup brown rice flour
1 tsp baking powder
Pinch of salt
1 banana, just ripe but not overly so
1/3 cup pecans, chopped coarsely
Steps:
Preheat your oven at 350 F. Grease 6 muffin molds; set aside.
Melt the chocolate in a double boiler; set aside.
In a large bowl, mix together the brown rice, hazelnut, amaranth and quinoa flours. Add the baking powder and salt; set aside.
In the bowl of a stand mixer, beat the olive oil with the sugar, then add the eggs, one by one, waiting that the previous one is well incorporated before adding the next.
Add the melted chocolate and mix well.
Reduce the speed to low and add the flour mixture.
Add the banana and pecans.
Divide the batter between the molds. Add extra pecan and banana slices, if you wish for decoration on top. Bake for 30 min, or until the blade of a knife inserted comes out dry. Let cool and unmold on rack. Enjoy whenever, and have as many as you want. They keep for a few days but are best eaten on the day.
Le coin français
Petits gâteaux au chocolat, banane et huile d'olive
(Pour 6 petits gâteaux)
Ingrédients :
80 g de sucre de canne blond
120 ml d'huile d'olive
3 oeufs
80 g de chocolat noir à 70 % de cacao
3 càs de poudre de noisettes
3 càs de farine de quinoa
3 càs de farine d'amaranth
80 g de farine de riz complet
1 càc de poudre à lever
Pincée de sel
1 banane, mûre mais pas de trop non plus
40 g de pécanes, hachées grossièrement
Étapes :
Préchauffez votre four à 180 C. Graissez 6 moules à muffin, ou des petits ramequins; mettez de côté.
Faites fondre le chocolat au bain-marie; mettez de côté.
Dans une jatte, mélangez les farines de riz, quinoa et amaranth, et ajoutez la poudre de noisettes, le sel et la poudre à lever. Mettez de côté.
Dans le bol d'un mixeur à pied, mélangez le sucre avec l'huile d'olive, puis ajoutez les oeufs un à un, en attendant que le précédent est bien incorporé avant d'ajouter le suivant.
Ajoutez le chocolat fondu et mélangez bien.
Réduisez la vitesse de votre batteur et ajoutez le mélange de farines.
Ajoutez la banane et les pécanes.
Divisez cette préparation entre les moules. Ajoutez une pécane et une tranche de banane sur chaque gâteau pour décorer si vous le souhaitez. Faites cuire pendant 30 min, ou jusqu'à ce que la lame d'un couteau insérée dans le gâteau en ressorte sèche. Laissez refroidir et démoulez sur grille. Dégustez quand vous le souhaitez. Les gâteaux se gardent quelques jours mais sont encore meilleurs mangés le jour même.