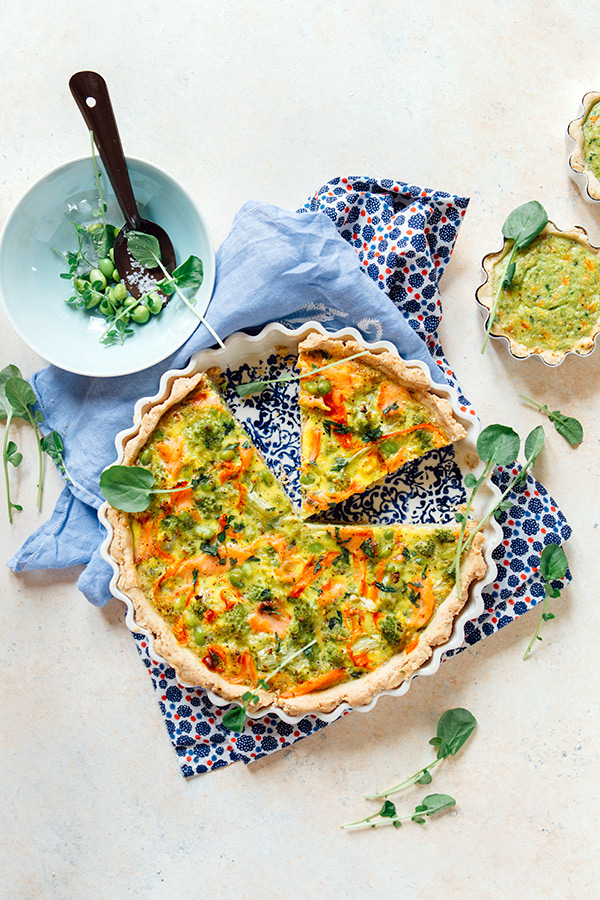 Romanesco, Edamame, Smoked Salmon and Comté Tart
A number of you inquired about this vegetable tart. So I am quickly stopping by this morning before Rémy wakes up to share the recipe. Right now, the drawer of my fridge is filled with heads of Romanesco because I am always aware of how short the season for this lovable vegetable is.
This is one of the reasons why I had the idea for this tart. Should you not be able to find Romanesco (irresistible….), I am sure cauliflower or broccoli would be great options too.
But eh, Romanesco really rocks!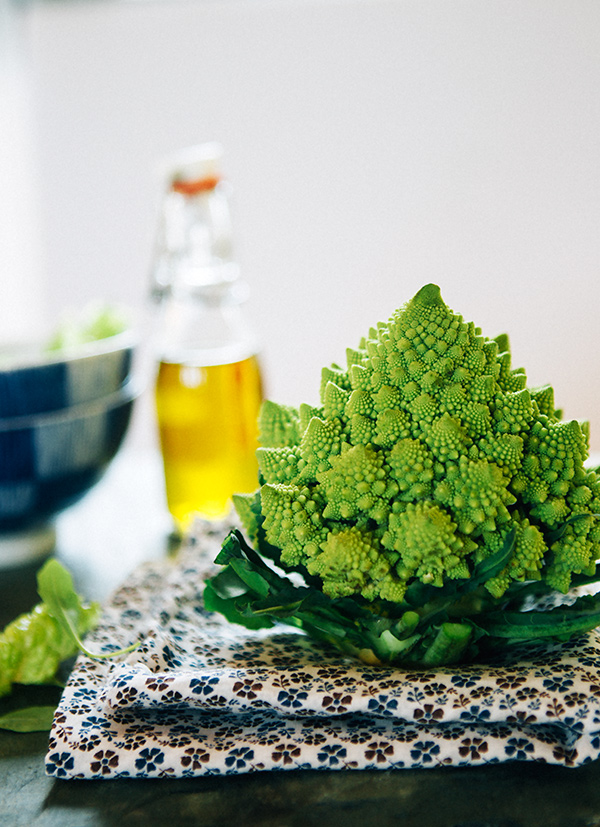 Romanesco, Edamame, Smoked Salmon and Comté Tart
Makes a 9-inch (23 cm) tart
You need:
1 batch of your favorite crust (mine is a recipe extracted from my new book
9 ounces (250 g) romanesco florets (1 head)
3 1/2 ounces (100 g) shelled edamame (fresh or frozen)
1 tablespoon olive oil
3 small carrots, peeled and shaved finely
1 garlic clove, finely minced
Sea salt and pepper
3 large eggs
1/4 cup (60 ml) heavy cream (or unsweetened coconut milk, or whole milk)
1 twig of oregano
1 tablespoon finely chopped parsley
2 ounces (60 g) Comté cheese, finely grated
1 ounce (30 g) hazelnut meal
1 slice of smoked salmon, shredded loosely
Red peppercorns, freshly ground
Steps:
Preheat the oven to 375 F (190 C) and roll the crust. Garnish your tart mold with it. Make small holes with a fork at the bottom; set aside in the fridge.
Blanch the romanesco for 4 minutes in salted water. Strain and keep on the side.
Blanch the edamame for 1 minute. Transfer to an ice water bath.
Heat 1 tablespoon olive oil in a frying pan and add the carrots. Cook for 1 minute and add the garlic, romanesco and edamame. Cook for 2 to 3 minutes. Season with salt and pepper.
In a bowl, beat the eggs with the heavy cream. Add the chopped herbs, Comté cheese, and hazelnut meal.
Pour the egg batter over the crust and arrange the vegetables on top.
Add the smoked salmon and a dash of red peppercorns.
Bake the tart for 40 to 45 minutes, or until lightly golden on top. Remove from the oven and let cool for 5 minutes before slicing. Serve with a side salad.

Note: If you have leftovers crust and prepared vegetables (I did), purée together romanesco with carrots, and add chopped parsley and grated cheese. Add 1 beaten egg and 2 tablespoons heavy cream. Use this batter as the topping for tartlets (enough for 3 or 4, depending on mold size) to be enjoyed by children. Lulu and Rémy loved these….OR make a larger tart, like an 11-inch (28 cm) tart.