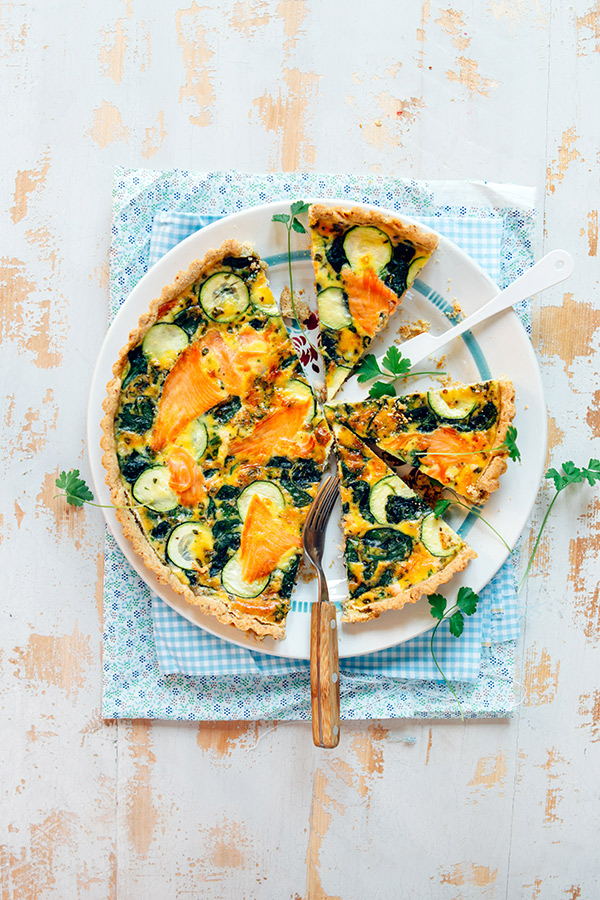 Smoked Salmon, Spinach, and Zucchini Tart
A good week always includes a vegetable tart for lunch or dinner.
I am deeply attached to vegetable tarts. Tarts in general. Vous ? Undoubtedly, they keep me strongly connected to home and my French roots, my mother's kitchen and casual meals shared with friends–they are extremely popular on the dining room table in my family, and amongst my French peers. Vegetarian or not, hearty to feed an appetite or light to satisfy a nibble; I like to invent them with whatever each passing season offers–You've probably noticed this if you own a copy of my first book. And if you are curious to know, I keep many more new tart recipes (savory and sweet too) for you in the second.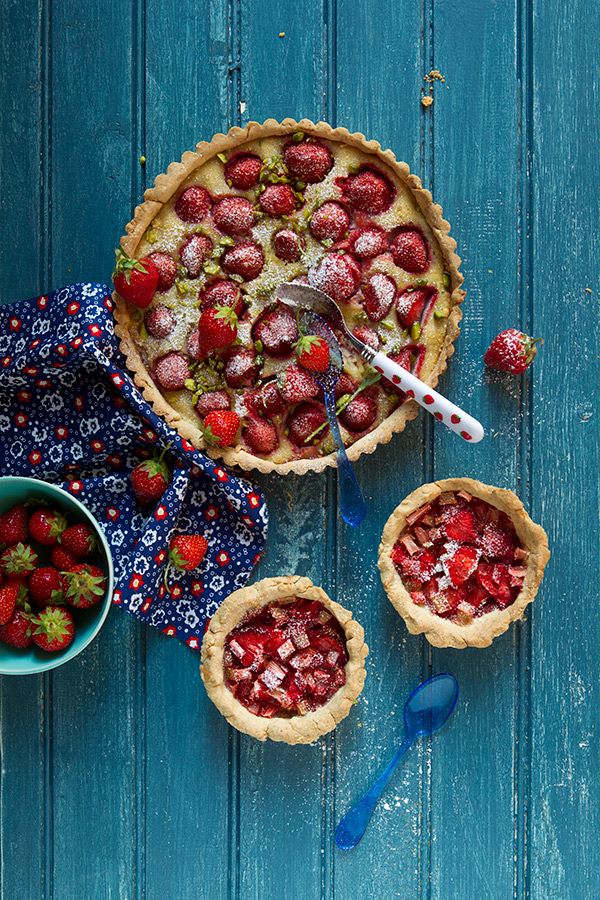 Lulu is fond of them too. In fact, a vegetable tart is one of the favorite dishes that she and I like to create together. While I often make mine family style by choosing a large tart mold, Lulu prefers to shape hers individual in size, perfect–and cuter–for her smaller hands to grab.
Many decades ago, I imagined that perhaps one day I'd run a small restaurant where people would gather to enjoy some of my inspired tarts. But as I slowly quit the idea and put my energy elsewhere (very glad I did), I still continue to dream tart recipes to share. So that now instead, I prefer to cook vegetable tarts for us, and for our friends when they happen to stop by and that's what we are having for dinner.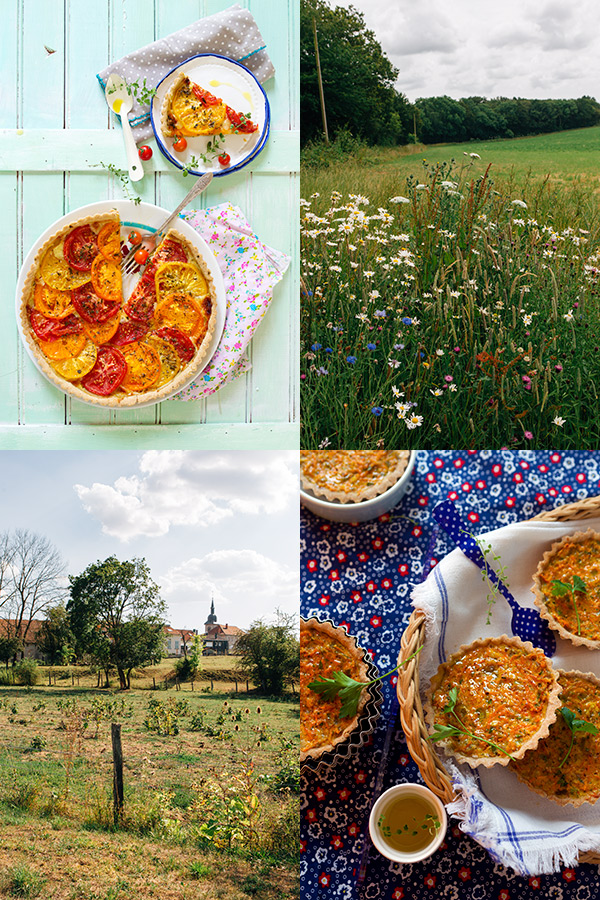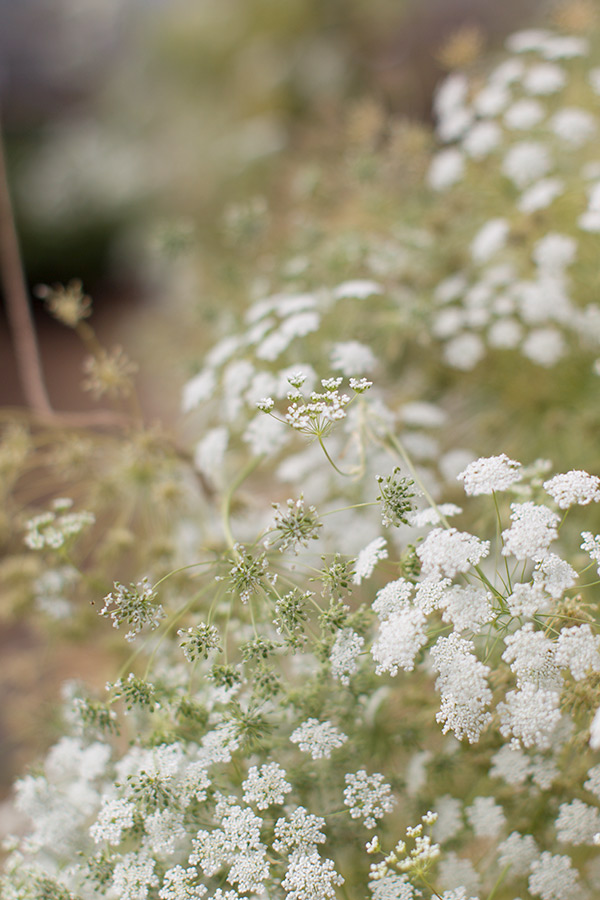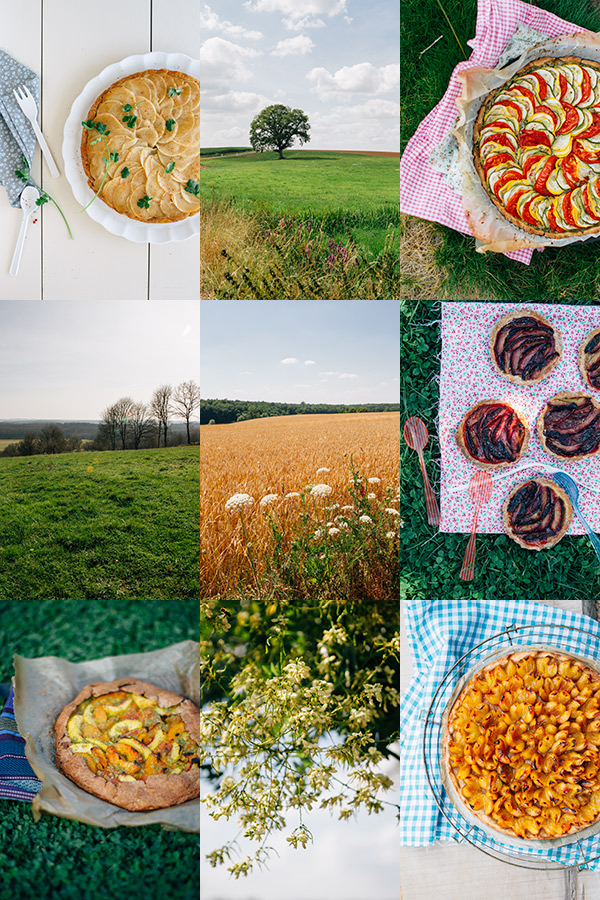 Making tarts in the French countryside
Some of my tart recipes are well planned and others are improvised. Which is the case of this one as I was somehow craving spinach and smoked salmon the day I cooked it–and handily, as is often the case, I had made a batch of dough in the morning. Au cas où (just in case)…
Alors voilà !
I like to think about this tart as a cross between ocean and land, a beloved theme in my cooking, bringing together ingredients I often use to make simple and quick lunches. The tart does not require a lot of time to prepare once the dough for the crust is prepared. Use your favorite herbs, as I imagine it will welcome many different ones. I happen to grow oregano, thyme, and parsley in small containers at home right now, so that's what I used. The flavors in the tart are mellow–which is exactly what I was after that day. Serve it as I did with a salad with more punch on the side, like a bowl of grated celeriac or beets with a mustardy dressing.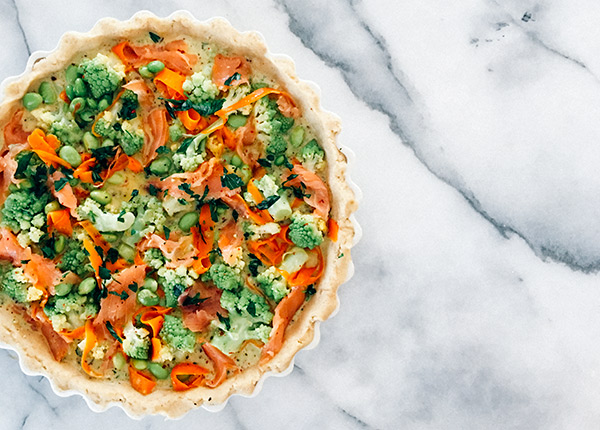 Romanesco, Edamame, Smoked Salmon and Comté Tart
And because a tart always prompts a second, I was inspired to make a variant the following week, using this time greens like Romanesco and edamame. The result was scrumptious; and the tartlets perfect finger food for Rémy to eat for lunch.
Curious to know whether your children will enjoy as much as mine did.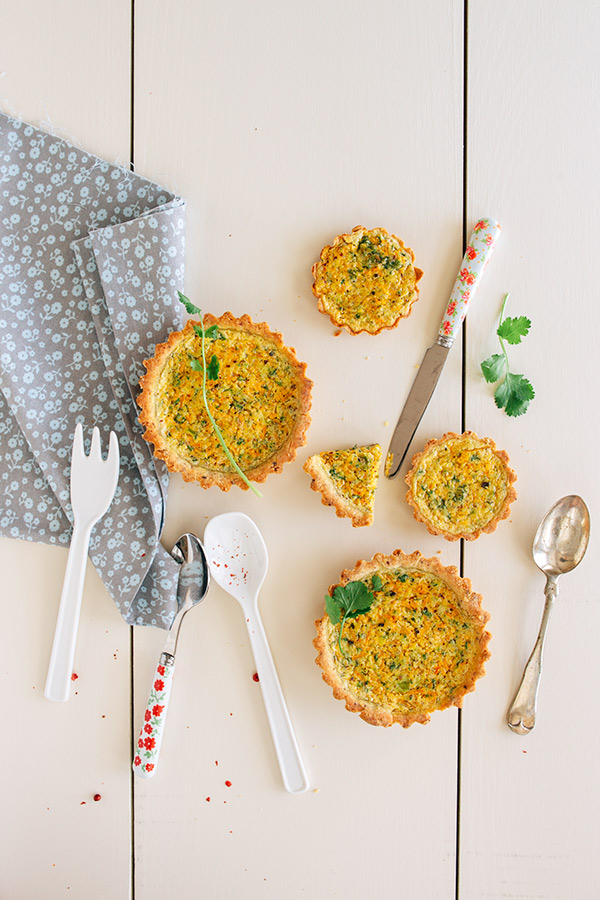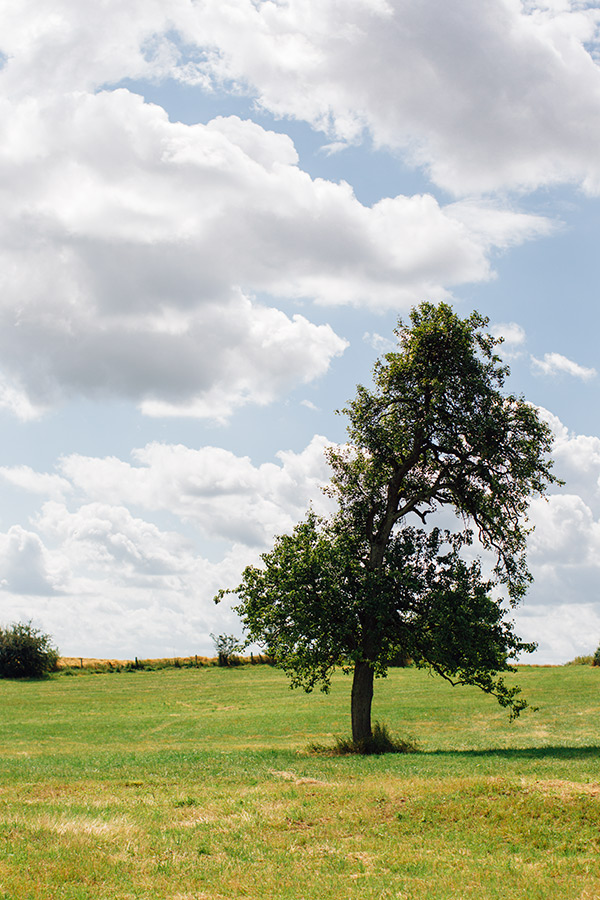 I am curious to know which tasteful tart next week will bring….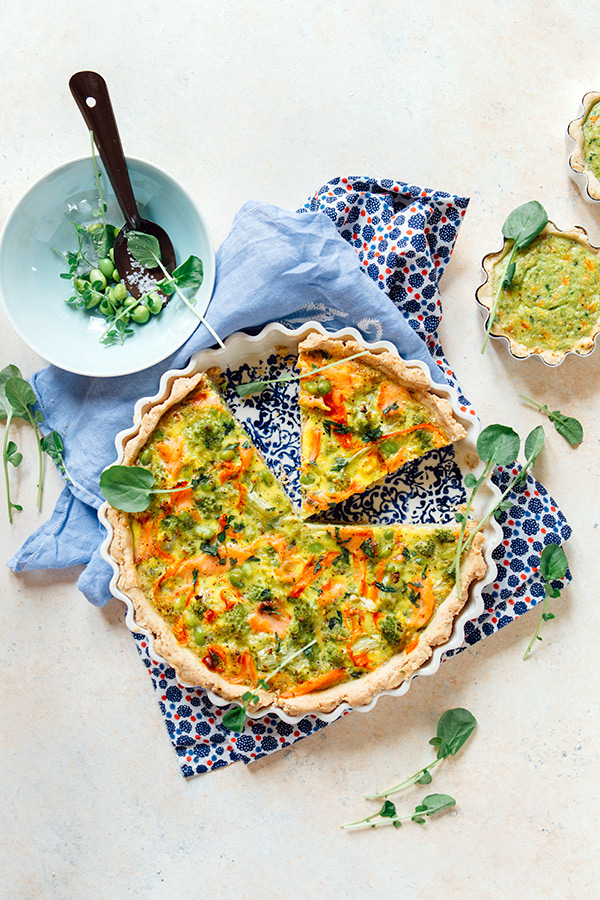 Romanesco, Edamame, Smoked Salmon and Comté Tart
Smoked Salmon, Spinach, and Zucchini Tart
Makes an 11-inch (28 cm) tart
You need:
Pâte brisée (Tart dough) of your choice (mine is a new crust recipe from the new book); use this recipe for reference if you don't have a favorite
3 1/2 ounces (100 g) spinach leaves
4 large eggs
1/4 cup (60 ml) heavy cream
1 teaspoon finely chopped tarragon
1 teaspoon finely chopped thyme
Sea salt and pepper
7 ounces (200 g) smoked salmon
3 1/2 ounces (100 g) zucchini, finely sliced
1/2 tablespoon finely chopped parsley
Steps:
Preheat the oven to 375 F (190 C) and garnish a mold with the crust. Make small holes at the bottom and place in the fridge while you prepare the topping.
Blanch the spinach in salted water for 1 minute. Drain and set aside.
In a bowl, beat the eggs with the heavy cream and fresh herbs. Season with salt and pepper to taste (remember the smoked salmon will bring some salt).
Add 3/4 of the smoked salmon at the bottom of the tart.
Arrange the slices of zucchini and spinach on top.
Pour the egg batter over and add the rest of the smoked salmon (it's nice when its color peaks through the flan).
Add chopped parsley and bake the tart for 40 minutes. Remove and let cool for a few minutes before slicing. Serve with a generous salad on the side.