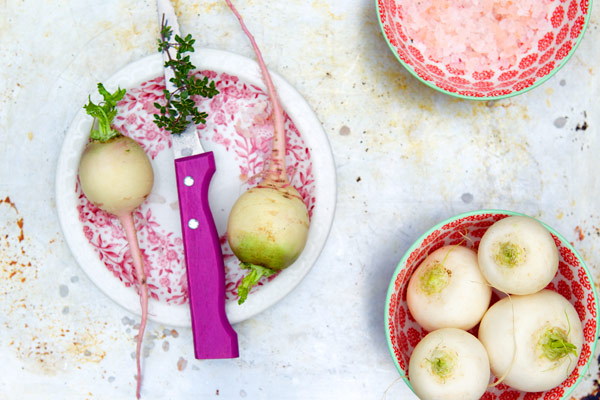 Most of you will be cooking today, and tomorrow too. Turkey, stuffing, cranberry sauce and root vegetables of all kinds.
Nous?
Not much on that front: We are in the middle of our house move.
But I am thankful for our great friends R. and E.–R. is a great cook–who invited us over for dinner tomorrow, so that all we will have to do is sit down and enjoy someone's else cooking.
It always tastes better anyway.
We are lucky. To have food, lodging and loving people around us. Unlike so many around the world. I confess that I always feel reflective, sad and awkward at this time of year. So I will remain quiet, but so thankful for what I have: the most adorable happy daughter and husband, caring families, a great place and country to live in, my blog and you all, and the luck to be able to do what I love for a living.
Happy holiday to all of you. I hope it is full of love, family and friends gatherings–and delicious meaningful food too.
This pear, apple and chocolate crumble is a humble dessert, and it is most likely what I will be making, again, tomorrow.
Perhaps not traditional, but it has a strong meaning for us–beside offering sweet melt-in-the mouth pear and apple sliced covered with melting chocolate.
Actually, I am just finishing one of the desserts as I am typing and Lulu is asleep upstairs in our new home while P. runs last minute errands.
Another warm crumble is waiting for him on the counter top, when he returns. He'd better hurry!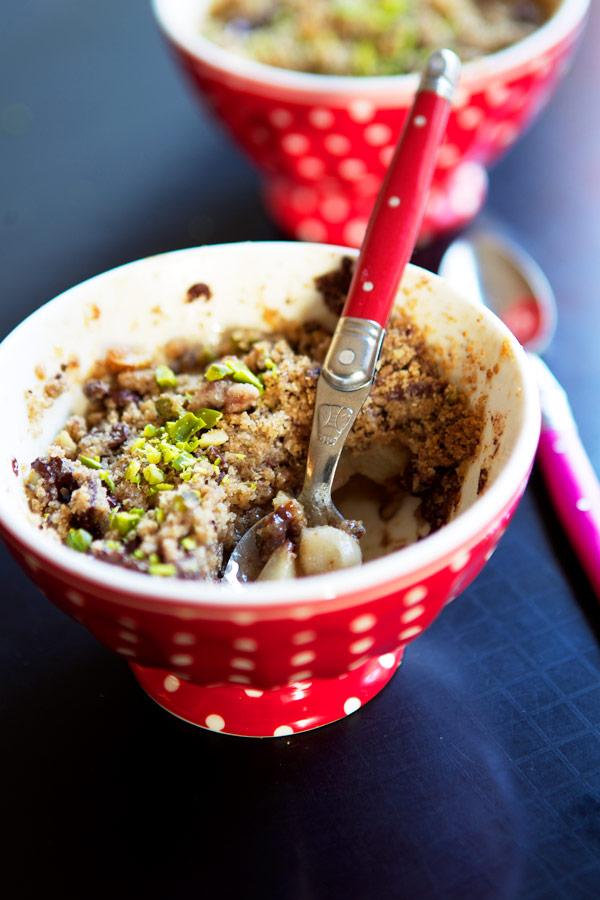 Pear, apple and chocolate crumble
Pear, apple and chocolate crumble with pecans and pistachios
(For 6 people, served in individual one-cup bowls)
You need:
For the crumble:
3/4 cup quinoa flour (or millet flour)*
1/4 cup teff flour*
1/4 cup quick cooking oats
3 oz (85 g) dark chocolate. 70 % cocoa (I used Valrhona)
1/4 cup (40 g) pecans, chopped coarsely
1/4 cup (40 g) unsalted shelled green pistachios
Pinch of coarse sea salt
1/4 cup (50 g) blond cane sugar
1/4 cup (50 g) light Muscovado sugar
7 tablespoons unsalted butter, cold and diced
*Alternatively, use all-purpose flour
For the fruit:
4 Bosc pears, peeled, cored and sliced finely (choose ripe)
3 apples, peeled, cored and sliced finely (I used Honeycrisp)
2 tablespoons pure vanilla extract
2 tablespoons blond cane sugar
Steps:
Butter the bowls and set aside. Preheat the oven to 375 F.
In a large bowl, toss the fruit with the sugar and vanilla. Divide between the bowls; set aside.
In another bowl, combine the dry ingredients (flours, oats, sugar, chocolate, salt and nuts). Add the butter and work until crumbles form.
Arrange the crumble topping on top of the fruit and bake the crumbles for 35 to 40 minutes, or until the top is golden and the fruit is bubbling. Eat lukewarm (with cream or yogurt on the side. Or even vanilla ice cream, if you like that combination).