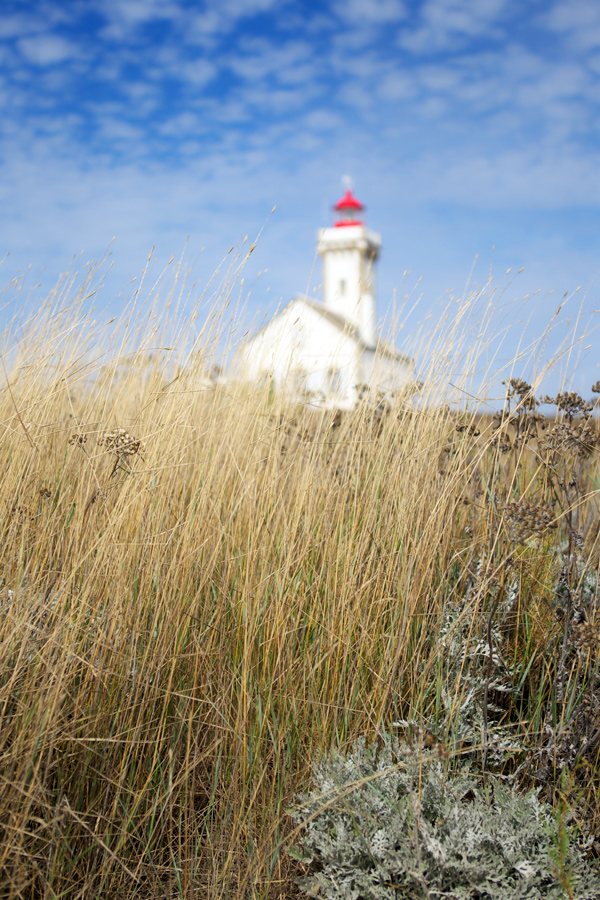 "Belle-Île en mer, la Bien Nommée. Je rêvais de te visiter depuis déjà tant d'années…alors voilà, c'est maintenant chose fait.
Je peux te le dire par avance, c'est sûr, on reviendra. Même dès l'année prochaine, si on a de la chance…"
"
Belle-Île en mer, the Well Named
. I had been dreaming of visiting you for so long….it's now a thing done.
I can already tell you that we will be coming back. As soon as next year even, if we are lucky…"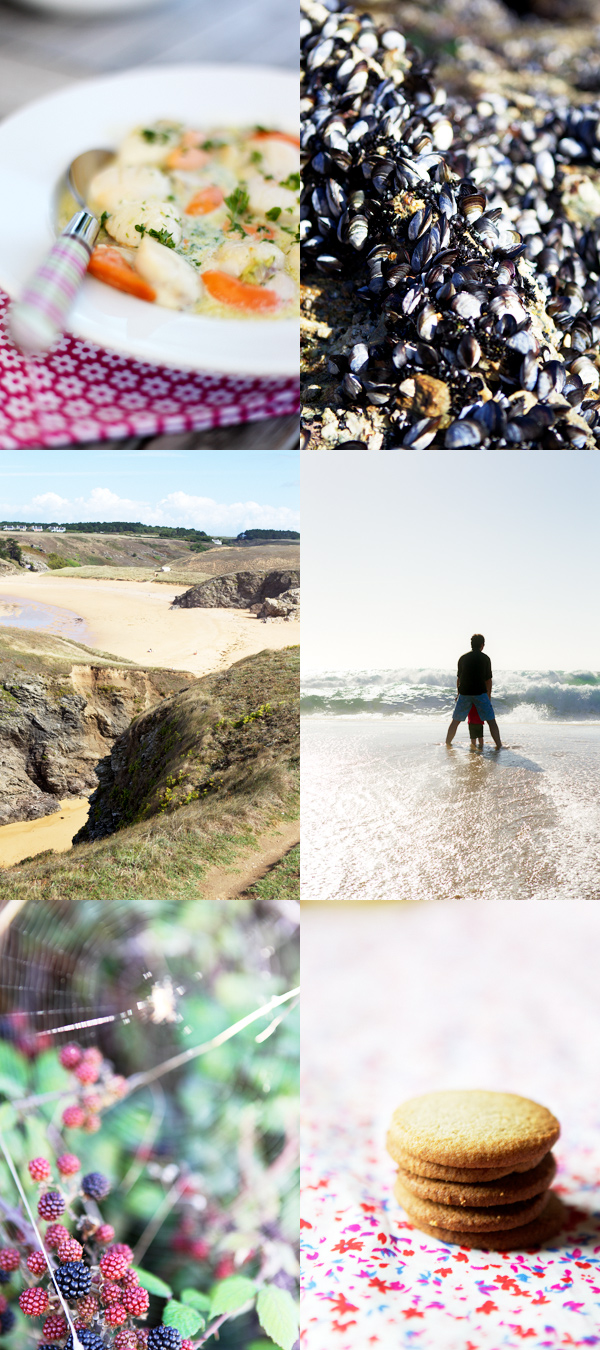 Scallops stew–Views of gorgeous beaches–Galettes fines de Belle-Île en mer (Buckwheat cookies)
There was so much to discover on the island. There was so much beauty to love. We had two long weeks to embrace it all.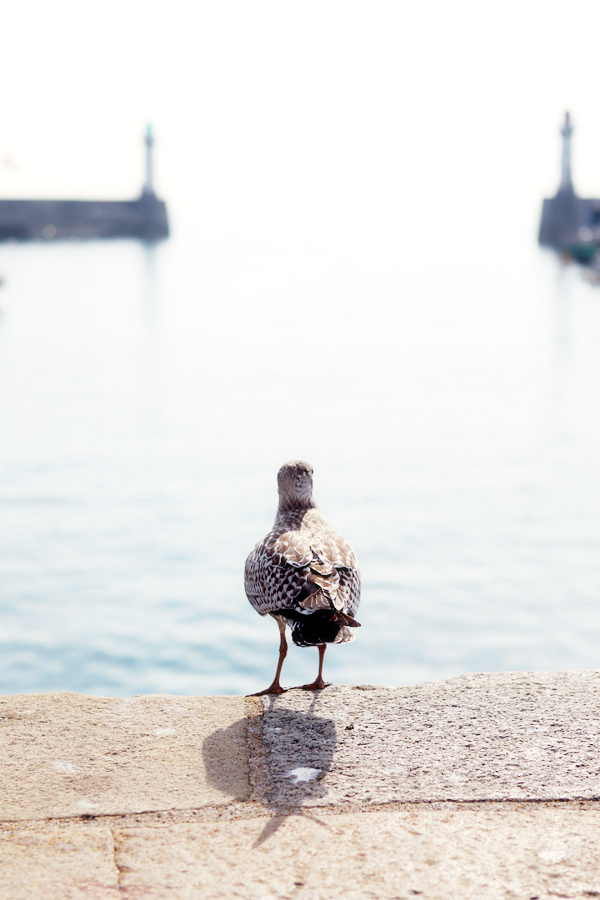 "Regarde le gros bateau !" (Look at the big boat!) I told Lulu as I was holding her hand while pointing at the ferry that was entering the harbor in Le Palais, the largest town on the island. She was standing straight. Not moving. She was staring at the tall white boat that was slowly making its way through the calm waters of the harbor, with its passengers looking minuscule from a distance. She was waiting for her papa. He was coming to meet us for the rest of our stay on the island.
Surely, if she had known the words, she would have told him about what she had already seen after a week: beautiful beaches where she liked to run in tidal puddles; wild black currants that grew wild everywhere and that made me wish I could have made jam; the small brown dog that visited the house every time we ate dinner on the patio; the red cat that liked to laze on the roof of an old Peugeot to enjoy the warmth of the late summer sun; the fresh baguette and sablé breton mamie and papie sneaked into her hand each morning on the way back from the market. She had got used to all these things. And I know she wanted to share them with him. But instead, she gave him a generous kiss on the face.
A happy smile.
Shared hugs.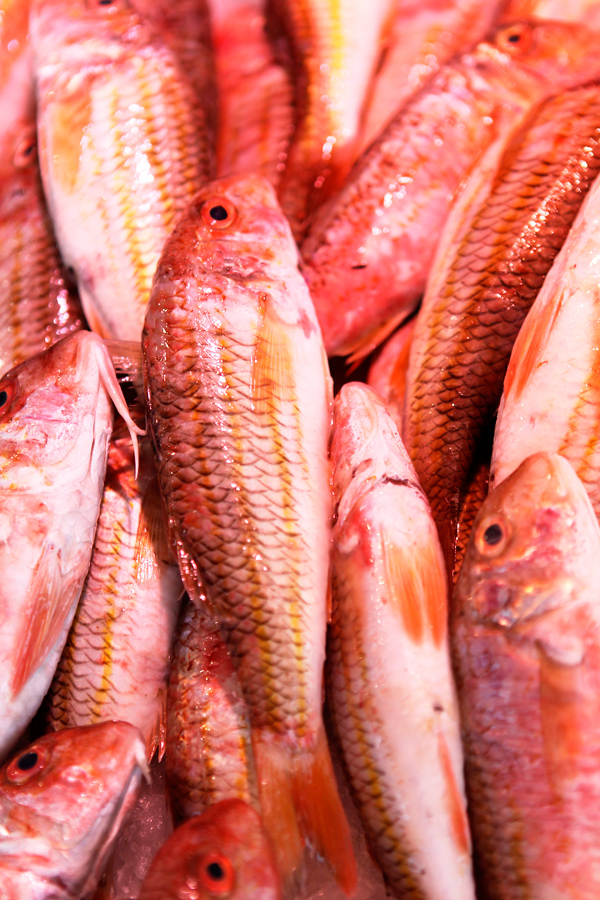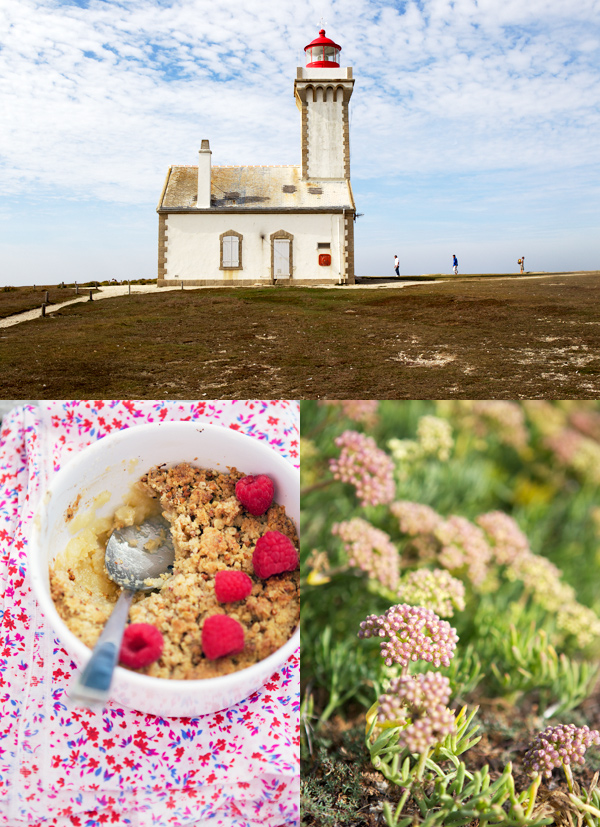 Lighthouse at La Pointe de Poulains–Apple crumble
I grew up with the dream that one day, I would visit Belle-Île en mer, one of the picturesque islands located off the west coast of France. Probably because the west coast is my favorite French coastline by far; because Brittany makes me love the feeling of wearing Wellington boots and a raincoat on the beach; and because I am always hungry for galettes, savory crêpes made with blé noir (buckwheat) traditional of the area.
There was plenty more.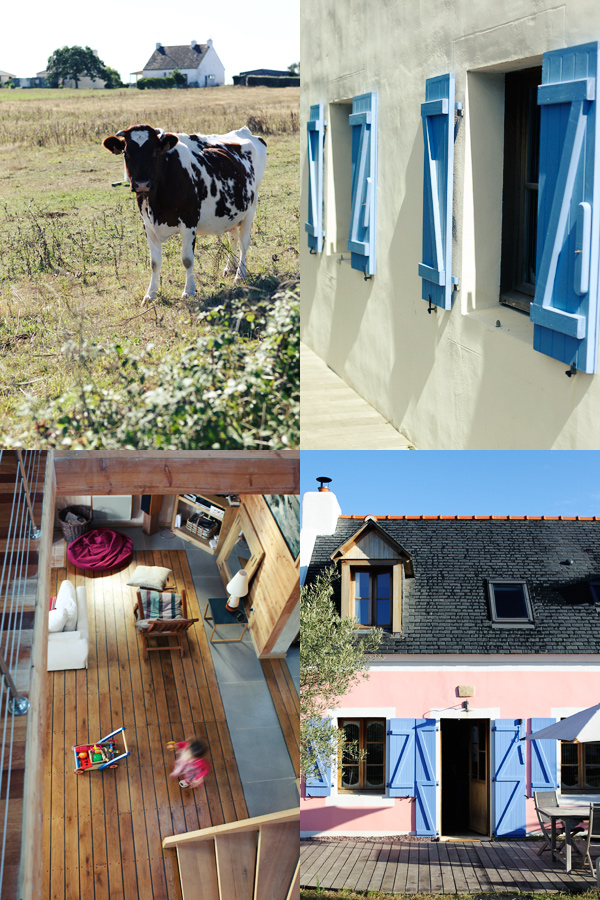 I told P. that the island looked like Ireland. Locals told us so too. I found the vegetation reminiscent of places I had visited in New Zealand and on the coast of New England as well. After all, there was a time when those two places only formed one.
I knew P. was going to fall in love with Belle-Île en mer as much as I did.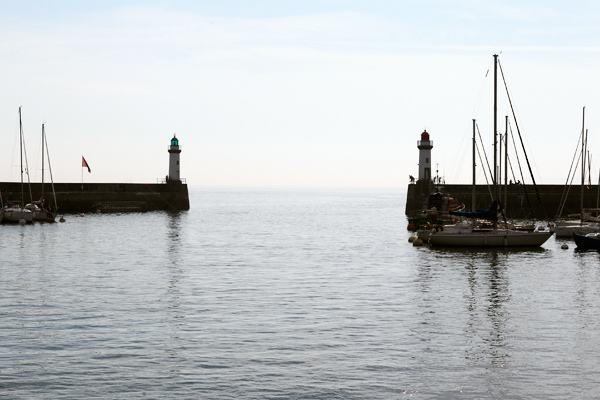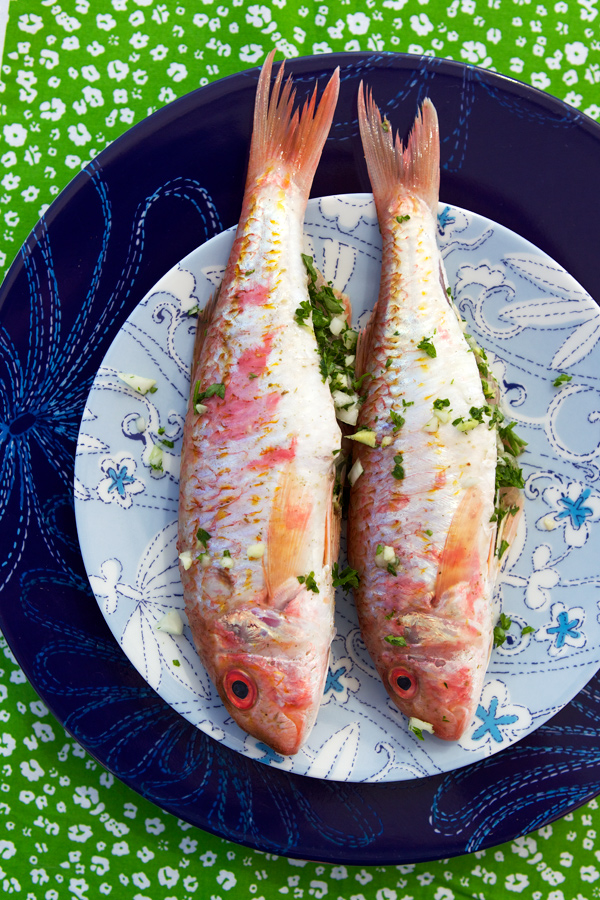 Rougets grillés (Grilled mullets)
Quickly, we developed a pleasant routine, one I loved getting used to. In the mornings, we enjoyed coastal walks and walked to the market; we cooked simple homemade foods; we napped with Lulu and played in the water and sand with her. It was really easy to soak in the casual island lifestyle, and the details that give charm to the place.
There was the magnificent Plage de Donnant with its gigantic impressive cliffs, dangerous surf and extreme tides; and not far, the picturesque beaches of Herlin and Baluden. We knew that Lulu would find her sandbox minuscule forever after playing there.
I made friends with the cute brown and white cows that looked tranquil and undisturbed, no matter what seemed to happen around them.
We ate far breton made with local milk. I cooked apple crumbles and baked flognardes aux pommes (apple clafoutis) prepared with Reinette apples from the region. Everywhere across the region of Brittany, apple juice and cider are widely produced.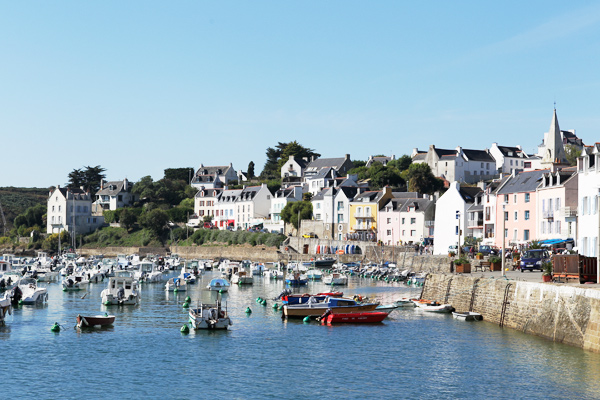 View of the harbor in Sauzon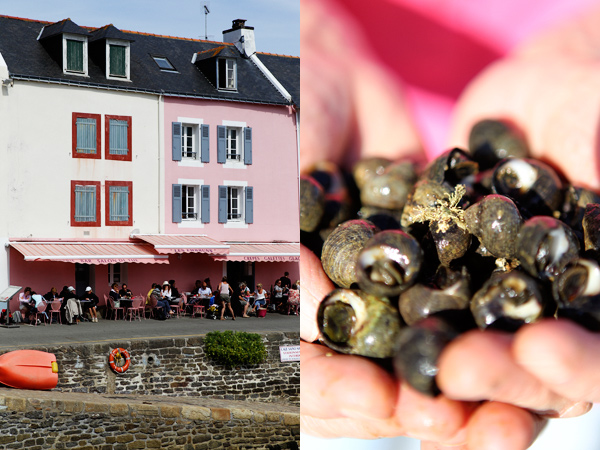 Les Embruns in Sauzon–Bulots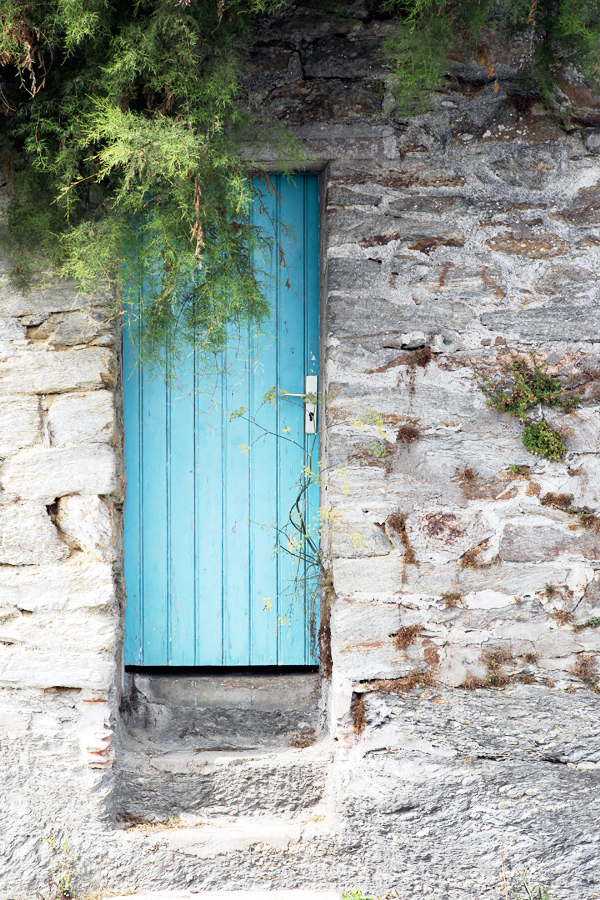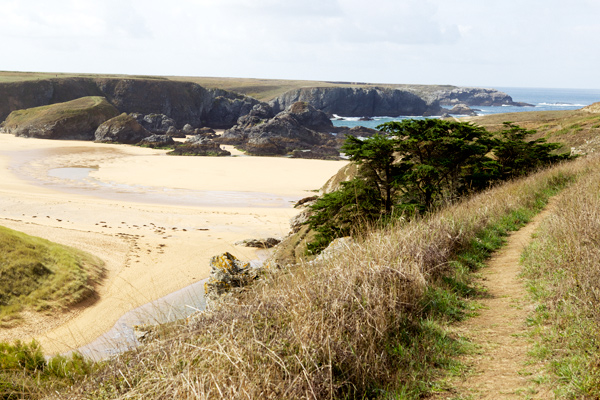 Every day, our lunch or dinner menu included fresh fish purchased at the morning market held on the town square. I discovered pouce-pieds (thumb-foot), a strange-looking shellfish that lives in agitated waters near rocks. And I could not get enough of langoustines (scampi) and scallops with its pretty-colored orange coral–which I am never able to find in the States. One night, I made a langoustine, pea and watercress risotto for dinner. And a langoustine and fennel salad. Another night, we enjoyed a dish of sauteed scallops stewed in a coconut and lime broth with flavors of coriander, ginger and garlic. We found ourselves quickly addicted to this daily taste of incredible seafood.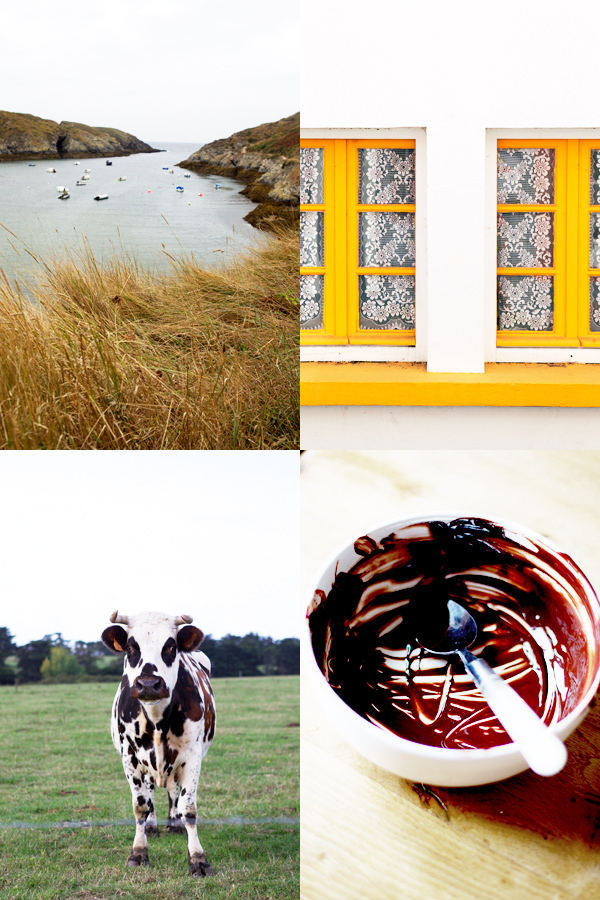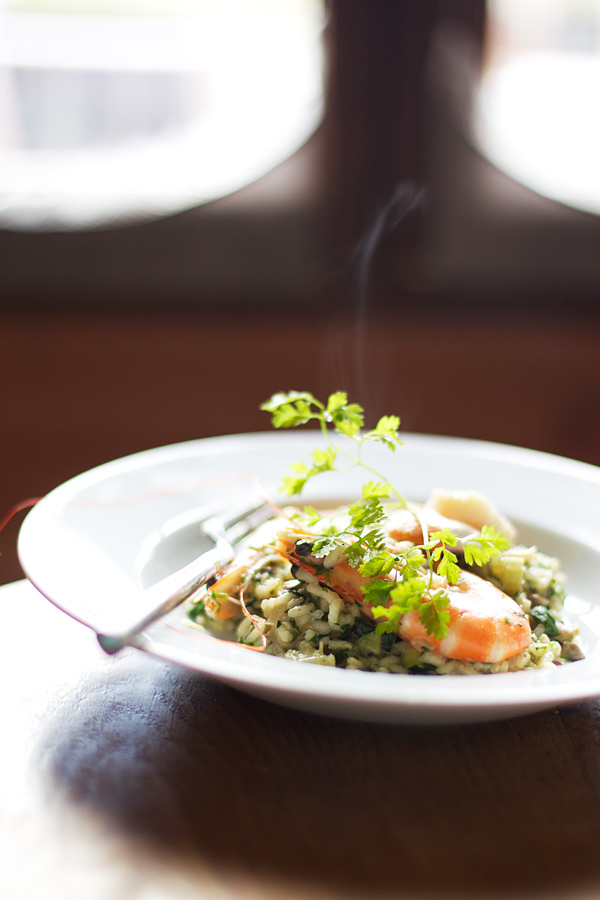 Langoustine, pea and watercress risotto
There was also the scrumptious fromages de chèvre de Sauzon (fresh soft goat cheese) I bought in numbers. They brought childhood memories of Heidi, the TV series I never missed when I was only nine. I was secretly dreaming of living Heidi's life in the mountains and eat fromage de chèvre with her grand-papa the way she did.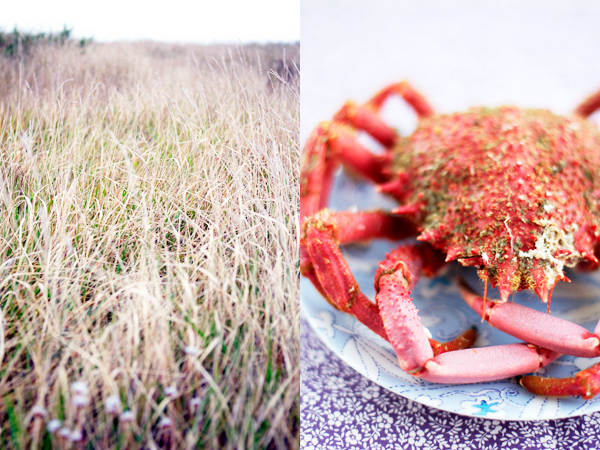 Araignée de mer (Spider crab)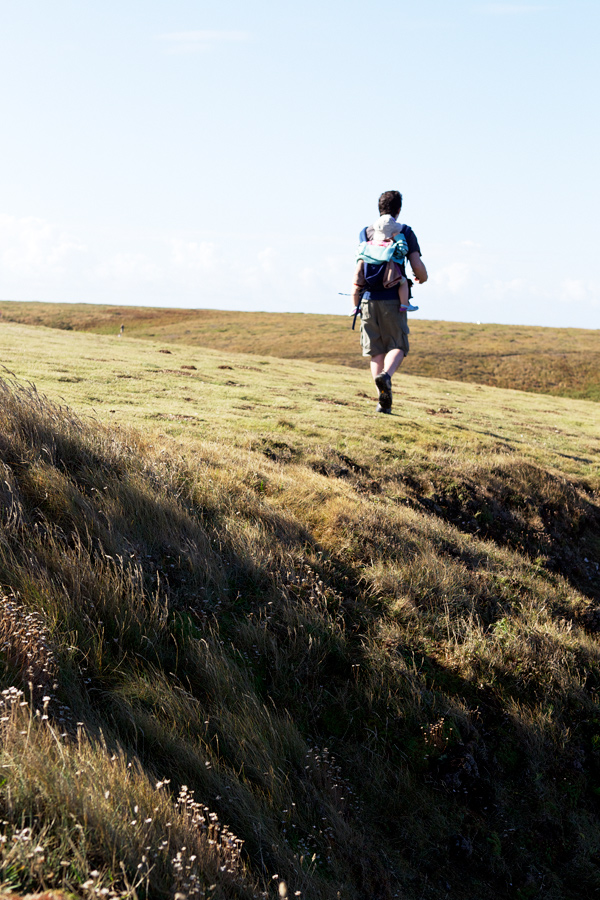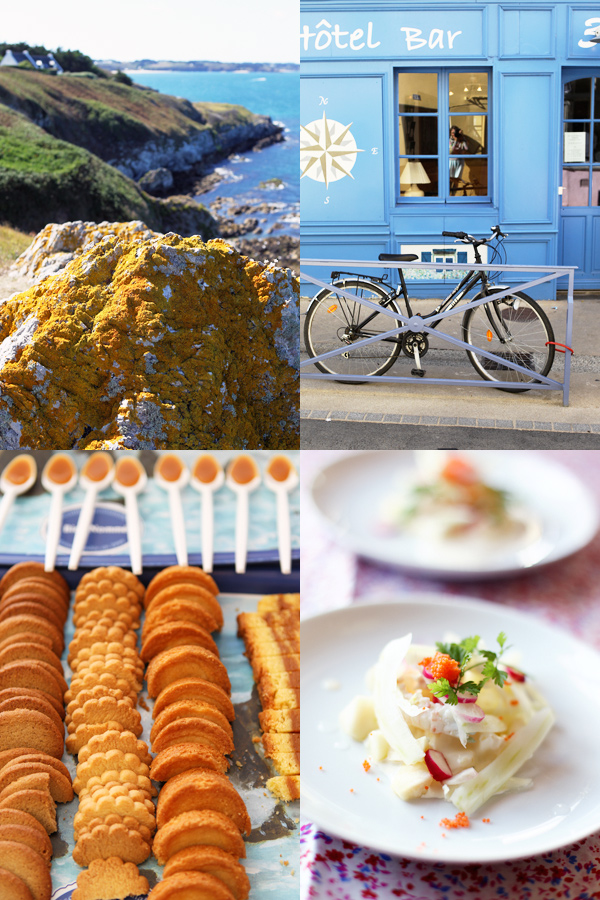 Fennel and langoustine salad
Most days were sunny and mild. We visited the beautiful sites of Port Coton and La Pointe des Poulains, stopping at Chez Renée's on the way back for a galette. Theirs were thin and crispy, with a wide range of delicious stuffing no matter what we choose. One day, I had mine stuffed with scallops, crème fraiche and leeks. The next time I chose fromage de chèvre and honey while P.'s had andouille and Lulu preferred a galette complète (a galette with a stuffing made of ham, cheese and egg). By far, these galettes were the best we ate on the island.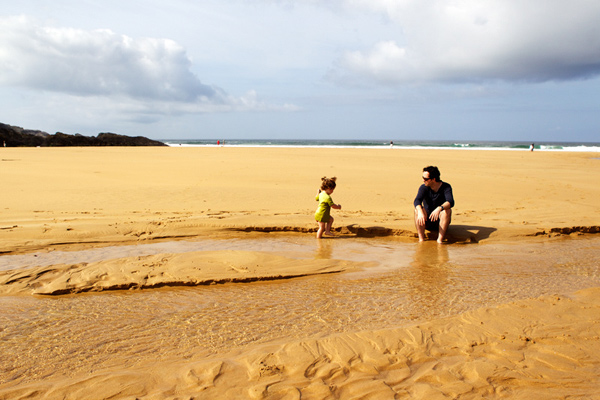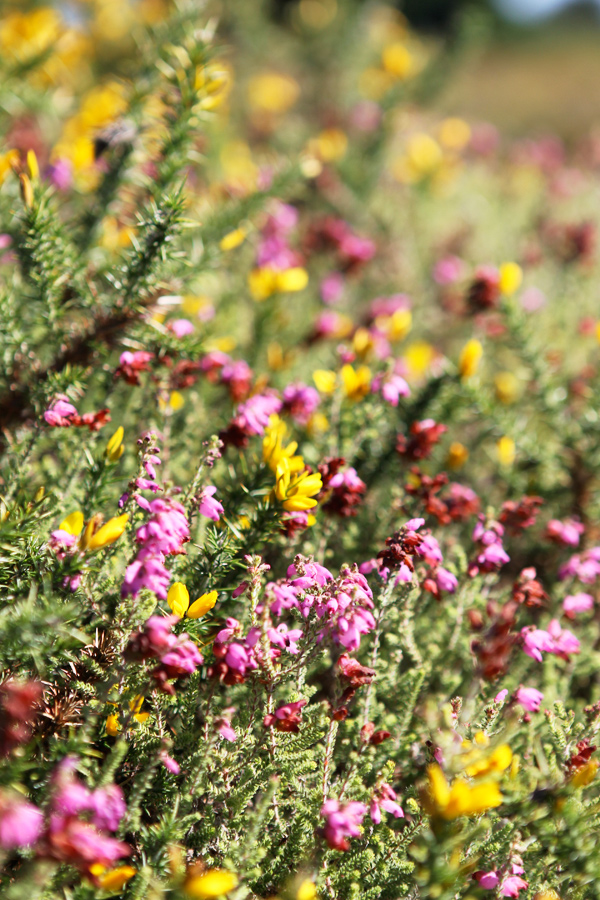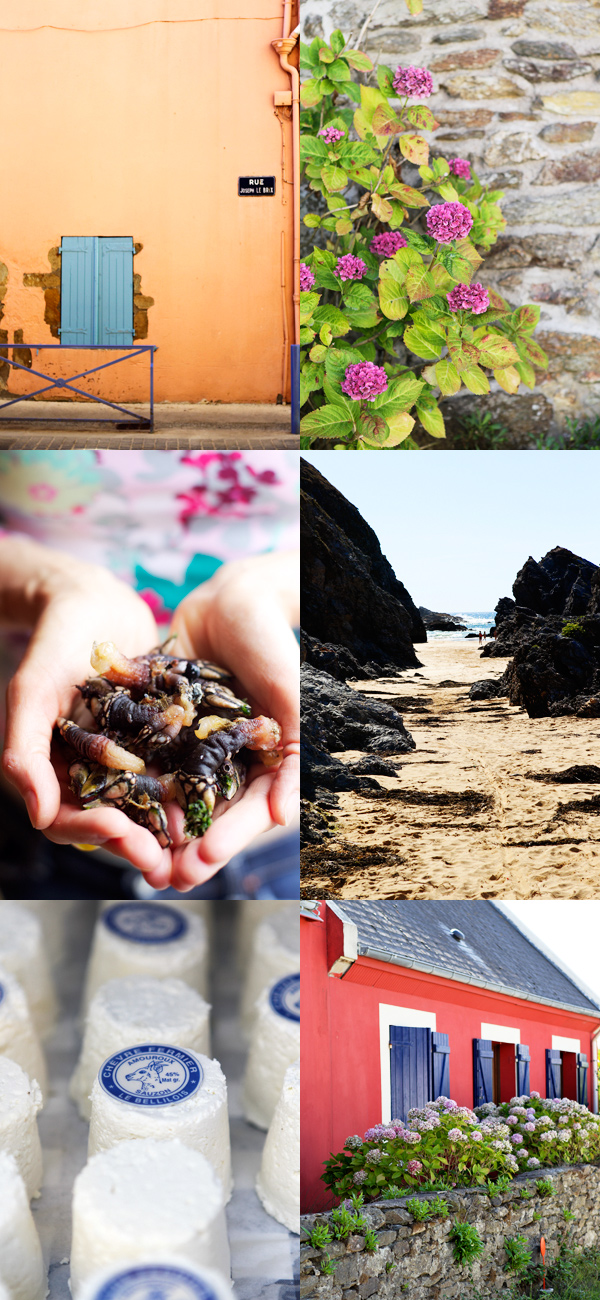 Pouce-Pieds–Plage de Donnant–Fromage de chèvre de Sauzon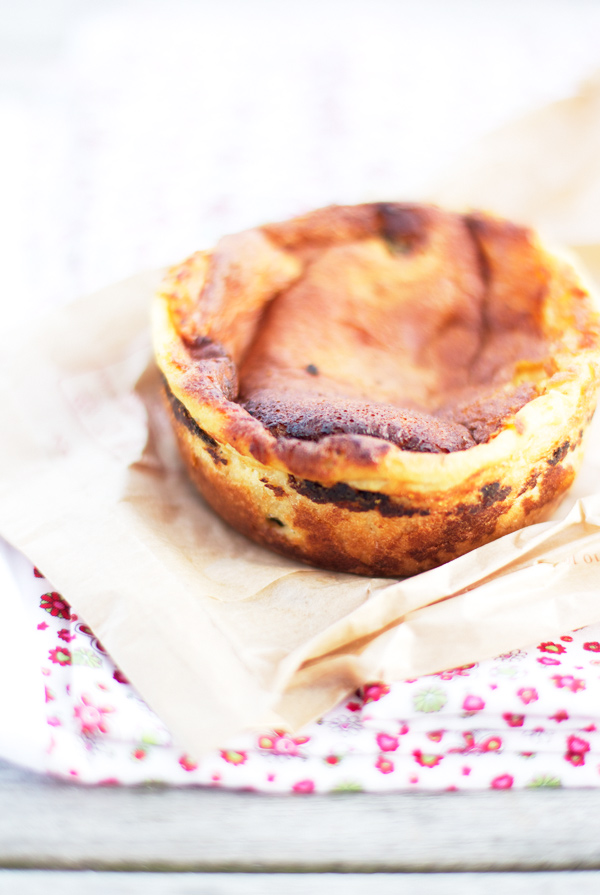 Far breton
There were also the houses with their cheery colored shutters and attractive hortensias in front; The sardine cannery. The crème de caramel au beurre salé (caramel cream made with salted butter) or with chocolate. Spider crabs. The agneau de Belle-Île (lamb raised on the island) with its delicate taste, which we enjoyed inside an eggplant crumble one night for dinner.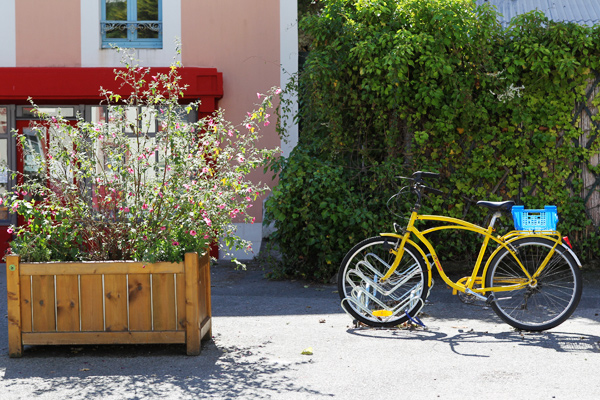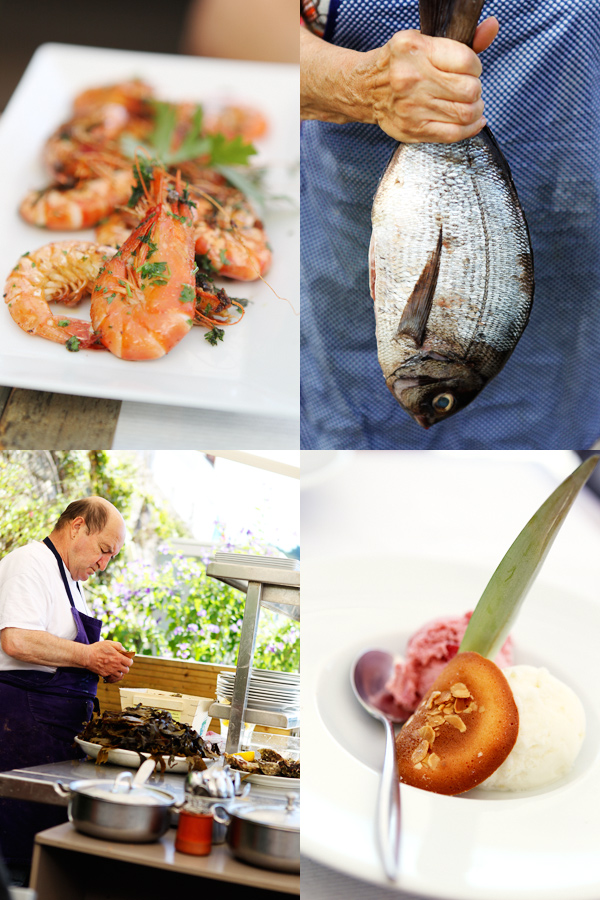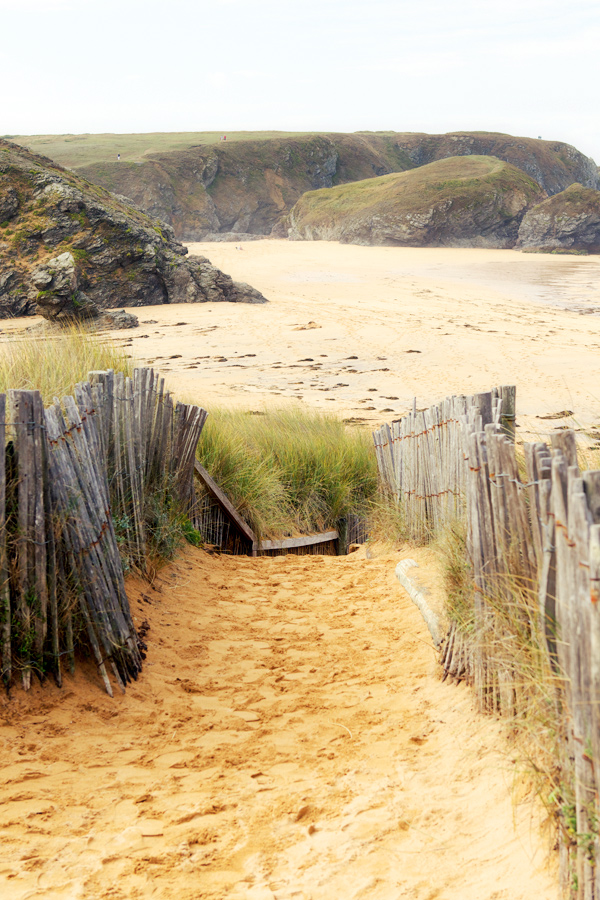 Belle-Île en mer was all of that: A short forty five minute ferry ride between Quiberon and Le Palais; an island 18 kilomers long and 9 kilometers wide with a charming rural character and a peaceful atmosphere; an amazing Indian summer by late August early September; a place special to Claude Monet, Arletty and Sarah Bernhardt; bike paths to tour the island, from beach to beach; fig trees; broom; delicious local foods; coastal walks that allowed to get wonderful views of the island.
After Tortola, it was also Lulu's first vacation at the beach in France.
Unique and special.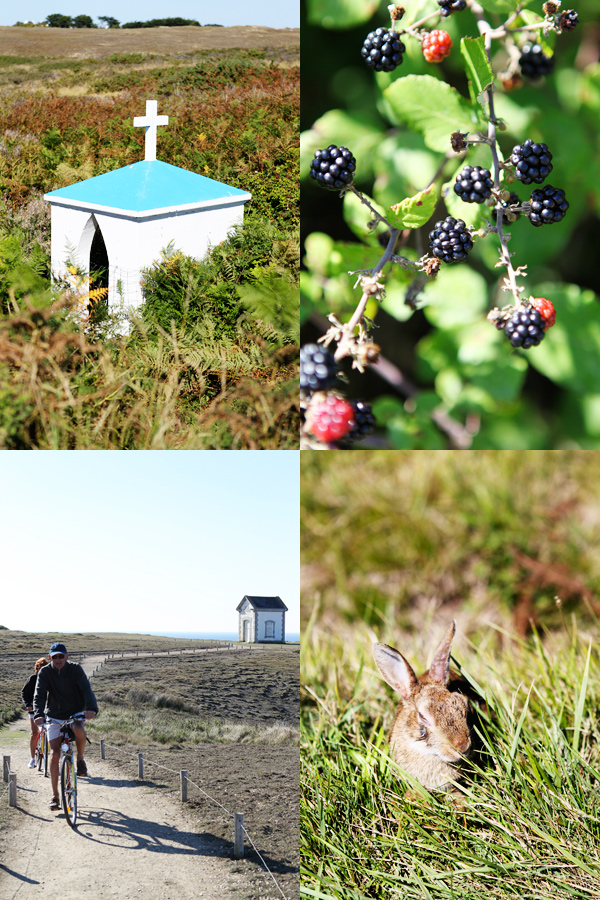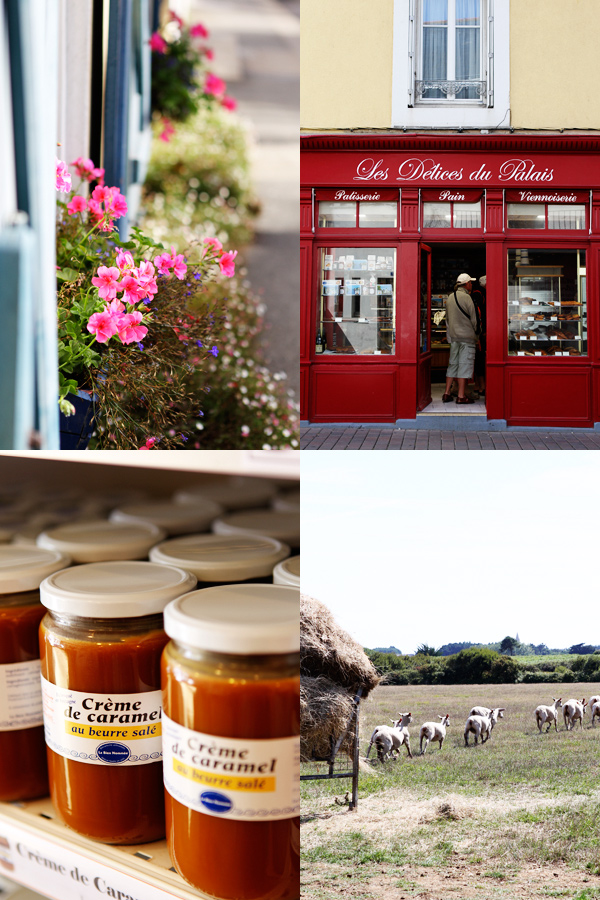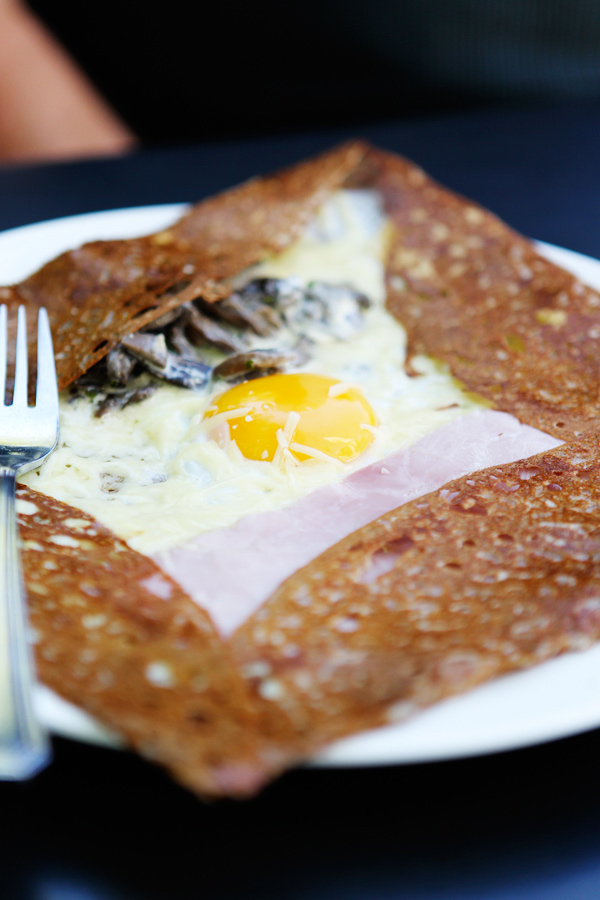 Galette complète at Chez Renée's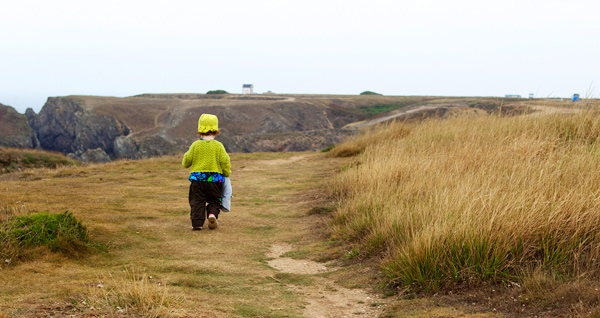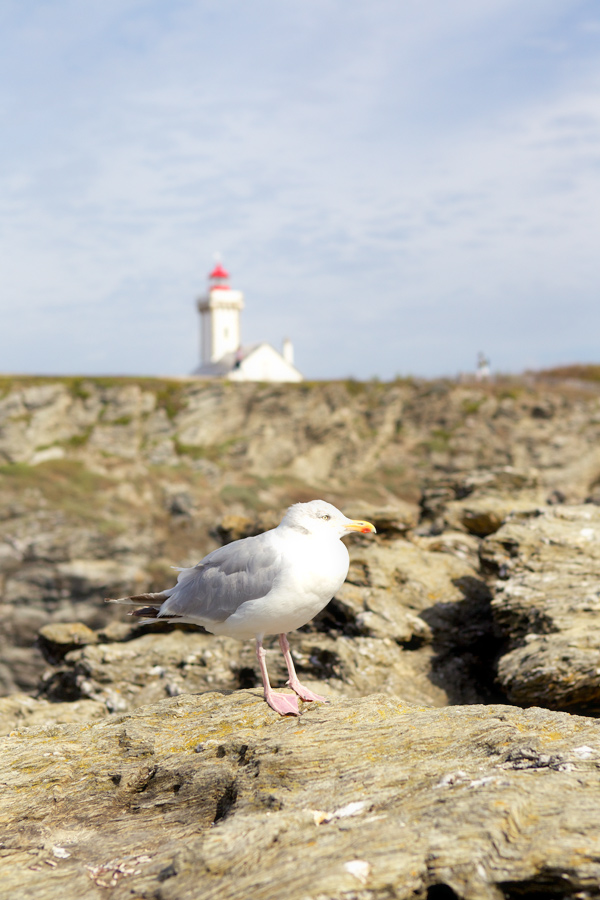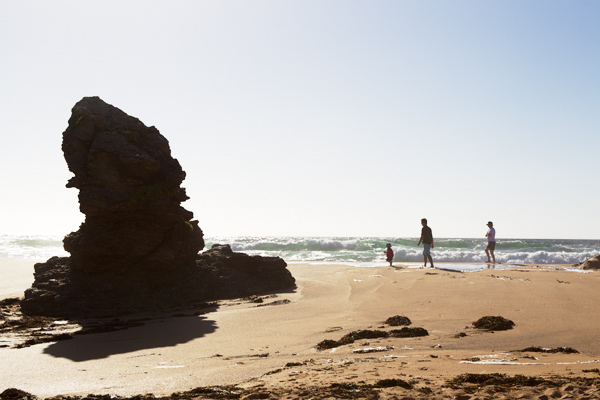 Plage de Donnant
So during the only two rainy days we had–who said it poured in Brittany?–I baked a chocolate and nut cake while Lulu played in the rain puddles. Because chocolate and rain always rhyme in my mind.
Because a vacation without chocolate is not a real vacation.
Right?
I hope you don't mind the pictures. I snapped way too many. That's what happens when I fall in love with a place.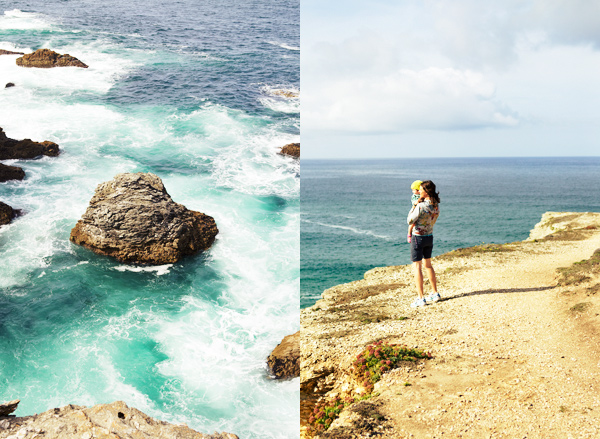 Onto the chocolate cake. I will try to tell you more about the galettes next. With the farine de sarrasin (buckwheat flour) I brought back with me.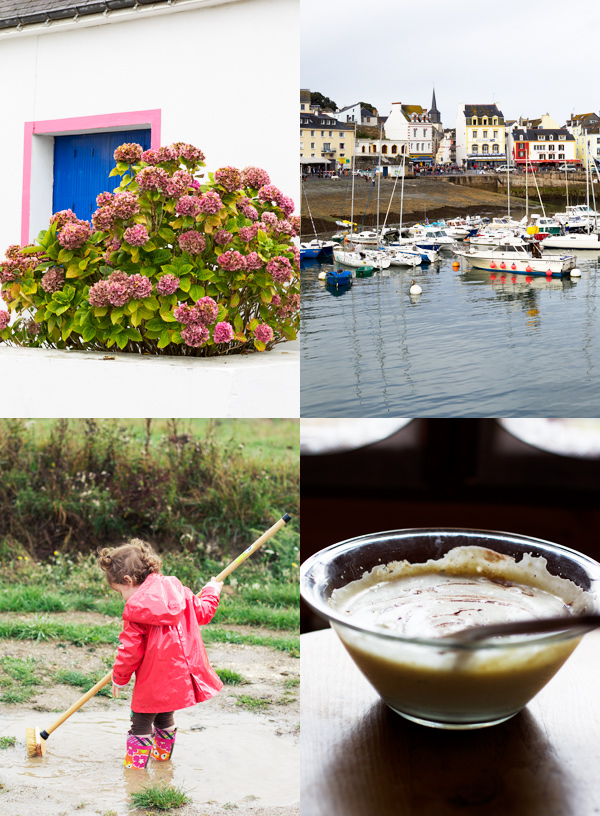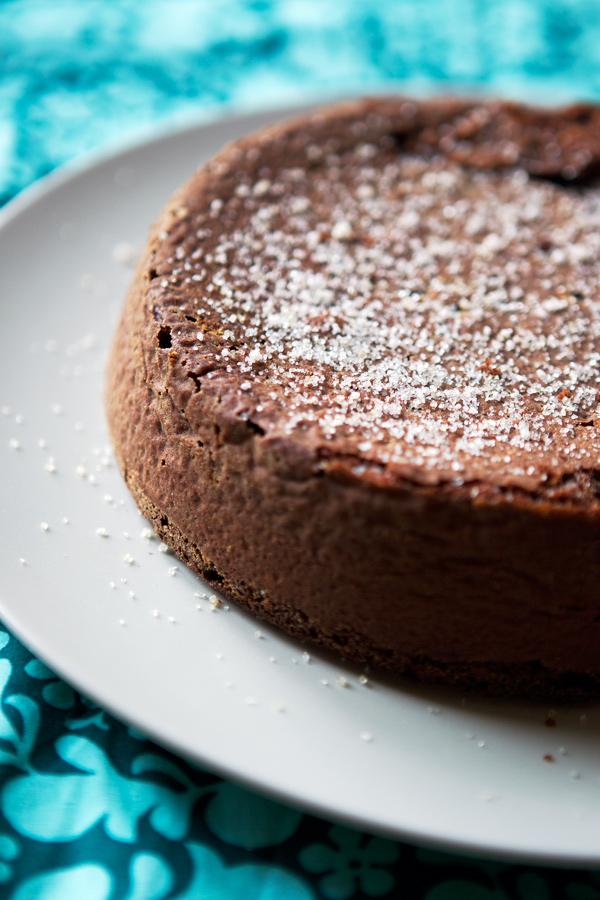 Chocolate and nut cake
Chocolate and nut cake
You need:
3 large eggs
1/3 cup (80 g) blond cane sugar
Pinch of sea salt
4.5 oz (125 g) dark chocolate, chopped coarsely
6 tablespoons (85 g) unsalted butter, diced
1/3 cup hazelnut flour
1/3 cup almond meal
Flour, to coat the mold
Confectioner's sugar, to dust
Steps:
Preheat the oven to 400 F and butter an 8-inch (21 cm) round mold. Coat with flour and tap the excess out; set aside.
Place the chocolate and butter in a bowl. Place the bowl over a pot of simmering water and let melt, stirring.
In a large bowl, beat the eggs with sugar and salt until the preparation has tripled in volume — for 8 minutes.
Fold in the almond meal and hazelnut flour. Fold in the melted chocolate.
Transfer this batter to the mold and bake the cake for 30 minutes. Let rest for 5 minutes and unmold carefully.
When ready to serve, dust with confectioner's sugar. The cake should stay moist inside.