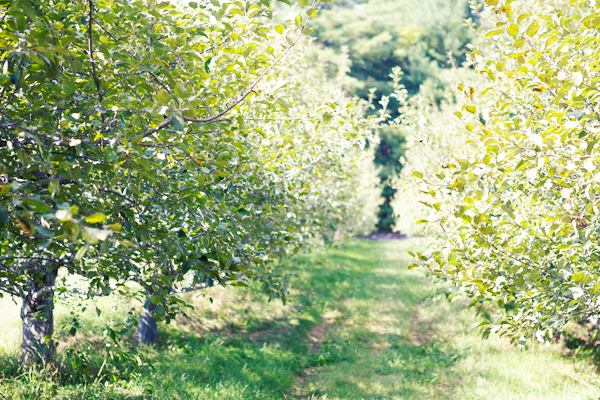 Time.
It's an amazing thing. You think that you have all the time ahead of you and before you realize it, it's gone and you find yourself in fall. A year later.
I remember last fall. That fall was special. We had taken Lulu apple picking for her first time. She was only ten months old at the time, not yet walking. But already curious about everything. About the wind gently moving the leaves up in the trees; about the soft grass caressing her feet; about every bit of activity around her.
About apples too. Beautiful organic red apples.
I remember that the day we went apple picking, I had baked an apple and hazelnut clafoutis to celebrate the day.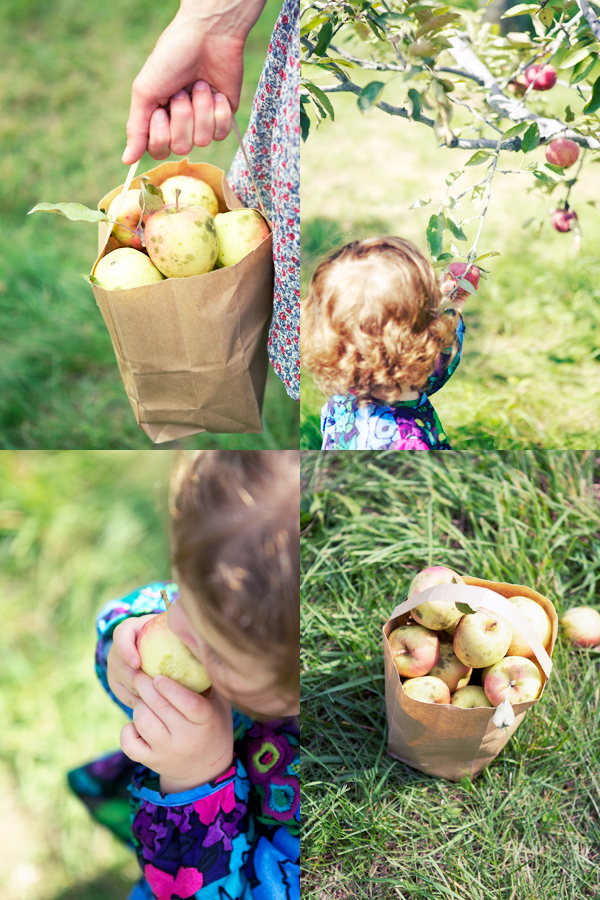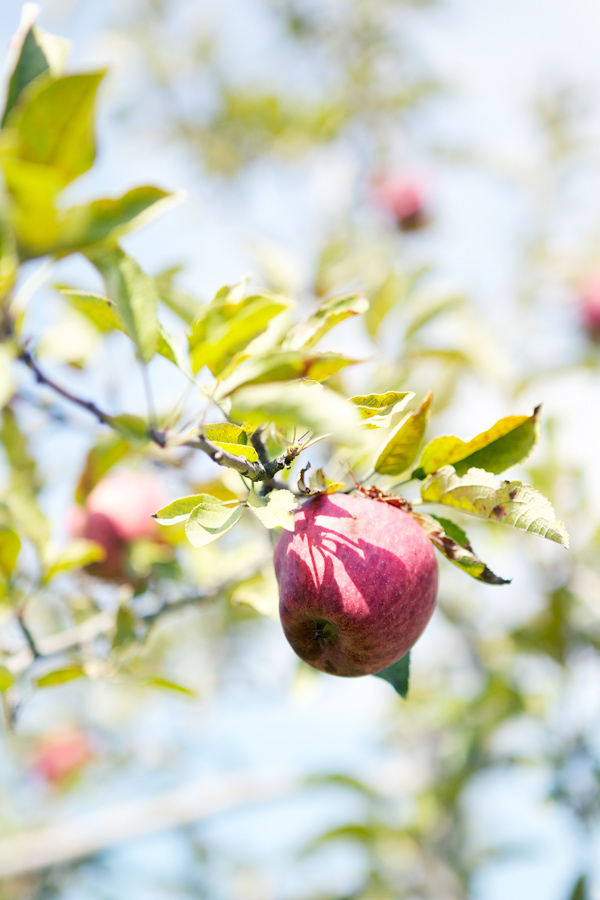 Yesterday, we decided to return to the same organic farm. Because we had enjoyed our time so much. Because we wanted Lulu to share her second apple picking experience with her Irish grandma–who had kindly accompanied me at SAW so that I could teach. Lulu calls her Gang Gang. Seeing them together is the sweetest thing. Seeing them build secrets is precious. Food connections. Yesterday, as they sat in the back of the car on our way to the farm, Gang Gang sneaked a madeleine in Lulu's small hand.
"You don't mind Béa, do you?" she said, smiling mischievously.
They were happy. Laughing with their mouths full.
When we arrived at the farm, it was still early so the place felt quiet. It was sunny and comfortably warm. It was surely going to be a lovely day.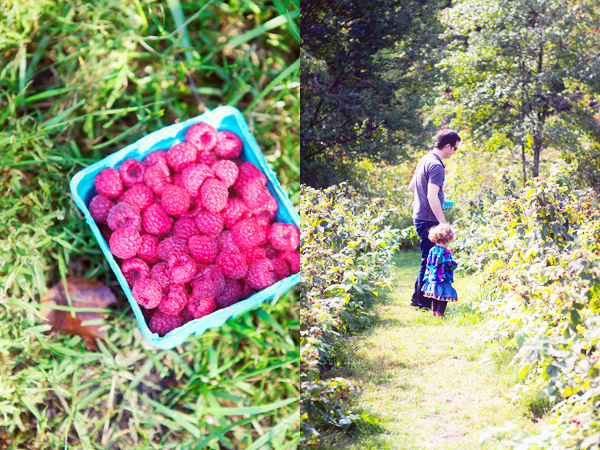 We picked apples and raspberries. Lulu was not walking. She was running up and down the narrow lanes between the raspberry bushes, carefully helping us to fill our cartons of raspberries. She was running from apple tree to apple tree, carrying a small bag in each hand, before handing them back to us when she thought they felt too heavy. She looked busy. Concentrated and focused.
She filled the air with joy. While I filled bags with apples.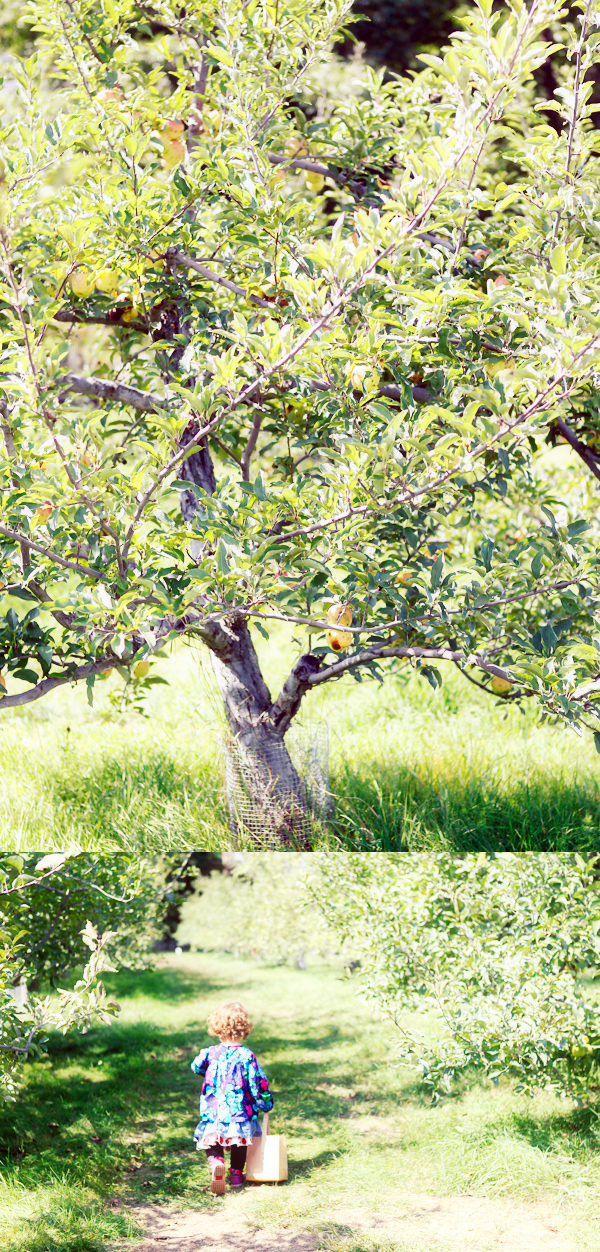 Content at the thought of having had once again a lovely apple picking time. Happy to know I would be baking an apple and olive oil cake upon our return.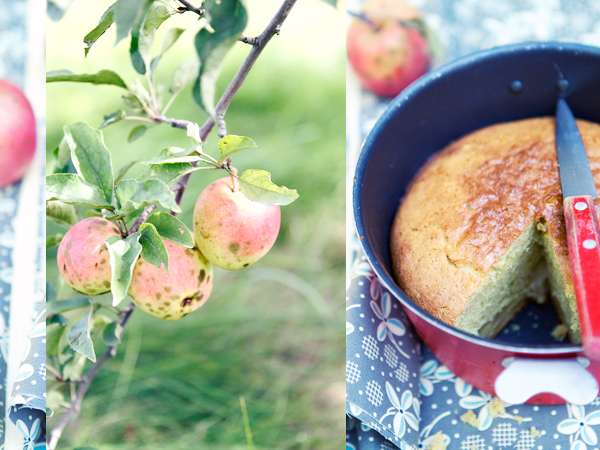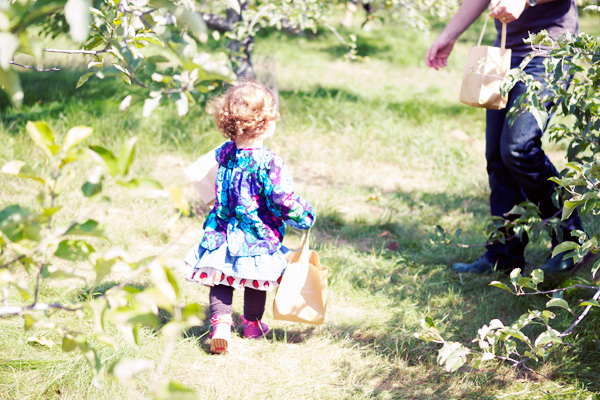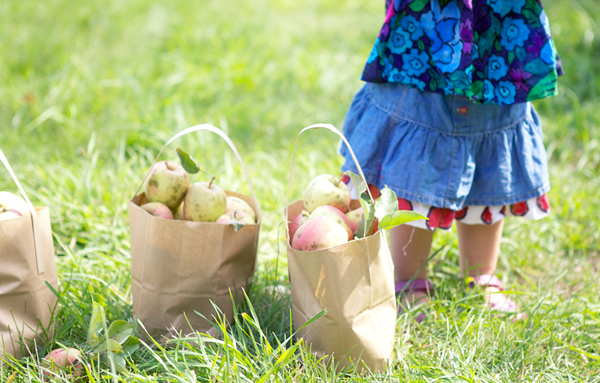 One that tasted like early fall. And family time.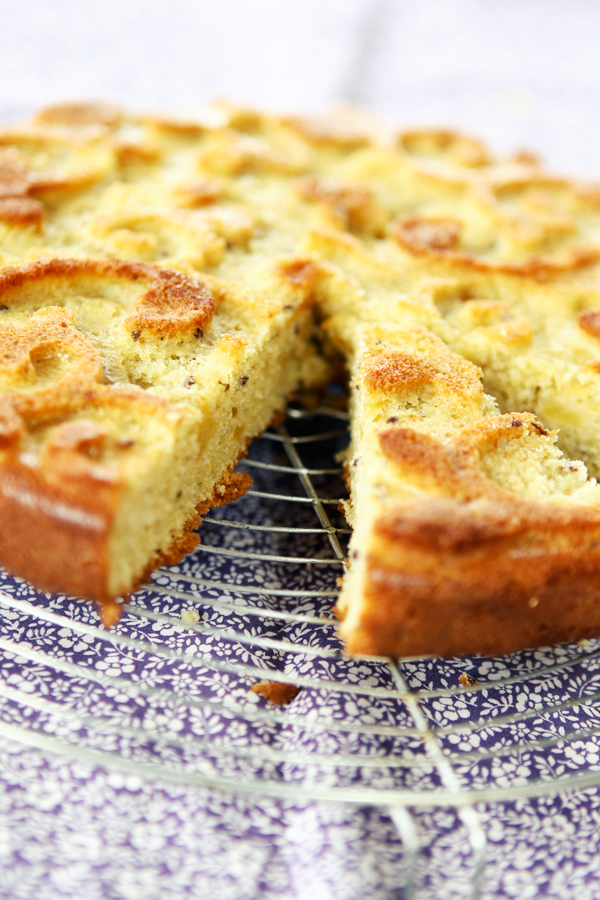 Apple and Olive oil Cake

You need:
1 tablespoon unsalted butter
3 apples, peeled, cored and diced finely
1/2 cup blond cane sugar + 2 tablespoons for the apples
1 vanilla bean , split open and seeds scraped out
1 teaspoon finely chopped lemon thyme (optional)
4 eggs
Pinch of sea salt
1/3 cup (80 ml) olive oil
100 g millet flour & brown rice flours*
65 g (1/2 cup + 2 tablespoons) almond meal*
40 g (1/3 cup) quinoa flour*
2 teaspoons baking powder

*Or 200 g gluten free all-purpose flour replacing all the other flours and almond meal combined
Steps:
In a frying pan, heat 1 tablespoon butter over medium heat. When warm, add the diced apples with 2 tablespoons sugar, the vanilla bean and seeds and cook for 5 minutes, or until the apples are softer. Discard the vanilla bean; set aside.
Preheat the oven to 350 F. Butter a 10-inch mold and set aside.
In a bowl, combine the flours and baking powder and lemon thyme, if using. In another bowl, beat the eggs with the sugar and a pinch of salt. Add the olive oil and and then the flours. Fold the apples in the cake batter. Transfer the batter to the mold and bake the cake for 35 to 40 minutes, or until a sharp knife inserted in the middle comes out dry. Let the cake cool for 5 minutes before unmolding.

Note: I baked this recipe the first time when I was in France four weeks ago. I then used millet, brown rice and quinoa flours combined with almond meal. I baked the cake using a whimsical patterned mold — as you can see in the second picture. Yesterday, I used a smalled and taller charlotte mold borrowed from my friend E. since I am now cooking in a small kitchen while our kitchen is being remodeled. I used all-purpose gluten free baking flour. Since the charlotte mold was smaller and less wide, I increased the cooking time to 50 to 55 minutes.