"Why don't you like them?" my friend S. asked. "Les figues ? Well, I don't know, they're just not citrusy enough!"
It's true that it's what I am typically after in a fruit. I want juice. I want to taste food with a bite. I am looking for a burst of flavor in my mouth after the first piece. So even if I sincerely find figs pretty and elegant, especially once they are cut open and reveal their vibrant deep purple color, they simply lack what I am personally looking for when I eat a piece of fruit.
But I never like to say '"jamais" (never). And I try. This tart, for example, is an excellent compromise. It's the case of me, moi, trying to appreciate what figs have to offer.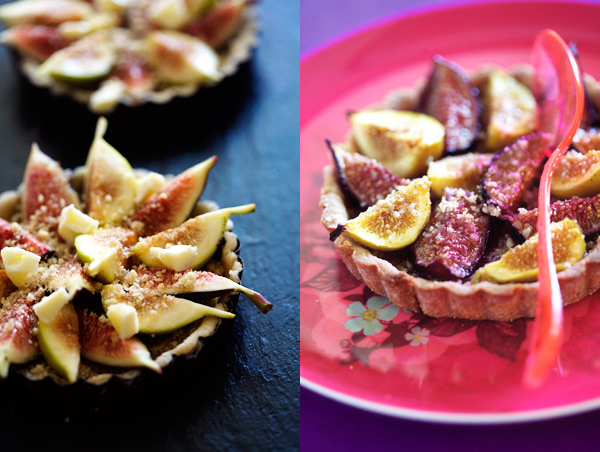 To start, I needed dessert for dinner — so there was that. Secondly, I really wanted to photograph figs when I caught sight of pretty ones at my store. Lastly, I simply wanted to give figs another chance. After all, I might change my opinion. I wanted to.
It must have been my lucky day. Or the figs' lucky day.
It turns out that the tart was really tasty. And so simple and fresh. To give the dessert a boost of flavor, I spiced the tart up with ginger and vanilla and I baked it without a custard, to make sure that the flavor of figs would be the first to be revealed.
In fact, I obtained such a delicious outcome that I decided to use figs in some of my savory food too. And so yesterday, as I was preparing a black rice salad to have for lunch with my friend E., I decided to add fresh figs to the salad — and I'll have to tell you about that later. And then, since we needed a dessert too, I baked a few vanilla-flavored mascarpone flans with figs nested inside.
And it worked. Both the desserts and salad, in fact, managed to reconcile me with figs. Comme quoi, il n'y a que les idiots qui ne changent pas d'avis. (It's a French expression that translates as "Only idiots never change their mind".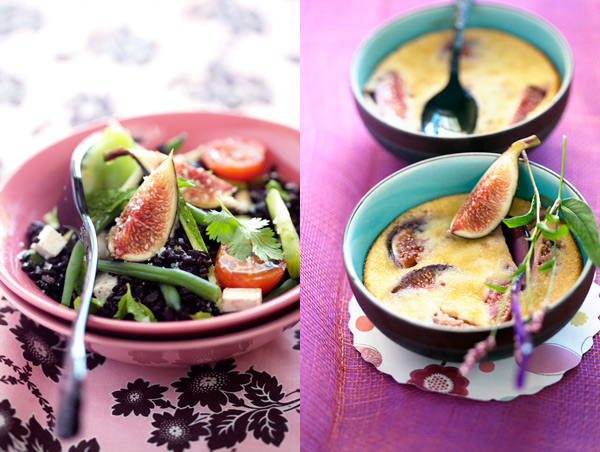 Black rice salad with figs — Vanilla-flavored mascarpone flans with figs
I meant to tell you another story too. It's funny how things happen. It's funny to see the connection the web opens. It's, of course, also about food, or how to share information about what my food readings are. It's about a new exciting project that I am lucky to be part of. Have you heard about Google Power Reader? ( Yes, I am talking about the big Google company.)
A few weeks ago, I received an email from a project manager at Google. I was surprised and felt quite honored when he asked if I wanted to be part of a project that Google was about to launch. In fact, what I never told you before is that Google had already contacted me a few months before then, to ask if I would mind that my blog becomes part of the list of blogs given by default to new users signing up to Google reader. "If I mind?" I thought. Vous devez plaisanter ! (You must be joking!) Who would mind such a thing? I had accepted, of course! So when someone on the team contacted me again, this time to ask if I was open to participate in the new Power Reader project they were about to launch, I said "yes!"
The project launched two days ago. It provides people, you, with a new way to discover good reading sources across a variety of topics, including news, fashion, health, food and technology. It allows users to create their own reading lists, if they want, and become power readers themselves using Google Reader. It's simple! Have a look at my list, for example (of course, it's just a small portion of the great blogs I read, there are many more that didn't fit in!)
Here is the food section of the Power Reader Project.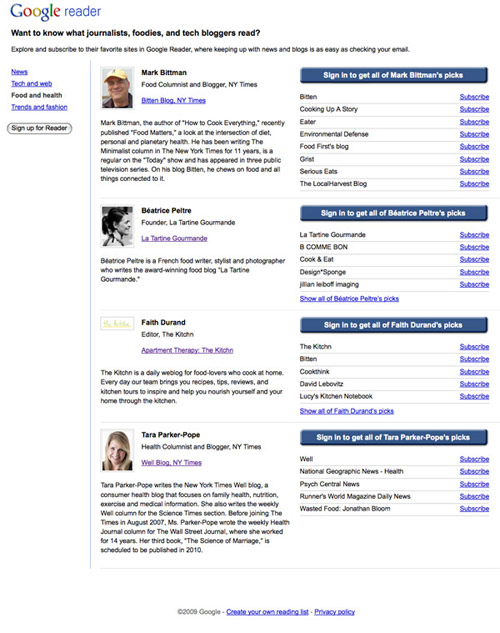 Twenty seven people, including me, were asked to contribute to the project by providing their reading lists. They are across a variety of fields, including news, tech and web, food and health, and trends and fashion. Within the food section, I am lucky (and honored again!) to be part of a group of three other talented people who, really, do not need any introduction: Mark Bittman (Food Columnist and Blogger at the NY Times, author of Bitten Blogs, Faith Durand (Editor, author of The Kitchn) and Tara Parker-Pope (Health Columnist and Blogger at the NY Times, author of Well Blog).
Voilà ! It pretty much covers it, and you know everything.
Happy reading!
But I am getting hungry again. So let's go back to tart which is waiting, shall we?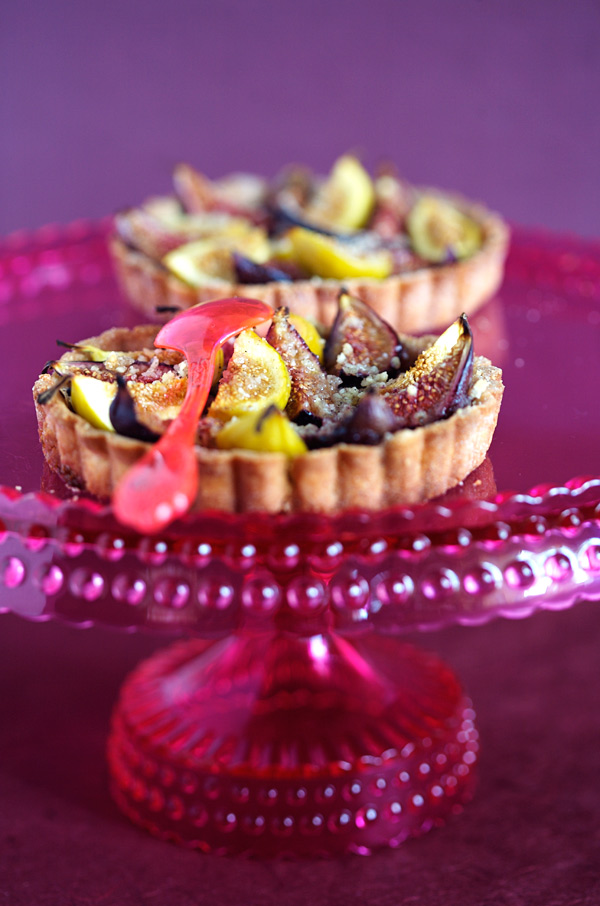 Gingered-flavored Fig Tartlets
Gingered-flavored fig tartlets
(For 4 tartlets)
For the crust:
2/3 cup quinoa flour (80 g)
1/2 cup white rice flour (70 g)
1/3 cup cornstarch (40 g)
2 tablespoons blond cane sugar
Pinch of salt
6.5 tablespoons (90 g) butter, room temperature (not soft) and diced
1 small egg
1.5 teaspoons xantham gum (optional but helps the crust to be less crumbly, making it easier to roll)
For the garnish:
12 fresh figs, washed and cut in quarters
4 tablespoons blond cane sugar
4 tablespoons almond meal
1 vanilla bean, split open and seeds grated
1 inch ginger, peeled and finely grated
Butter
In a bowl, combine the flours, xantham gum (if using) and sugar and salt. Add the butter and make crumbles with the tips of your fingers. Add the egg and work the dough until it just forms a ball. Add more white rice flour if necessary. Divide in 4 smaller balls and place in the fridge for 1 hour, covered.
Roll the dough and garnish buttered molds (I use non-stick with removable bottoms). Make small holes in the dough with a fork and place the tartlets in the fridge for 30 minutes.
Preheat the oven at 400 F.
In a smaller bowl, combine the almond meal, sugar, vanilla seeds and ginger. Divide 3/4 of the sugar mixture between the tartlets.
Arrange the figs on top and top with the rest of the sugar. Add a few pieces of butter on the fruit and bake the tartlets for 25 minutes. Remove from the oven and let cool before unmolding and enjoying!