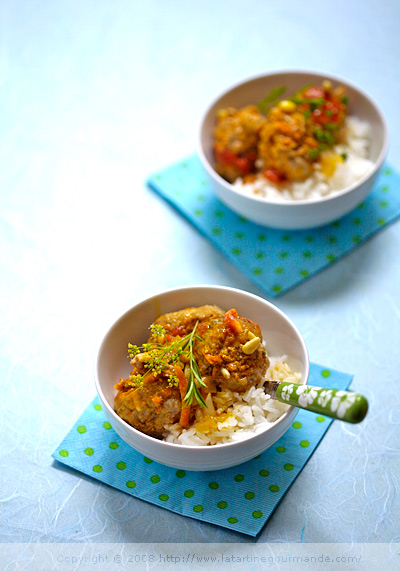 Veal and Pork Meatballs with Carrot Sauce
Oh, I know that you might look at this and scratch your head, thinking: "What is she thinking?" Not very seasonal, non? But wait! This is really a subjective topic, isn't it? Comfort food should never be seasonal. Beside, even when it is hot and summery outside, I do not necessarily crave cold foods.
I am like this.
And not alone. Take countries like India or China: you soon realize that the idea ingrained in public belief that cold food helps to cool down is only a myth. Cold food in your stomach is never going to be as nicely digested as warm food. The Chinese believe in this, and I like this theory too — of course, you do not have to agree. It however works well for me even if, like everyone else, I can crave and eat cold foods too — I am still salivating at the thought of the cold leek parsnip vichyssoise eaten recently at lunch with P.
But when I need comfort, then warm food are the buzz words!
With leftovers of ground veal used to prepare stuffed zucchinis, I imagined making meatballs flavored with carrot — another good reason to get that juicer I told you about. I wanted to pair the sweetness of a carrot-flavored sauce and the softness in taste of veal. Did it work? Probably so when I acknowledge to you that during the course of the last two weeks, I prepared the recipe a few times.
Not that I am lacking cooking imagination, or anything of the kind — there is always desire and inspiration to make good food — but simply because my schedule has been recently busy with a fun project. I cannot yet tell you everything about it but if you are curious — like my friend N. — I can tell you that I am currently doing the food styling and food photography of a baker's cookbook. And I am blessed since her recipes work as a charm.
So when I spend my days baking, styling and photographing, the thought of a comforting dish bringing a nice relaxing end to my days is quite welcomed. In fact, I thought that you too might like to have a recipe like this handy, when life gets too busy on your side of the fence. It is great on the first day, and the next.
And even the one after the next.
Leftovers at their best.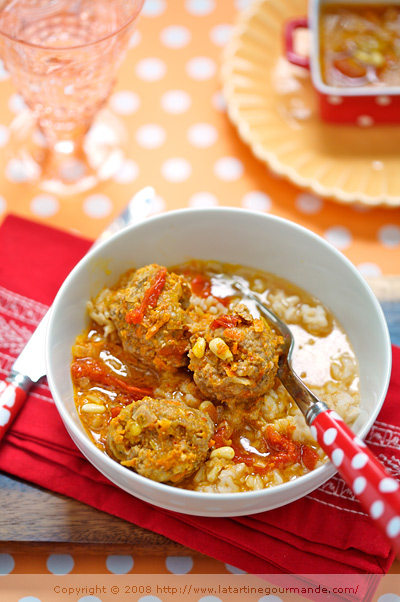 Veal and Pork Meatballs with a Carrot Sauce
You need:
1 lb + 2 oz mix of ground veal and pork (or just one)
1 small bunch of parsley, chopped
1 egg
2 to 3 Tbsp cornstarch
1 small red onion, chopped
Salt and pepper
1 grated peeled carrot
2 Tbsp pine nuts
Juice of 2 fresh carrots
Squeeze of lemon juice
3 Roma tomatoes or 6 to 7 cherry tomatoes, seeded and diced
2 Tbsp olive oil

Steps:
In a large bowl, blend together the ground meats with half of the onion, grated carrot, pine nuts, parsley. Add 1 Tbsp cornstarch and the egg, and mix well with a wooden spoon or your hand. Season with salt and pepper and shape walnut-sized meatballs between the palms of your hands (makes about 15 to 16 according to size).
Place cornstarch in a plate and roll the meaballs lightly in it; set aside.
In a large thick-bottomed cocotte, heat 2 Tbsp olive oil and when hot, add the onion. Cook on medium heat for 2 min. Add the meatballs and brown them on each side for a few minutes.
Add the broth and the carrot juice.
Add a squeeze of lemon juice, the tomatoes. Season with salt and pepper and cook uncovered on low to medium heat for 20 minutes.
Serve with brown rice or white rice.
Le coin français
Boulettes de veau et porc, sauce à la carotte
Ingrédients :
500 g mélange de porc et veau haché
1 petit bouquet de persil, haché
1 oeuf
2 à 3 càs de maïzena
1 petit oignon rouge, haché
Sel et poivre
1 carotte râpée
2 càs de pignons de pin
50 cl de bouillon de légumes léger maison
Jus frais de 2 carottes
Un peu de jus de citron
3 tomates Roma ou 6 à 7 tomates cerises, sans pépins et coupées en dés
2 càs d'huile d'olive

Étapes :
Dans une jatte, mélangez les vianches hachées avec la moitié de l'oignon rouge, la carotte, les pignons de pin, le persil, puis ajoutez 1 càs de maïzena et 1 oeuf. Salez et poivrez, puis formez des boulettes de la taille d'une grosse noix entre les paumes de vos mains (environ 15 à 16 selon la taille).
Roulez-les dans de la maïzena; réservez.
Dans une cocotte, faites revenir le reste d'oignon rouge dans 2 càs d'huile d'olive et faites dorer les boulettes quelques minutes sur chaque côté.
Ajoutez le bouillon de légumes et le jus de carottes.
Ajoutez un peu de jus de citron, les tomates, du sel et du poivre et faites mijoter environ 20 minutes sur feu doux à moyen, sans couvrir.
Rectifiez l'assaisonnement et servez avec du riz complet ou blanc.