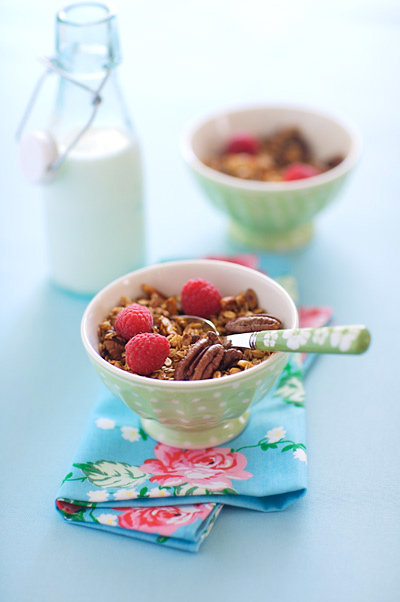 My Granola
"I can't stay in bed," I told P. "Don't insist!"
"Why not? Isn't it nice and toasty in here?"
Well it surely was but the problem was that I was hungry. As is always the case when I wake up. I am one of these people waking up with a stomach making noises and calling for food. Aren't you too?
I discovered granola and its wonders about fifteen years ago, when I lived in the United States for the first time, during the days when I was teaching French in a university lost in the middle of corn fields. Yes, corn fields there were indeed in that part of the world! Many!
This was also the time when I met P. and to tell the truth, he is really the one who initiated me to granola. How could I have lived for so long not knowing about this delicious food, I wondered then? What was wrong with us the French for not welcoming more cereals like granola on the breakfast table? No argument, I would have granola any day instead of a croissant. Vraiment !
After the first bite of granola, I was hooked: I immediately fell in love with its nuttiness and crunchiness. A few years later, when I visited P. again — and we then shared a bit of life living together in a tiny apartment on campus — we also enjoyed cycling every weekend or so to the small organic store nearby, to fill up with more granola when we ran out. We liked ours not too sweet and often ate it quite simply, with fresh berries or perhaps slices of fresh apple and plain French-style yogurt. It might sound silly but I loved that P. and I shared a liking for the same types of food. I knew that a good connection was on the right track: with the man, and the food.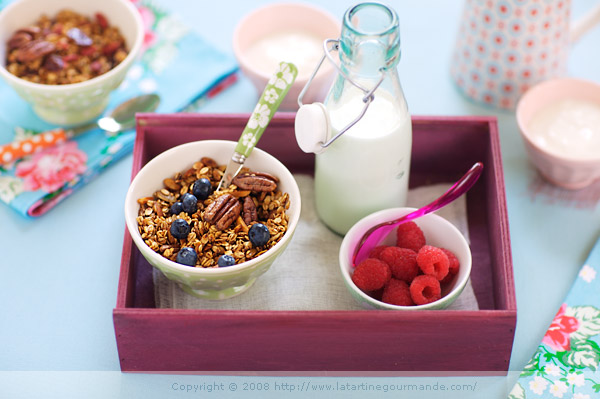 Will you then be surprised when I tell you that I have been making all types of granola since then?
Making granola is pretty easy and straightforward, and can be customized as you like. Choose the nuts you like — pecans, walnuts, and more — and add any type of dried fruit you prefer. I particularly like dried cherries or slices of dried apples, because apples and me in the morning are best friends. This is also one of the reason why I like to add apple juice too when I prepare granola, and add maple syrup and honey for extra flavor. Sometimes I can also add orange oil instead of canola oil but then, that gives me another recipe altogether.
Then sit down at the table, make yourself comfortable and be happy to start your day on the right foot.
With the right food.
Nothing beats a healthy breakfast like this one.
But can I tell you a secret?
I love to pack some in a zip-lock bag and snack on it when I am out, at any time of the day.
Simplement délicieux !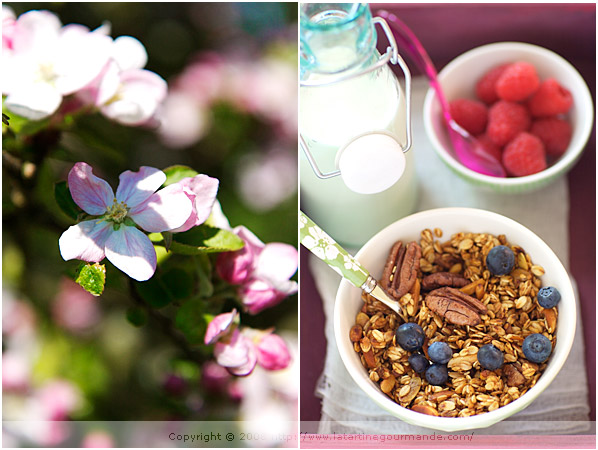 My Breakfast Granola
3 cups rolled oats*
1 cup pecans
1/2 cup slivered almonds
1/4 cup sesame seeds
1/2 cup pumpkin seeds
1/2 cup dried cherries
3 tablespoons canola oil
1/4 cup honey
1/4 cup maple syrup
1/2 teaspoon ground cinnamon
1/2 teaspoon salt
1/3 cup freshly squeezed apple juice
1 vanilla bean, split open and seeds scraped out

*Use gluten free oats for a gluten free version, like I did
Steps:
In a pot, put together the honey, maple syrup, apple juice, canola oil, salt and cinnamon. Add the vanilla bean and seeds and bring to a gentle boil. Stop the heat, cover and let infuse for 30 minutes. Filter.
In a separate bowl, mix all the other ingredients (except the dried cherries).
Pour the liquid over and mix well.
Spread the granola on a baking sheet covered with a sheet of parchment paper, and place in the oven for 1 hour at 300 F.
Take out, and let cool completely at room temperature. Add the dried cherries then.
Enjoy with fresh yogurt, or cow, rice or soy milk. And fresh berries. This granola keeps well in an air-tight container.
Le coin français
Mon granola
280 g de flocons d'avoine*
100 g de noix de pécan
60 g d'amandes émincées
30 g de graines de sésame
70 g de graines de courge
1/2 tasse de cerises sèchées
3 càs d'huile végétale, type colza
60 ml de miel liquide
60 ml de sirop d'érable
1/2 càc de cannelle en poudre
1/2 càc de sel
80 ml de jus de pomme frais
1 gousse de vanille, coupée en deux et grattée

*Utilisez des flocons d'avoine sans gluten, pour une version sans gluten, comme je l'ai fait
Étapes :
Dans une casserole, mettez le miel, le sirop d'érable, le jus de pommes, l'huile, le sel et la cannelle. Ajoutez la gousse et les graines de vanille. Mélangez et amenez à la première ébullition. Arrêtez le feu et couvrez. Laissez infuser pendant 30 minutes, puis filtrez.
Dans une grande jatte, mélangez tous les autres ingrédients, sauf les cerises.
Versez le liquide et mélangez bien.
Étalez le granola sur une plaque de cuisson recouverte de papier sulfurisé, et mettez au four préchauffé à 150 C pendant 1 heure.
Sortez du four et laissez completement refroidir. Ajoutez ensuite les cerises sèchées.
Dégustez avec du yaourt velouté nature, ou du lait, avec des fruits frais. Le granola se conserve bien dans un récipient étanche à l'air.