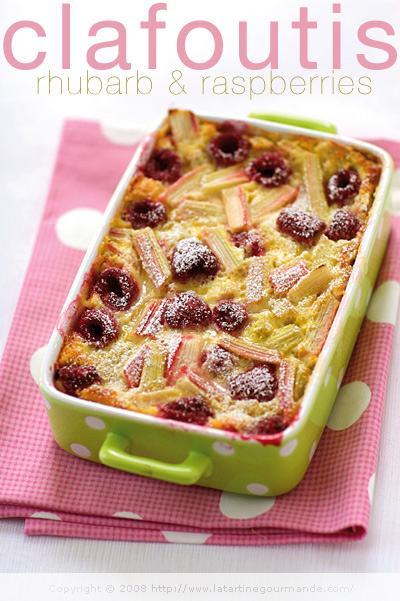 Rhubarb, Raspberry Clafoutis
The breeze felt soft and refreshing on my arms, and the generous afternoon sun warmed my face as I lay comfortably settled in one of the long chairs strategically arranged under the blossoming cherry trees in my parents' garden; they will give a lot of fruit this year, if the starlings and robins do not get to them before the fruit is ripe.
Having a nap after lunch quickly became my routine during my vacation week in France, and I wondered what I would do without them after I returned to the States.
"Tu veux de la rhubarbe pour faire une tarte ?" (do you want rhubarb to bake a tart?) Madame P., one of my parents' neighbors, asked as she walked by the house on the way back from one of her regular walks to the village. She is one of my parents' oldest neighbors; people do not move often in the village. They are there to stay.
I woke up and felt almost bad to have fallen asleep so quickly.
"Ah mais oui, avec plaisir !" (I would love to) I told her without a second of hesitation.
"J'en ai plein, et même de la toute jeune," (I have a lot of it, even very young sticks) she continued on.
I was thrilled. I loved when neighbors stopped by to give produce from their garden, something quite common in my home village.
The rhubarb she gave me was young and tender, and I managed to make a few tartlets, the dessert in fact that we shared to celebrate my birthday en famille.
Since then, I have not baked much, besides a few loaves of bread, and I have not made many desserts either. No wonder then that when I walked into the kitchen a few days ago, I was well decided to prepare a dessert, something to inspire me a little more than the fruit we'd had for dessert over the past week. Oh do not get me wrong, we really enjoyed that too, especially the cherries. I even bought a few white peaches that turned out quite tasty, to my surprise.
It was time, however, for something a little more elaborate, yet not overly so. In fact, even if I like to prepare more elegant-looking desserts, it is really the rustic ones that I crave more often. The very ones that I was used to eating as a child, because they were the ones that my mum cooked regularly. Amongst those, the summery winning ones were always rhubarb tart, because we had so much rhubarb that we literally did not know what to do with it, and cherry clafoutis because of all the cherry trees my parents have in their garden.
P. did not dare tell me but I know he missed my desserts. So when I walked into the living room after dinner and told him I had a nice dessert for us, he looked up at me, his eyes expressing high hope for something quite special.
"Quoi ?" he asked.
"One of your favorites."
"Clafoutis !" he exclaimed.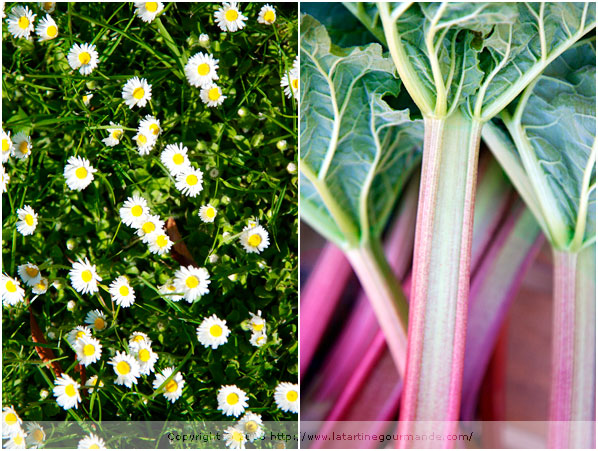 I wanted the clafoutis to be a bit more tangy and vibrant than a traditional cherry clafoutis. I wanted it also juicier, so I needed a fruit suited for that matter.
Rhubarb!
And I thought about adding raspberries for a contrast in taste and color. I imagined that a rhubarb clafoutis might be a bit boring looking, even if always tasty. Adding a little red would not hurt. It proved a really great association of flavors, pleasing to the taste and the eyes.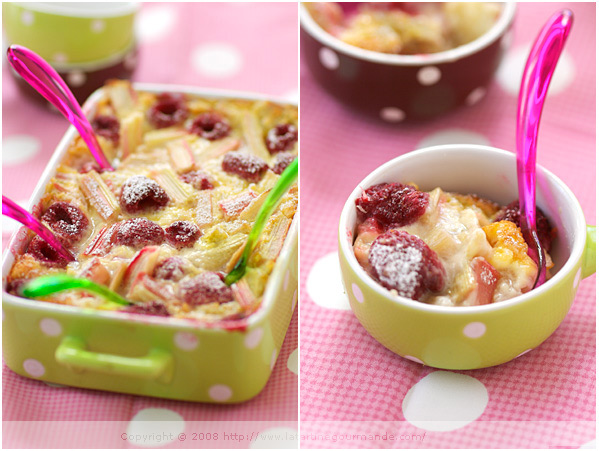 I bought thin sticks of rhubarb, a sign that the fruit was young and tender, and barely needed to be peeled — the way I always prefer to buy it. Beside leaving the rhubarb sprinkled with sugar to rest for an hour to release some juice, this dessert recipe suited me well: quick, hardly any work involved, for an inviting delicious dessert to indulge in without restraint.
We sat down after dinner and did not feel bad for a second for having finished the dish between only the two of us.
That's how we like our desserts, don't we? Fruit, milk, a little sugar and flour: only good things to please the senses and make us enjoy spring and the summer-that-is-to-come.
Before we notice it, there will be Apricots. Frankly, I cannot wait. Can you?
Rhubarb, Raspberry Clafoutis
(For 2 greedy people, mold measuring 7.5″ x 5″)
You need:
7 oz cleaned rhubarb, cut in small sticks
3.5 oz raspberries
2 eggs
1 cup milk
2 Tbsp crème fraîche
1/2 cup blond cane sugar + 1/4 cup for the rhubarb
1/3 cup cornstarch
3 Tbsp tapioca flour*
Confectioner's sugar, to sprinkle
*Can be replaced by all-purpose flour
Steps:
Place the rhubarb in a colander and sprinkle with 1/4 cup sugar. Let rest for 1 hour so that it releases some juice.
Preheat your oven at 400 F.
In a large bowl, beat the eggs with the sugar (use your Kitchen Aid stand mixer if you have one). Add the cornstarch and tapioca flour and mix until homogeneous.
Slowly add the milk and cream, until the batter is smooth.
Arrange the fruit, rhubarb and raspberries in a greased oven dish, and pour the batter over.
Cook for about 30 to 35 min, or until golden in color. Remove from the oven and let cool a little before eating. Sprinkle with confectioner's sugar. Best eaten lukewarm, in my opinion, but you can also enjoy it cold, especially if packed with you on a picnic.
Le coin français
Clafoutis à la rhubarbe et aux framboises
(Pour 2 grands affamés, moule mesurant 19 x 12 cm)
Ingrédients :
200 g de rhubarbe nettoyée, coupée en bâtonnets
100 g de framboises
2 oeufs
250 ml de lait
2 càs de crème fraîche
100 g de sucre de canne blond + 50 g pour la rhubarbe
40 g de maïzena
20 g de farine de tapioca*
Sucre glace (pour saupoudrer)
*Peut être remplacée par de la farine type T 45
Étapes :
Mettez la rhubarbe dans une passoire et saupoudrez-la de 50 g de sucre. Laissez reposer pendant 1 heure pour qu'elle rende un peu de son jus.
Préchauffez votre four à 200 C.
Dans une grande jatte (utilisez votre mixeur à pied Kitchen Aid si vous en avez un) battez les oeufs avec le sucre. Puis ajoutez la maïzena et la farine de tapioca pour obtenir une crème homogène, sans grumeaux.
Ajoutez doucement le lait sans cesser de battre, puis la crème, pour avoir une pâte bien lisse.
Arrangez les fruits, rhubarbe et framboises, dans votre plat à gratin graissé, puis versez la crème sur les fruits.
Cuisez pendant environ 30 à 35 min, ou jusque le clafoutis soit doré. Sortez du four et laissez refroidir avec de déguster. Saupoudrez de sucre glace. À mon avis, c'est meilleur mangé tiède, mais vous pouvez décider de le manger froid, surtout si vous l'emportez avec vous au cours d'un pique-nique.