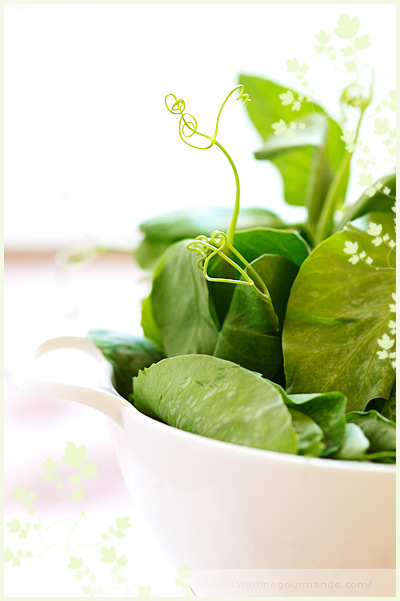 I have a long history of cleaning peas. When I was a kid, my summers were filled with afternoons spent cleaning peas with my mum. I am not sure why, but my brother always seemed to be exempt of the task.
We liked to clean the peas under the canopy on the terrace at the back of the house. I had a preferred way to perform the task: a sieve stuck between my legs to collect the pods and one placed on the small table next to me to collect the peas — when I was not gulping them down, which was quite hard since I loved them this way. Each pea dropped in my mouth was pure joy when it released its sweet juice on my tongue. I think this could still be my favorite way to eat peas, in fact.
But I don't recall that we kept the pods for anything though.
What a waste now that I think about it!
Do you recycle your pea pods too to flavor a vegetable broth?
What about pea shoots?
I like to eat them in a salad, or sautée them in a little oil in my wok, with shallot and sprinkled parsley to finish.
Or add them to a jardinière de légumes verts.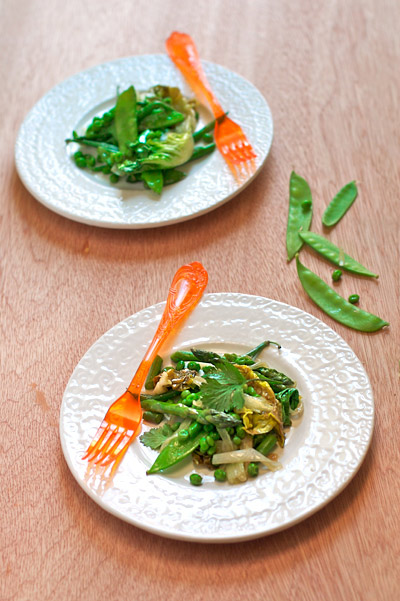 Or I use them to flavor a broth too, especially if I decide to make pea soup afterwards.
A Pea Broth Base
Heat 2 tablespoons olive oil in a large pot. When warm, add 1 chopped shallot and cook for 2 minutes, stirring. Then add 1 diced leek (white part only) and 1 diced celery branch, and continue to cook for 3 minutes. Then add the pea pods (about 3 cups) or pea shoots (about 6 oz), and cook, stirring, for 3 minutes more. Then pour 6 cups cold water, and add 5 peppercorns and salt. Bring to a boil, then cover and simmer for 10 to 15 minutes. Stop the heat and add a few leaves of parsley and let infuse for 10 minutes before filtering the broth. Use the broth in a vegetable risotto or in a vegetable soup (pea for example).
I used mine in a pea, cucumber and avocado soup.
Quite seasonal, isn't it?