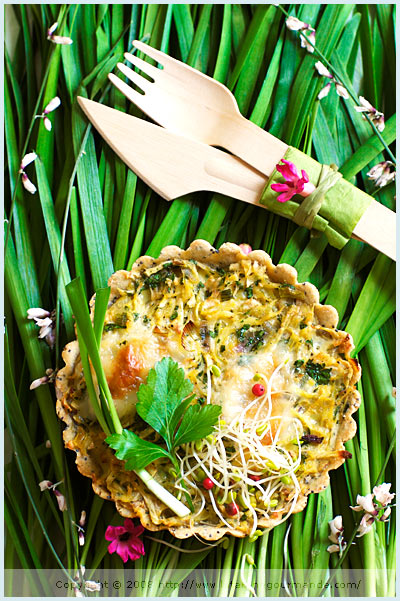 Grated Celeriac with Long Pepper Tartlet on an Olive Oil Crust.
Where have I been, I wonder myself, and where did time fly by this week? I just don't know.
Sometimes life takes its course, not asking whether you agree with it or not. And with this being said, it was really much harder for me to get back into the swing of things.
Into a normal pace of life.
In fact, I found out that it is even more real now that the weather is gorgeous outside, and the thought of spending time inside, to write or do anything that keeps me between four walls, sounds less appealing. I am really an outdoors girl, and like a dog traveling in a car and sniffing the air through the window, I cannot help but want to go to play outside. I know you would feel the same way, wouldn't you? We agree that we have to enjoy spring, and summer, as long as they offer us wonderful days.
But I also knew that I could not let another day go by without coming here to chat with you. I have missed it too. So even if I perhaps do not have anything amazingly interesting to say, I still have a few images and one favorite recipe to share. Easy to make, easy to eat, easy to pack with you.
I had promised to talk more about my love for tartlets and this recipe is a good way to start: I make it quite often, with many variations on the crust and the topping.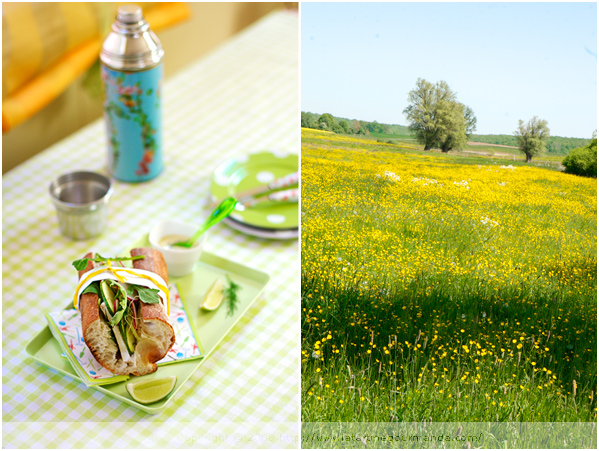 Since it is a long holiday in the US this weekend, and it is so nice — and warm — outside, P. and I decided to go out for a picnic. I decided to pack a few things: most likely a carrot salad, Moroccan style; these lovely grated vegetable tartlets, an egg salad — P.'s favorite; perhaps vegetable and goat cheese sandwiches if we are still hungry; juicy dark cherries or peaches, and a few chocolate cookies. I know we will have a good time.
The mystery of these tartlets resides in a few things: first there is the crust, which is a combination of brown rice flour, quinoa and tapioca flours with olive oil and poppyseeds; grated celeriac stewed with leek and red onion; and the delightful scent of poivre long — Long pepper — to flavor the dish.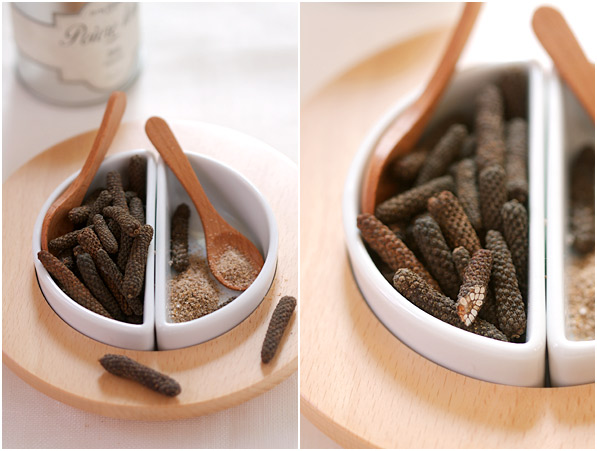 Long pepper
You do not need to use much long pepper, and perhaps if you are new to this subtle spice, you will want to try just a tiny touch. Me? I love its smell: a little sweet, delicious in sweet and savory preparations. Try it with lamb, osso bucco, in soups, with goat cheese and even in a crème brûlée.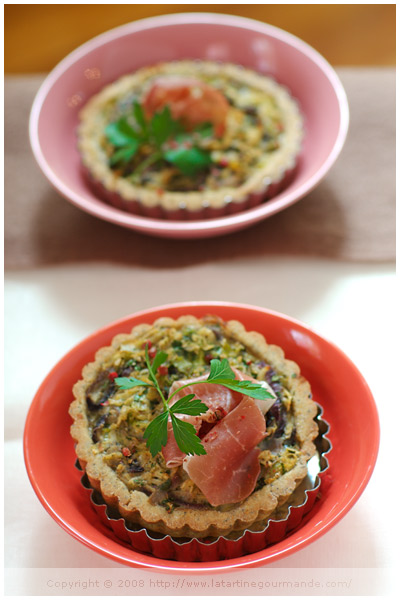 Variations on these tartlets abound, of course. For the topping, I don't like to add a lot of egg/milk batter because I prefer to taste the vegetables more. I like to vary the vegetables too: I sometimes use grated carrots and parsnip, zucchinis and sometimes beets too. A slice of prosciutto added on top will enhance the tartlet, and a green salad — arugula, frisée or mâche — will always accompany the meal Ca, c'est obligé ! Note that because the crust is using brown rice flour — making the recipe gluten free — the consistency of the crust is much crumblier, hence a little more delicate to work with. But as you can assess, not impossible since at each time, the tartlets are a success. Of course, you can always substitute regular flour for the ones I suggest: a matter of choice and preference.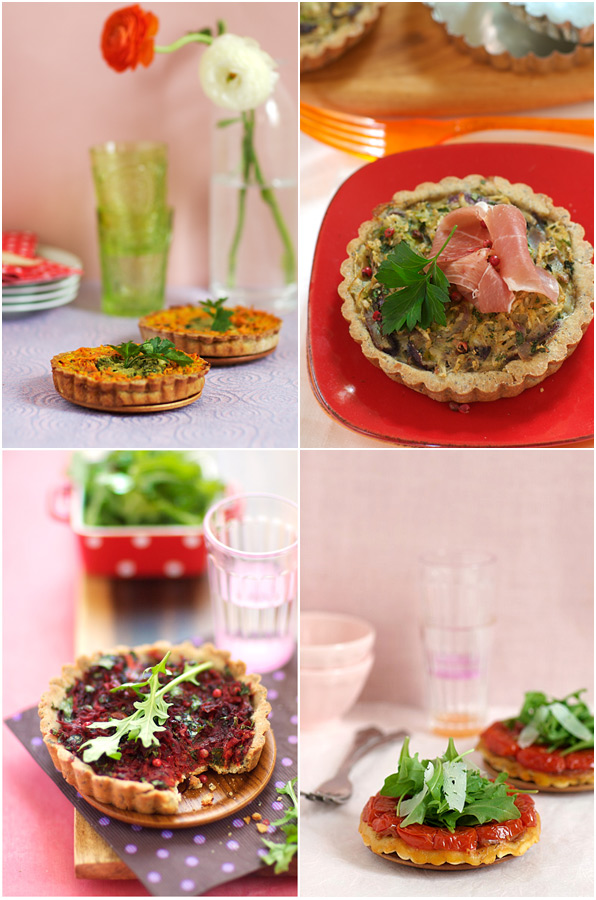 So off we go before the day is over and the sun is down. I want to feel the breeze on my face, feel the sun warm my skin and walk bare feet in the grass. The birds will keep us company. They have much to say these days too.
And in any case, be inspired by your mood to create a tartlet of your own choice. They can never disappoint.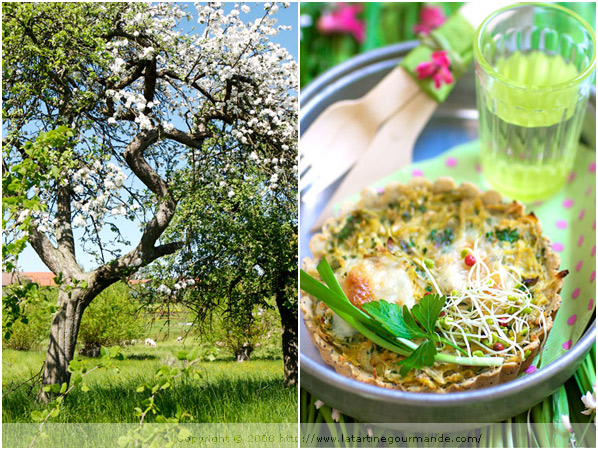 Celeriac and Long Pepper Tartlet, Olive Oil and Brown Rice Flour Crust
For the crust:
1 cup brown rice flour
1/3 cup tapioca flour
1/3 cup quinoa flour
1/4 cup quality olive oil
1/4 cup water
1 egg
1 Tbsp poppyseeds
Pinch of salt
Steps:
In a large bowl, place all flours with the salt and poppyseeds.
Make a well in the middle and break the egg. Work the dough into a homogeneous texture, then add the oil.
Finish with the water, enough for the dough to form a ball. Wrap in a plastic wrap and place in the fridge for 2 hours until firmer.
Roll the dough and garnish four (or 5) tartlet molds — I use non-stick with removable bottoms molds; set aside in the fridge.
For the topping:
2 Tbsp olive oil
1 celeriac, peeled and soft middle part removed (about 9 or 10 oz), grated
1 leek, white part, sliced finely
1 red onion, sliced finely
3 Tbsp of chopped parsley
1 egg
1 Tbsp hazelnut flour
1/4 cup milk or unsweetened soy milk
2 Tbsp mascarpone cheese or crème fraîche
Salt
4 to 5 slices of Taleggio cheese, diced
1/2 long pepper, crushed with a mortar or in a spice grinder
Steps:
Preheat your oven at 350 F.
In a large saute pan, heat 2 Tbsp olive oil. Make the onion sweat for 4 min.
Add the leek and continue to cook for 3 min, stirring occasionally.
Then add the celeriac. Season with salt and cook for 1 min. Cover then reduce the heat and cook for 10 min until softer. Remove from the heat and let cool.
In the meantime, beat the egg with a fork and add the milk, cream, hazelnut flour, long pepper and parsley. Add to the cooked vegetables.
Garnish the tartlets with the vegetable preparation.
Add the cheese on top and cook in the oven for about 40 to 45 min.
Le coin francais
Tartelettes au céleri rave râpé, poivre long sur pâte a l'huile d'olive et farine de riz complet
Pour la pâte :
150 g de farine de riz complet
40 g de farine de tapioca
40 g de farine de quinoa
60 ml d'huile d'olive de qualité
60 ml d'eau froide
1 oeuf
1 pincée de sel
1 càs de graines de pavot
Étapes :
Dans une jatte, mélangez les farines avec le sel et les graines de pavot.
Faites un puits au milieu et cassez l'oeuf. Travaillez pour obtenir une texture homogène, puis continuez avec l'huile.
Terminez avec l'eau, suffisamment pour former une boule. Enveloppez-la dans un film alimentaire et mettez au frigo pendant 2 heures pour qu'elle se raffermisse.
Étalez la pâte et foncez 4 ou 5 petits moules à tartelette — j'utilise des moules anti-adhésifs à fond amovible ; mettez en attente au frigo.
Pour la garniture :
2 càs d'huile d'olive
1 petite boule de céleri rave, épluchée et nettoyée de sa partie centale creuse (250 g à 300 g); râpée
1 poireau, partie blanche emincée
1 oignon rouge, emincé
3 càs de persil haché
1 oeuf
1 càs de farine de noisette
60 ml de lait ou de lait de soja non sucré
2 càs de mascarpone ou de crème fraîche (facultatif)
4 à 5 tranches de fromage Taleggio, coupées en dés
Sel
1/2 poivre long, pile au mortier ou dans un moulin à café; ou râpé avec une râpe à muscade
Étapes :
Préchauffez votre four à 180 C.
Faites chauffer 2 càs d'huile d'olive dans une sauteuse et faites-y suer l'oignon pendant 4 min.
Ajoutez le poireau et poursuivez la cuisson pendant 3 min.
Ajoutez ensuite le céleri râpé. Salez et faites suer 1 min, puis couvrez et cuisez pendant 10 min sur feu doux à moyen. Retirez du feu et laissez refroidir.
En attendant, battez l'oeuf en omelette et ajoutez le lait, la crème, la farine de noisette, le poivre et le persil. Mélangez aux légumes râpés.
Répartissez cette préparation sur les fonds de tartelette.
Ajoutez le fromage et enfournez pendant 40 à 45 min.