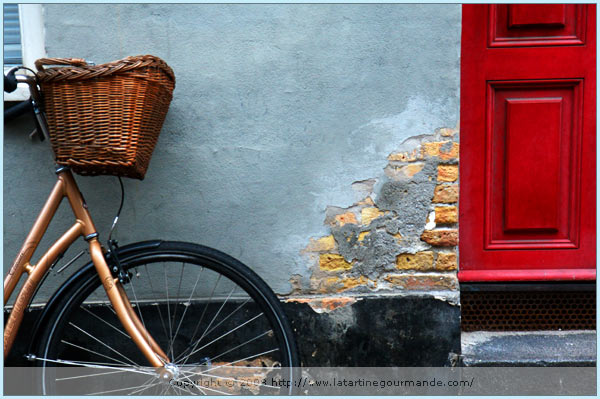 By 3:30 pm, the sun already starts to set in the wintry streets of Copenhagen, and even if I know that this is what the motionless month of January keeps for Northern Europe, it still takes P. and me by surprise. When we arrive by mid-afternoon at the central station downtown, it is already quite dark and snowing lightly.
"You really have to come back in summer," the amiable lady where P. buys a pair of Trippen shoes tells us. "At this time of year, everyone hibernates and keeps to him or herself," she continues. "In the summer, the ambiance in the city is completely different, with people everywhere."
But in fact, it does not stop anyone from filling the streets in big numbers. And then, everyone is so over-the-top friendly that it does not matter if the sun sets so early.
Denmark, or at least Copenhagen, is not the place to visit to practice your beginner's school Danish, as we soon discover. Every single person we talk to speaks English impeccably, making me feel particularly self-conscious of my pronounced French accent in comparison. "How do they do it?" I whisper in P.'s ear, feeling a hint of jealousy. Whenever we meet someone new, we politely ask the "do you speak English?" question, but by the fourth or fifth time, we realize that it sounds like a silly, unnecessary question, perhaps even an insult. I cannot help then but read "Of course I speak English" on the face of every passer-by that I meet.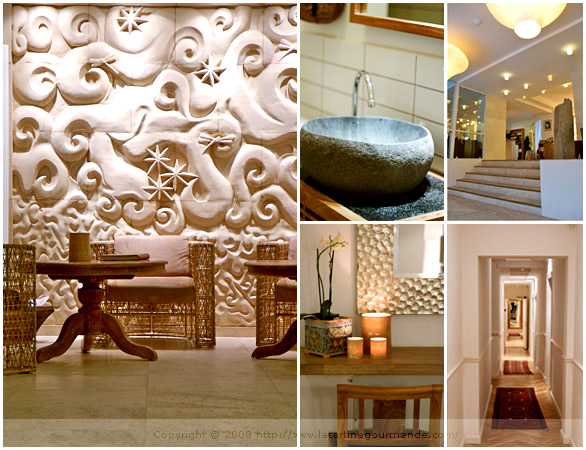 Axel Hotel Guldsmeden, Copenhagen
If I were to believe in dreams-that-come-true, then our visit really starts like one. The charming hotel where we decide to stay is conveniently located a few minutes away from the main train station, in a central part of town offering many lodging options. While the staff is helpful, generous at giving us many tips, such as where to eat on the night we arrive, we also find the rooms and interior design carefully manicured, with an organic, minimalist decor — a blend of traditional Balinese style with modern art — that makes us feel pampered.
Every day, we sample a tasty breakfast buffet offering a wide selection of organic foods: fruit juices of all types, granola or cereals, different types of silky yogurts, many kinds of bread, soft-boiled eggs, cured meats, cakes, honey and jams. P. becomes quite fond of whole almonds kept in a jar full of flavorful honey, which we like to add to our bowl of cereals. And on the weekend, a champagne breakfast brunch is served with more delicious foods — I cannot resist the tasty smoked salmon.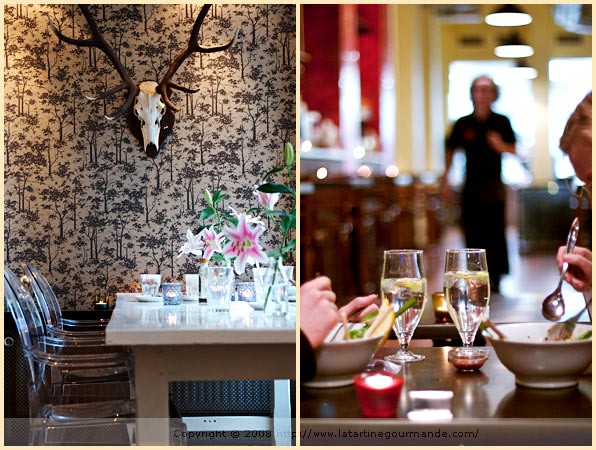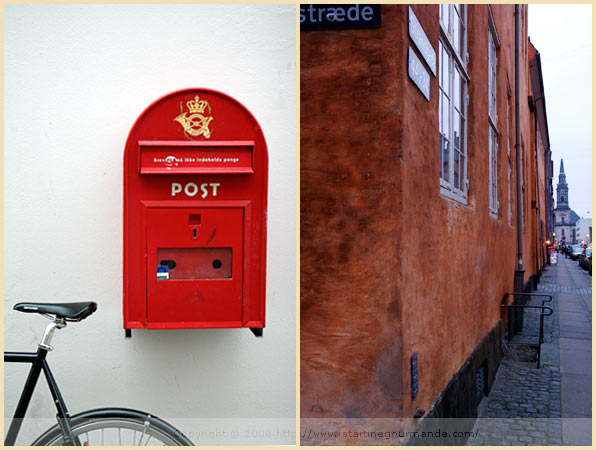 Copenhagen is the world's first bike city, a city that has to be explored with a bike, or on foot. We, however, choose the latter, even if I secretly wished to have the courage to fight the snappy cold on one of the city's bicycles.
"Regarde celui-là comme il est beau," (look at how nice this one is) I exclaim every five minutes when I stop to take a photograph; I do not even bother to remove my gloves. There are bikes everywhere, old and newer ones, with special bike paths and lights perfectly organized across town, a dreamland for anyone fond of la petite reine.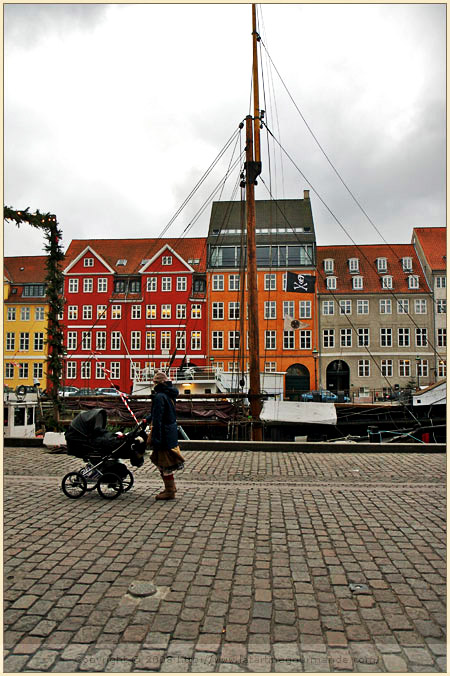 We are beaten by a biting cold and gusts of wind that rush between buildings when we expect them the least, but the excitement to be in the city is such that we hardly seem to notice. Or perhaps it is our thick winter jackets that are working rather effectively. Either way, we walk the streets of the Danish capital until our feet are sore and our legs feel numb and tired, so much so that after only one day, some streets become familiar and feel homely. I also notice that candles are lit everywhere, on restaurant tables or in front of buildings, giving an intimate atmosphere to the entire place.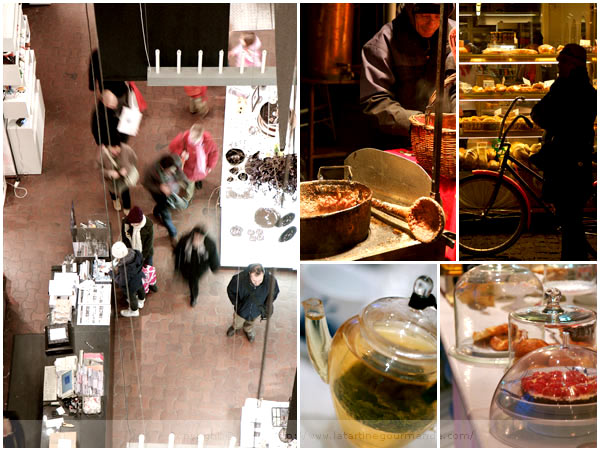 Copenhagen has a rich history and a vibrantly colored architecture, an attractive mix of contemporary and old design, with details to photograph at every corner: a heaven for me and my camera. It offers great shopping too, with many designed stores that we are glad to explore despite the high price tags found on everything — yes, Copenhagen is an expensive city to visit. Since P. and I have a rule to bring a tiny something from every place we visit, I indulge. At Royal Copenhagen, I purchase two colorful mugs, and a cute small vase by Anne Mette, a local artist that we meet in her lovely store and workshop.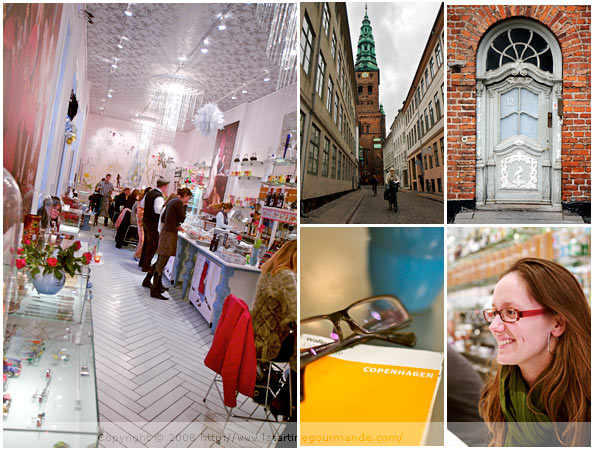 Royal Cafe, Copenhagen
And of course, a trip to Copenhagen would not be complete without a taste of its local food.
"What price range are you looking for?" the man who welcomes us at the hotel tells us on our first night in town. "You know, there is pretty much anything you want in Copenhagen, from very cheap to extremely expensive."
We start with dinner at Lélé, a Thai restaurant located on Vesterbrogade, because it is at walking distance from our hotel. The place is packed every night, and we soon realize why: unlike a lot of the places that we discover in the city, Lélé serves fairly good food for a decent price. We indulge in large bowls of warm soups containing rice-noodles, chicken, coriander and lemongrass, mussels infused with coconut milk, and banana coconut rice pudding.
We also sample smorrebrod, open sandwiches that come with a wide selection of toppings — fish, duck, pork, pickled onions, or vegetables, to only name a few — typically found in Denmark or Sweden. My favorites end up being the ones called smushies, which we enjoy at Royal Cafe in the company of Zarah who meets us for lunch. Lucky as we are to meet with a friendly local like Zarah, we inundate her with a myriad of questions about her beautiful city, which she does not even seem to mind.
"I am surprised when I read you were coming to Copenhagen," Zarah says a few minutes after we all sit down at a tall table in Royal Cafe. "Really?" Then I smile. "Don't ask me why, but I've always had a strong attraction for Nordic countries. Denmark has always been high on the list."
One morning, when it is frigidly cold outside, we stop for tea at Cafe Flottenheimer, where we also have dinner later in the day. The food is not anything to remember, but the decor inside, a mix of modern and old with its Starck's Louis Ghost chairs, patterned tapestry and pretty tables, is really worth the visit.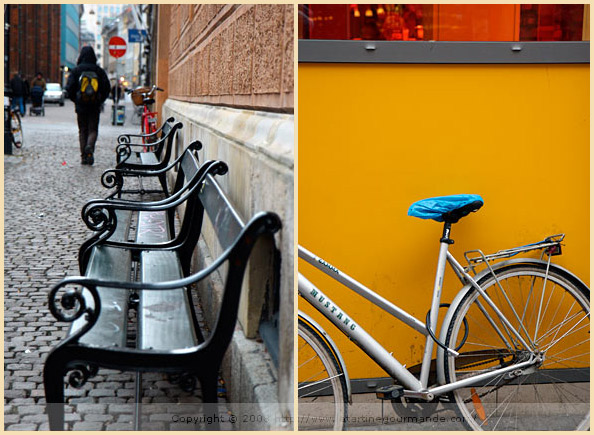 And then, there is Noma, a restaurant with two stars in the Michelin guide.
A friendly Danish reader advises me to book a table ahead because he says, it can be difficult to have a reservation. And he is right. When I email the restaurant a few weeks before traveling, I only manage to have a table for lunch. But it happens to be a much better choice since at least at that time in the day, I am able to take a few snapshots of the food, and restaurant.
Noma — from the words Nordisk (nordic) and Mad (food) — is located in Christianshavn, a picturesque section of the city with colorfully painted old houses along the canals. The restaurant itself sits on the ground floor of the North Atlantic Wharf Building, a large 18th newly restored warehouse with splendid view of the city's inner harbor. The place has everything to please us, including the delightful brown aprons that every waiting staff member wears. Inside, the design is rather minimalist and down-to-earth. There are no tablecloth, and natural materials are tastefully used for the hardwood floors and the walls: we are seduced. The staff is amiable, knowledgeable and attentive, but not overly so.
And the food?
Astoundingly innovative and remarkable.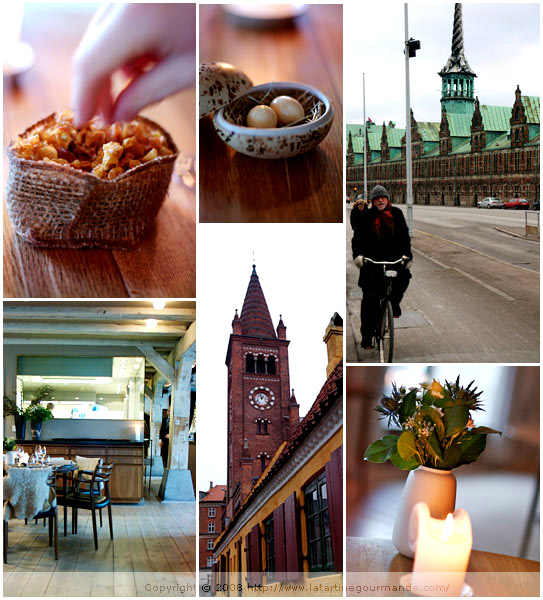 Chef and owner René Redzepi is a man with great taste and an impressive set of skills. Before starting Noma, he has worked in Michelin-star restaurants like French Laundry, El Bulli and Jardin des Sens. At Noma, we find out that he particularly takes pride in using authentic Nordic ingredients which he skilfully fashions into surprising dishes, applying traditional, but also advanced cooking techniques with a lot of creativity. The food is modern and clean. We order the three course lunch menu that eventually turns into a five course menu when they bring two extra appetizers to our table.
"Do you know what is going on?" I discreetly ask P.
"Not sure."
We smile — we are wowed by the whole experience.
We are starving when we arrive at the restaurant, probably from our long morning walk in the persistent cold, but despite the number of courses bigger than what we are used to for lunch, we will leave feeling light.
We start with tiny delicate thinly shaved potato crisps served in a small basket, warm smoked quail eggs and a soft pastry roll stuffed with a piece of pork, a Danish tradition that the chef himself brings to our table to explain. I cannot remember the name, despite the fact that he kindly writes it down for me on a piece of paper that I am still upset for losing.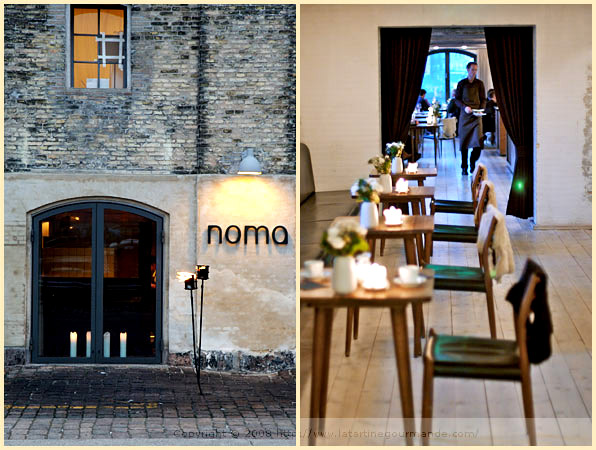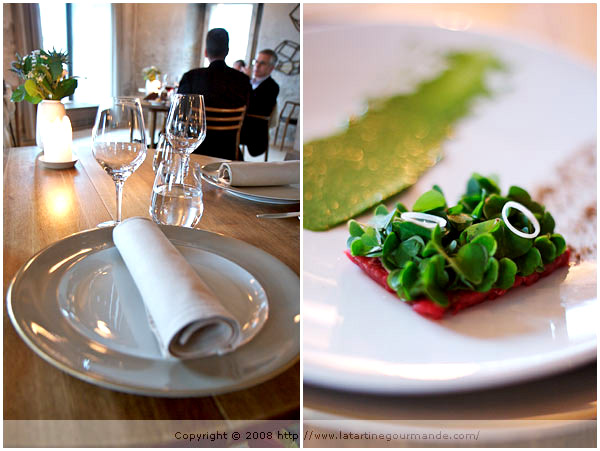 The first appetizer brought to us is delightfully earthy, modern and fresh: paper-thin shaved chestnuts are served in a light broth flavored with Swedish fish roe that gives the dish a boost of flavor; the second appetizer becomes P.'s favorite: extra fine slices of beef carpaccio are nicely arranged on a plate, then topped with wood sorrel that we are told to dip in spices before eating with the mashed green vegetable spread on the plate.
"I want you to grow wood sorrel," P. exclaims after his first bite of the dish. His eyes sparkle with greed for more.
We then continue with a piece of cooked-to-perfection hake served with fresh sprouted greens and a parsley emulsion, topped with a delicate lace-like piece of toasted bread. Then comes fork-tender lamb with a scrumptious celeriac mash. Dessert is of equal quality, offering a perfectly balance of sweetness in the mouth: a scoop of flavored ice-cream is served on top of a buttermilk pudding, with rum-infused golden raisins that burst with flavor when they release their juice in our mouth.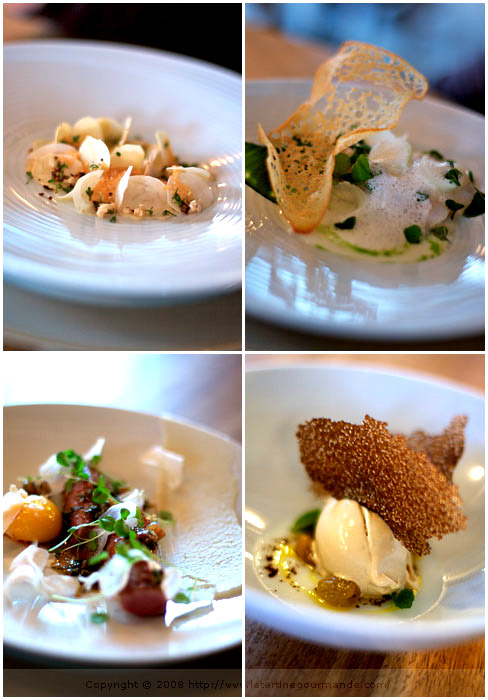 The gorgeous food served at Noma, Copenhagen
We are quite tempted by the offer to have tea and more treats in the arranged-with-taste lounge area, but as I look at my watch and notice that it already indicates 3 pm, I know that we only have thirty minutes of daylight left.
"No, thanks," I reply to the tall slim waiter who brings out our coats. He is wearing a pair of wide glasses that cover most of his upper face, but suit him very well. "We are trying to still enjoy some sun today. You know, it sets quickly here at the moment, doesn't it?"
"You have to come back in the summer then," he replies with a large inviting smile.
Since everyone seems to say so, we will most likely follow the advice.
In the hope of tasting another gorgeous meal at Noma, and then this time, to see the sunset at 11 pm every night.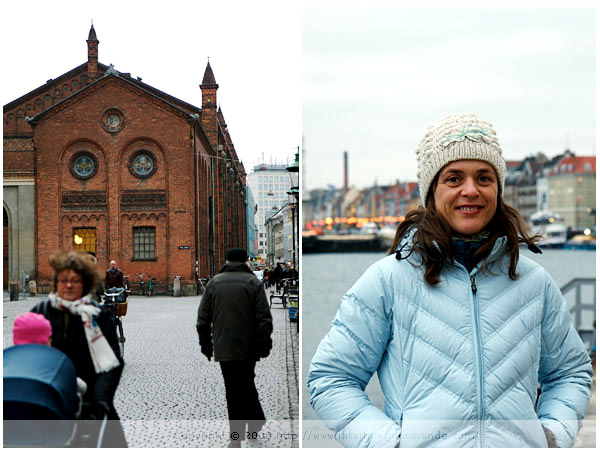 A Few Addresses
Dining and Cafes:

Lé Lé,
Vesterbrogade 56,
Copenhagen
Tel: + 45 33 22 71 35
Cafe Flottenheimer
Skindergade 20,
Copenhagen
Tel : +45 35 38 32 12




Royal Cafe
Amargertov 6,
Between Royal Copenhagen and Georg Jensen
Copenhagen
Noma,
Strandgade 93,
Copenhagen
Tel: +45 3296 3297
They have a cookbook called "Noma-Nordic Cuisine", but it seems unavailable at the moment.
Stores:
The Royal Copenhagen Flagship Store
Amagertorv 6
Copenhagen
Tel: +45 33 13 71 81
Georg Jensen
Amagertorv 4
Copenhagen
Tel: +45 33 11 40 80
Annemette Kissow's ceramics
Kronprinsessegade 43
Copenhagen
Tel: +45 33 32 89 91