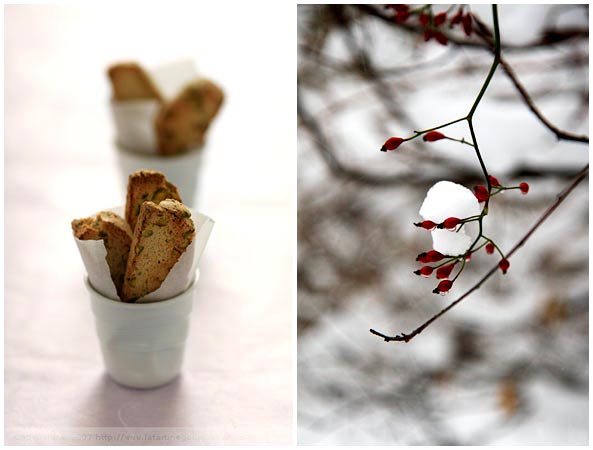 Vanilla-Pistachio Biscotti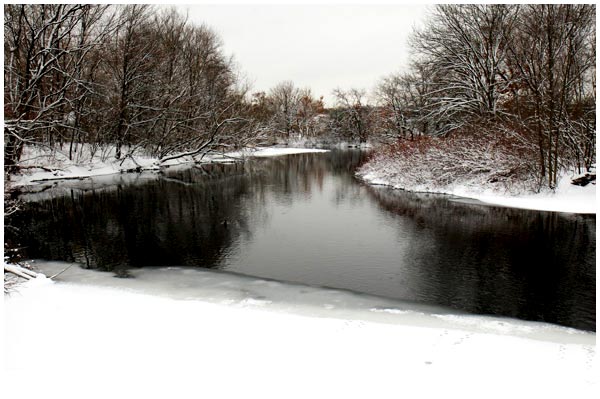 After I looked around the living room where our suitcases laid wide open, I felt thrilled. In the end, I had managed to finish my baking project on time, and was excited to wrap a few boxes of homemade treats between thick piles of clothes. I packed two batches of dark chocolate truffles, with a first box full of cardamom-flavored ones, the second box with truffles flavored with lavender, and coated in thinly chopped unsalted bright green pistachios (I used the same ganache recipe). And I also prepared biscotti for us to nibble on in the plane, and to enjoy on the ski slopes, if they last that far.
Since I could not choose between vanilla and chocolate, as I like them equally as much, I divided my batter in two halves, and flavored them with both. Some biscotti had pistachios, others pecans. I also used quinoa and brown rice flours, for enhanced taste, and making anyone sensitive to gluten, or wheat, happy. Perhaps you've been wondering why you've seen so many gluten-free recipes over your more recent visits. Since I do not necessarily want to bore you with the details (believe me, it is a long story, and you might give up before the end), let's just say that I have been avoiding gluten over the last few months, and thus I have happily cooked, and baked, with wonderful alternative flours. Needless to say that I have been challenged, but in a good way. In a really nice way, as a matter of fact!
So tomorrow, we are off. We are leaving for the French Alps, to even snowier landscapes. There will be a lot of skiing, walking, baking, cooking, playing, and mostly relaxing moments. Truly, we are now ready for each of the previous. But I could not leave before taking a last walk by the Charles river close to our house, after the last snowfall we've had a few days ago. New Englanders will experience a beautiful white Christmas, for it is not snow that is lacking this winter around here. We've had plenty.
So my dear readers, and friends, I will be back soon, with stories and I hope, new cooking inspirations. We will be in France, Ireland, and Denmark. A big program! And since this is my first time in Denmark, I have all the intentions to explore its food scene, at least as much as I can. I will try to be good, and not buy too many Danish objects while I am there (or P. wishes so). Have I told you before how much I liked Danish design?
A bientôt ! I wish you a very happy end of year!
Oh, and I am SO glad we are not flying Air France! I hope that you are not either.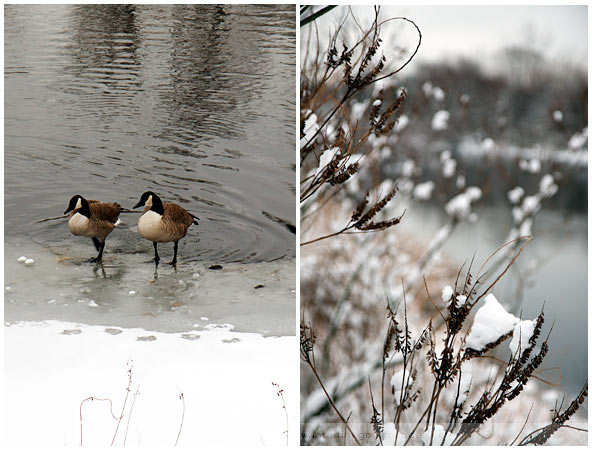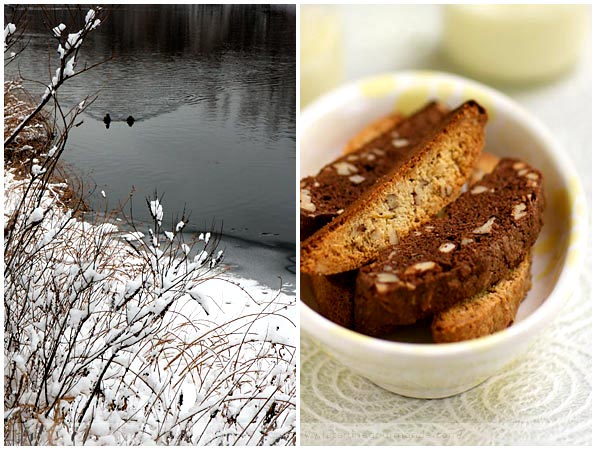 Cocoa Pecan Biscotti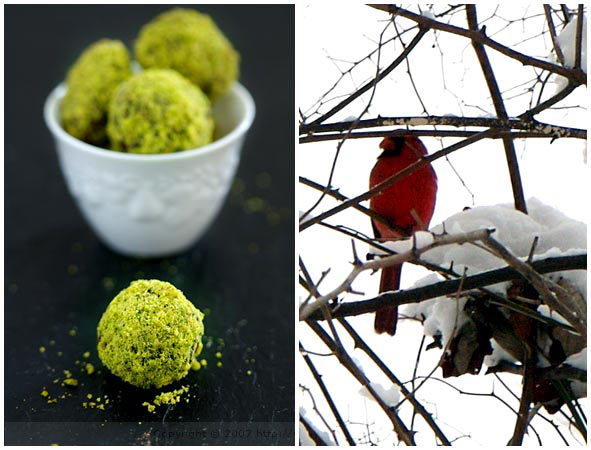 Pistachio Coated Lavender-Infused Chocolate Truffles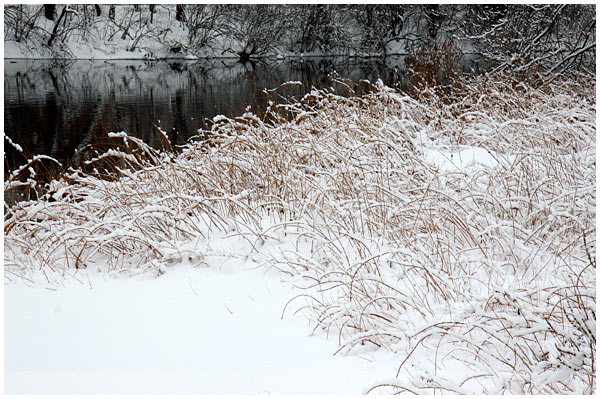 Pistachio Lavender-Infused Dark Chocolate Truffle
See the recipe I wrote for the Boston Globe here and use the same ganache; substitute the cardamom pods for 2 tsp culinary lavender, and the unsweetened cocoa to coat for finely chopped unsalted green shelled pistachios (I use Iranian or Sicilian pistachios, as their green color is amazing).
Vanilla and Cocoa, Pecan Biscotti (gluten free)
You need:
1 cup pecans (or pistachios)
7 Tbsp butter, soft
3/4 cup blond cane sugar
1 vanilla bean, split in two halves, seeds scraped out
2 eggs
1/2 cup quinoa flour*
1/2 cup brown rice flour*
1 tsp baking powder
1/4 tsp salt
2 Tbsp unsweetened cocoa powder, sifted
*If you prefer, you can subsitute these flours for All-purpose flour, although I recommend using quinoa and brown rice for taste, and nutrients.
Steps:
Preheat your oven at 350 F. Place the nuts on a baking sheet, and place in the oven for 5 min. Remove and let cool before chopping them coarsely; set aside.
With an electric mixer, work the butter and sugar into a smooth paste, then add the eggs, one after the other. Wait until the first is well incorporated before adding the second.
Add the vanilla seeds, and mix.
In a large bowl, mix together the two flours, baking powder and salt. Add these dry ingredients to the previous batter, and mix only enough for everything to be homogeneous.
Divide the batter in two halves, and add 2 Tbsp cocoa to one, and mix. Divide the nuts between the two batters. Shape each into a log (put flour on your hands to do so, as the batter is sticky).
Place the logs on a baking sheet, not too close to each other as they will expand, and flatten slightly into a rectangular. Cook for about 30 min. Remove and let cool for 20 min.
Reduce the oven temperature to 320 F.
With a serrated knife, cut each log in 1/3″ slices at a slight diagonal, and place them flat on the baking sheet again. Cook for 10 to 15 more min. Remove and let cool on a rack. These biscotti keep well for a week in an air-tight metallic box. They keep a little less than similar biscotti without butter.
Le coin français
Biscotti vanille, cacao et pécanes (sans gluten)
Ingrédients :
90 g de pécanes (ou pistaches vertes non salées)
100 g de beurre, mou
150 g de sucre de canne blond
1 gousse de vanille, fendue et grattée
2 oeufs
90 g de farine de quinoa*
90 g de farine de riz complet*
1 càc de levure chimique
1/4 càc de sel
2 càs de cacao en poudre non sucré, tamisé
*Si vous préférez, vous pouvez remplacer les farines de quinoa et de riz complet par de la farine T45, mais je conseille le quinoa et le riz complet pour plus de goût, et de meilleurs éléments nutritifs.
Étapes :
Préchauffez votre four à 180 C. Faites griller les noix de pécanes pendant 5 min, sur une plaque de cuisson. Laissez-les refroidir, et hachez-les grossièrement. Réservez.
Avec un mixeur électrique, travaillez le beurre et le sucre en pommade, puis ajoutez les oeufs, un à un. Assurez-vous que le premier est bien incorporé avant d'ajouter le suivant.
Ajoutez les graines de vanille.
Dans un saladier, mélangez les farines, la levure et le sel. Ajoutez ces ingrédients secs à la pâte précédente, et mélangez juste assez pour que la pâte soit homogène.
Divisez la pâte en deux, et ajoutez 2 càs de cacao tamisé à une moitié. Divisez les noix concassées entre les deux. Formez deux gros boudins (farinez vos mains car la pâte colle).
Mettez-les sur une plaque de cuisson, pas trop proches l'un de l'aure, et aplatissez-les légèrement sous forme de rectangle. Glissez au four pendant 30 min environ. Sortez, et laissez refroidir pendant 20 min.
Réduisez la température du four à 160 C.
Coupez des tranches régulières en biais dans chaque boudin, et posez-les sur la plaque de cuisson. Remettez au four pendant 10 à 15 min. Laissez ensuite refroidir sur une grille. Les biscotti peuvent être conservés pendant 1 semaine dans une boîte métallique. Ils ne se gardent pas aussi longtemps que des biscotti sans beurre.