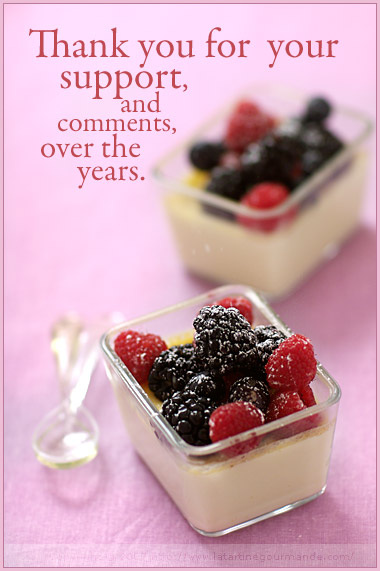 Lemongrass Flan, and Fresh Berries
Perhaps two words will never be sufficient, even if repeated three times, but they summarize what I have to share with you.
Thank You! Thank you! Thank you!
I have told you this already, but let me say it once more. You were amazingly good to me. First to have nominated La Tartine Gourmande in the Food Blog Awards 2007, then to vote for it in numbers, so much so that I was honored, and delighted, to hear yesterday that my little blog won Best Food Photography.
What a nice way to finish the year!
And what a nice way to start a new one!
But wait! Please make sure to stop by at Well fed, to take a peak at the other winning food blogs, with names you surely know already, Heidi, Michael, Sam, or Anita, and to also congratulate all of the other talented nominees.
They all deserve a big applaud!
You deserve a big applaud!
And perhaps because I know that the chances that we speak before the holidays are slim, let me wish you happy holidays!
Wherever you are, and whatever you do, I hope that you have fun, and eat well!
As to me, I am back to my packing, and look forward to seeing P.'s and my families, and enjoying the food, and our travel itinerary!
Oh, now I cannot wait!
And, what would you say about a last dessert this year, to thank you all, with lemongrass flans, extremely simple to pull together, yet delicious, light, and comforting.
Joyeux Noël !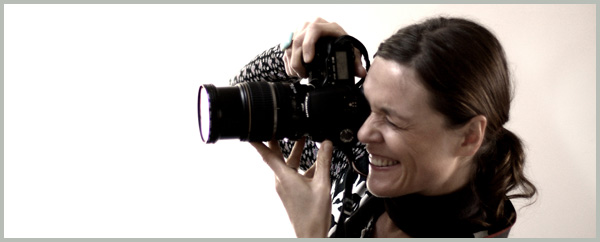 Do not forget that Menu for Hope is still running, and that every contribution matters! Hurry, it finishes on Dec 21st. Check the latest news at Chez Pim.
Lemongrass Flans
You need:
2 1/8 cups whole milk
6 cardamom pods, crushed
2 lemongrass sticks, sliced
1/3 cup blond cane sugar
3 eggs
Mixed berries, tossed
Confectioner's sugar, to sprinkle
Steps:
In a pot, bring the milk to a boil with the lemongrass and cardamom pods. Stop the heat and cover, and let infuse for 30 min (or more). Discard the lemongrass and cardamom pods, and reheat slightly. Keep warm.
Preheat your oven at 250 F.
Beat the eggs with the sugar until light in color.
Add the milk slowly, beating constantly. Remove the foam that formed at the surface.
Grease four small ramekins, and divide the cream between them. Place the ramekins in a bain-marie, and cook for about 1 hour 15 min or so, until the flans are almost set (they should jiggle when they are moved). Remove from the oven and let completely cool. Then wrap in plastic film, and place in the fridge for a few hours.
When ready to serve, top with mixed berries and sprinkle with confectioner's sugar. You can also eat the flans without the fruit.
Le coin français
Flans à la citronnelle
Ingrédients :
500 ml de lait entier
6 capsules de cardamome
2 bâtons de citronnelle, coupés en rondelles
70 g de sucre de canne blond
3 oeufs
Fruits rouges mélangés
Sucre glace, pour saupoudrer
Étapes :
Dans une petite casserole, amenez le lait à ébullition avec la citronnelle et la cardamome. Arrêtez le feu, couvrez et laissez infuser pendant 30 min (ou plus). Filtrez et enlevez la citronnelle et la cardamome. Remettez sur le feu, réchauffez, et gardez au chaud.
Préchauffez votre four à 120 C.
Battez les oeufs avec le sucre jusqu'à blanchiment.
Ajoutez le lait progressivement, en mélangeant constamment. Écumez la mousse formée à la surface.
Graissez quatre petit ramequins, et divisez la crème entre-eux. Placez les ramequins dans un bain-marie, et cuisez pendant environ 1 heure 15 min, jusqu'à ce que les flans soient presque pris (le centre bouge un peu lorsqu'on les remue). Sortez du four et laissez complètement refroidir. Filmez et placez au frigidaire pendant quelques heures.
Pour servir, garnissez les flans de mélange de fruits rouges, et saupoudrez de sucre glace. Vous pouvez manger les flans nature aussi.