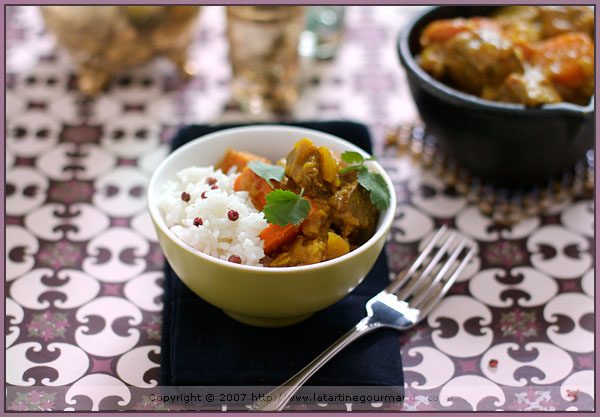 Indian Lamb Curry
Already here? Thanksgiving is only one day away, and I am realizing avec horreur that I will not have the time to post a recipe. Bad me! I hope you will forgive me. I will be cooking indeed. Not the full Thanksgiving dinner though — maybe you need to be born American to have the know-how in you — but an appetizer, to bring to our friend's house. He will be doing turkey and the rest. Dinner is the promise of great food and beautiful matching wines too — R. has a cellar many people would dream about.
But not to leave you with nothing, I will show you instead, the lamb curry that I prepared last night. Only to prove that despite what I might have made you believe lately, avec ça, ça ou encore ça, we eat a lot of savory food chez nous. Yes yes, I promise. It is just that I do not have all the time in the world I wished I had to share my crazy cooking with you tous. And there is a lot of cooking in my kitchen these days!
So Happy Thanksgiving Holidays to everyone! I cannot wait to see what you all are cooking.
Oh, what will my Thanksgiving appetizer be?
A mâche/fennel/apple/pomegranate/spicy shrimp salad, and surprising smoked salmon tartlets.
P. tells me that it is not Thanksgiving-y, but who cares? I know that it will be good. I already tested the recipes this week.