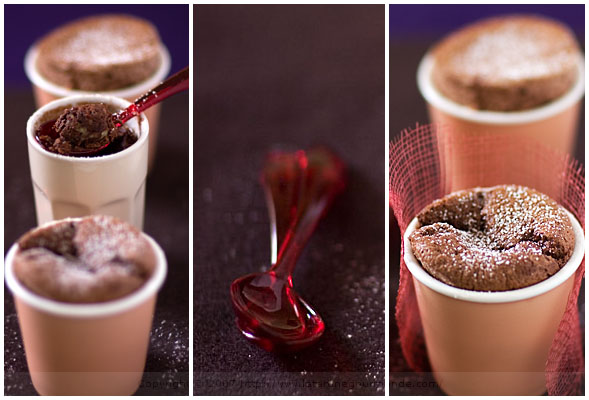 Chocolate Soufflé
It is about time to come back to serious business, isn't it? When did I talk about chocolate last? Already a month ago? Even longer, non ?
No matter how long, I will not wait for much longer. We all need chocolate. We all want chocolate. And if you don't, well this is simply where you and I are different. A life without chocolate, or without playing with soufflés, would just not be the same, and I know that I am not alone to feel this way.
Many people find the experience of making a soufflé difficult or nerve-wrecking. Some worry that their soufflé will never rise while others are distraught that the soufflé needs to be perfectly timed to be served on the table. This is fair enough: soufflés are whimsical and play tricks whenever they please. They often fall almost as quickly as they rise. They are the boss; I have had a few misadventures and frustrations with them too, trust me.
But how much fun they are to make and eat, we agree, don't we?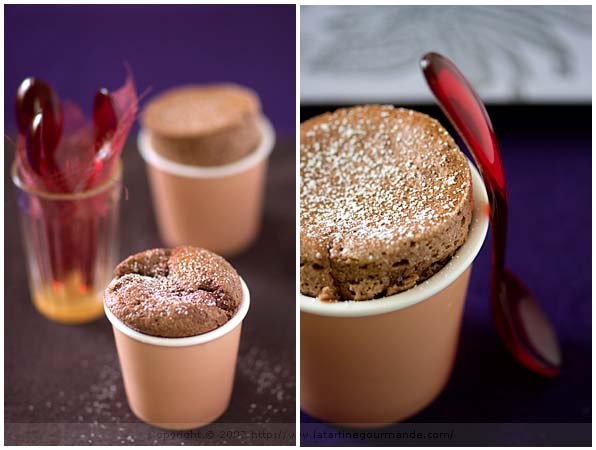 It was meant to happen. Since I had not eaten chocolate in over a week, I played with the idea of not only eating some again, but I baked a chocolate soufflé. I infused milk and cream with cardamom and used a chocolate high in cocoa contents, such as 70 to 73%. The first time I tried my recipe, I baked small soufflés in the hope that I would eat less of them. It did not happen: I ate just as much, even more. The second time (last night), I baked a big soufflé at my parents-in-law's in Chicago, when P.'s Irish relatives visited from Dublin — and I used New Tree 73 % dark chocolate. We liked it so much that I was told that it would count as a rehearsal for the dinner I was asked to cook for New Year in Dublin. Yes, uncle Nev. decided that he wanted me to cook a French meal! In exchange, he will teach me how to fly fish for trouts and salmons in Lake Corrib, near Galway.
He promised. I promised too.
And I cannot wait for both to happen. Especially the fishing, as a matter of fact. Perhaps I can even pack deflated soufflés with us, if Nev. is good! We will like them just as much.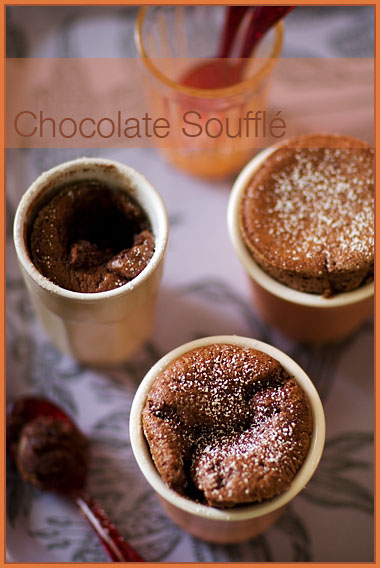 Cardamom-flavored Dark Chocolate Soufflé
(for 6 small soufflés)
You need:
2.82 oz dark chocolate 70 to 73 % cocoa, preferably Valrhona
1/4 cup whole milk
1/4 cup heavy cream
3 eggs, yolks and whites separated
3 Tbsp blond cane sugar
2 Tbsp cornstarch
1/2 vanilla bean
1 Tbsp butter for the molds + 3 Tbsp sugar to coat the molds
5 green cardamom pods

Steps:

Grease 6 small soufflé molds* and coat them with sugar. Remove excess. Keep.
Split the vanilla pod open, and scrape out the seeds. Heat the milk and cream with the vanilla seeds, vanilla and cardamom pods. Stop the heat, cover and infuse for 15 min. Strain.
Preheat the oven at 350F.
During this time, melt the chocolate in a double-boiler, and keep.
Beat the egg yolks with half of the sugar until light in color.
Add the cornstarch, then slowly pour the infused cream/milk.
Pour into a pot and while stirring, heat to thicken, never letting it boil. Stop immediately.
Add the melted chocolate to the cream and stir to get a smooth texture.
Beat the egg whites firm, with a pinch of salt. When almost firm, add the rest of the sugar and beat to get a nice smooth texture.
Fold the egg whites into the chocolate cream, keeping it light.
Divide this preparation between the molds.
Cook for about 20 to 25 min (never open the oven). Sprinkle with confectioner's sugar and serve immediately.
*If you decide to only use one large dish, increase the cooking time by at least 10 to 15 more min.
Le coin français
Soufflé au chocolat parfumé à la cardamome
(Pour 6 petits soufflés)
Ingrédients :
80 g de chocolat noir à 70 ou 73 % de cacao
60 ml de lait entier
60 ml de crème liquide
3 gros oeufs, blancs et jaunes séparés
40 g de sucre de canne blond en poudre
15 g de maïzena
1/2 gousse de vanille, fendue et grattée
15 g de beurre pour les moules + 3 càc de sucre
5 capsules de cardamome verte

Étapes :

Beurrez 6 petits moules à soufflé*, et saupoudrez-les de sucre. Réservez.
Chauffez le lait et la crème avec la vanille et les capsules de cardamome. Arrêtez le feu, couvrez et laissez infuser 15 min. Filtrez.
Préchauffez votre four à 180 C.
Pendant ce temps, faites fondre le chocolat au bain-marie et réservez.
Fouettez les jaunes d'oeuf avec la moitié du sucre jusqu'à blanchiment.
Incorporez la maïzena, puis versez le mélange crème/lait parfumé en filet.
Versez dans une casserole et tout en remuant, faites épaissir sans jamais laisser bouillir. Arrêtez de suite.
Ajoutez le chocolat à la crème infusée, et lissez.
Montez les blancs en neige ferme avec une pincée de sel. Ajoutez le reste de sucre juste avant la fin.
Ajoutez les blancs en neige à la préparation précédente en faisant attention à ne pas faire retomber la masse.
Divisez entre les moules.
Cuisez pendant 20 à 25 min (n'ouvrez pas la porte du four avant). Saupoudrez les soufflés de sucre glace, et servez-les de suite.

*Si vous utilisez un seul grand moule à soufflé, augmentez le temps de cuisson d'au moins 10 à 15 min.