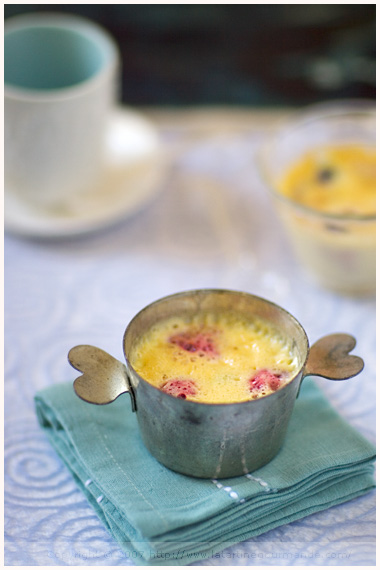 Lavender and Mixed Berry Crème Brûlée
While I am still in L.A. at the moment, I am just feeling too impatient to wait until I return to Boston to tell you about a simple, yet satisfying dessert I made last weekend. Perhaps when you hear more about it, you will understand why I feel this way, and hopefully, you will forgive me for rushing it.
Really, there are things that cannot wait.
In fact, I cannot remember when I had prepared crème brûlée for the last time before last Saturday. This is actually pretty surprising for someone like me who is so fond of this traditional French dessert. And so, I love when friends come over for dinner, giving me an excuse to try and prepare foods that I have not cooked in a long time. Isn't it the best gift that you can receive? Rediscover foods and share them with your favorite people.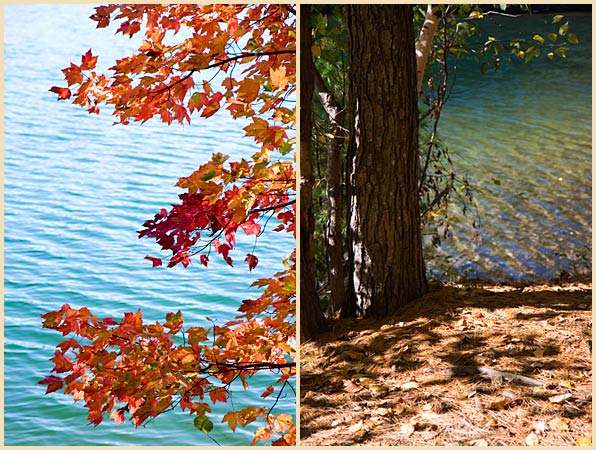 Walden Pond in October
When our friends J.F. and Lauren arrived last Saturday night, I had planned for a simple, rustic-style dinner: a blanquette de veau I cooked for a few hours to have as-tender-as-you-can-get meat, a large bowl of forbidden rice — which J.F. discovered and ate for the first time — a selection of colorful root vegetables cooked with fresh herbs and a salade verte (green salad). A platter full of French and Italian cheese followed — Taleggio disappeared in less than a minute. These dinners à la bonne franquette remain amongst my favorites; they do not require hours of planning, but offer comforting food that everyone enjoys.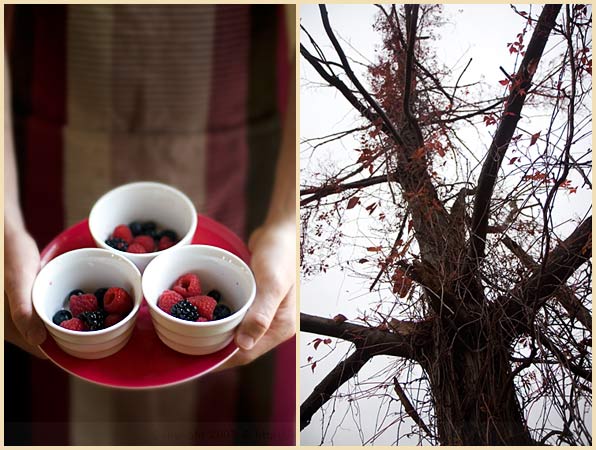 But of course, I had to keep the best for the end. Because I simply had to.
Le dessert !
It was not complicated. It was far from being over-the-top. And it made four people happy and content. Us!
I decided to make lavender crème brûlée with fresh berries, and since P. had begged me — yes, he really did — for chocolate cookies the day before, I also had a large plate of chocolate and walnut cookies (gluten-free too, as I experimented with using quinoa, amaranth and sorghum flours together: the cookies turned out light and delicious.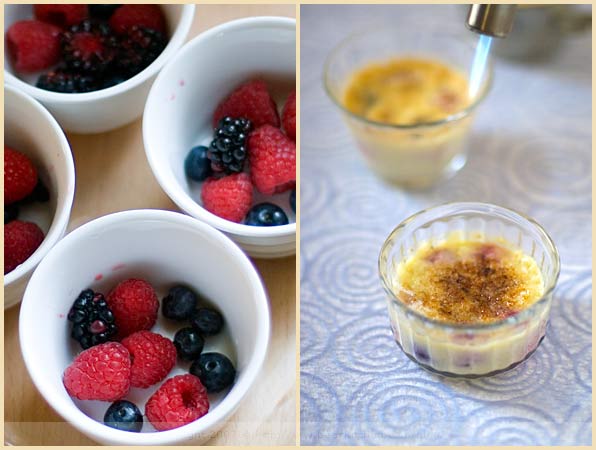 I often order crème brûlée in restaurants. Yes, boring, I know, but I like this dessert that much. Do you know anyone who dislikes crème brûlée? Moi ? Jamais (never). How could you resist a spoonful of velvety creamy perfection slowly disappearing in your mouth, calling for a second one right away?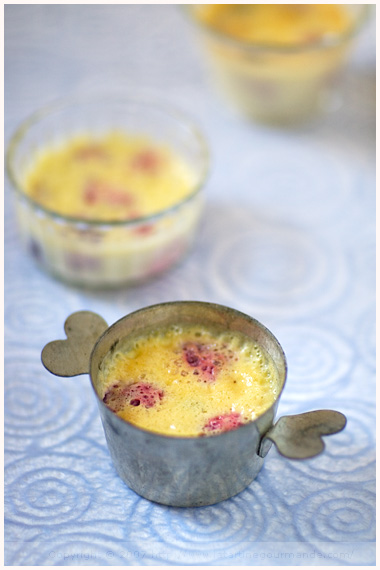 Of course, it is sometimes the simple things that become the hardest to master. And so, while I am yet still not the queen of using the torch, I hope to have many more opportunities to practice. A very good plan, non ? I will never get tired of tasting a smooth crème brûlée.
Especially when it is shared with friends, à la bonne franquette.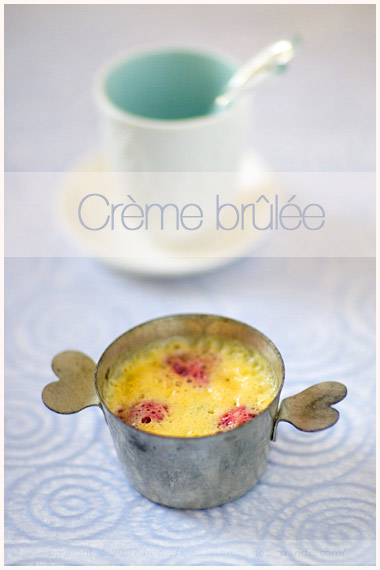 Lavender and Mixed Berry Crème Brûlée
Lavender and Mixed Berry Crème Brûlée
(For 6 ramekins)
You need:
Mixed berries for 6 ramekins
2 cups heavy cream
1 Tbsp culinary lavender
1/3 cup blond cane organic sugar
1 tsp vanilla extract
6 egg yolks
Sugar to caramelize the top, about 2 tsp per ramekin
Steps:
Divide washed berries between your ramekins, and place the ramekins in a large baking dish.
Preheat your oven at 350 F.
Bring the cream to a gentle boil and stop immediately. Add the lavender, cover and let infuse for 15 min.
Strain.
In the meantime, mix together the egg yolks with the sugar and vanilla until light in color.
Pour the cream slowly and mix.
Divide the cream between the ramekins.
Fill the baking dish with boiling water so that the water line is half way up to the height of the ramekins. Bake in the oven for 25 to 30 min. Let cool before placing the creams in the fridge for a few hours.
When ready to serve, sprinkle with extra fine sugar and caramelize with a torch, or under the broil for a few minutes until caramelized. Serve with extra berries.
Le coin français
Crème Brûlée à la lavande et aux fruits rouges
(Pour 6 ramequins)
Ingrédients :
Des fruits rouges pour couvrir le fond de 6 ramequins
500 ml de crème liquide
1 càs de lavande culinaire
70 g de sucre de canne blond
1 càc d'extrait de vanille liquide
6 jaunes d'oeuf
Sucre pour caraméliser le dessus des crèmes, environ 2 càc par ramequin
Étapes :
Divisez vos fruits au fond des ramequins et placez les ramequins dans un grand plat à gratin.
Préchauffez votre four à 180 C.
Faites chauffer la crème jusqu'à la première ébullition. Arrêtez de suite. Ajoutez la lavande, couvrez et laissez infuser pendant 15 min. Filtrez.
Pendant ce temps, mélangez les jaunes d'oeuf avec le sucre et la vanille jusqu'à blanchiment.
Versez doucement la crème, et mélangez bien.
Divisez la crème entre les ramequins.
Remplissez le plat à gratin avec de l'eau chaude, jusqu'à mi-hauteur. Faites cuire dans ce bain-marie pendant environ 25 à 30 min. Laisse refroidir avant de placer les crèmes au frigo pendant quelques heures.
Au moment de servir, saupoudrez-les de sucre fin et faites caraméliser avec une torche ou sous le gril du four pendant quelques minutes jusqu'à caramélisation.