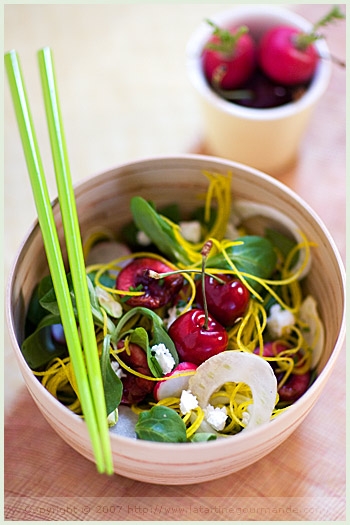 Summery Mâche, Yellow Beet and Young Fennel Salad
P. and I came home relaxed. Feeling in a happy light mood. We even did not argue about directions in the car — is it only us to whom it happens, I always wonder? But of course, it would have been hard to as we really know the road by heart by now. And I slept, which helped with that too! We quickly realized that we really needed this break. And deep inside, we also knew well that it could easily have continued on for another two weeks. Without any problem! But at this time of year, both P. and I have a lot of projects and the dreaded word:
Work.
Even if I was trying hard not to think about the amount of work lined up in front of me, I kept seeing my list getting longer. Where would I start? It is always the hardest thing to answer, isn't it? Where to start and how not to feel overwhelmed. Nevertheless I managed to convince myself that this time, I would do all I could to keep our earned dreamy vacation feeling with me, and enjoy summer that is definitely here — 84 F today (29 C). The days in Boston have been sunny and hot, and not necessarily yet too humid despite some recent heavy rain too. Or is it simply that I am immune to it by now? Sometimes, just as the smart people do in warm countries like India, Morocco or Turkey, I only want to indulge in eating hot comfy foods like tajines and curries, such as the chicken eggplant tajine that I prepared last night and that I look forward to having tonight as well, but at other times too, all I can think of is nibbling on a plain bowl of salad. And, when it is colorful, fresh and full of vitamins, I am as happy as one can be on a hot summer day.
Yes indeed. During this time of year, my lunches can be as simple as a bowl of colorful fresh salad. Good energy to face work.
And never forgetting dessert either.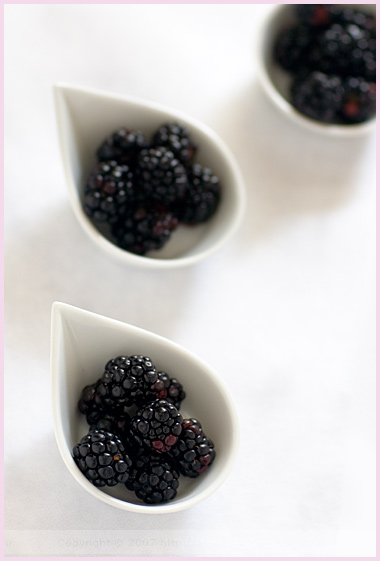 Blackberries
And thanks to a nice Flickr contact, I realized that I was always making the mistake of calling blackberries black currants. I do not think I will ever get the berry vocabulary right!
Summery Mâche, Yellow Beet and Young Fennel Salad
(For 4 servings)
You need:
4 cups of mâche (lamb's lettuce), washed
1 uncooked yellow beet, peeled and cut as spaghetti*
1 young fennel bulb, thinly sliced
A few pink radishes, thinly sliced
A few bing cherries, pitted and halved
1/4 cup fresh unsalted pistachios, chopped
1 Tbsp Chives (or/and parsley), chopped
2 oz fresh goat cheese, Petit Billy (or Saint Maure), crumbled
3 Tbsp olive oil (or pistachio oil)
1.5 Tbsp apple cider vinegar
Salt and pepper
Steps:
Prepare all the vegetables and cherries. Use a mandoline if you have one to slice the vegetables paper thin.
Toss the vegetable slices and cherries in a large salad bowl, add the nuts and cheese, and serve with the vinaigrette (olive oil and apple cider vinegar with salt and pepper).
Add a touch of fresh herbs from your garden, parsley or chives. And eat happily this bowl of vitamins!
*I did not cook the yellow beet. I peeled it and used my Turning Vegetable Slicer to cut it in long spaghetti-looking strips. I love to eat vegetables raw like this.
Le coin français
Salade estivale de mâche, betterave jaune et jeune fenouil
(Pour 4 personnes)
Ingrédients :
100 g de mâche, lavée
1 petite betterave jaune crue, pelée et coupée comme des spaghetti*
1 jeune bulbe de fenouil, coupée finement
Quelques radis roses, coupés finement
Quelques cerises noires, dénoyautées et coupées en deux
30 g de pistaches vertes non salées, concassées
1 càs de ciboulette (et/ou persil), haché
60 g de fromage de chèvre frais, Petit Billy (ou Saint Maure), émietté
3 càs d'huile d'olive (ou huile de pistache)
1,5 càs de vinaigre de cidre
Sel et poivre du moulin
Étapes :
Préparez tous vos légumes et les cerises. Si vous possédez une mandoline, utilisez-la pour couper les légumes très finement.
Mettez les légumes et les cerises dans une grande jatte avec les pistaches et le fromage, puis servez avec la vinaigrette (huile d'olive, vinaigre et sel et poivre).
Ajoutez des herbes fraîches du jardin, ciboulette ou persil. Et mangez avec plaisir ce bol de vitamines!
*Je n'ai pas cuit la betterave jaune. Je l'ai pelée puis j'ai utilisé mon Rouet pour couper la betterave comme des spaghetti. J'adore manger les légumes crus comme cela.
Technorati Tags: Food Styling, La Tartine Gourmande, Food Photography, turning vegetable slicer, summer salad