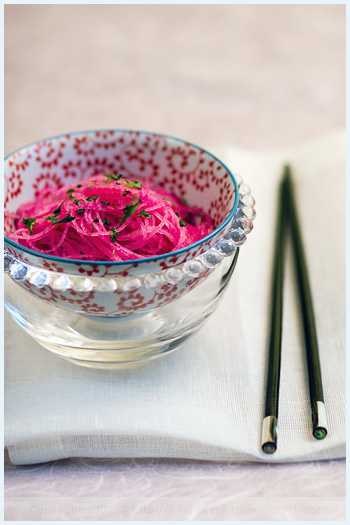 Watermelon Radish Spaghetti
Whenever I walk outside, I like to play this game: Pay close attention to try to discern the details of the amazing palette of colors available around me. I can still remember P's Irish cousin G. telling me about the numerous shades of green to be found in Ireland when he compared it to the coast of New England during his first visit, many summers ago. His words stayed, stuck in my head. With food, I have the same curiosity. For example, have you noticed the natural coloring in food? I keep being fascinated by it, every single time. Just like this past week, when I discovered a new funky vegetable.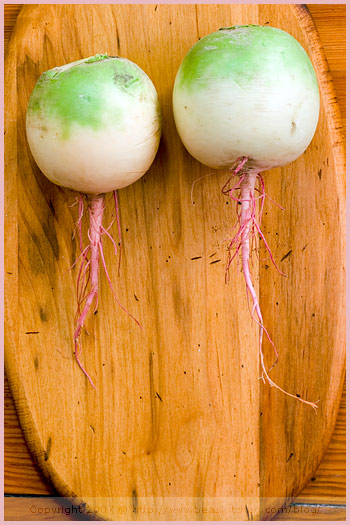 Watermelon Radish
"I don't believe you, it is not called a watermelon radish, is it?", P told me when I proudly held high, in front of him, the small white and pink ball I had bought that morning.
"Mais si, je te le dis! Go back and buy another one, and you will believe me then", I replied. Did he think that I had dreamed or what?
I needed to buy black radish for a mise-en-bouche I was planning to make for our dinner with friends this past Sunday. I had made it before and loved the combination of colors and flavors. That was my plan. While browsing the different sections of our local Wholefoods, I had almost forgotten about it and was about to leave the store, but then I remembered, and I walked by the vegetable section, once more. By now, I almost know by heart where everything is — surely, the staff sees me there so often that they all smile at me every single time, as if to say "you, again!". But I could not see any black radish! Mince ! What would I buy then? Daikon, maybe? As my eyes browsed the shelves quickly, my attention suddenly got attracted to a rounder, white, pink and pale green vegetable. "What was that?", I wondered. "A parsnip?" I drew closer and read Watermelon Radish. "What an interesting cute vegetable", I thought. I did not hesitate a second as I was just too curious to see the color inside, and taste it. I love radish, under all forms.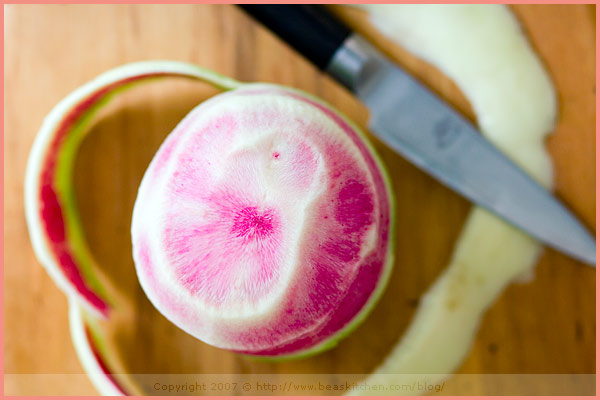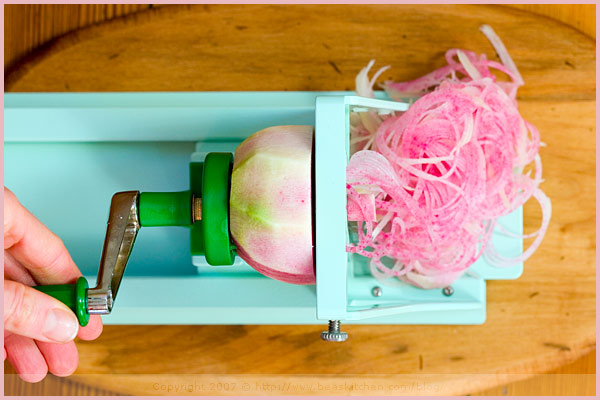 It was pretty as I had imagined, tasty as I had dreamed.
I used my new benriner turning vegetable slicer toy — how much I love this one, I will have to tell you more about it later — and sliced the radish like spaghetti (you can use a regular vegetable grater). The first day, we ate it with chopsticks, as a simply seasoned plain salad. Then, I used it in a mixed tarragon-flavored salad with mâche, goat cheese and diced beets for my lunch.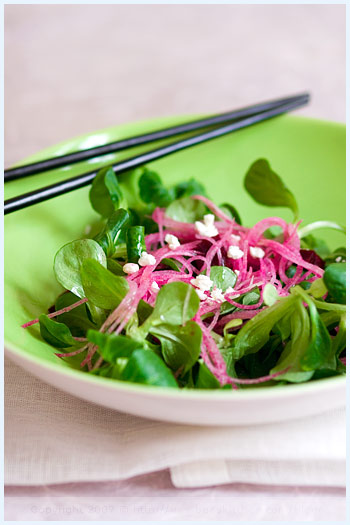 Tarragon-Flavored Radish and Mâche Salad
On Sunday, as planned, I used it for the beet and ricotta cheese mousse mise-en-bouche I had in mind. And the verdict was extremely pleasing as I was convinced to have officially found my favorite radish.
With a mild to sweet peppery flavor, this radish is excellent. Related to turnip and horseradish, this round root vegetable has a white outer skin, touches of pale green with a pink base, and a bright pink inner flesh, both satisfying visually and taste-wise. It can be prepared like daikon or black radish, yet bringing a brighter touch of color on your plate. Really, how could one not want to look at this inviting shade of reddish pink? It is natural food coloring at its best!
And no, it is not because it is pink, fushia, whatever you see in it, that it is only for girls. I have never believed in this color distinction anyway! But boy I love this color.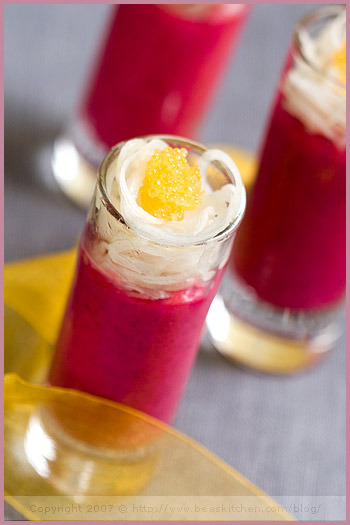 Beet Mousse and Radish Mise-en-Bouche
Beet Mousse and Radish Mise-en-Bouche
(For 6 to 8 small glasses)
3.5 oz cooked beetroot
7 oz whole milk ricotta cheese
2 tsp sherry vinegar
1 Tsp tarragon, chopped
2 egg whites
Salt and pepper
1 small black or watermelon radish, or 1 daikon
Chives, chopped
Olive oil
Fish roe
Steps:
Peel the radish — whichever you use — and grate thinly (if you have a special vegetable slicer like me, use it). Season simply with olive oil, salt and pepper, 1/2 Tsp chopped tarragon and keep on the side.
In the bowl of a food processor, purée the beets with the ricotta cheese and 1/2 Tsp tarragon.
Add the sherry vinegar and season with salt and pepper.
Beat the egg whites firm with a pinch of salt and fold them carefully in the beet preparation.
Divide between the shot glasses, using a decoration bag.
Top the beet preparation with the radish and add fish roe. Keep in the fridge until ready to serve. Decorate with chopped chives.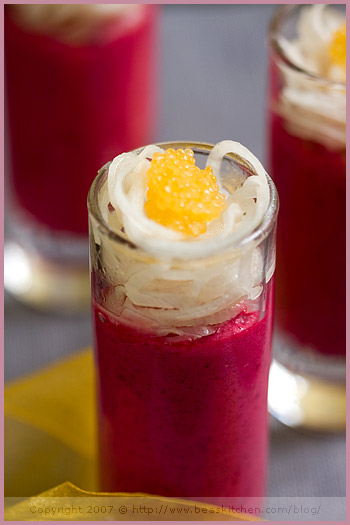 Le coin français
Mise-en-Bouche, mousse de betterave et radis
(Pour 6 à 8 petits verres, selon la taille)
100 g de betteraves cuites
200 g de ricotta au lait entier
2 càc de vinaigre de xérès
1 càs d'estragon, haché
2 blancs d'oeuf
Sel et poivre
1 petit radis noir ou pastèque, ou daikon
Huile d'olive
Ciboulette hachée
Oeufs de poisson
Étapes :
Pelez le radis (celui qui vous utilisez) et rapez-le finement (si vous avez une mandoline benriner, utilisez-la). Assaisonnez d'huile d'olive, de sel et d poivre et 1/2 cès d'estragon haché. Mettez de côté.
Dans le bol de votre robot, mettez les betteraves avec la ricotta et 1/2 cès d'estragon haché, et réduisez en purée fine.
Ajoutez le vinaigre de xérès et assaisonnez avec du sel et du poivre.
Montez les blancs d'oeuf en neige ferme avec une pincée de sel et incorporez-les délicatement à la purée de betteraves.
Utilisez une poche è douille pour répartir cette mousse dans des petits verres.
Garnissez avec le radis et quelques oeufs de poisson, et de la ciboulette hachée. Gardez au frais jusqu'au moment de servir.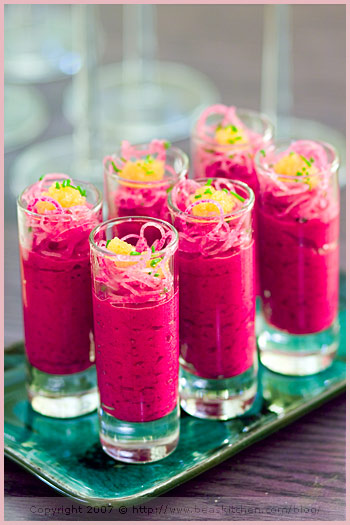 The Mise-en-Bouche at our Dinner