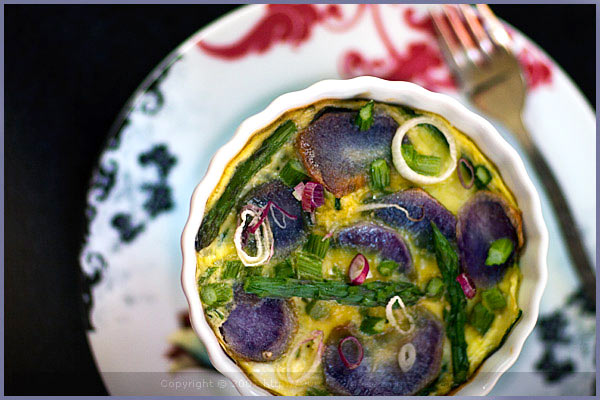 Egg Flan with Purple Potato and Green Vegetables
Flan aux oeufs, vitelottes et légumes verts
When we were in Peru in November last year, besides wanting to visit Inca ruins and observe terrace harvesting, climb Machu Picchu and discover colorful markets, I had dreams of seeing fields of potatoes. I wanted to touch, feel and taste them, and discover the hundreds of varieties that Peruvians produce. But perhaps this would have required a special trip, solely devoted to that purpose. At the market, we saw potatoes, ate many, but even more than potatoes, we were fed on quinoa — which belongs to a story that I will share later, if you do not mind. I was particularly looking forward to learning more about colored ones like the Purple Peruvian potatoes which I am quite fond of.
Peruvian Purple Potatoes were amongst the first variety of potatoes harvested in the Peruvian Andes, saved for special occasions for Inca kings. Also called Blue Potatoes, they are oval in shape with a purple black outer skin and a purple inner flesh. Their texture is creamy and when cooked, they hold their shape well. They are great in salads, roasted or fried. One should note that it is preferable not to store them in the refrigerator because cold temperatures convert starch into sugar, making potatoes sweeter and darker in color once cooked. They should also not be stored with onions because, when together, they release gases that accelerate decay in both. What else? They are delicious, and of course, there is this magical deep color, because it is also all about the color, isn't it?
So like typical of foods that I cook, I chose to play with colors even more and introduced some green in the color palette of my dish. And then, there would be yellow because of the recent craving I had had for eggs.
Green, yellow, purple.
I liked it.
As I was looking for something to serve for a light dinner, I thought of making small individual egg flans with green asparagus, zucchini peels, fresh herbs like tarragon and slices of purple potatoes. The dish was light, colorful, flavorful, and with a large bowl of salad, it made a great dinner for a girl in need of new colors on her plate. And, do you know why? I am not exactly sure how much of the story I should tell you before you get bored with it. Because indeed, it is a long long story, one that required a lot of research, talking and thinking! But now that I have found out more light on it, let's say that for a few weeks, I will have to remove a lot of the foods I love, with their color and flavor, oranges, lemons, limes, eggplant, tomatoes, vinegar and more — trust me, you do not want to hear the complete list! Call it a cleansing phase. This is also *what* I brought back with me from Peru. But I am glad to have finally found out about the root of the problem. It will surely be an interesting journey. Oddly enough, I am actually looking forward to it, with its many challenges and discoveries.
Until the palette of colors and food is complete again.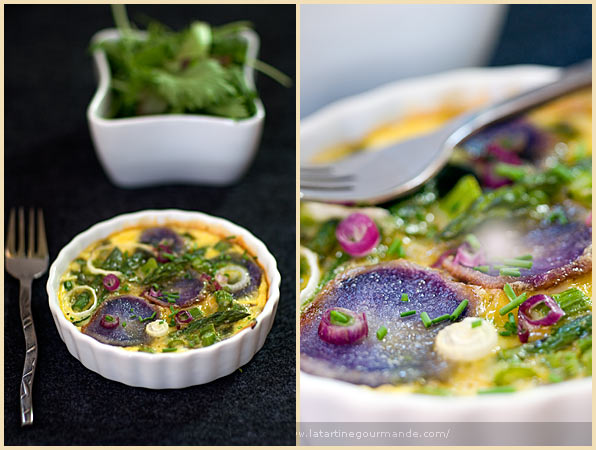 Egg Flan with Purple Potato and Green Vegetables
(For 4 people, molds 5 ")



You need:
6 eggs
4 Tbsp whole milk
2 Tbsp heavy cream
Chopped herbs like tarragon and chives
16 green asparagus
2 red scallions
1 zucchini
2 large purple potatoes
Olive oil
Salt and pepper

Steps:
Peel the potatoes and slice them.
Heat 2 Tbsp olive oil in a non-stick frying pan and sauté the potatoes for 5 min or so. Remove.
Cut the tips of the asparagus and keep. Cut the rest in small sticks (0.5 inch).
Cook them all for 3 min in salted boiling water. Rinse under cold water to stop the cooking process.
Cut the zucchini in long strips. Heat 1 Tbsp in the frying pan and sauté for 2 to 3 min. Keep.
Slice the scallions thinly.
Chop the herbs.
Preheat your oven at 350 F.
Break the eggs in a bowl and beat. Add the milk and cream.
Season with salt and pepper and add the herbs. Mix well.
Grease four 5 " molds.
Pour the egg preparation in.
Place in the oven and cook for 5 min.
Remove and arrange all vegetables on top of the eggs slightly cooked.
Place in the oven again and cook for 10 to 15 min, until golden in color.
Add a splash of olive oil, chopped chives and and fresh scallion slices. Serve with a large green salad.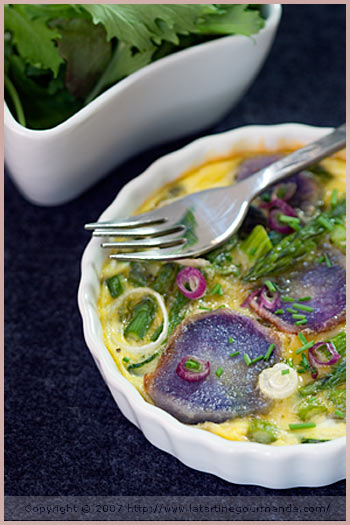 Le coin français
Flan aux oeufs, vitelottes et légumes verts
(Pour 4 personnes, moules de 12,5 cm)



Ingrédients :
6 oeufs
4 càs de lait entier
2 càs de crème liquide
Mélange d'herbes hachées, ciboulette et estragon
16 asperges vertes
2 oignons tiges rouges
1 courgette
2 grosses vitelottes
Huile d'olive
Sel et poivre

Étapes :
Pelez les pommes de terre et coupez-les en rondelles.
Chauffez 2 càs d'huile d'olive dans une poêle anti-adhésive et faites-les revenir pendant 5 min.
Coupez les pointes de asperges et réservez-les. Coupez le reste en petits bouts de 1 cm.
Blanchissez le tout pendant 3 min dans de l'eau bouillante salée. Passez sous l'eau froide pour arrêter la cuisson.
Coupez la courgette en longues lanières. Faites-les revenir dans 1 càs d'huile d'olive, pendant 2 à 3 min. Réservez.
Coupez les oignons en rondelles fines.
Hachez les herbes.
Préchauffez votre four à 180 C.
Battez les oeufs dans un saladier et ajoutez la crème et le lait, avec les herbes. Mélangez bien.
Assaisonnez de sel et de poivre.
Huilez 4 petits moules de 12,5 cm de diamètre.
Versez la préparation aux oeufs.
Mettez au four pendant 5 min et ressortez.
Disposez alors les légumes sur les oeufs un peu cuits.
Remettez au four pendant environ 10 à 15 min, jusqu'à ce que le dessus soit doré.
Arrosez d'un filet d'huile d'olive, de ciboulette hachée et d'oignons tiges hachés. Servez avec une belle salade verte.
Technorati Tags: Food Styling, La Tartine Gourmande, Food Photography, vitelotte, Purple Potato, Egg Flan